Published on
February 24, 2017
Category
News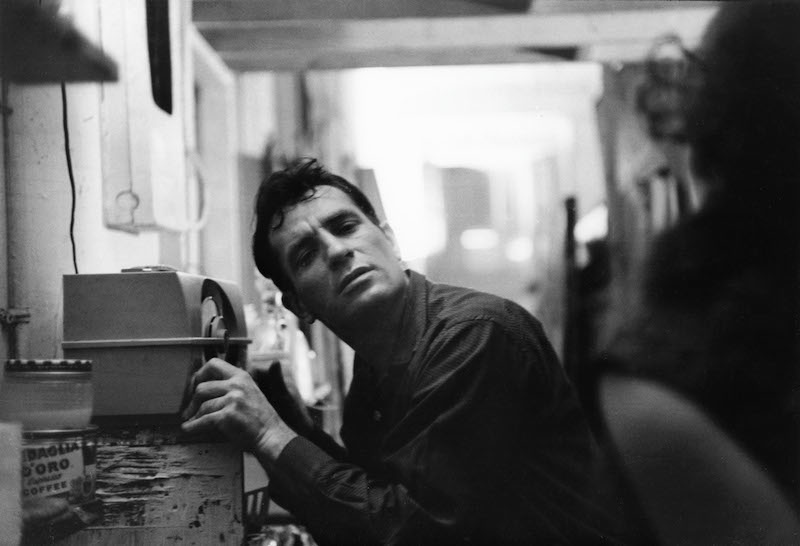 On limited black and white "Beatnik Smoke" vinyl.
First issued in 1958, Beatnick legend Jack Kerouac's debut recording Poetry for the Beat Generation will be reissued on vinyl for the first time this April via Real Gone Music.
Read next: The story of the Beat generation in 10 rare records
The spoken word album features the TV personality and musician Steve Allen on piano. The duo's collaboration came about after Allen rescued Kerouc from a disastrous first set at Village Vanguard.
"The results were so impressive that legendary engineer Bob Thiele then brought the duo into the studio to record an album for Dot Records," says the label. "In true, stream-ofconsciousness, Beat fashion, the entire album was cut in one session with one take for each track, Allen's piano weaving in and out and occasionally commenting on Kerouac's verbal riffs to great effect."
The story goes that Dot's President Randy Wood canceled the release due to its daring language and subject matter although not before 100 promo copies were shipped to reviewers. Thiele left the label over the dispute but got the master tape in the bargain and released it on Hanover, the label he founded with Allen in June 1959.
Now on 7 April, Real Gone Music will give the landmark album its first vinyl reissue in a limited run of 900 copies and on "Beatnik Smoke" vinyl.
Tracklist:
A1. October In The Railroad Earth
A2. Deadbelly
A3. Charlie Parker
A4. The Sounds Of The Universe Coming In My Window
A5. One Mother
A6. Goofing At The Table
A7. Bowery Blues
B1. Abraham
B2. Dave Brubeck
B3. I Had A Slouch Hat Too One Time
B4. The Wheel Of The Quivering Meat Conception
B5. McDougal Street Blues
B6. The Moon Her Majesty
B7. I'd Rather Be Thin Than Famous