Published on
April 17, 2013
Category
News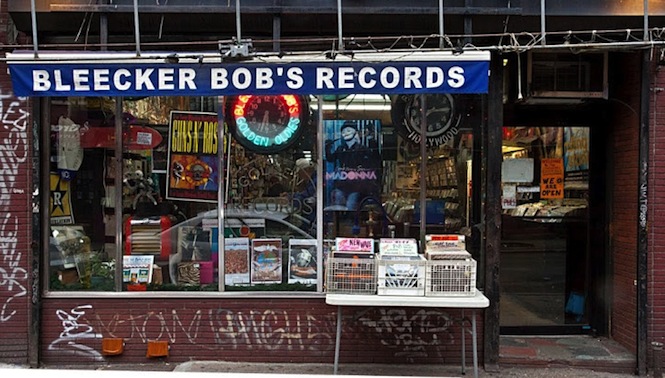 Despite the news that vinyl sales keep on rising, the reality of life on the front line of the independent record shop business is bleak. And nowhere is the outlook bleaker than at Bleecker Bob's Golden Oldies in Manhattan's West Village which was forced to close on Saturday 13th April, just one week shy of Record Store Day.
That said, had it survived another week, RSD may simply have represented a stay of execution for the New York institution, which has been open since 1967. The store that undoubtedly would have stocked the upstart debut album by a young Jimi Hendrix on its release earlier that same year saw its last day of trading on Saturday, staying open until almost 5am on Sunday morning to accomodate the stragglers.
As The Hollywood Reporter writes, Bleecker Bobs had struggled to adapt to the new and competitive music retail environment that has seen so many similar shops fold in the last decade. Nevertheless, in its day Bob's was one of the first stores to carry US punk, hardcore and new wave in the 70s and 80s making it a downtown institution and a meeting point for bands and fans alike.
Such is the irony of the changing times that Bob's Bleecker Street location which once made it great is now responsible for its closure, as the rising rents in the desirable corner of Manhattan could no longer be covered by dwindling sales.
According to Ski at Bleecker Bob's, the new tenants are set to be a 'yoghurt shop', an establishment seemingly far more suited to the astronomical $16,000 a month lease the property now demands.
However, with the growing possibility of a new, cheaper East Village location, Bob's current owners have launched an IndieGoGo crowd-funding campaign to raise money for the stricken store to try and secure some kind of physical future for the considerable stock which may yet be auctioned off piecemeal on the internet.
Money from the campaign will go towards moving, relocation and renovations. You can click here to donate.
There's also a hugely poignant documentary called "The Last Days of Bleecker Bob's" that will give you a real sense of how much this place meant to a lot of people.