Published on
July 26, 2018
Category
News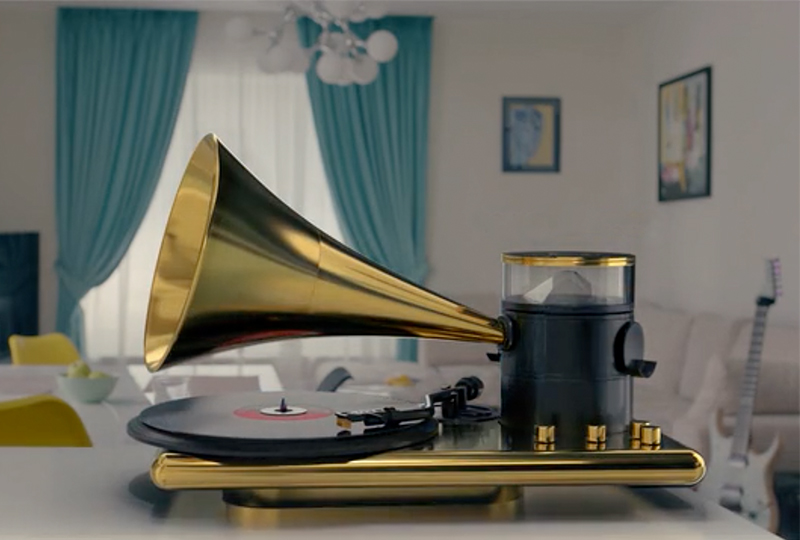 It also has mood lighting…
A new "holographic", wireless turntable called the Kozmophone has launched on Kickstarter, reports What Hi-Fi.
At the time of writing, the project has reached over 4 times its crowdfunding goal.
According to its curious promo video: "we've all inherited something, whether it's looks, tastes, hobbies, passions, Thomas Edison has left us one of the greatest inventions of all time – the phonograph."
"Evolution can go no further than Kozmophone. Kozmophone is much more than a phonograph, much more than a record player."
So what exactly does this, supposedly revolutionary, turntable contain?
The record player includes a small holographic device (inside a storage cylinder that looks like a coffee grinder), as well as an ambient lighting display, with a turntable that has an Audio Technical AT91 cartridge, headphone socket and built-in headphone stand.
Like many all-in-one turntables, Kozmophone contains just one (in this case horn-shaped) speaker through which all of the music is directed, rather than stereo or multi-channel set-ups.
You can also take your horn on the go: Kozmophone's speaker is portable, with bluetooth connectivity, 12 hours of battery life, and 360 degree rotation when docked.
The turntable is available in black, white, red, yellow and green variants, as well as a limited edition 18K gold version.
Head here for more info.