Published on
November 9, 2017
Category
News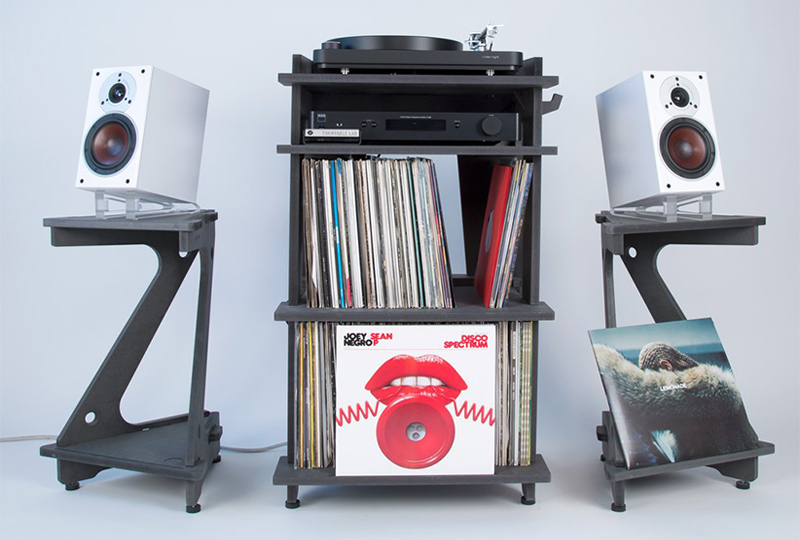 An update on ubiquitous black aluminium poles.
Line Phono has launched the follow-up to its popular Turntable Stand: the Speaker Stand.
Read more: 10 incredible record player consoles to reimagine your living space
Available individually or as a (discounted) pair, the flexible stand features an interlocking design, platform base (no screwing in needed), cable management holes, and top base compatibility with isolation accessories (e.g. Isoacoustic Stands).
It also incorporates design elements from the Turntable Stand including a flexible storage area with a groove for displaying album art, and an area for storing records.
Each stand is 53.5 cm high x 34.3 cm long x 40.0 cm wide, weighs 4.5 kg, and includes a pair of Line Phono Speaker Anglers (13 degree angle).
The maximum recommended bookshelf speaker size that each stand can accommodate is 20.3 cm wide x 22.9 cm long.
Speaker Stand is available in Carbon (single $149, pair $249), Natural (single $149, pair $249) or Birch (single $179, pair $299), with free shipping in the USA. (For shipping outside of the USA, you can email Line Phono at lp@linephono.com for a custom quote.)
Head here for more info.