Published on
February 12, 2016
Category
Features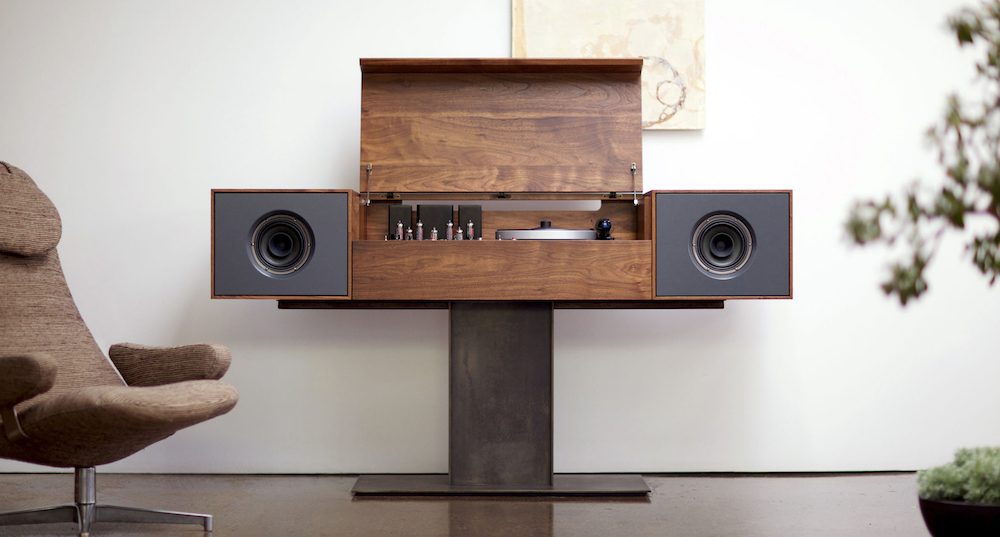 Having rounded up 12 alternatives to Ikea for vinyl storage, we turn our attention to the wonderful (and quite expensive) world of turntable consoles.
In 1965's Marriage on the Rocks, Frank Sinatra and Dean Martin can both been seen (spoiler: in separate scenes but with the same company) listening to records on a globular, space-age audio shrine. Back then, the stereo console was the epitome of bachelor pad cool, the ultimate living room showpiece. Aesthetics was only half the story though, these audio pieces were also known for their rich, warm sound and power.
A crop of companies have emerged in recent years with products harking back to the golden era of turntable consoles. At the very top end, these pieces include audiophile players, bespoke amps, speakers and custom electronics. Obviously they don't come cheap but they will revolutionise your listening experience, not to mention your living room.
On the other end of the spectrum, you're given a shell without the equipment. These bank balance-friendly options might not shout as loudly, but they will certainly do the trick in bringing your setup under one hood.
From discreet all-in-one stands to turntable coffee tables and the "Living Cube", we've picked out 10 new record player consoles that'll have you rethinking your setup.
---
Turntable Station (Phono Line)
Price: $399
Zero Freitas-wannabes don't look now. This dinky, entry level all-in-one console is ideal for minimising footprint. With two specially spaced apart shelves, the stand holds up to 200 records or 100 records and a large amp. Your turntable goes on top, with room below for applications and accessories. You'll need to find space for speakers but there is a hook to hang headphones and "now spinning grooves" to display album artwork.
---
Locust Wooden Media Console
Price: $598
Let's face it, vinyl and wires can be a hideous combination. If you're big on living room feng shui, having the option to conceal is must – which is where the Locust's wooden cabinet comes in. Four shelves (three for records and an amp, one dedicated to your deck) can be tucked away behind a sliding panel. A neat lid opens up the turntable, and round the back, cutouts keep pesky cables out of sight. Here's to a harmonic environment.
---
Price: €1,249
A classic piece of French new wave design here, the Nationale 7 storage unit caters for 12"s and 7"s, has a flip bin for easy access and integrated space for amps and pre-amps. Big enough to hold a more substantial collection, speakers and a deck, its clean cut style nods to the '50s without getting caught up in kitsch. Très beau.
---
LP-H Record & stereo console (Wax Rax)
Price: On application
If wood's not your thing, Wax Rax might be for you. A metal filing system for minimalists with an eye for the monochrome, the unit makes space for your amp and turntable, with vertical stacking under a nifty flip bin for easy access. Functional, if a little sterile, think industrial rather than office chic.
---
Cardboard Record Player Console (Cush)
Price: c.$2000
How they turned cardboard into this console is beyond us. We'd love one though. Finished with beautiful walnut face and back panels, your record player, audio equipment, speakers and a nice sized collection of records slot in just like Lego. There's also a secret compartment hidden behind the right speaker if you want to stash something…
---
Folded Record Bureau (Hugh Miller Furniture)
Price: On application
Inspired vintage design here from Hugh Miller Furniture, which folds in on itself like a piece of timber origami. Aside from the gorgeous and unique slanted design, the Bureau goes full executive with a 1985 Bang and Olufsen turntable integrated into the top, with original controls built in.
---
Kick Back Cocktail Table (Atocha)
Price: $9,200
Anyone building furniture to enhance the experience of owning and listening to music gets our vote. Right up there is Atocha, a crew of design-minded music lovers that craft mouth-watering cabinets, stands, LP slings and more. Here, they've reimagined the coffee (or cocktail) table with the vinyl fan in mind.
Natural and dyed black Italian Bolivar veneer composition with a steel base, the zebrafied design is pretty striking. "Designed for rock stars, and the people who love to listen to them," they say. There's a cutout area to house a deck, space for an amp and a niche for over 120 records. Oh and there's an inset for your drink or smoke of choice. Appropriately named Kick Back, it's not hard to picture coming home to this piece after a long day at work, or gathering around it with some mates. Just try not to spill anything…
---
Wren M1 Stereo console (Wren Hi-Fi)
Price: $14,900
While not many people will have ever owned a set-up quite like this, Wren Hi-Fi's attempt to "Reimagine the record console we all remember from decades past" deserves a fair bit of credit. As a style item, it's pretty special, built in a range of American Holly, Eucalyptus, Maple, and Bocote to house an integrated phono stage amp, 8" bass reflex speakers and a turntable. (The standard here is the reliable if unspectacular Pro-Ject Debut Carbon, but if you're already in the market for a Wren don't skimp on getting that upgraded). The specs list is as long as your arm, but at $15,000 you're going to want to know what ingredients you're working with.
---
Modern Record Console (Symbol)
Price: On Application
We're going to put it out there and say: this the ultimate all-in-one audio showpiece. Each cabinet is individually crafted from solid American Walnut and set atop a sculptural metal base, hand patinated for a stunning natural finish.
Design is only half of the story though. Pop the lid to reveal a seriously legit, hand-wired tube amplifier and built-in turntable, featuring a carbon fiber tonearm fitted with a Sumiko Blue Point #2 cartridge. Hidden in the steel base is a second amplifier and subwoofer, for extending the bottom end and added richness. With all electronics custom designed and built, this console sounds as good as looks.
---
Price: From $2500
The Living Cube is more than a console, it's a life port; a self-contained unit for your records, turntable, television, wardrobe, bike, bed, studio and sense of self-worth. An option for that most uncommon of collectors who are low on space and high on budget, the Living Cube is a pod for your memories, a nest for your dreams, a castle for everything you hold dear. Sell your Expedit, hell, sell your house, The Living Cube is all you need now.