Published on
September 4, 2017
Category
News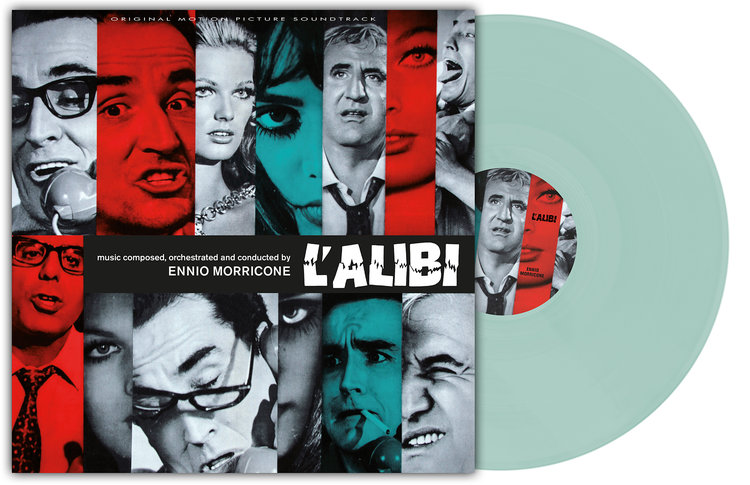 Limited to 500 copies worldwide.
Ennio Morricone's original motion picture soundtrack for 1968 Italian comedy L'Alibi is being released in its entirety on vinyl for the first time, via Dagored Records.
Read more: 10 essential records that show how Ennio Morricone revolutionised the film soundtrack
The limited edition coloured LP features a soundtrack written by L. Lucignani and Ennio Morricone, with music composed, orchestrated and conducted by Morricone, and sung by Sergio Endrigo alongside the Cantori De Moderni Di Alessandroni choir.
L'Alibi, like other comedy films scores Morricone created during the '60s and '70s, showcases his signature, jazz-infused, lounge party style.
Pre-order a copy here, listen to 'L'Alibi' and check out the track list below.
Tracklist:
Side A
1. Immagini Del Tempo
2. Belinda May
3. Canzone Della Libertà
4. Allegretto Burlesco
5. Pennellate
6. L'alibi (Shake N.1)
7. Guardando Nel Vuoto
8. Delicatamente
9. L'alibi (Samba)
10. Sognando
11. Lo Libero
Side B
1. L'alibi (Shake N.2)
2. Animaletti
3. Belinda May (Versione 2)
4. Recitazione Corale
5. L'alibi (Samba)
6. Una Fotogra A
7. L'alibi (Shake N.3)
8. In Un Filo D'erba
9. Belinda May (Versione 3)
10. L'alibi (Interludio Romantico)
11. L'alibi (Marcetta Grottesca)
12. Immagini Del Tempo (Versione 2)
13. L'alibi (Shake N.4)
14. Belinda May (Versione 4)
15. Una Fotografia