Published on
April 18, 2018
Category
News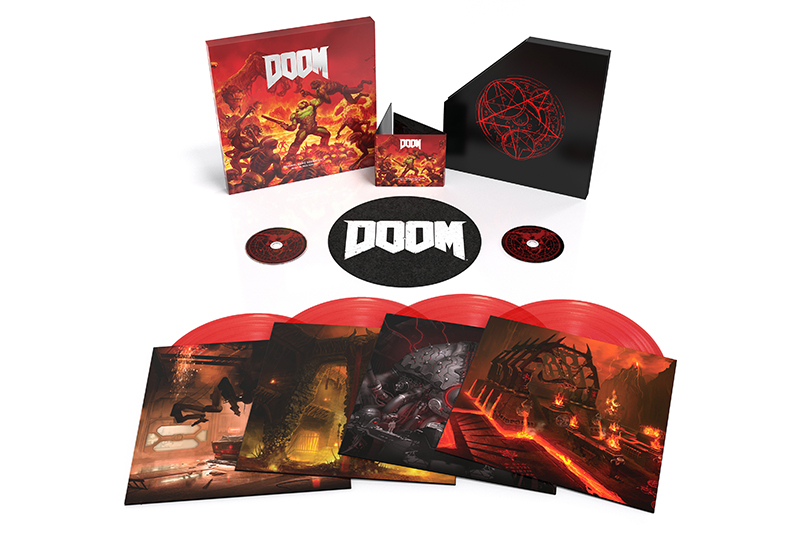 With a limited 4xLP box set version.
Demon slaying video game DOOM's original soundtrack is being released on vinyl for the first time, this July by Laced Records.
DOOM, which debuted in 2016, is the fourth instalment of the popular Doom video game series which began in 1993; its music was composed by Mick Gordon.
The soundtrack is available on limited 4xLP "blood red" coloured vinyl box set with custom shipmate and CD, limited 4xLP black box set, and "blood red" coloured 2xLP.
Pre-order a copy here, listen to the soundtrack in full and check out the track list below.
4xLP tracklist
Disc 1 – Side A
1. I. DOGMA
2. Rip & Tear
3. At Doom's Gate
4. Rust, Dust & Guts
5. II. DEMIGOD
Disc 1 – Side B
6. Hellwalker
7. Authorization; Olivia Pierce
8. Flesh & Metal
9. Impure Spectrum
Disc 2 – Side A
10. Ties That Bind
11. BFG Division
12. Residual
13. Argent Energy
Disc 2 – Side B
14. Harbinger
15. Biowaves
16. Olivia's Doom (Chad Mossholder Remix)
Disc 3 – Side A
17. Transistor Fist
18. Dr. Samuel Hayden
19. Cyberdemon
Disc 3 – Side B
20. Incantation
21. III. DAKHMA
22. Damnation
23. The Stench
Disc 4 – Side A
24. UAC Report File; SHTO36U3
25. Death & Exhale
26. SkullHacker
27. Lazarus Waves
Disc 4 – Side B
28. VEGA Core
29. 6_idkill.vega.cih
30. Mastermind
31. IV. DOOM
2xLP tracklist
Disc 1 Side A
1. I. DOGMA
2. Rip & Tear
3. At Doom's Gate
4. Rust, Dust & Guts
5. Hellwalker
Disc 1 – Side B
6. II. DEMIGOD
7. Flesh & Metal
8. Authorization; Olivia Pierce
9. Ties That Bind
10. Dr. Samuel Hayden
11. Argent Energy
Disc 2 – Side A
12. III. DAKHMA
13. BFG Division
14. Biowaves
15. Transistor Fist
Disc 2 – Side B
16. IV. DOOM
17. Damnation
18. Olivia's Doom (Chad Mossholder Remix)
19. UAC Report File; SHTO36U3
20. 6_idkill.vega.cih