Published on
November 7, 2017
Category
News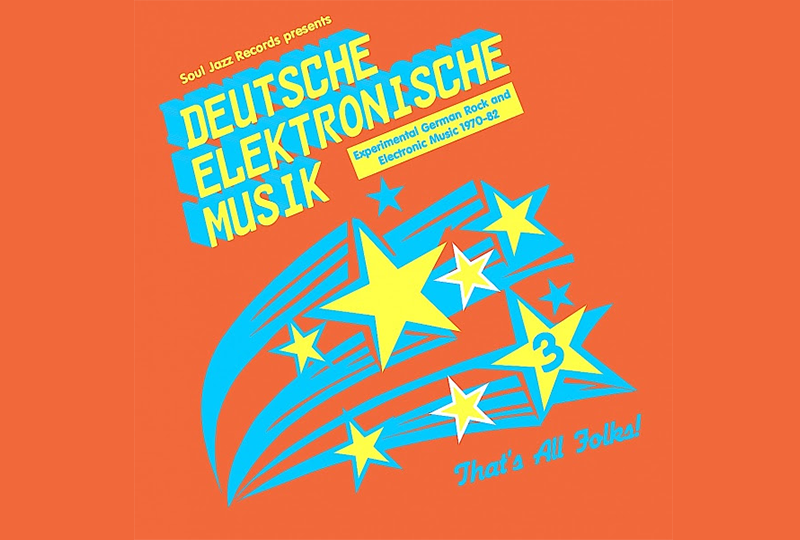 From kitschy guitar ballads to Indian-hued orchestrals and drumming funk.
Soul Jazz is releasing the latest instalment in its Deutsche Elektronische Musik series on 3xLP, this December.
Read more: Inside the vinyl archives of Berlin's biggest music library
The 23-track collection, which follows Deutsche Elektronische Musik 1 (2010) and Deutsche Elektronische Musik 2 (2013), features well known groups such as Neu! and Popol Vuh, alongside lesser known acts including Dzyan and Niagara.
Its package includes liner notes by author David Stubbs who wrote the book Future Days: Krautrock and the Building of Modern Germany.
Deutsche Elektronische Musik 3: Experimental German Rock and Electronic Music 1970-82 is out 1st December on Soul Jazz Records.
Check out the track list and listen to 'Go Rhythm' below.
Tracklist
1. Klaus Weiss – Wide Open Space Motion
2. A.R. & Machines – I'll Be Your Singer, You'll Be My Song
3. Deutsche Wertarbeit – Deutscher Wald
4. Dzyan – Khali
5. Missus Beastly – Geisha
6. Alex – Derulé
7. Agitation Free – In The Silence Of The Morning Sunrise
8. Georg Deuter – Pearls
9. Michael Bundt – The Brain Of Oskar Panizza
10. Popol Vuh – Ja, Deine Liebe Ist Süßer Als Wein
11. Novalis – Dronsz
12. Bröselmaschine – Schmetterling
13. Neu! – Neuschnee
14. Between – And The Waters Opened
15. La Düsseldorf – White Overalls
16. Klaus Weiss – Constellation
17. Achim Reichel – Tanz Der Vögel In Den Winden
18. Roedelius – Lustwandel
19. Pyrolator – Die Haut Der Frau
20. Cluster – Hollywood
21. Streetmark – Passage
22. Niagara – Rhythm Go
23. Michael Bundt – Neon