Published on
May 10, 2019
Category
News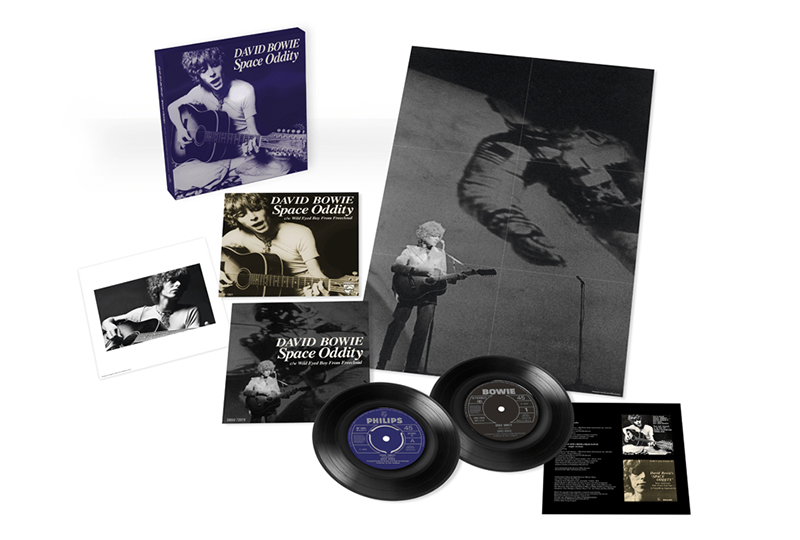 "Here am I floating round my tin can…"
David Bowie's 'Space Oddity' is being reissued in a new 50th anniversary double 7″ set, this July via Parlophone.
Read more: 10 essential David Bowie Records
'Space Oddity' was first released as a 7″ single in July 1969, taken from his self-titled second studio LP that came out later that same year.
Inspired by Stanley Kubrick's film 2001: A Space Odyssey, the song featured a Stylophone pocket organ, and reached number 5 in the UK charts.
Its 50th anniversary box set includes a double-sided poster (with an original press advertisement backed with a Ray Stevenson photo of Bowie taken at the London Palladium on 30th November 1969), an information card and print of an alternative photograph by Jojanneke Claassen from the 'Space Oddity' promo single cover session.
It follows a 3×7″ set called Clareville Grove Demos earlier this year.
Head here for more info ahead of its 12th July release, listen to 'Wild Eyed Boy From Freecloud' and check out the tracklist below.
Tracklist:
Single 1
Side A
'Space Oddity' (Original Mono Single Edit)
Side B
'Wild Eyed Boy From Freecloud' (Original Mono Single Version)
Single 2
Side A
'Space Oddity' – 2019 mix by Tony Visconti
Side B
'Wild Eyed Boy From Freecloud' – 2019 mix by Tony Visconti