Published on
November 1, 2019
Category
News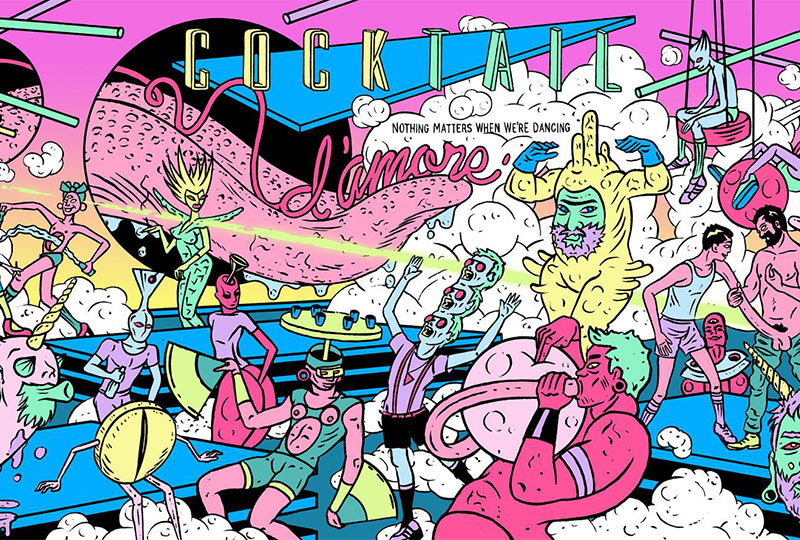 "10 years of music, friendships, flirts, and fun."
Label and monthly club night Cocktail D'Amore is celebrating its 10 year anniversary with a new book, titled  Cocktail D'Amore – 10 years!, and compilation, called Nothing Matters When We're Dancing Vol.10, released this December.
Read more: How music came out: 15 records by unsung LGBTQ+ pioneers
Run by Giacomo Garavelloni and Giovanni Turco, and based in Griessmühle since 2014, Cocktail D'Amore has been a mainstay in Berlin's queer club scene for the past ten years.
The three-part compilation is named after Griessmuehle's dance floors, and features the likes of Powder, Bell Towers, Jonathan Kusuma and more.
Cocktail D'Amore – 10 years! includes a collection of visual and written entries from the organisation's fans, as well as photographs, label artwork and video stills.
"All the money collected will be donated to LGBTQI+ non-profit NGOs based in Berlin and Germany who support lesbians, gays, bisexuals, Trans, Inter and queers, with a focus on refugees, black, indigenous and persons of colour", the label notes.
Money collected will go to the following groups: GLADT, Tgeu – Transgender Europe, LSVD-Verein für europäische Kooperation, TransInterQueer.
Cocktail D'Amore – 10 years! is available now, with the compilation following on the 9th of December.
Head here for more info, check out extracts from the book and the tracklist below.
Tracklist
Main Room
Side A
1. Jonathan Kusuma – Energi Hall
2. Sleep D & Samo DJ – No Mans Land
Side B
1. Mascaras & Powder – RealGold
2. DJ City – Torreyson Drive
Garden
Side A
1. Tornado Wallace – Start Again
2. GreenVision – Sleeping Bag In New York
Side B
1. Bon Voyage Organization – Presque L'Amazonie (Version 4)
2. Bell Towers – In The Garden
Cosmic Hole
Side A
1. CPI – Mount Anal
2. Juan Ramos – Skincrawler
Side B
1. Kris Baha – Parallelled
2. Bézier – Starpoint