Published on
February 3, 2014
Category
News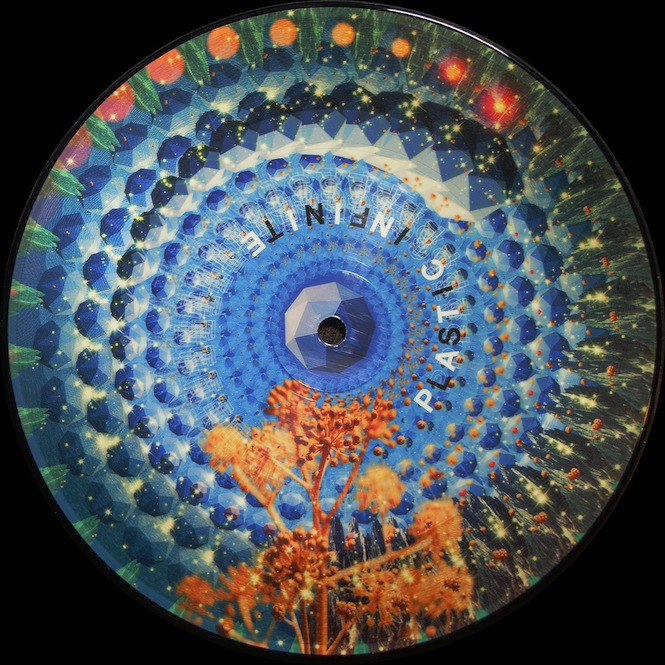 Psychedelic animation lurks within Sculpture's new 7″ single Plastic Infinite.
As a primitive form of animation, the zoetrope has been around for the best part of 2000 years, but during its relatively short history pressed onto the surface of vinyl records, they don't come much more special than this. Audio-visual outfit Sculpture have revealed their latest foray into the world of zoetrope vinyl releases, with Plastic Infinite, their 7″ single adorned with a hypnotic, deeply dreamy animation, which is only visible when viewed under a strobe light or filmed at 25 frames per second.
Comprised of duo Reuben Sutherland and Dan Hayhurst, Sculpture's Plastic Infinite is an extension of their 2011 video for "Elk Cloner" (which you can watch here) and sees the duo push the limits of the zoetrope form, which has become short hand for particularly lavish limited edition releases. Released for Record Store Day in 2013, the rework of Kate Bush's "Running Up That Hill" employed the format (as inspired by Victorian imagist Eadweard Muybridge) and was selected in The Vinyl Factory's Top 100 Vinyl Releases of 2013. [via FACT]
Plastic Infinite is currently sold out but you can express interest in getting a 2nd pressing here.