Published on
July 31, 2015
Category
News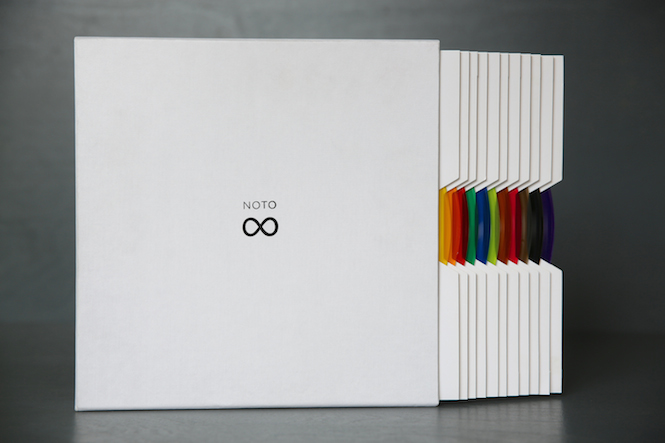 Housed in a silk covered handmade box, Carsten Nicolai has created twelve 10″ coloured records each with 20 unique locked grooves.
With exclusive music and artwork, this special limited edition box set has been created in celebration of Carsten Nicolai's exhibition at Brewer Street Car Park. Drawing to a close this Sunday (2 August), there's still enough time to catch the show if you haven't already. More info here.
The exhibition features an expanded version of Nicolai's artwork bausatz noto (1998) – an interactive piece which centres around four Technics SL-1210 turntables and a selection of coloured vinyl records. Visitors are invited to select and play the records, each of which have been cut with 10 unique locked grooves on each side. As Nicolai explains, "the different colours indicate different sound material, from the very abstract to the graphic" that the user can loop and layer to create infinite permutations and combinations.
Soon it'll also be possible to bring the installation into your own space with the release of this stunning limited edition box set. Comprised of twelve 10″ coloured vinyl records, each featuring 20 unique locked grooves (10 per side), the concept is the same: Nicolai is providing the tools to build your own soundscapes.
The records arrive sleeved in twelve custom made archive folders that are in turn housed in a silk covered hand made box with debossed artwork. Limited to 100 copies worldwide and hand signed and numbered by the raster noton boss himself, the bausatz noto box set drops on 21 September.
A thing of beauty, check out photos below and pre-order a copy from VF Editions.