Published on
April 9, 2013
Category
News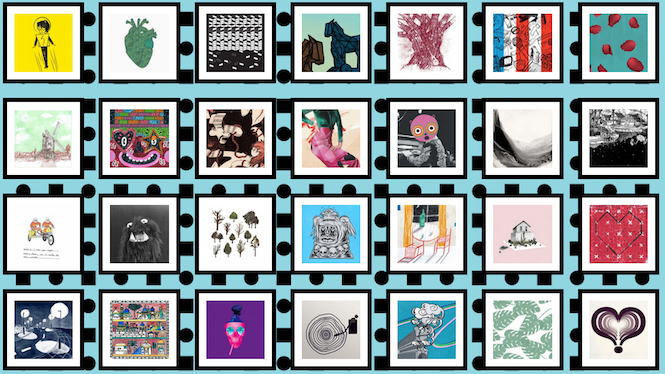 Probably Record Store Day's most innovative project, Secret 7″ have finally uploaded the 700 bespoke record sleeves that will be sold on 20th April to raise money for Art Against Knives.
The 700 sleeves have been designed by 700 different artists ranging from the world famous Gilbert & George, Ai Wei Wei and David Shrigley to the less distinguished but no less impressive efforts of photographers, illustrators, painters, graffiti artists as well big names in the album artwork world.
Going on display at the Secret 7″ exhibition Downstairs At Mother in Shoreditch, London for one weekend only on the April 13th and 14th, the sleeves have been added to the Secret 7″ online gallery so that prospective bidders can pick out the ones they'd like, but not necessarily the ones they'll get.
How does it work? The 700 sleeves will house 100 x 7 tracks by Elton John, Public Enemy, Jessie Ware, Nick Drake, Haim, Laura Marling and Nas. The 7″ will then be available to buy inside it's unique sleeve for £40 on Record Store Day. The secret bit? Buy a copy and you won't know which track you've bought or who designed the sleeve.
Head over to the Secret 7″ website for more details, browse the gallery and see if you can pick out the Gilbert & George.
Watch The Vinyl Factory's video of the 7″s being pressed:
The Secret 7″ exhibition will take place on the weekend of the 13th and 14th April at the Mother London Biscuit Building, 10 Redchurch Street, London, E2 7DD and will be available to buy on Record Store Day on 20th April 2013.