Published on
September 18, 2017
Category
News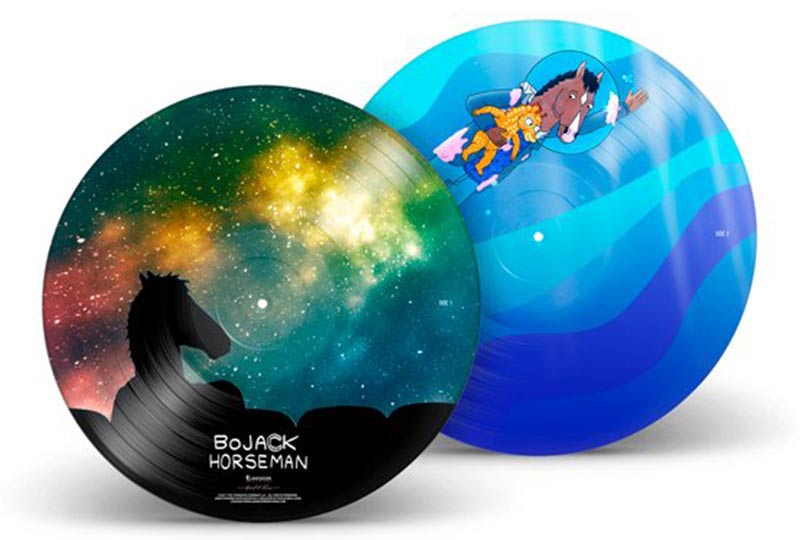 "Straight off your tv screens and into your shitty lives."
Animated Netflix series BoJack Horseman's original soundtrack is being released on limited edition picture disc, by Lakeshore Records on 8th December 2017.
Read more: 10 essential records that show how Ennio Morricone revolutionised the film soundtrack
Composed by Jesse Novak, the LP includes original artwork from the series, as well as a live version of Nina Simone's song 'Stars'.
Pre-order a copy here, listen to music from the series and check out the track list below.
Tracklist:
Side 1
1. 'BoJack's Theme' (feat. Ralph Carney) – Patrick Carney
2. 'Horsin' Around Theme' – Jesse Novak
3. 'A Horse With No Name' (feat. Michelle Branch) – Patrick Carney
4. 'Mr. Peanutbutter's House Theme' – Jesse Novak
5. 'I Will Always Think Of You' – Jane Krakowski and Colman Domingo
6. 'Get Dat Fetus Kill Dat Fetus' (feat. Daniele Gaither & Manus Dunbar) – Jesse Novak
7. 'Kyle and The Kids' (feat. Carrick Moore Gerety) – Jesse Novak
8. 'Stars' (Live at Montreux) – Nina Simone
9. 'Back In The 90's' – Grouplove
10. 'BoJack's Theme' (Full Length) [feat. Ralph Carney] – Patrick Carney
Side 2
11. 'Seaport' – Jesse Novak
12. 'Hallway' – Jesse Novak
13. 'Kelsey Apology' – Jesse Novak
14. 'Chasing Kelsey' – Jesse Novak
15. 'Seahorse Birth' – Jesse Novak
16. 'Post Birth' – Jesse Novak
17. 'Baby Seahorse and Convenience Store' – Jesse Novak
18. 'Shark Chase' – Jesse Novak
19. 'Darkness and Tunnel' – Jesse Novak
20. 'Fan Section' – Jesse Novak
21. 'Factory' – Jesse Novak
22. 'Flying' – Jesse Novak
23. 'Seahorse Reunion' – Jesse Novak
24. 'Final Kelsey Pursuit' – Jesse Novak
25. 'Sea of Dreams' – Oberhofer