Published on
November 8, 2017
Category
News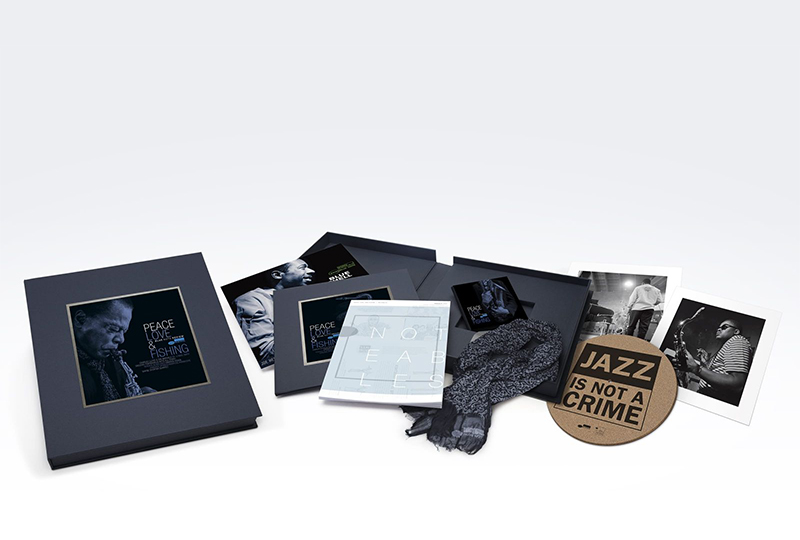 "Jazz is not a crime."
Seminal jazz label Blue Note has announced the inaugural edition of its new biannual, "luxury box set" subscription series: Blue Note Review.
Read more: Blue Note changed my life: 16 artists pick their favourite Blue Note records of all time
Each package will contain an exclusive vinyl-only collection featuring new and previously unreleased recordings from Blue Note artists – available solely via the box set, and one archival reissue.
Though there is no joining fee, your credit card will be charged for as long as you are a member, as soon as each volume is ready to ship. Each set will be announced to members approximately 2-3 months prior to the shipment date.
"The digital transformation of the music business has made great strides in terms of convenience, but we've lost so much along the way," shares Blue Note President Don Was.
"Blue Note Review is our great effort to restore some of that culture, and to re-create that tangible, multi-sensory experience. This has been a labor of love for everyone involved, and we couldn't be more proud to introduce the Blue Note Review to jazz lovers worldwide."
Blue Note Review: Volume One – Peace, Love & Fishing is limited to 1,500 worldwide. Head here for more information.
Watch an "unboxing video" of the set, check out the track list and peruse the contents of Blue Note Review: Volume One below.
Blue Note Review: Volume One – Peace, Love & Fishing box set contents:
– 2xLP album (2-CD set also included) of new & previously unreleased recordings by current Blue Note artists including Wayne Shorter Quartet, Charles Lloyd & The Marvels, Dr. Lonnie Smith, Gregory Porter, Kandace Springs, Terence Blanchard, Derrick Hodge, and Blue Note All-Stars featuring Ambrose Akinmusire, Robert Glasper, Derrick Hodge, Lionel Loueke, Kendrick Scott, and Marcus Strickland.
– 1xLP reissue of the previously out-of-print rare classic catalog album Step Lightly by trumpeter Blue Mitchell, recorded in 1963 with Joe Henderson, Leo Wright, Herbie Hancock, Gene Taylor, and Roy Brooks, and featuring liner notes by Michael Cuscuna.
– 2 never-before-released Francis Wolff 12×12 lithographs of Wayne Shorter and Stanley Turrentine.
– 1 x exclusive John Varvatos-designed Blue Note scarf.
– 1 x "Jazz Is Not A Crime" turntable mat conceived by Ryan Adams.
– 1 x zine featuring: a foreword by spiritual teacher and author Ram Dass, a poem by Jack Grapes, a conversation between Wayne Shorter and actor/comedian/jazz fanatic Jeff Garlin, an eloquent elegy for the late drummer Billy Higgins written by Charles Lloyd, and a true-to-life comic drawn by Keith Henry Brown about an encounter between Stanley Turrentine and Blue Note founder Alfred Lion as told in the words of Bobby Hutcherson.
Tracklist
Blue Note Review: Volume One – Peace, Love & Fishing
Side A
1. Lady Gabor (Live from Royce Hall) – Charles Lloyd & The Marvels
Charles Lloyd (flute), Bill Frisell (guitar), Greg Leisz (pedal steel guitar), Reuben Rogers (bass), Eric Harland (drums)
2. Footprints – Dr. Lonnie Smith
Dr. Lonnie Smith (Hammond B-3 organ), Jonathan Kreisberg (guitar), Johnathan Blake (drums), Joe Dyson (drums)
Side B
3. Take Me To The Alley (Live From Blue Note Jazz at Sea) – Gregory Porter & Blue Note All-Stars
Gregory Porter (vocals), Keyon Harrold (trumpet), Lionel Loueke (guitar), Robert Glasper (piano), Derrick Hodge (bass), Kendrick Scott (drums)
4. Turnaround – Blue Note All-Stars
Ambrose Akinmusire (trumpet), Marcus Strickland (tenor saxophone), Lionel Loueke (guitar), Robert Glasper (piano), Derrick Hodge (bass), Kendrick Scott (drums)
Side C
5. Memory of a Flame – Terence Blanchard
Terence Blanchard (trumpet), Brice Winston (tenor saxophone), Lionel Loueke (guitar), Aaron Parks (piano), Derrick Hodge (bass), Kendrick Scott (drums)
6. To Be Fair – Derrick Hodge
Derrick Hodge (all instruments)
7. Daydream – Kandace Springs
Kandace Springs (vocals, piano), Ambrose Akinmusire (trumpet)
Side D
8. Zero Gravity #913 – Wayne Shorter Quartet
Wayne Shorter (soprano saxophone), Danilo Perez (piano), John Patitucci (bass), Brian Blade (drums)
Blue Mitchell – Step Lightly
Blue Mitchell (trumpet), Joe Henderson (tenor saxophone), Leo Wright (alto saxophone), Herbie Hancock (piano), Gene Taylor (bass), Roy Brooks (drums)
Side A
1. Mamacita
2. Sweet and Lovely
3. Andrea
Side B
4. Step Lightly
5. Cry Me a River
6. Bluesville