Published on
July 22, 2014
Category
Features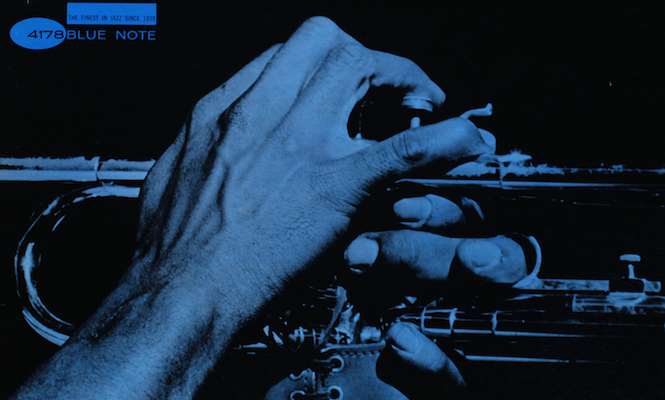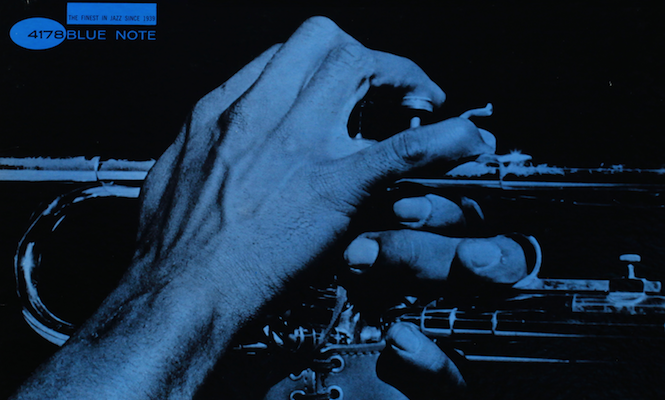 The finest in jazz since 1939.
Among the most influential and important record labels of all time, Blue Note have marked their 75th anniversary this year by launching an extensive reissue campaign that aims to make 100 classic and contemporary Blue Note titles available on vinyl once more.
From Coltrane to Cannonball Adderley, the label was at one time or another home to pretty much every major jazz musician to break land during the commercial golden era of the genre in the 50's and 60's. With its distinctive Reid Miles-designed sleeves and Rudy Van Gelder-produced sound, it forged a coherent identity over an ever-increasing catalogue liberally estimated at close to a staggering 1,000 releases.
And yet, with so much to choose from, when we tasked 16 musicians, producers, DJs and label heads from the most diverse of backgrounds and genres to share their favourite Blue Note records it was striking how focussed the results were. As much a celebration of Blue Note as a Donald Byrd appreciation society, the trumpet player who made the jump to jazz funk smoother than most clocked an impressive five votes, while both Wayne Shorter and Horace Silver are also well represented with two a piece.
However, whether discovered through hip hop samples or via Dad's record player in the living room, this feature is as much about the people choosing as the records themselves, and with a remit way beyond dusty corridors of jazz we hope this has shown just how broad the church of Blue Note really is.
To accompany this feature, we've also compiled a YouTube playlist from the records chosen below for you to listen to while you read. Enjoy.
---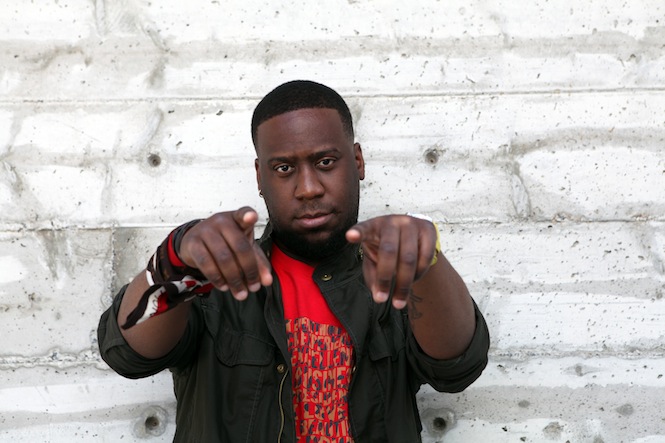 Robert Glasper
Leading the charge for Blue Note in the 21st century, pianist and composer Robert Glasper is spearheading the newest new thing in jazz. A sophisticated merging of jazz, hip hop and neo soul sensibilities, his ground-breaking 2012 LP Black Radio as the Robert Glasper Experiment invited kindred spirits Mos Def, Erykah Badu and Bilal among others to share the vision to break down any enduring stereotypes and make jazz cool once more.
---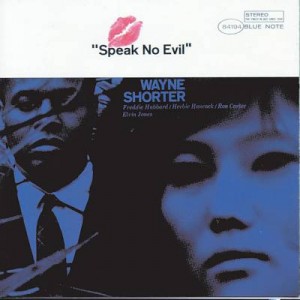 Wayne Shorter
Speak No Evil
(BLP 4194, 1996)
I can't remember the first Blue Note album I bought, but I do know my very first favourite Blue Note record — and that would be Speak No Evil, Wayne Shorter. It's almost like a really amazing underground hip-hop record that didn't go mainstream for some reason; that's how it sounds. It just has a certain mood, a certain darkness and a certain honesty.
Listen HERE.
Photo: Janette Beckman
---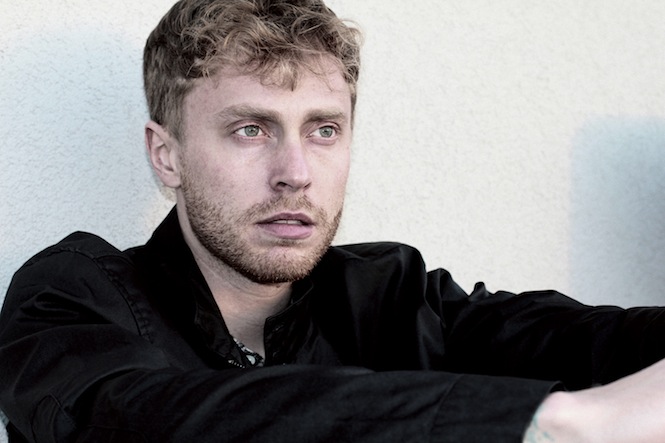 FaltyDL
Since moving from Planet Mu to Ninja Tune, New York based producer FaltyDL aka Drew Lustman has kicked on to become one of the most in-demand producers and remixers about, as well as heading up his own Blueberry Records label recently behind the new Dego EP. On his own new record In The Wild due out on Ninja Tune early next month, Lustman draws liberally on more acoustic influences, the syncopated 'Some Jazz Shit' a sample-heavy down-time roller that reveals just how deep his roots playing jazz bass go.
---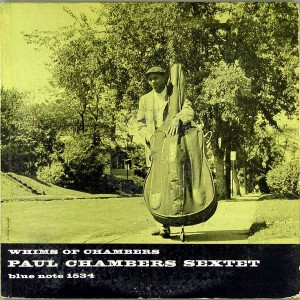 Paul Chambers Sextet
Whims Of Chambers
(BLP 1534, 1957)
Like any great Blue Note album of the 1950's, everyone is high on heroin. Reefer madness was around the corner, so the possibility of grass is likely too. This album "swings". Opener 'Omicron' changes tempo and meter 3 times in the first 30 seconds. 'Tale Of The Fingers' is basically the best arco tune ever recorded. And it goes on and on…
I played upright bass for years and struggled to find any modern classical or jazz bass music that didn't repeat old rhythms and mimic already existing standards. Like most music you have to go back about 50 years to find the originators. I think a friend gave me this album or I stole it from his Dad? I don't know, what's the difference. I listen to it often and find notes in it I forgot about or didn't hear the previous time. And I sampled the hell out of it.
Listen HERE.
---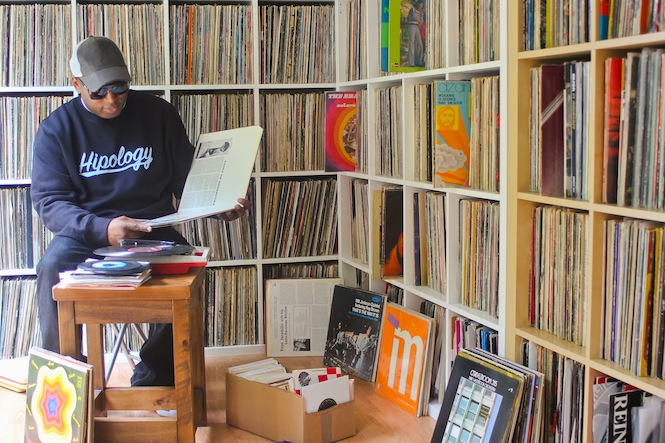 Marc Mac (4hero/Visioneers)
Founding member of early breakbeat and drum and bass pioneers 4hero with Dego, Marc Mac are another from the old school to draw heavily on jazz influences and sampling that dominated so much new music in the early 90's. In 2004, they contributed a remix of Horace Silver's 'Won't You Open Up Your Senses' (from the record he's picked below) on Blue Note Revisited, the remix comp cited below by Brandt Brauer Frick as their all time favourite.
---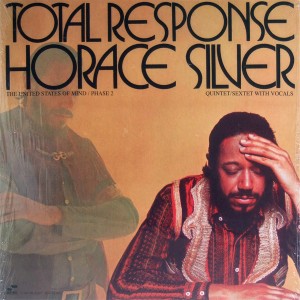 Horace Silver Quintet/Sextet
Total Response
(BTS 84368, 1972)
After several days deliberating the big Blue Note question I've come to the conclusion based on a few key factors; music, cover art, lyrical content and concept. Horace Silver's Total Response album comes out on top of my long list close behind would be Donald Byrd's Places and Spaces mainly for the Mizell factor (can't do this without mentioning that album).
The Total Response 1972 pressing comes in a gate-fold, matt-print cover with psychedelic artwork and full lyrics printed inside, I bought this album at a record fair without even hearing it after seeing the artwork and reading the inner cover notes. The line up is heavyweight with Andy and Salome Bey on vocals, Mickey Rocker on drums and Cecil Bridgewater on horns. The album deals with the relationship between mind, body and our consummation of food and chemicals, I kinda feel the concept highlights the freedom Blue Note gave to its artist in the early 70's. Great instrumentation with meaningful words and musicians playing with some serious attitude, all the elements I need and love on any record, the fact its on Blue Note is a massive bonus.
Listen HERE.
---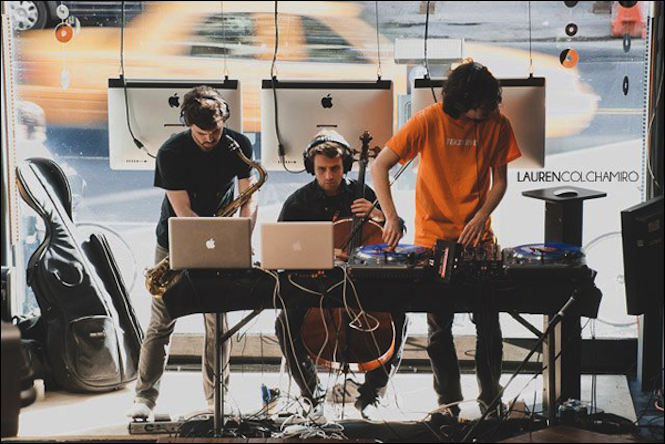 Archie Pelago (Hirshi)
With a slew of EP's to their name and a recent guest spot on the new Mister Saturday Night comp, Brooklyn-based live electronic trio Archie Pelago combine their backgrounds in jazz and classical music with innovative uses of software, often crouched over consoles while playing trumpet, cello and sax. We first heard them on the stir-fry 2013 12″ 'Subway Gothic', an electro-acoustic suite of sorts that owes as much to Arthur Russell as it does Mount Kimbie.
---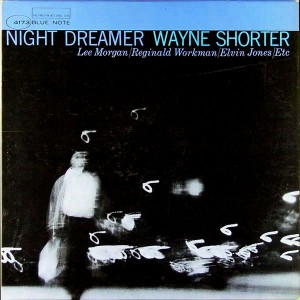 Wayne Shorter
Night Dreamer
(BLP 4173, 1964)
With a discography as far and wide as Blue Note, picking one favourite is a challenge. Night Dreamer by Wayne Shorter quickly comes to mind as a front-to-back listener with unforgettable compositions and an all-star rhythm section in the form of McCoy Tyner, Reggie Workman and the almighty Elvin Jones. With Lee Morgan joining the fray on trumpet, this ensemble captures a sound, time and place with effortlessness poise.
The album flows gently and naturally from one track to the next, with Shorter's gorgeous melodies complimenting themselves throughout the record, deftly interwoven through each tune. The sparse yet rigid arrangements allow for some seriously poignant interstellar back-and-forth between the group in gems like 'Oriental Folk Song' and 'Black Nile'. Truth be told, there's not a bad cut on there and considering what Shorter would be able to accomplish in his career after this early effort, it's worth revisiting this record as a lens through which to look at his ongoing brilliance.
Listen HERE.
---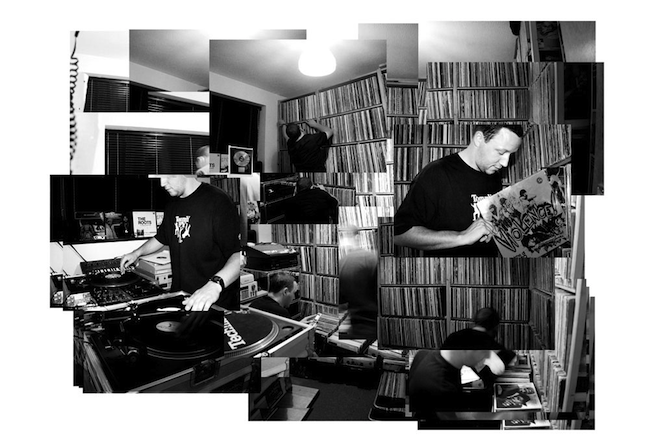 Mr. Thing
As anyone who's seen him scratch with 45s and build a set with breaks and rare 7″s will testify, Mr. Thing knows how to treat records. Hip hop producer and former Scratch Pervert, Mr. Thing has spent the last 25 years honing one of the most sought after collections around. His Boiler Room set from The Vinyl Library last year is a thing to behold.
---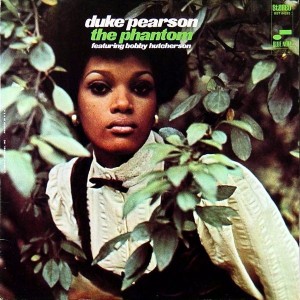 Duke Pearson
The Phantom
(BST 84293, 1968)
I remember hearing the title track from this 1968 LP at a friends house, we pretty much sampled it right away for a beat that's still in the vaults! Took me a long time to track down an original copy, think I got one in the end in New York on one of the couple of times I went there on holiday/digging trips.
Such a beautiful and down low funky piece of jazz, I love the way Bobby Hutcherson's vibes sneak in and out and play neat riffs between Duke Pearson's piano. Elsewhere's there's a couple of nice Latin-tinged more tempo numbers ('Bunda Amerela' & 'Los Ojos Alegres'). Such a great LP and highly recommended late night listening!
Listen HERE.
---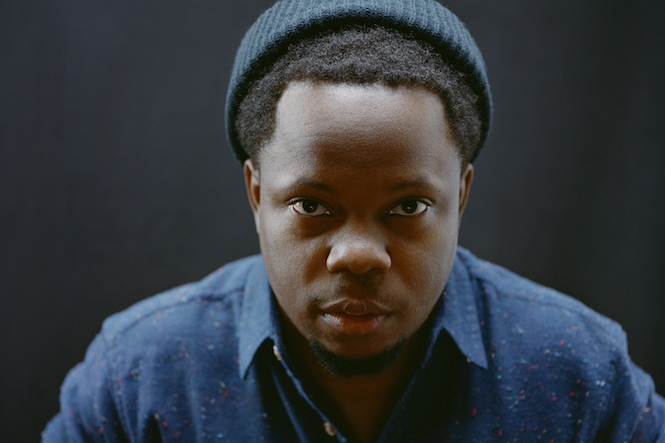 Ambrose Akinmusire
Rising star on Blue Note with just two albums for the label under his belt Ambrose Akinmusire is one of the genre's bright young things, performing in and around New York with the likes of Esperanza Spalding and Jason Moran. He's recorded with luminaries such as Steve Coleman, Jack DeJohnette and Vijay Iyer and released The Imagined Savior is Far Easier to Paint on Blue Note earlier this year.
---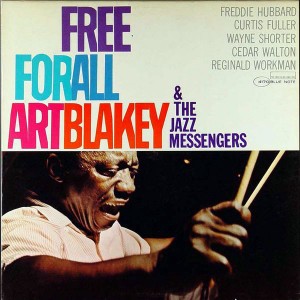 Art Blakey & The Jazz Messengers
Free For All
(BLP 4170, 1964)
This album is super deep. My mentor Robert Porter would take us (me and Jonathan Finlayson) down to the flea market just about every weekend and teach us about records.
I remember researching this record and learning that this record was recorded on the same day the House of Representatives introduced the civil rights bill (shortly after JFK's assassination). So the title track and Freddie's tune 'The Core' which was written for a political group much like the NAACP make sense. The playing on this sounds like both a celebration of their resilience and acknowledgement of the fucked-up-ness of needing to be resilient.
Listen HERE.
Photo: Autumn De Wilde
---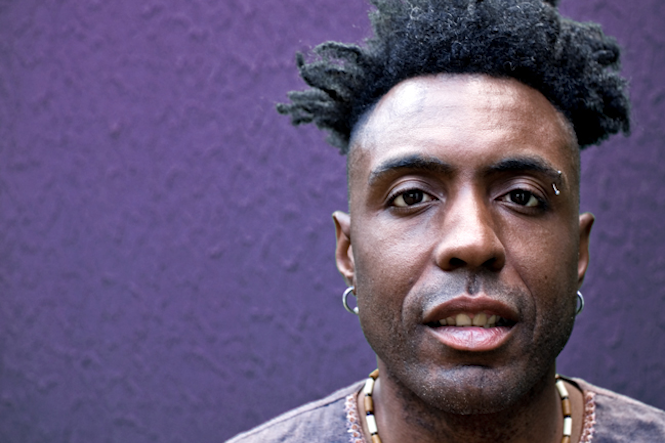 Omar
A mainstay on the UK soul scene for the last 25 years, Omar Lye-Fook has collaborated with legends like Stevie Wonder, Leon Ware and Lamont Dozier over the course of a distinguished career, returning to release the glorious LP The Man in 2013.
---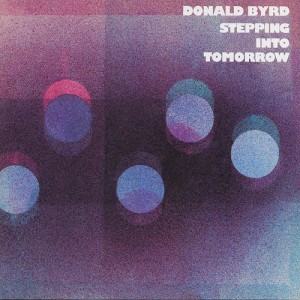 Donald Byrd
Stepping Into Tomorrow
(BN-LA368-G, 1975)
My favourite Blue Note record will have to be Stepping Into Tomorrow by Donald Byrd and Larry Mizell. I first came across the tune after hearing 'Music Is My Sanctuary' which also features Larry Mizell and Syreeta Wright (amongst others) and had to hear more of that style.
This is the benchmark which I would like my music to be compared to! Infectious rhythms and chord progressions and everything has it's place. Donald Byrd's trumpet just puts the cherry on top.
Listen HERE.
---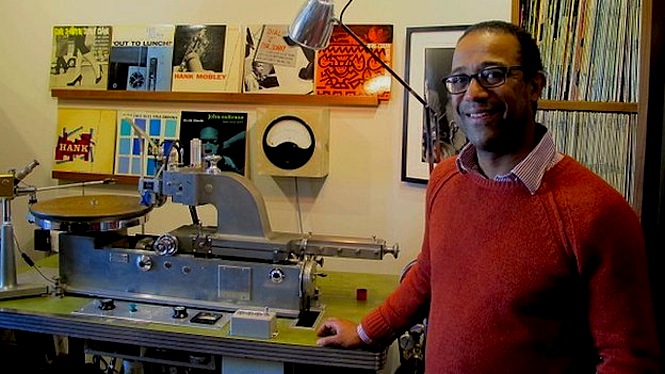 Darrel Sheinman, Gearbox Records
Founded by Darrel Sheinman in 2009, London's Gearbox Records have made a name for themselves in the last five years, remastering and reissuing often very rare or previously unreleased records on limited edition vinyl. All Gearbox records are cut at their all-analogue chain mastering studio, where the walls are lined with framed Blue Note sleeves.
---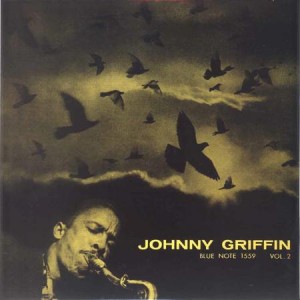 Johnny Griffin
A Blowin' Session
(BN 1559, 1957)
This album is special as it is a sort of jazz "supergroup" from the era. Most manufactured supergroups of any genre don't work, but this one does, as it hits their careers at the right point, where ego does not stand in the way. All of the players are leaders in their instrument class.
In spite of the virtuosity shown in the playing, and the speed of some of the tracks, the whole album hangs together very coherently without the feeling that the musicians are showing off. They give each other a lot of space and respect, and maintain the right energy for dancing and private listening both. This album represents what good jazz is about. This is the finest example of the hippest type of hard bop available and was my introduction to Blue Note collecting. The other special feature of this album is that it is one of the earliest examples of John Coltrane as a sideman.
Listen HERE.
---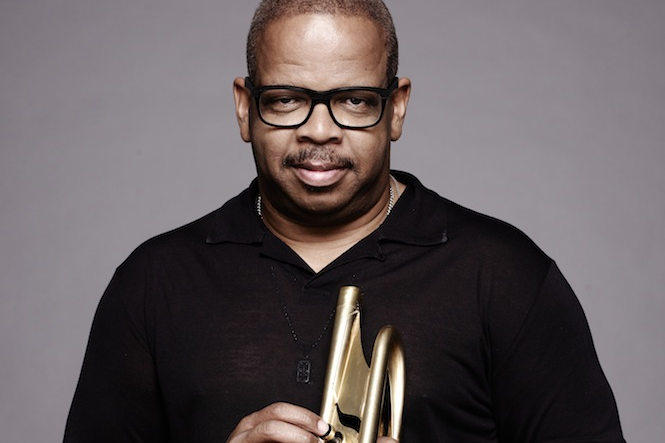 Terence Blanchard
Terence Blanchard has been blazing a trail across contemporary jazz for some years now, 30 years since he first recorded with Donald Harrison on Concord. His aptly named albums Bounce and Flow from the mid-2000's are among the most celebrated in modern jazz and he continues to be one of contemporary Blue Note's most important artists.
---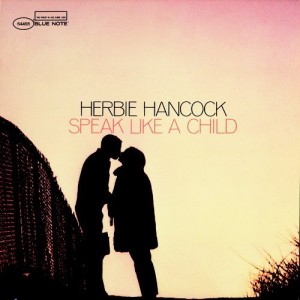 Herbie Hancock
Speak Like A Child
(BST 84279, 1968)
Speak Like a Child demonstrates Herbie's willingness to move well beyond the normal boundaries of jazz arranging and composition. The arrangements on this album, while written for small ensemble, take on a more orchestral tone in their design.
Listen HERE.
Photo: Nitin Vadukul
---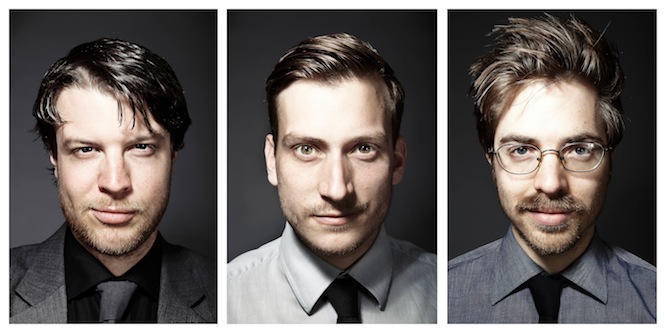 Brandt Brauer Frick (Jan Brauer)
Straddling everything from free jazz to big room techno, Berlin trio Brandt Brauer Frick have carved out a little nook where they can appear on Modeselektor's Monkeytown, mix their own DJ Kicks comp and still find time to hone a more acoustic techno sound full of jazz sensibilities and improvisation. Their 2013 LP on K7! Miami marked the rupture that has seen them move in a more electronic direction, collabortaing with the likes of Om'mas Keith, Nina Kraviz and Jamie Lidell.
---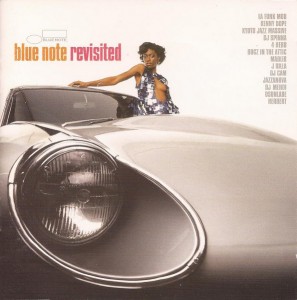 Various Artists
Blue Note Revisited
(2004)
Needless to say that all three of us are Blue Note listeners and big fans. My own first Blue Note record was Maiden Voyage by Herbie Hancock which I bought at the age of 15. So these are the tunes that take me back to years ago, which is a feeling that happens regularly since so many of the classic Blue Note tunes are kept well alive and literally around.
It would be difficult to list down here the most important Blue Note tracks for me as the catalogue is endless and full of great stuff. It's no less than the history of jazz which opens up if you go through the releases, from Sydney Bechet, Thelonious Monk and Miles Davis to Art Blakey, John Coltrane and Lee Morgan, everyone is there.
For us this is a precious history which dates back to earlier than the three of us were born, and it makes me happy to see that Blue Note is still delivering great music to us and has never been interrupted since. The Blue Note Revisited compilation is one of my favorite remix records ever, coming up with amazingly fresh yet carefully crafted versions of Blue Note classics by a new generation of artists like J Dilla, Kenny Dope, Spinna, Osunlade or Madlib. Herbert's version of 'Caravan' or 4Hero's version of 'Won't You Open Up Your Senses' are both killer tunes, yet so different that you wouldn't even expect to find them on one disc.
Listen HERE.
Photo: Harry Weber
---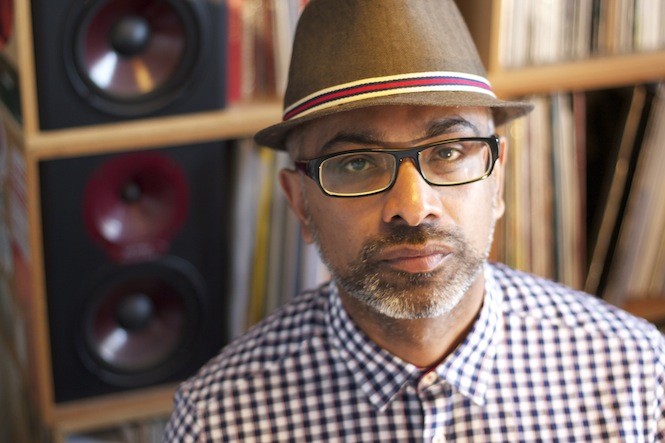 Robert Luis, Tru Thoughts A&R
Founder and co-owner of independent UK hip hop, soul and jazz label Tru Thoughts, Robert Luis has introduced the world to major recording artists like Bonobo, Quantic and Alice Russell, as well as signing UK legends Rodney P and Zed Bias to the Brighton-based label. As a DJ, he draws on his vast collection to play everything from jazz to dub step and as his contribution testifies, his knowledge is equally impressive.
---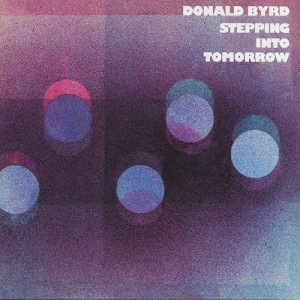 Donald Byrd
Stepping Into Tomorrow
(BN-LA368-G, 1975)
This was the first "original pressing" record I bought on Blue Note. As a teenager who was an aspiring DJ who loved hip hop I wore out my copy of Main Source 'Looking At The Front Door' and when a friend of mine told me 'Think Twice' from this album was the source of the original sample and played a recording on tape to me of the track from a Gilles Peterson radio show, it really blew my mind. I knew of Blue Note for the more straight up jazz but 'Think Twice' is a boogie / soul tune. I was quite used to finding the original funk samples from hip hop but this was the point where the jazz and soul stuff was beginning to be sampled a lot more in hip hop (A Tribe Called Quest to Pete Rock).
I started a weekly club night in Brighton called Shake Yer Wig in the 90's where I booked people like James Lavelle, (a pre-Fatboy) Norman Cook, Patrick Forge and even Fabio and LTJ Bukem to play non-D&B sets and this night helped me fund a bigger and better record collection. I was playing a lot of the classic 90's hip hop that was arriving in the UK each week alongside the original sample sources. The club was very busy so I began to have enough money to buy original pressings (DJ nerds love originals) and this was my first Blue Note original LP.





This was a starting point for me to get into Blue Note Records as a whole. With their designs getting used by hip hop artists from the mainstream Tone Loc based on Donald Byrd to artists like The Beatnuts classic Intoxicated Demons based on Hank Mobley.
Blue Note has had a big influence on what we do at Tru Thoughts. Having the Tru Thoughts logo on all Tru Thoughts album releases, is a direct influence of Blue Note. The fact Blue Note had their logo on the cover helped me discover so much good music and the logo we got designed was made to work on a variety of album designs. They also released a lot of music which I like and also the artist cross collaborated, so if you liked one album you may end up checking music by other artists featuring the same players. Crew mentality is always good in music!
Listen HERE.
---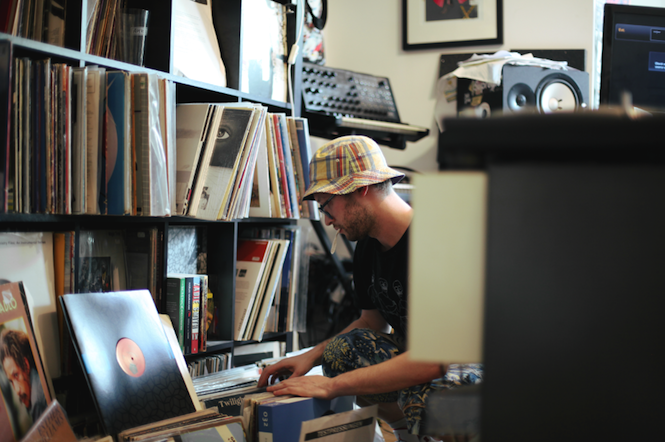 Budgie
Producer and DJ Budgie has recently made a giant leap into the collective consciousness with his the third EP to grace Theo Parrish's flagship label Wildheart Recordings. He followed that up with a 90 minute chat for Boiler Room's new Collections series, joining the dots as an Honest Jon's graduate, gospel fanatic and hip hop producer.
---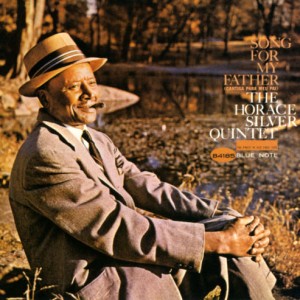 Horace Silver
A Song For My Father
(BLP 4185, 1964)
My favourite Blue Note LP is Horace Silver's A Song For My Father. As a kid my Dad played the title track from this album for my little brother and I every Sunday. We would dance around the living room scatting the melody of the title track in perfect unison.
The Brasilian rhythms throughout the LP had a lasting impression on me too subconsciously informing my later love of Bossa Nova. Listening to this album gives me even more enjoyment listening to it at the age of 27 than it did when I was 7 years old and that's a true testament of its greatness.
Listen HERE.
---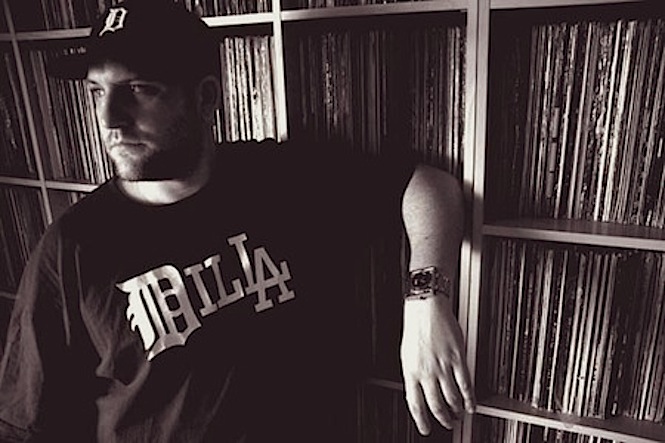 Spin Doctor
The self-avowed "hardest working man in hip hop", Spin Doctor is the man behind long-running party The Doctor's Orders across London, Brighton and Manchester. He's booked just about everyone and has a record collection to match the weight of his diary, which includes a number of festival residencies, radio spots and worldwide parties.
---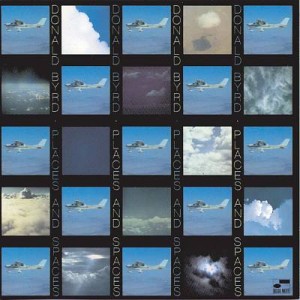 Donald Byrd
Places and Spaces
(BN-LA549-G, 1975)
This is seven tracks of sheer perfection! Every one of them is a phenomenal tune in its own right and to bring them together as one complete album is almost hard to believe. By '75 Donald Byrd was a master with over 20 years in the game. Combine that with the Mizell brothers' breath-taking production work and players likes Harvey Mason in the studio, he uses all that experience to explore the 'Fusion' of jazz-funk creating a true masterpiece in the process.
Having originally discovered this through tracks that had been sampled by the likes of Pete Rock this is without doubt one of the most played albums in my collection and one of the few records I have kept multiple copies of for no other reason than it being such an incredible gem.
Listen HERE.
---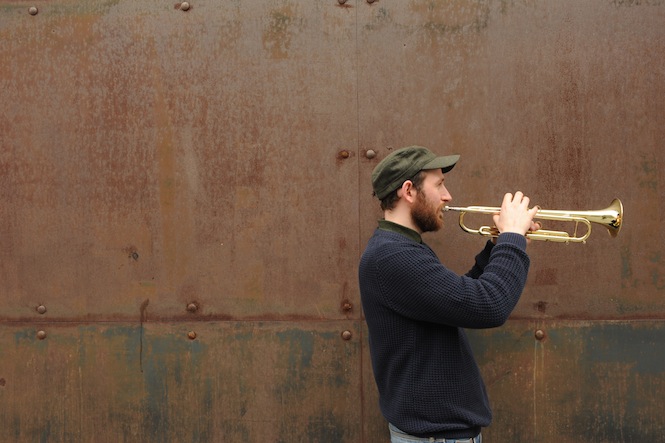 Matthew Halsall
Manchester based trumpet player is among the most respected young jazz musicians in the UK celebrated by the likes of Gilles Peterson and Mr Scruff after he burst onto the scene with Colour Yes in 2009. With a new LP with the Gondwana Orchestra out now, Halsall has taken to the road to play a series of gigs, most recently at A Love Supreme festival. He also airs his broad taste on an occasional mix series, where you'll hear everyone from Sylvia Striplin to Aphex Twin.
---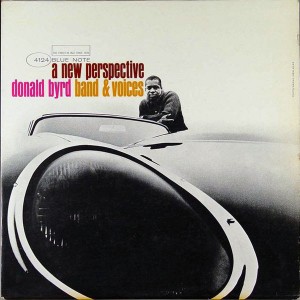 Donald Byrd Band and Voices
A New Perspective
(BLP 4124, 1963)
Recorded during Blue Note's legendary hard-bop era this is one of my favourite albums. Deep and soulful it's the use of a choir that really brings this album home, giving the classic funky Blue Note vibe a deeply spiritual edge. But it isn't just the music, the cover is an all time classic with the iconic photo of Donald Byrd chilling next to a beautiful Jaguar E-Type Car perfectly capturing the swinging 60s vibes of this record perfectly.
The album also features the perfect line up: Blue Note stalwart Hank Mobley on tenor, Donald Best on vibes, the great Herbie Hancock on piano, the always downhome Kenny Burrell on guitar, funky bassist Butch Warren, drummer Lex Humphries and of course Mr. Byrd himself on trumpet, with the voices expertly conducted by Coleridge Perkinson. All the solos are very soulful and melodic, just the way I like it and the arrangements are perfectly structured by legendary pianist/arranger and Blue Note legend Duke Pearson. The whole album is great but if you just want to check out one track then the gospelly 'Christo Redentor' is the one. Soulful perfection.
Listen HERE.
Photo: Stephen Hunt
---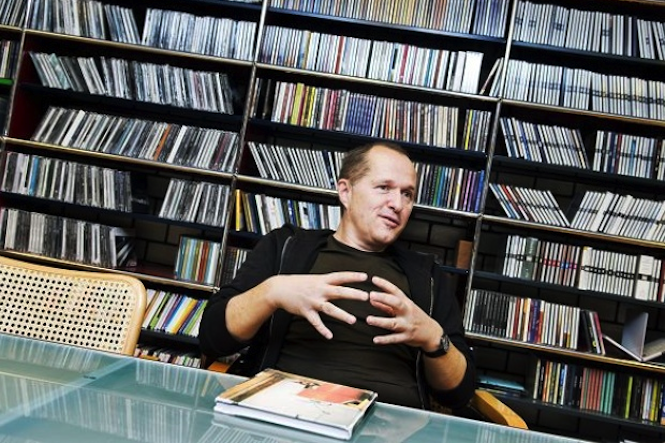 Rune Kristoffersen (Rune Grammofon)
Founder and bassist of 80's Norwegian new wave outfit Fra Lippo Lippi, Rune Kristoffersen now heads up the ever-impressive Rune Grammofon label, releasing experimental and electronic jazz music from Norway and beyond. He was recently behind an exhaustive survey of pre-CD era free jazz, as collected in the hardback book Free Jazz And Improvisation On Vinyl 1965-1985.
---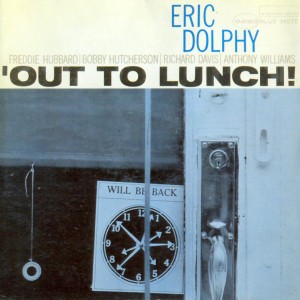 Eric Dolphy
Out To Lunch
(BLP 4163, 1964)
I'll have to go for Eric Dolphy´s Out To Lunch from 1964. It all starts in an ordinary enough fashion with Richard Davis' walking bass and young Tony Williams' ride cymbal at the core but soon hints at more challenging ventures when the steady cymbal figure drops out after a mere 22 seconds. Not really free jazz and not really what one associates with avant garde, what follows is still an album way ahead of its time, one of the great jazz milestones and an album that sounds both modern and contemporary even today, 50 years after its release. Drummer Tony Williams deserves a special mention, only 18 at the time of recording and putting a distinct mark on the music. Having the technique is one thing, but inhabiting the musical depth and vision at this young age is extraordinary.
The recording itself is also excellent, done as it was straight to analog tape with no possibility of mixing afterwards, and sounding great even on my iPod ripped from a 1987 first CD edition. Still, the 50 year anniversary is surely a good time for a deserved luxury re-issue?
Listen HERE.
---
And a final word on Donald Byrd from Soul II Soul's Jazzie B…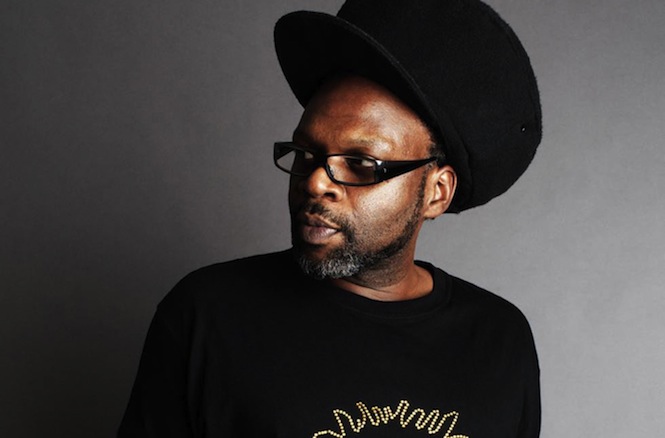 My Favourite: Donald Byrd's 'Places & Spaces' (1975)
Why: This was the first Blue Note album I brought, for the track 'Wind Parade'. Listen to the song, Nuff said.
---
Earlier this year we asked 13 musicians to share their experiences of the music of Sun Ra to celebrate his 100th birthday, which you can read here.