Published on
November 8, 2018
Category
News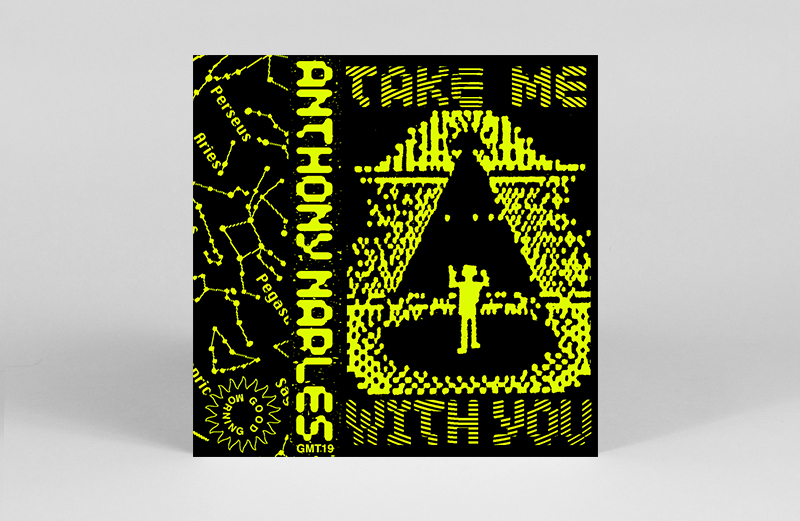 Autumnal rollers.
Anthony Naples has announced his second album, Take Me With You, out this November on cassette ahead of a January vinyl release, via Good Morning Tape.
Originally taking shape as a mixtape dedicated to time spent with friends in the mornings after parties, the project eventually morphed into the 12-track LP.
According to Naples, the album was influenced by a number of classic experimental and electronic works, including: Space LP by Space, The Theatre Of Eternal Music, Panda Bear's Person Pitch, Atlas Sound's Let The Blind Lead…, Arthur Russell's World Of Echo, Suzanne Ciani's Buchla Concerts: 1975, The Microphones' The Glow Pt. II & Mount Eerie, a mixtape of Krautrock from DJ Ivan Berko, and Holger Czukay.
Earlier this year, Naples released 'OTT' / 'ZTL' via his Incienso imprint sublabel ANS, as well as People Plus' Olympus Mons EP on the main label.
They follow a series of releases via his Proibito label, which operated from 2013 – 2017, alongside sub-label Mixes For My Mates.
Pre-order a copy of Take Me With You here listen to the celestial '365' and check out the track list below.
Tracklist:
1. Alto
2. Goodness
3. Drifter
4. Spiral
5. Tango
6. 365
7. Shredder
8. El Portal Pt. II
9. Love Loop To Fade
10. Worldwide
11. Things Will Never B Tha Same
12. Take Me With You