Published on
April 17, 2013
Category
News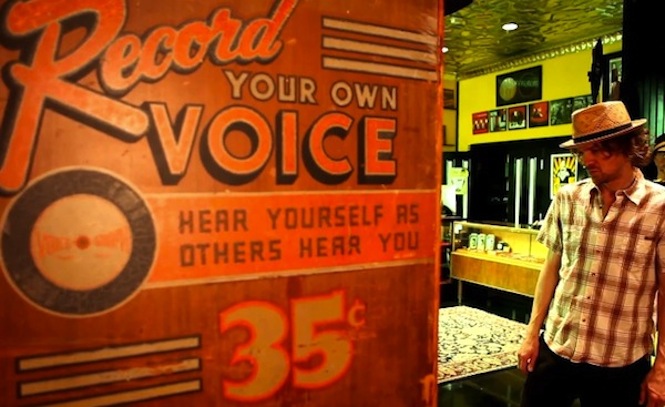 Revelling in his role as the appointed Ambassador of Record Store Day 2013, Jack White will be offering customers at his Nashville label and record shop the opportunity to record themselves on vinyl and "and maybe even mail it to someone they love".
Jack White's Third Man Recording Booth is probably the coolest stunt on this year's RSD schedule. Using a refurbished 1947 Voice-o-Graph machine – the only operational machine of its kind in the world open to the public – customers will be able to records up to two minutes of themselves onto a one-of-a-kind 6″ phonograph disc.
Not so much for the budding musician as the starry-eyed romantic, the old-school attraction will also provide a dip 'n' dunk photo booth, custom-printed envelopes and postage stamp to send your wax straight to the person you love (or perhaps a major label exec). Spreading the love like a swooning bride on the eve of her big day, Jack White had this to say about the whole experience:
Actively venturing to your local record shop is one of those honors and privileges in this life that we just shouldn't take for granted. Certain beautiful experiences can only happen in the environment of a record store and I just thought that nothing could drive that point home more than a one-of-a-kind machine that lets you not only record your own vinyl record, but send it to anyone, anywhere in the world to share a song, poem, or private message with… Even if you aren't instrumentally inclined, you could hold up an iphone playing a song and sing along with the music and combine the best of all worlds tangible, digital, and romantic… it's almost the same thing as illegally downloading an mp3 and emailing it to someone. Well…, Almost.
Third Man are also releasing a special 10th anniversary edition of The White Stripes' breakthrough album Elephant.
If you can't make it to Nashville on Saturday, you can watch Raconteur Brendan Benson take the Recording Booth for a test drive.