Published on
September 12, 2016
Category
News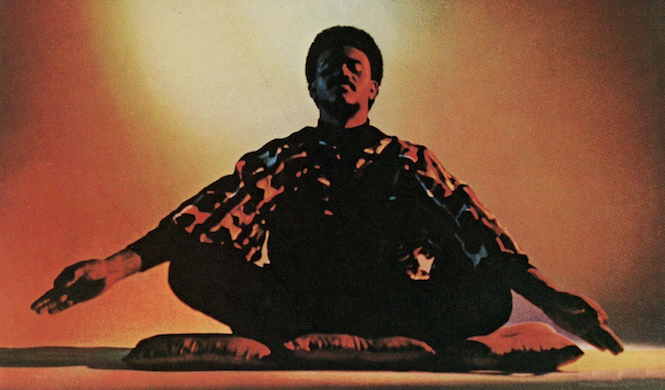 Time to get deep.
Charting the amorphous genre of spiritual jazz, Black Classical's twelve-hour mix spans from 1957 through to 2012, when it was recorded.
A vast sonic piece of documentation, it features pioneers Sun Ra, John & Alice Coltrane, Don Cherry and Pharoah Sanders, alongside South African songstress Letta Mbulu, Brazilian percussion maestro Airto, early incarnations of Earth, Wind & Fire and the great Gil Scott-Heron.
The session is now available in four parts via NTS Radio.
Listen in full and check out the tracklist below.
Tracklist:
Roy Campbell/Joe McPhee: Music Is The Healing Force
Fred Stone: Theme From Laurence Of Arabia
Fred Stone: Elissa
Bob Thiele: Lament For John Coltrane
Bob Thiele: Love Supreme
Dwight Trible: In The Beginning God
Massimo Urbani: Quartet Dedication To Albert Ayler
Elvin Jones: Love Supreme
Massimo Urbani Quartet: Dedication To John Coltrane
Family Of Percussion: Circulus Aquae
Sunday Palaver: Last March
Blackclassical Remixes Sarah Webster Fabio
1. My Own Thing
2. Echo Of Rain
3. Crossfire
4. I Would Be For You Rain
Cheikh Tidiane Fall: African Spiritual Soldier
Cheikh Tidiane Fall: African Ancestrial Piece
Sarah Webster Fabio: Turn From Love
Sun Ra: Antique Blacks
Soloman Iria: Prayer
David S Ware: Theme From The Stargazers
Karmu Daahoud: Deep River In Her Voice
Kahn Jamal: Drum Dance To The Motherloade
Mor Thaim: Return Of The Fisher King
Pyramids: Anomawa
Pyramids: Birth Speed And Merging
Pyramids: Lalibela Suite
Pyramids: Speed
Pyramids: King Of Kings
Pyramids: Indigo
Pyramids: Ya Ke Ya Ke
Pyramids: Land Of The Eternal Nile
Herbie Hancock / Don Cherry / Mtume Kawaida
Pyramids: Queen Of Spirits
Brother Ah Sweet Illumination
Jj Clayton: Fragments
Jef Gilson: Malagasy
Sam Rivers: Topaz
Edward Vesala: Call Of The Sea
Oracy: The Weight Don't Make Things No Lighter
Warren Smith: Echora
Richard Abrahams: Degrees And Levels Of Light
Sun Ra: Mayan Temples
Amir Bakra: I Love Music
Amir Bakra: Black Mass Excerpt
Don Rendell: Space Walk
Warren Smith: Ann Of Nizgh
Infinate Sound: Spain
Infinate Sound: Ocean
Babatunde Lee: Lion's Walk
Infinate Sound: Ocean (Reprise)
Griot Galaxy: Necrophillia
Griot Galaxy: After The Dream
Griot Galaxy: Dragons
Dizzy Reece: Nirvana
Dizzy Reece: Possession
Dizzy Reece: Crisis
Carlos Garnett: Black Nile
Carlos Garnett: Dawid
Griot Galaxy: Khamti Noblia
Two Banks Of Four: One Day
Cheikh Tidiane Fall: Few Maka Black Snow
Terumassa Hino / Mal Waldrom: Reminiscence Suite
Build An Ark: Nature
Roy Brooks And The Artistic Truth: Black Survival
Edward Vesala: Wind
Milton Marsh: Everlasting
Organic Music Society: Brazilian Ceremonial Hymn
Muhal Richard Abrams: How Are You?
Don Cherry: Relativity Suite Part 1
Organic Music Society: Manuscha Raga Kamboji
John Coltrane: Welcome
John Coltrane: Om
Karmu Daåhoud: Poem For Our Majestic Ancestors
Les Oubliés De Jazz Ensemble: Nigger/Ur/Ah Musician
Nobuo Hara: Sharps And Flats-Sohran Bushi
Babs Robert & Love Planet: Extra Pol Action (Ice Cream '70)
Charles Tolliver's Music Inc: Ruthie's Heart
Dinamitri Jazz Folklore: Kongo Bells
Amiri Baraka: There Really Was An Africa Poem
Masahiko Togashi: The Beginning
John Coltrane: Dearly Beloved
Dave Lee Jr: Spirit Voices
Eddie Gale: It Must Be You
Bruce Johnson: Rainstorm/Calm/Peace
Donald Alexander Strachan And The Freedom Ensemble: Song For Searching
Cozzi Anatz: Hortus
Philip Cohran And The Artistic Heritage Ensemble: Black Beauty
Azar Lawrence: The Beautiful And Omnipresence Of Love
Sun Ra: When There Is No Sun (Horo)
Roland Kirk: Spirits Up Above
Doug Hammond: Dat'n
Imamu Amiri Baraka: Chant
Pharoah Sanders: Red, Black & Green
Alice Coltrane: Universal Consciousness
Ornette Coleman: Trouble In The East Pt 1
Pharoah Sanders: Creator Has A Master Plan
Ornette Coleman: Trouble In The East
Don Moye: Black Paradlisia
Michael White: Preytude
Marion Brown: Karintha (Poem From Cane)
Black Artist's Group: Sweet Street Song
Alice Coltrane: Galaxy Around Satchidananda
Sun Ra: When There Is No Sun (Live)
Emil Richards: Journey To Bliss Part 3
Alice Coltrane: A Love Supreme
Albert Ayler: Change Has Come
Marion Brown: Karintha Part 2
Pharoah Sanders: To John
John Coltrane: A Love Supreme, Pt. 1 Acknowledgment
John Coltrane: A Love Supreme, Pt. 4 Psalm
Roach Om: A Poem For Lost Souls
John Tchichai: Afrodisiaca
Last Poets: Invocation
Pheeroan Ak Laff: Michelle Del
Marion Brown: Flute Song
Lightmen: Free As You Wanna Be
Joe Mcphee: Scorpio's Dance
Hannibal: Sunrise Forest
Hamiet Bluiett: Ayana Nneke
Sonny Murray: Suns Of Africa Pt Ii
Khan Jamal: Pure Energy
William Norwood: Look At Teyonda
Eddie Gale: The Coming Of Gwilu
Eddie Gale: Song Of Will
Eddie Gale: Understanding
Eddie Gale: Fulton Street
Eddie Gale: Walk With Thee
Eddie Gale: The Gleeker
Eddie Gale: Look At Teyonda
Eddie Gale: The Rain
Piano Choir: Almoravids
Jayne Cortez: I Am New York City
Oneness Of Ju-Ju: Introduction
Gill Scott Heron: Peace Go With You Brother
George Russell: Events Iv
Earth Wind And Fire: Energy
Muriel Winston: Song For Daddy
Build An Ark: Key To The Universe
Cheikh Tidiane Fall Few Maka: Diom Futa
Akira Miyazawa: Bull Trout
Brother Ah Sound Awareness: Beyond Yourself
Heath Brothers: Smilin' Billy Suite
Heath Brothers: Maimouna
Sarah Webster Fabio: I Would Be For You Rain
Cecil Mcbee: A Feeling
Cecil Mcbee: Voice Of The 7Th Angel
Clifford Jordan: 872
Ensemble Al-Salaam: Music Is Nothing But A Prayer
Ensemble Al-Salaam: The Sojourner
John Betsch: Ra
George Russell: Part Ii Events
Stanley Cowell: Lullabye
Pharaoh Sanders: Prince Of Peace
Brother Ah: Love Piece
The Descendants Of Mike And Phoebe: Attica
Shamek Farrah/Sonelius Smith: The World Of Children
The Descendants Of Mike And Phoebe: Two Songs For A Boy Named Mark
Haki R. Madhubuti Medasi: Pyramids To Projects
Letta Mbulu: Sunrise
Southern Freedom Arkestra: Love Is Where The Spirit Lies
Don Cherry: Malukans
Watts Prophets: My People I'll Stop Callin You Nigger
Don Cherry: Daisy Mckee
Don Cherry & Eternal Orchestra: Penderecki Actions
Stanley Crouch: Ain't No Ambulances For No Nigguhs Tonight
Don Ellis: Mirror Pond Of Stars
Lester Bowie: Amina
Marc Levin: Twilight Dance
Nathan Davis: Poem For Martin Luther King
Dave Lee Jr: The Freedom Bells
Roy Campbell Pyramid Trio: Imhotep
Barma Village Poet: Blackman My Brother
Mombassa: Kenia
Mombassa: Holz
Barma Village Poet: Social Narcotics
Art Blakey: Elephant Walk
Horace Silver: Message From Kenya
M'boom! Re-Percussion
Mike Knock: Underground
Coalition: Kenya's Horizon
Hannibal: Revelation
Airto: Encontro No Bar
Art Ensemble Of Chicago: Certain Blacks