Published on
September 14, 2022
Category
Features
Permanent Rotation is a series in which producers, DJs, and musicians go deep on the albums that have inspired them.
In June this year, Brooklyn singer-songwriter Yaya Bey released Remember Your North Star, a bold yet tender debut album that's been met with almost universal acclaim and was one of our favourite releases of the month. Here, she talks about Roberta Flack & Donny Hathaway — the Grammy-winning duet LP celebrating its 50th anniversary this year — that changed the way she listens to music.
Yaya Bey remembers the first time she heard Roberta Flack and Donny Hathaway's self-titled duet album, while sneakily playing her uncle's records in her grandmother's basement aged around 13. Around the same time that she discovered the album, a track called 'On My Block' by rapper Scarface was on the radio, sampling the Flack and Hathaway song 'Be Real Black For Me'. Her father helped her join the dots between the two tracks.
"My dad is a rapper and a hip-hop producer and he would play records for me and have me guess the sample or play older records for me and tell me that such-and-such sampled this," says Bey, speaking from her Brooklyn apartment.
"I think the first sample I could identify in a song was 'Be Real Black For Me'."
Bey's father is rapper Grand Daddy I.U, who was signed to Biz Markie's Cold Chillin' Records in 1989. Bey says he taught her a lot about music from a young age but discouraged her from singing. "He told me that I could not sing, that I should not sing, but he encouraged me to write songs," she says. "He always thought I was a good writer."
Bey began writing poetry and songs while still in elementary school. She remembers being arrested by the lyrics on the opening track of Hathaway and Flack's album, 'I (Who Have Nothing)', a depressive lament for unrequited love. The song was written by the legendary duo of Jerry Leiber and Mike Stoller — of 'Hound Dog' and 'Jailhouse Rock' fame — and adapted from an Italian song written by Carlo Donida. It has also been covered by Tom Jones and Shirley Bassey.
"I think it's one of the first songs that I could sit and listen to, see the imagery in my head and create a story from the lyrics," Bey says.
"I was always really impressed by that and, I mean, Donny Hathaway, his voice is just one of the most special voices that we've had." Hathaway, who tragically died of suicide aged just 33, has been cited as an influence by artists as varied as George Benson, Aaliyah, Common and Alicia Keys. Amy Winehouse called Hathaway her favourite artist of all time.
"Everything he sings, he sings with such sincerity that you believe him, you believe he has a connection to what he's saying," says Bey, who has been lauded for her own incisive lyrics, "braiding confidence and vulnerability into one," as Pitchfork's Eric Torres wrote at the time.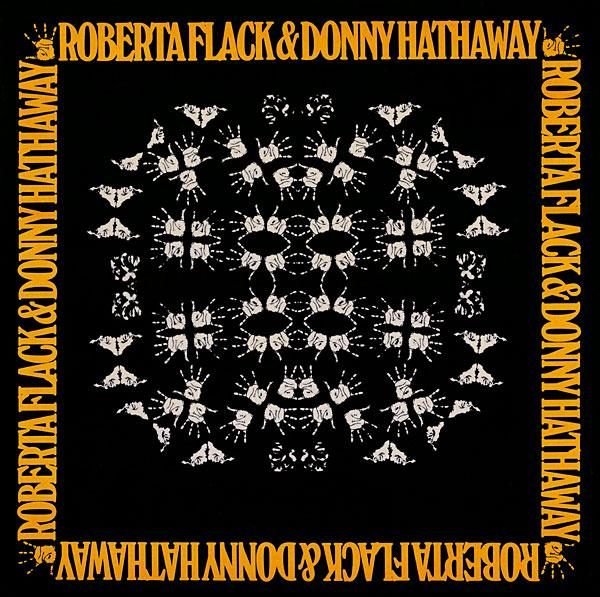 Roberta Flack & Donny Hathaway, Bey says, "changed the way I listen to music."
"It helped to open my ears up because I'm listening for more things, especially as a writer. I'm listening for lyrics, I'm listening for melodies, I'm listening to the tone in their voices and I don't think I was doing that, or consciously doing that, before [hearing] this album."
While Flack, Hathaway and Bey's lyrics all trade in love and relationships, Bey found inspiration in her predecessors' ability to intertwine love stories with broader political and cultural themes.
"Even when they have a song that just seems to be about romantic love or a walk through the park, there's always something in it that reflects what people are going through at that time," she says, returning to 'Be Real Black For Me', released in 1972.
"You're in the Black Power movement, you're in a time where Black people are starting to wear their hair natural and starting to take pride in being Black," she says. "'Be Real Black For Me' is a love song but they found this way to address something that's important to people beyond the surface level that gives the narrative of the song layers."
Bey's own lyrics are similarly layered, fusing generational trauma and feelings of invisibility in one song, self-worth and the destructive effects of capitalism in another. Remember Your North Star, released in June this year, is an album Bey was working on while releasing another EP and LP. It was originally going to be called Safe Travels.
"It needed time to simmer, I needed to become a different, stronger or more experienced artist to pull the idea off," she says, adding that the new title felt more self-assured than Safe Travels.
"The whole concept of a North Star just feels more sure of itself," she says. "You have to know what your North Star is to aim at it." On her latest album, Bey sounds like she's found it.
---
Photo: Keamber Pearson