Published on
June 17, 2017
Category
Features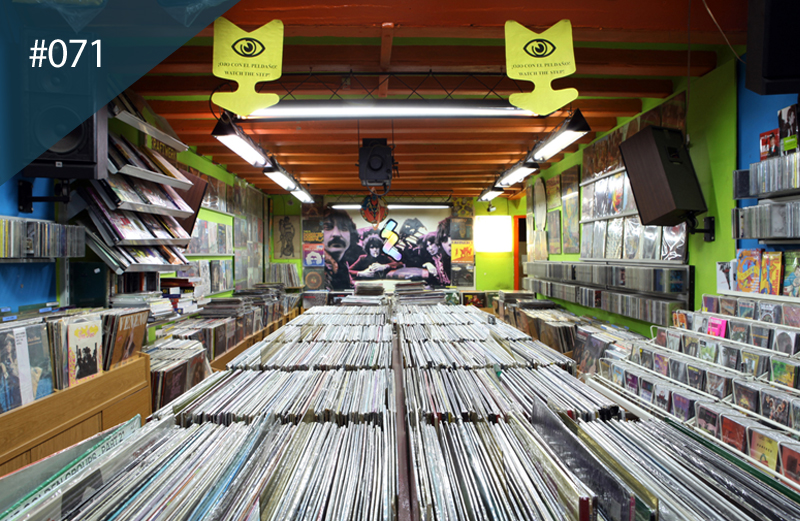 Psych euphoria.
Every week, we pick out one must-visit spot from a different city around the world with photos and a little bit of history. Think of it as a kind of 1000 places to see before you die but for record shops.
Having already dropped in on Discos Paradiso in Barcelona, our second visit to the city explores cavernous, floor-to-ceiling psychedelic treasure trove that is Wah Wah Records, also home to fabulous reissue label of the same name.
---
Wah Wah Records
Contact: www.wah-wahsupersonic.com
Location: C/ Riera Baixa, 14, 08001 Barcelona, Spain
Go for: Psychedelia from across the globe
What's the story? A small outlet in a small street of the Raval neighbourhood in Barcelona, Spain, Wah Wah something of a paradise for collectors and aficionados – if your idea of paradise doesn't include much floor space.
Opened in 1992, Wah Wah boasts a huge selection of vinyl records, originals and reissues from all ages and scenes – blues, jazz, soul, funk, R&B, garage, psych, prog, rockabilly, punk, indie, soundtracks…
That said, it's under the broad arch of psychedelic music that Wah Wah records excels, with whole sections dedicated to region specific musics – from Scandinavian prog to obscure Bollywood – and enough diggable records to give both your bank balance and your inner ear the heebies.
Having spent hours (maybe more, maybe less… time stands still in there) navigating your way through the first room, stumble upon the Narnia-esque corridor and you realise there's just as much, stacked on all sides in the backroom. There's also a big selection of rare CDs at the front if that floats your boat.
It's no surprise then that the shop also serves as HQ for Wah Wah Records Supersonic Sounds label, which reissues rarities from jazz to soul, psychedelia to progressive, early avant-gardists to krautrock.