Published on
July 12, 2018
Category
Features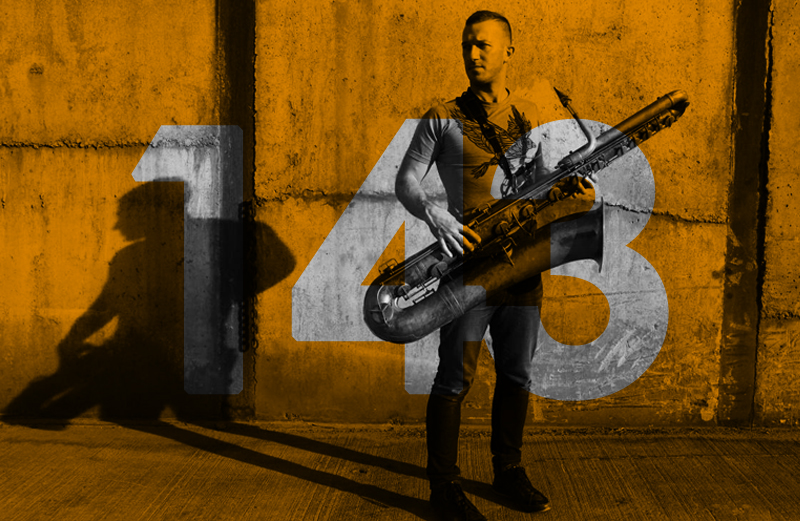 An introduction to the indomitable avant-garde saxophonist, Arcade Fire collaborator and Aphex Twin enthusiast.
Polish cellist Resina and saxophonist Colin Stetson may play radically different instruments, but in their approach to layering sound, constructing sonic cathedrals with repetition and drone, is a kindred spirit.
On her sophomore recording Traces, released by Fat Cat's 130701 imprint this month, Resina pushes beyond the fragile movements of her self-titled debut to expose the harsher, more elemental registers of the cello, just as Stetson explores the full spectrum of the saxophone, from breathy overtones to its most guttural vibrations.
To mark her release, and with Stetson's soundtrack to Hereditary (following last year's brilliant All This I Do For Glory) out now, Resina has summoned 45 minutes of Stetson's work for a high-decibel mix that you can listen to below.
---
"A few years ago, when I was seriously wondering if there was any sense to make an album dedicated to a solo, acoustic instrument in the 2000s, out of the blue I ran into Colin Stetson's second solo album, New History Warfare Vol. 2: Judges.
"I didn't know that Colin was playing with Arcade Fire, and recording with Tom Waits, and I wasn't even a fan of the saxophone, to be honest. That album was just a total surprise, which left me speechless, and in no doubt that it was worthwhile to try and work on finding my own unique, personal musical language."
Tracklist:
1. In Mirrors – New History Warfare Vol. 3: To See More Light (Constellation)
2. Mothers & Daughters – Hereditary OST (Milan)
3. To See More Light New History Warfare Vol. 3: To See More Light (Constellation)
4. Our Heartbreak Perfect – New History Warfare, Volume 1 (Aagoo)
5. At God's Doorstep – Outlaws and Angels OST (Innovative Leisure)
6. Reborn – Hereditary OST (Milan)
7. Groundswell – New History Warfare, Volume 1 (Aagoo)
8. Tiger Tiger Crane – New History Warfare, Volume 1 (Aagoo)
9. Things You Can Do – Retrun To Cookie Mountain (with TV on the Radio) (Interscope)
10. Never Were The Way She Was – Never Were The Way She Was (with Sarah Neufeld) (Constellation)
11. The Rain Like Curses (Adult Swim Singles)
12. And Still They Move – Never Were The Way She Was (with Sarah Neufeld) (Constellation)
13. Joanie – Hereditary OST (Milan)
14. As A Bird Or Branch – New History Warfare, Volume 1 (Aagoo)