Published on
May 24, 2018
Category
Features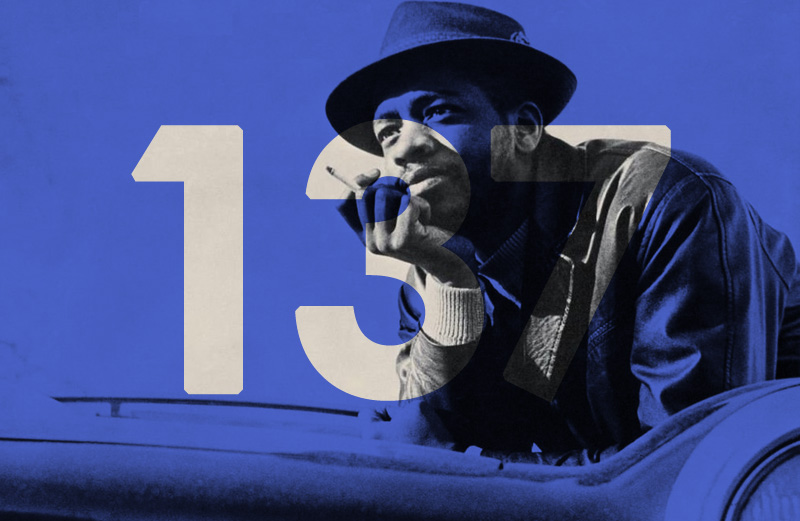 The legendary trumpeter whose pioneering jazz-funk laid the foundations for hip-hop.
During the course of his 60-year career, innovative American trumpeter Donald Byrd traversed genres, styles and scenes the way that us ordinary people cross the street.
Byrd first came to fame with Art Blakey's Jazz Messengers in 1954, before performing with John Coltrane, Sonny Rollins, Thelonious Monk and Herbie Hancock (to name a few).
In 1969, with the help of producing duo the Mizell Brothers, Byrd electrified his sound, on seminal albums Stepping Into Tomorrow, Places and Spaces, Street Lady and Black Byrd, sashaying his way through acid jazz, funk, soul and disco charts, into the hearts of mainstream audiences.
Nearly 30 years later, he changed the game once more, collaborating with Guru on Jazzmatazz Volume One and Jazzmatazz Volume Two, seminal albums through which Byrd forever left his mark on hip-hop as well.
To take us through his many spaces and places, we tapped Jen Ferrer. A resident at Los Angeles' Far Away before becoming a full-time member of the crew alongside founder Cooper Saver, Ferrer has also graced the decks at Low End Theory as the in-house DJ in March.
Listen to the mix, find out why she chose Donald Byrd and check out the track list below:
"I was first introduced to Donald Byrd through his later disco work with 125th Street, N.Y.C. I'll never forget hearing 'Love Has Come Around' for the first time on James Murphy & Pat Mahoney's FabricLive mix from 2007 (one of my "desert island" mixes for sure). There's so much joy in that song I immediately wanted to hear more – which led me down the rabbit hole to Byrd's solo stuff.
Though he made music for nearly 60 years, my favourite era, as you can probably tell by my selections, was his early 1970s releases. These records were totally ground-breaking in terms of jazz music: for a bebop trumpet player to start transitioning into the worlds of funk and soul was basically unheard of at the time but he did so with class and ease. This is hugely influential for me personally because I've never considered myself "a house DJ" or "a disco DJ" but a DJ who likes to blend genres and eras, and find connections between songs without labelling it.
He's from Detroit, but I also think Donald Byrd's influence is a great representation of the "Los Angeles sound", which is mostly undefined, but heavily leans upon a blend of jazz and hip-hop, another reason I feel so strongly about his work.
For this mix I used a lot of my favourite songs from his own massive discography, as well as some tracks that sample his early work or historically define the concept of sampling jazz in hip-hop, like ATCQ's 'Excursions'). Honestly these are a lot of my all-time favourite songs!! Carl Craig's flip of 'Think Twice' is an incredibly versatile track that I've used as a wind-down tool when I want to ease a heaving crowd from peak time to the next phase, or simply put on in the background when I'm making coffee in the morning.
Donald Byrd rules, end of story, hope you like the mix."
Tracklist
1. Donald Byrd – Weasil (Fancy Free, 1969)
2. Donald Byrd – The Dude (Electric Byrd, 1970)
3. The Blackbyrds – The One-Eye Two-Step (Cornbread, Earl and Me, 1975)
4. Madlib – Steppin Into Tomorrow (Shades Of Blue, 2003)
5. Donald Byrd on working with Guru / the connection between jazz and hip hop
6. Guru – Loungin' feat. Donald Byrd (Guru's Jazzmatazz Vol. 1, 1993)
7. Donald Byrd – The Emperor (Ethiopian Knights, 1972)
8. A Tribe Called Quest – Excursions (The Low End Theory, 1991)
9. Gang Starr – Say Your Prayers (Step In The Arena, 1990)
10. Herbie Hancock on working with Donald Byrd and Miles Davis
11. Donald Byrd – You and the Music (Places and Spaces, 1975)
12. The Detroit Experiment – Think Twice (The Detroit Experiment, 2003)
13. Donald Byrd & 125th Street, N.Y.C. – Sexy Dancer (Words, Sounds, Colors and Shapes, 1982)
14. Donald Byrd – Where Are We Going? (Black Byrd, 1973)
15. Donald Byrd – Lansana's Priestess (Street Lady, 1973)
16. Donald Byrd & 125th Street, N.Y.C. – Love Has Come Around (Love Byrd, 1981)