Published on
March 24, 2018
Category
Features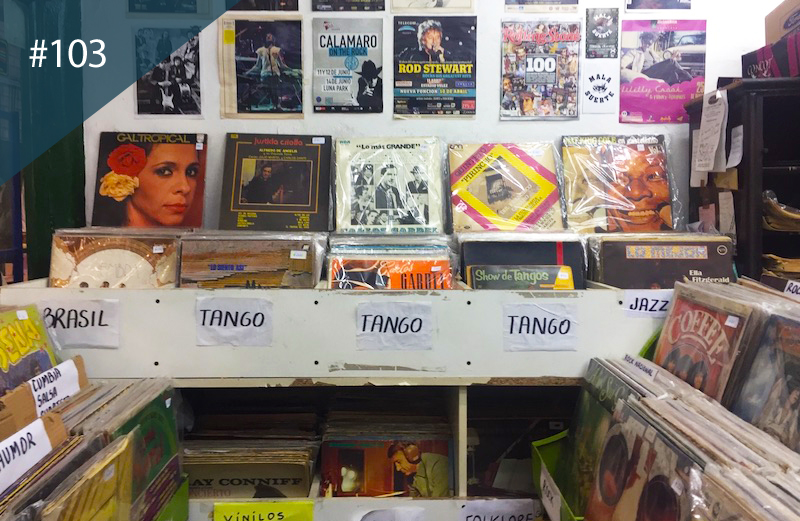 Last tango in BA.
Every week, we pick out one must-visit spot from a different city around the world with photos and a little bit of history. Think of it as a kind of 1000 places to see before you die for record shops.
Fifty shops since we were last in Buenos Aires at the cavernous Eureka Records, we return to the Argentine capital to visit Elena de San Telmo, a cosy, if somewhat elusive, hang-out for the city's tango and folklore followers.
---
Elena De San Telmo
Location: Estados Unidos 460 local 134, Mercado de San Telmo, 1101 Buenos Aires, Argentina
Go for: Argentine tango, South American jazz and vibrant sounds of the city.
Found amongst the art galleries, late-night bars and impromptu street dancers of the San Telmo marketplace lies a snug digging spot that's easily missed in what is a bustling tourist destination. Elena de San Telmo is a one stop history tour of Argentina's musical heritage, a hub for tropical rarities founded by Elena Beatriz Santillan Maydana and her son, David Martin Romero.
Elena de San Telmo was born out of necessity in 2001, with the country gripped by economic crisis. Many people lost their livelihoods and were forced to find other means of income, and for Elena and David, that career change came in the form of vinyl records.
"Many tourists, collectors and dancers from various countries have visited the business," says Maydana, and in Elena de San Telmo, the musical selections are as colourful and vibrant as Buenos Aires itself.
Its speciality is tango and South American funk and jazz, its racks filled with second-hand gems from Carlos Gardel, Los Imperiales Del Tropico and Victor Biglione.
These records are what Elena calls "the sounds of the city," so if you're looking for the true spirit of Buenos Aires, then look no further.
Photos: Maddy McIndoe