Published on
August 3, 2016
Category
Features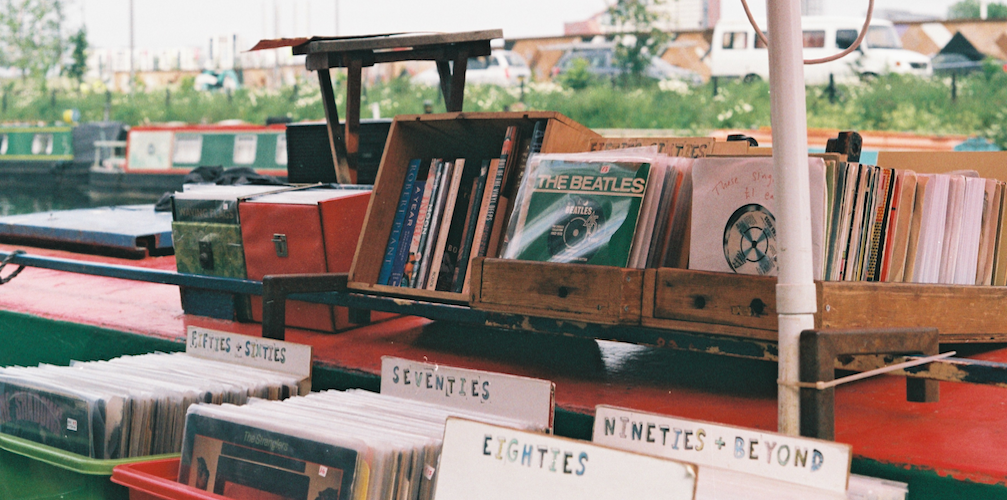 This feature was originally published in Vinyl Virus, a new printed guide for record shops.
Unable to afford a record shop on land, Luke Guilford bought a boat and set one up on water.
With the ever rising rent prices the resourceful residents of London are heading to the waterways as a big "middle finger" to greedy landlords and agents fees. Year by year the canal boat population is growing, now even including a variety of businesses. Most days you will find floating shops up and down the many canals that weave through the city and The Record Deck is among the best of them.
Traveling as far as Birmingham, Luke attends festivals and other events around the country; luckily for us he spends a fair amount of time traveling the canals of East London I met Luke at Stour Space in Hackney Wick where you can usually find him for one weekend a month. Live music, great food and coffee, has there ever been a more perfect location for a record shop?
---
How long have you been running The Record Deck?
This is the beginning of the third year, Spring 2014. I worked in a library in a college, I mean I didn't mind the job, I was the union rep for five years and I needed a massive decompression. I started it with my own collection, I had a boat already and a job that I wanted to leave, my only real asset was my addiction to records.
Do you live and sell from the boat all year round?
Yeah it travels, I spend winters mostly in London and then once the festivals and events start I travel to as many as I can get to, but it's based at Springfield on the River Lea. Generally I'll only stay somewhere for a weekend anyway.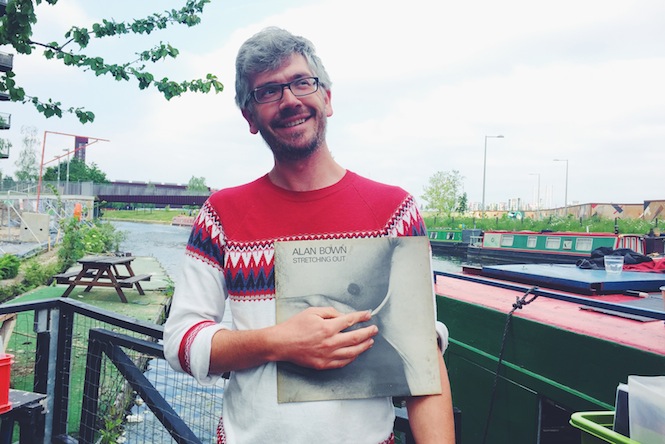 How do you arrange where you will be mooring up for the weekend, do people get in touch or does it work both ways?
It works both ways, some contact me and then others I will contact; there are floating markets where you have 12 trading boats all together, so there will be book boats, tattooists, all sorts.
It's interesting to see that people all over London are moving onto the canals to avoid the ever rising rent prices. Now you can find shops of all descriptions also doing the same, have you noticed it becoming busier?
Oh yeah definitely, I looked at rent of shops before starting up and there was just no way I could afford it. It just made more sense to do it like this, it's more of an adventure anyway.
As far as the things you stock, you seem to cover quite a lot of ground with a rather small amount of space. How do you go about choosing records to sell here?
I stock things that I like, but also if there is stuff I think I need I'll try and get it. I don't really do a lot of dance music because it's just such a vast thing, I'll do some 12″ singles or disco. I have a small selection of new records and I'll be getting some more contemporary stuff at some point but it's mostly a little bit of everything, even country. I mainly buy collections, I can only buy so much because of space, I've got loads at my mum's house as well.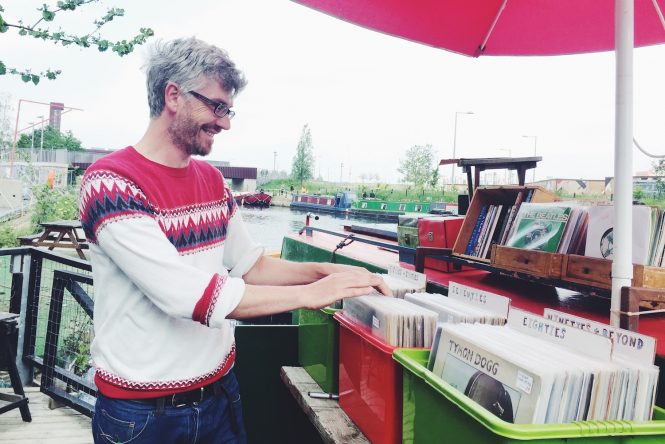 Where do you go to buy records for your own collection?
I'm more likely to buy stuff for myself from record fairs or markets, you find out where the good places are. I'll always find something that I want at a record fair. I've bought a lot of my records from Wood Street indoor market in Walthamstow, a lot of my collection has come from that place.
Have you noticed a spike in the number of people buying records and opening shops over the last few years?
I noticed it more last year I think, weirdly. I would say it was last February that I noticed a massive pick-up. It was in a few articles, and Record Collector magazine, it seemed to pick up from there. But it's regular customers that keep it ticking over.
---
Follow The Record Deck on Facebook and Twitter to find out where it will be.