Published on
January 17, 2014
Category
Features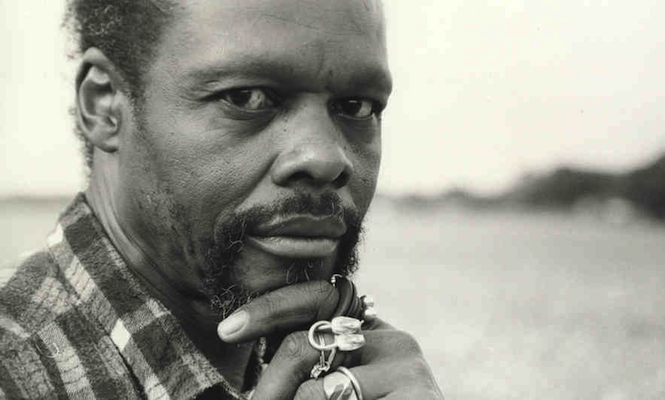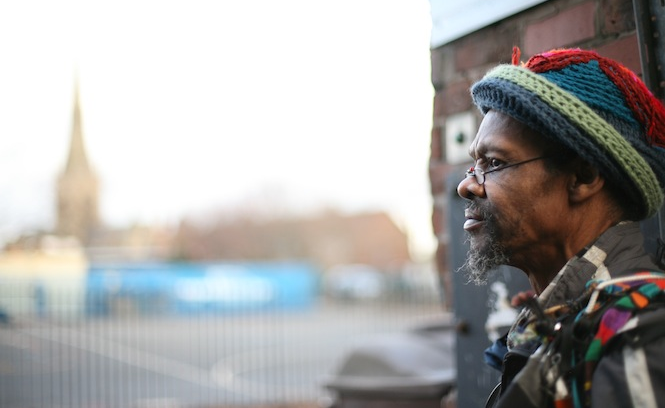 In December we voted Lonnie Holley's Just Before Music and Keeping A Record Of It to the summit of our top 100 vinyl releases of 2013 list.
A decision based on the raw, emotive impact of the music as much as its loving reproduction on archival label Dust-To-Digital, we were however aware that the resonance of Holley's music, released without fanfare to a small audience, required a bit more context, not least because the list also featured the year's biggest selling vinyl releases.
So, over the Christmas break, we spoke to the sculptor and musician on the telephone to introduce his work and provide a glimpse into the creative process of a man for whom art, life and music are the most inseparable of siblings.
---
"Thumbs up for Mother Universe". Given the extraordinary and harrowing circumstances of Lonnie Bradley Holley's upbringing, it's a wonder he shows such glib deference to a force that has dealt him nothing but dud hands. The seventh of twenty seven children, Holley was plucked from his family aged four, sold to a whiskey house and routinely starved and abused. Outlined in an interview-come-confessional last year, Holley described his childhood as a patchwork of broken homes, correctional institutions and board lodgings, marked by humiliation, loneliness and all their concomitant psychological traumas.
Eventually reunited with his family, it was through the despair of seeing his sister's two young children killed in a house fire in 1979 that Holley's suffering began to find an outlet in visual art. Carving gravestones out of sandstone for the dead children, Holley became obsessed with the material and produced hundreds of pieces that eventually found their way into a 1981 Smithsonian exhibition entitled 'More than Land and Sky: Art From Appalachia'. Although Holley's work diversified to include sculptures made with found objects, paintings and large scale installations, it was to be another thirty years before any of his music would be recorded and released. Not that music hasn't been a part of Holley's life all along: "As I tell everybody," he asserts early on in our conversation, "the music and the art are inseparable, they're like Siamese twins."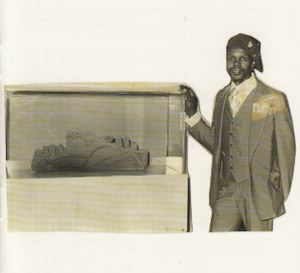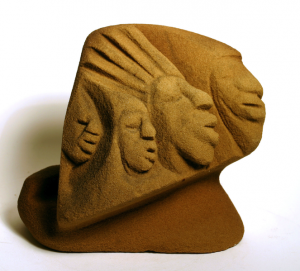 Appearing via Dust-to-Digital first on CD in 2012 and then on vinyl in 2013, Just Before Music was Holley's debut release aged 62. A freeform collection of songs, consumed, if not created in the blues tradition, Just Before Music, sounds as the name suggests, a temporal anomaly with as many reference points in plantation spirituals as experimental synthesizer music and the afro-futurism of the great Sun Ra.
The resonance of Just Before Music, albeit confined to relatively specialist circles, meant that by the time Holley got round to recording again last year, there was a queue of artists hoping to work with him. Released in 2013, Keeping A Record Of It featured Bradford Cox of Deerhunter and Cole Alexander of Black Lips, creating a deeper musical structure to support Holley's freeform vocal meditations on the nature of technology, inequality and the environment.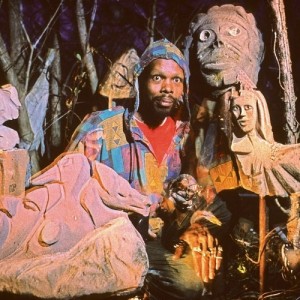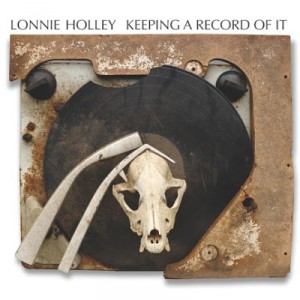 As a relative newcomer, his trajectory has been steep and questions surrounding the nature of his compositions have placed Holley under new scrutiny. In preparing for our interview – which was to take place on the telephone with Holley in the car on the way to the airport ahead of his month-long residency at Robert Rauschenberg's studio in Florida – I had come to the conclusion that, despite being often labelled thus, to see Holley as an 'outsider artist' was not appropriate, being, as it was, a term used lazily to describe peripheral artists working outside of the traditional industry framework.
Given the fluidity of music as an art form, 'outsider' seemed as potentially derogatory and outdated an adjective as 'world' music or the 'oriental', especially considering the ease at which American vernacular artwork has often been kept from prominence by misuse of the term. (In the age of the internet, there's surely an argument to be had about whether or not every bedroom producer to self-release on Bandcamp is, in Roger Cardinal's original 1972 definition, an outsider artist.)
In a video made ahead of his appearance at ATP last year in which he talks through the creation of his sculptures, Holley seemed to further emphasise it as an inappropriate. His motivations were not radically different from what could by definition be deemed 'insider art', where found objects and signifiers are ascribed meanings (on using a chicken bone: "This does not mean witchcraft or voodoo – this means If I Don't Eat, I Will Die"), his execution no more or less naïve than those objects on show in world's the most vaunted galleries.
In fact, once we began to talk, it became abundantly clear that my notes, with all their well-meaning assumptions about artistic equality, were all that was to be naïve about this encounter. Holley styles himself as an "American artist", but he is not unaware of the divisions which remain between the establishment and the outiside. "I love all kinds of music, I may not be able to tell you the title of it or the writer or the persons that make it popular," he explains. "That's when I mean when I say I'm here to celebrate music… I want them to see what I can achieve just being more of an outsider." He is, by his own admission "very, very proud" of the success of both his records but is under no illusions that, being new to the scene "it's going to take time, not only for our nation in the United States of America to learn of Lonnie Holley, but for the world to learn of my music." The art, he suggests, just wasn't "getting there fast enough".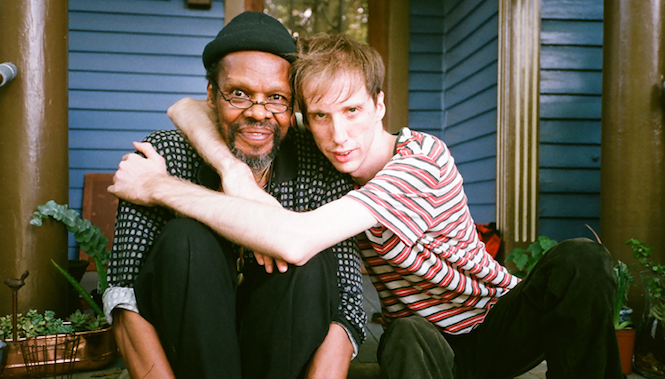 Lonnie Holley and Bradford Cox
The frank sincerity of Holley's answers, sometimes lucid and on point, at other times more like streams of consciousness, also conspire to make a mockery of my all too routine questions and it doesn't take long before I discard the lot in favour of letting Holley guide the conversation completely. "I think I'm just like any minister or any preacher," says Holley, referring to 'The Other Side Of The Pulpit', a track he recorded with Cox and Alexander. "I'm not a church performer, I was singing about outside of the church… I feel like I'm more of an outside inspirator, not an outside instigator."
Free-associating on the theme, he develops this response in forceful, poetic meter:
"It's very, very important to see me as any of the prophets of ancient times, serving the purpose of the whole of humanity. I may be Moses saying "let my people go", I may be John The Baptist in the wilderness learning about all the creatures and their needs, I may be Jacques Cousteau out on the ocean in his submarine studying the mammals of the deep, I may be someone like Stephen Hawking, a scientist studying the universal purpose, I may be Edmund Hilary the mountaineer, going up on top of the mountain, I may be someone – and I got to put a woman in there – like Maya Angelou sounding out in the wilderness."
More often than not, Holley twines stories of his humble childhood with grander statements on cultural history. Growing up next to the drive-in theatre, Holley would climb onto his roof every night to hear the orchestral movie soundtracks. Aged five, he would slip through sewer pipes to sneak into the state fairground, a formative experience he "ingested" that has played a crucial role in his attitude to music. "Some would say 'digest', but I call it 'ingest' because it is coming into my ears."
And he still talks of making music in similar terms. "I think that listening is very, very important. A lot of people when they ask me to do things or when other musicians have to play with me, I have to listen to what they're going to bring and mix it to my sound, so that is very easy for me, because I've been trained, in a sense. I've been outsider trained to open an ear for that." Crucially, collaborations, like those with Bradford Cox and Cole Alexander are two way affairs. He describes the process by which he showed them how to make sounds from found objects – an experience central to Holley's childhood and subsequent teaching. "When you take children growing up on a dumpsite and finding certain cans and barrels and pieces of string and they turn them into their instruments, that makes me very, very proud," he says, proving without question that "Siamese" relationship between his music and his art.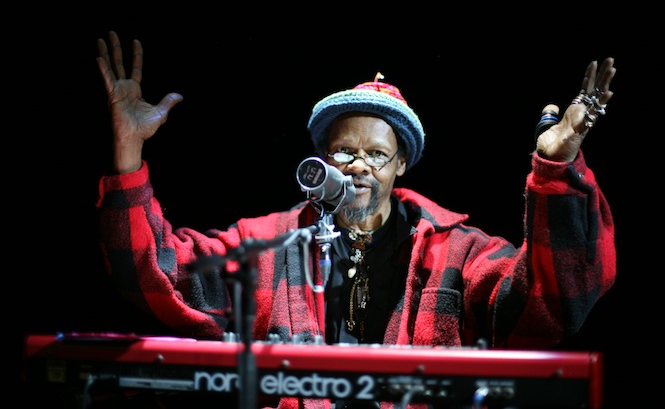 By the same token, collaborating with American producer and multi-instrumentalist Richard Swift has afforded Holley greater opportunity to work with some instruments he'd not come into contact with before. Although he plays electric keyboards (Fender Rhodes and Nord Electro are his preferred tools), Holley admits, somewhat startlingly, that he "hadn't had the opportunity to work openly, or ever before, on a piano." He describes how Swift had taken "all of the exterior out of it, where you could actually see the workings of the keys, you could see the strings, what held the strings tight," where deconstructing instruments into their component parts was kindred with constructing make-shift drums from discarded cans and barrels.
Holley's preoccupation with the workings of "broken instruments" is part of a larger concern that places human technology in the context of the natural world. Deconstructing a piano may have an artistic purpose, but it is also a way of reminding us that the keys are made of "special wood" and that the "strong teeth of the elephant… have made a contribution to the ivory".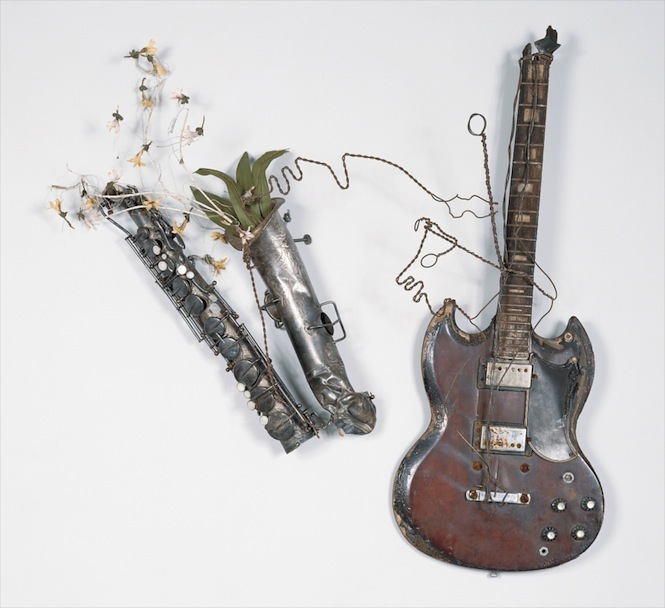 Music Lives After The Instruments Is Destroyed, 1984
Talking about his piece 'Music Lives After The Instruments Is Destroyed' which adorns the back cover of Just Before Music, Holley explains that he thinks "musicians should challenge and go places and take things all the way and break it down" in order to get "a better brain connection with the instrument". Elsewhere he challenges the relationship between analogue and digital, as suggested by "The End Of The Film Era". Even the title of his second album Keeping A Record Of It is loaded: "What Matt [Arnett] (who produces Holley's music with Dust-to-Digital's founder Lance Ledbetter) was doing, he was on an adventure to me, to preserve, like putting something in a preserve jar." There is a degree of comfort, of necessity even, in being able to take something apart, to see how it works, to manipulate it in a way that simply isn't possible now that information is stored digitally. "I call it a Cold Titty Mamma, that's your CTM, Computer Technology Management," he says, a meagre source of nutrition and the consequence of turning our backs on the other great maternal figure. "You're asking for too much, you're not using Mother Nature any more".
As the interview draws to a close, I speak briefly with Matt about Holley's plans for the Rauschenberg residency, which will precede work on a new record with Richard Swift in February. Just as I'm about to hang up, Holley interjects once more. "Excuse me, are you there? If you could, please begin this with "thumbs up for Mother Universe" and end it with "thumbs up for Mother Universe" because I am celebrating all within her." How could I refuse?
Visit www.Dust-Digital.com for more info about Lonnie Holley and both Just Before Music and Keeping A Record Of It.