Published on
March 4, 2020
Category
Features
A guide to affordable models that will get the best sound from your turntable set-up.
Choosing the 'perfect' pair of speakers can be daunting.
Speakers are a pivotal component in any audio system. While aesthetics and budget play a key role in deciding on a set of speakers, sound quality should be at the forefront of your purchase.
Since we all have different sonic properties that we are looking for, we highly recommend trusting your own ears when shopping for speakers.
If possible, it's best to listen to a set of speakers in person, or at least make sure the online description appeals to what you're looking for, as well as the types of music you'll be listening to on them.
It is also worth noting whether you want to go with a pair of active or passive speakers.
Active speakers get their power from the wall, have inputs, volume control, and sometimes Bluetooth, directly built into the unit. These are the best options if you're looking for a streamlined, plug-and play-experience
Passive speakers get their power from stereo amplifiers, meaning you will need to purchase an additional amp to connect your record player or other devices. (Note: images are not to scale.)
In this feature, we select 8 passive and active speakers that won't break the bank, ranging from £129- £432.
---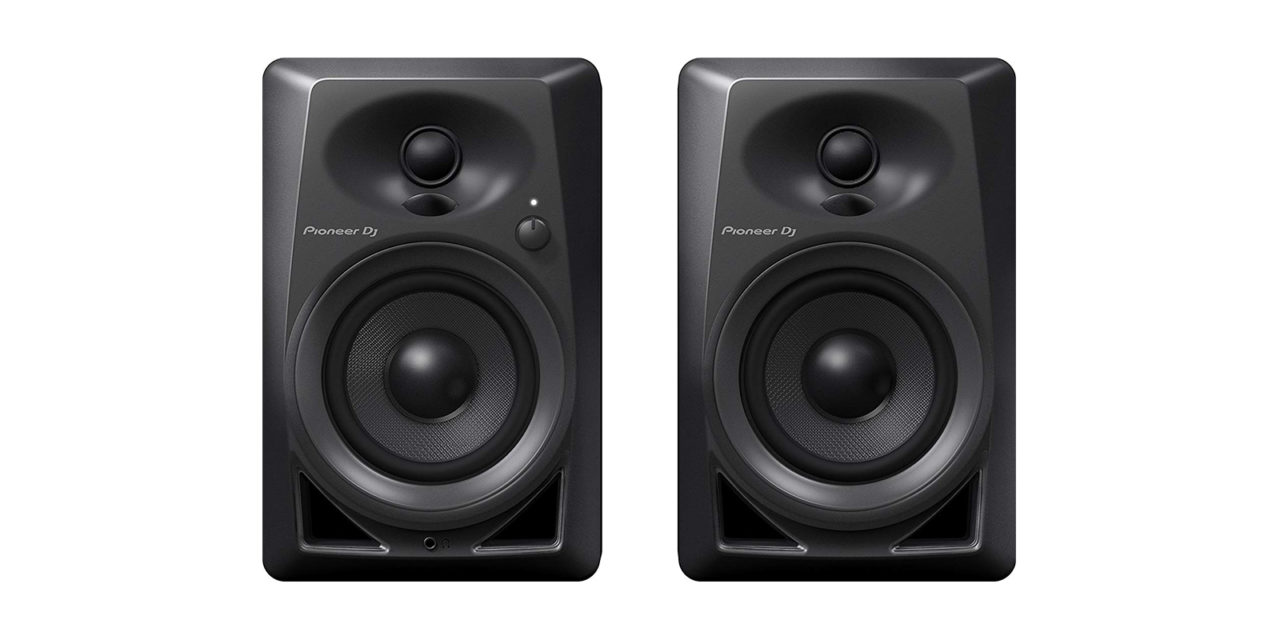 Pioneer DJ Studio Monitor (DM40)
Price: £129
Pros: Tight Bass
Cons: No Bluetooth
Verdict: The DM40s are perfect for those looking for affordable monitors equipped for home djing and/or music production.
If you're looking for a pair of studio monitors for music production, digital or vinyl DJing – and everything in between –without having to break the bank, the DM40s are for you. With these speakers, Pioneer developed a front-loaded, bass reflex system; this results in a tight punchy bass even with the speakers positioned against the wall. It also has a conveniently placed 3.5mm output on the front of the speaker, for easy headphone listening.
---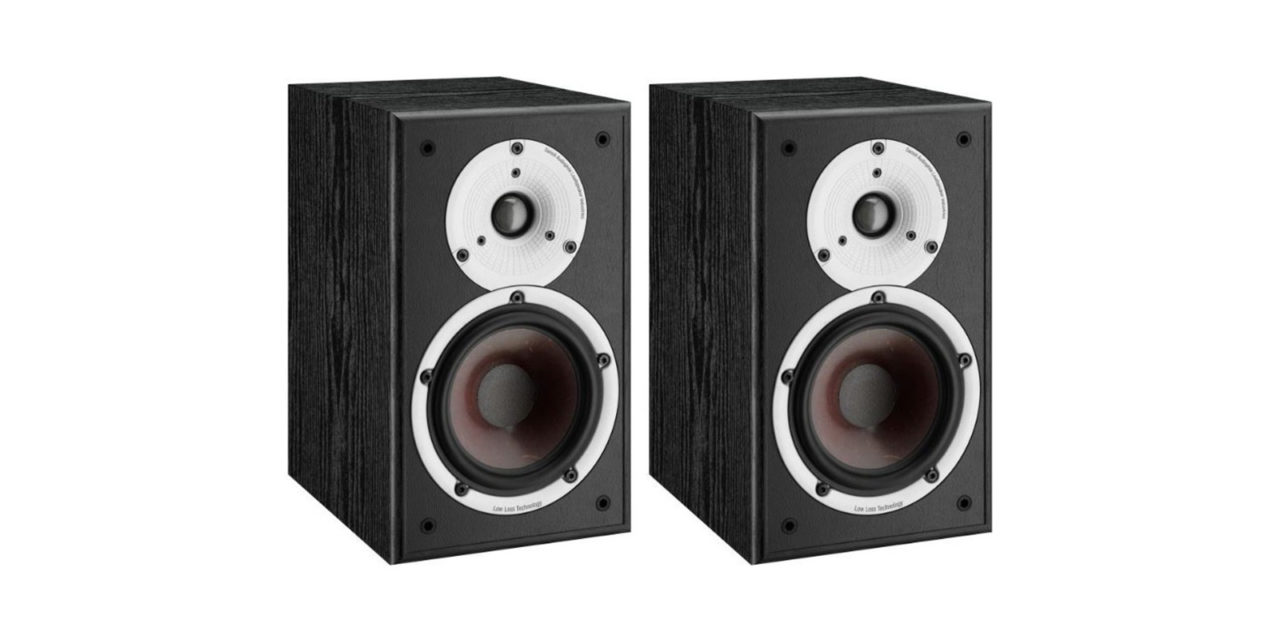 Dali Spektor 2
Price: £199
Pros: Compact, clear sound
Cons: No built in inputs
Verdict: The Dali Spektor 2 are affordable passive speakers that are compact and have good attention to sound detail.
Dali's Spektor 2 is its new award-winning entry-level audiophile speakers that sound as good as they look. At a price point of £199, you're getting a speaker that puts clarity and authentic sound at the forefront. All of this is packaged in a compact size, which allows the speaker to be mounted, put on stands or sit nicely on shelves. Paired with the right stereo amplifier, you'll be getting accurate sound from your records and audio devices.
---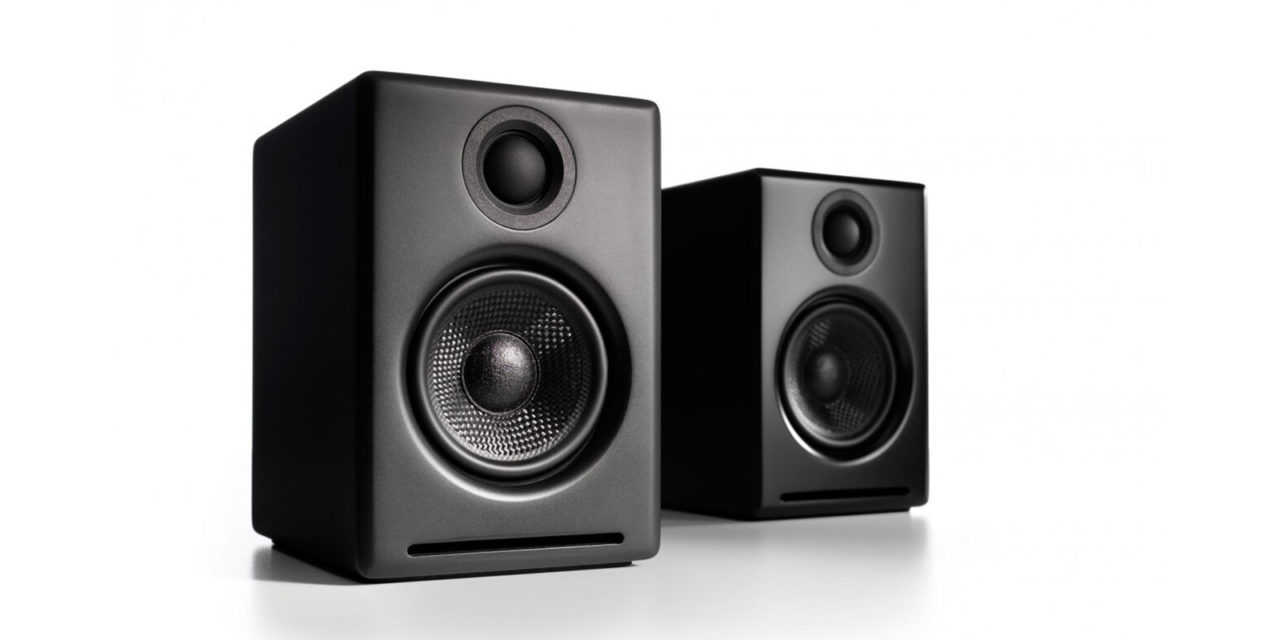 Audioengine A2+ Wireless
Price: £229
Pros: Bluetooth
Cons: Volume control is on back of the speaker
Verdict: Audioengine's A2+ Wireless speakers are nice compact desktop speakers perfect for those looking for something that isn't too big, does Bluetooth and sounds good.
Desktop speakers with good sound are hard to come by, especially if you're looking to connect a turntable to it. Audioengine's A2+ is a great option if you're seeking clear audio, RCA inputs for your turntable, and Bluetooth all in a compact package. It also has a pretty sweet subwoofer output if you wanted to pump some more bass into it.
---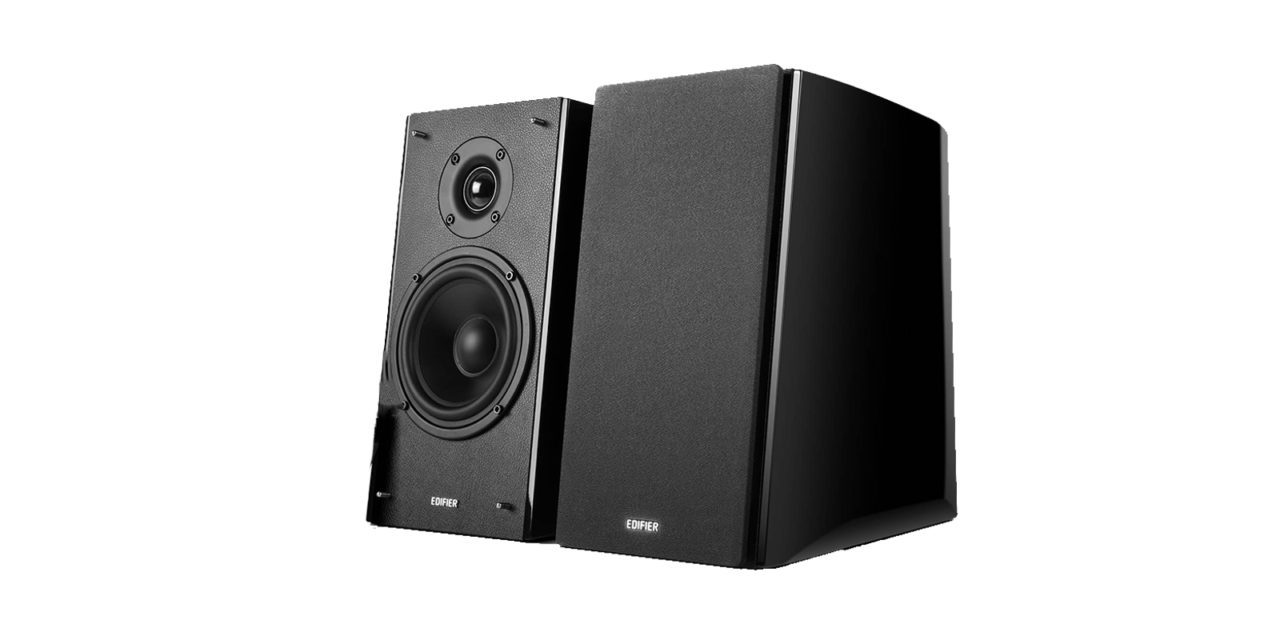 Edifier R2000DB
Price:£239
Pros: Bluetooth
Cons: Volume, bass and treble controls are hard to reach on the back
Verdict: Edifier's RS200DB offers an affordable plug and plug experience that's equipped to deal with your turntable or your digital devices.
The RS200DB by Edifier is a stylish and compact pair of bookshelf speakers – great for both vinyl and digital systems. Edifier's newly designed "eagle eye" silk-dome tweeters give the speakers an overall clear sound. Its digital signal processing and dynamic range control further amplify that by minimising distortion. While two line-level RCA inputs make sure all your analogue devices – like your brand new turntable – are covered, a single optical input ensures that your digital devices aren't neglected either.
---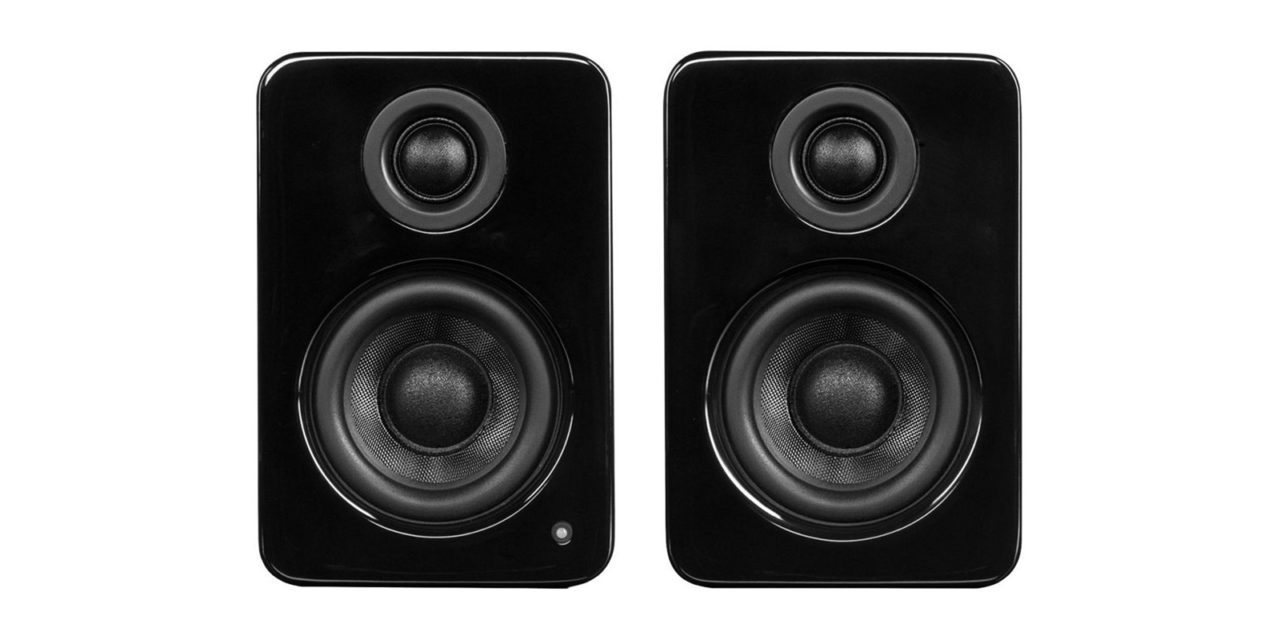 Kanto YU6
Price: £399
Pros: Built in pre-amp, Bluetooth, 2 optical inputs, powered speakers
Cons: N/A
Verdict: The Yu6's are high-quality speakers with a good amount of inputs for analog and digital audio sources. Equipped with Bluetooth and a built-in preamp for turntables, we highly recommend these.
For £399, it's hard to pick a pair of speakers that aren't the Kanto YU6. Not many speakers have a built-in pre-amp, but the YU6 do, meaning any turntable – with or without a built-in pre-amp – can plug directly into these speakers without the need for anything else. The YU6 also come with two optical inputs and Bluetooth, perfect for your digital devices. Overall, the sound experience is a clean sound that allows you to adjust treble and bass with a remote.
---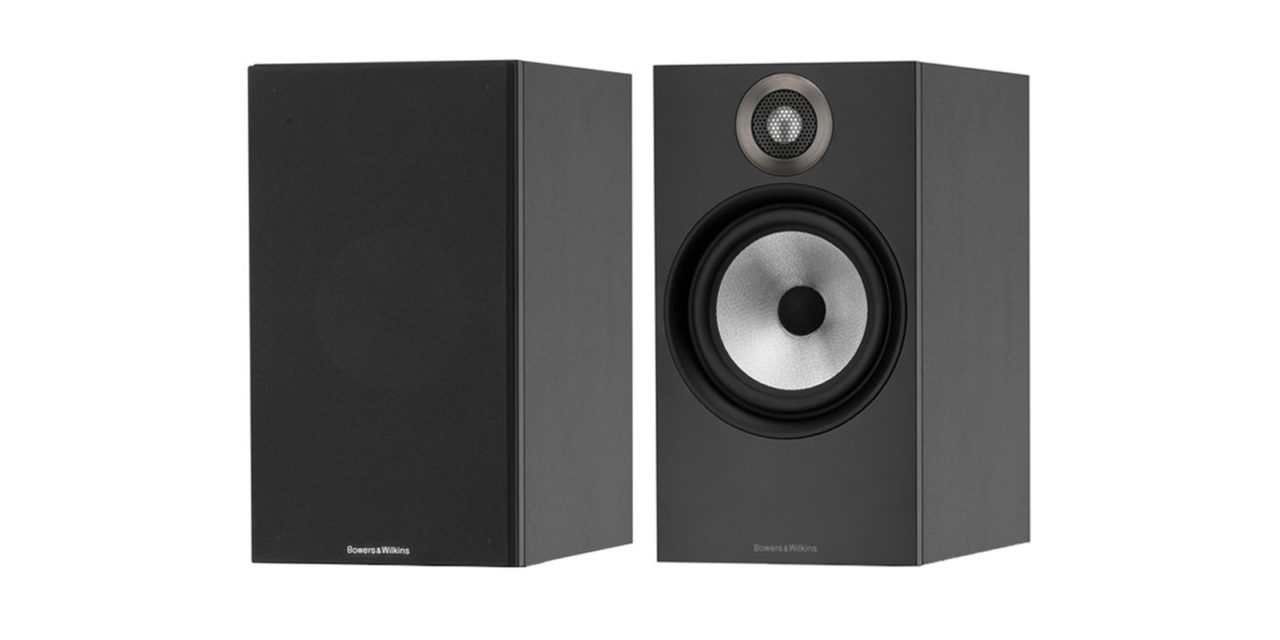 Bowers and Wilkins 607 Bookshelf Speakers
Price: £399
Pros: Attention to detail in both sound and aesthetics
Cons: Needs to be paired with a stereo amplifier
Verdict: Great passive bookshelf speakers that sound just as good as they look.
Bowers and Wilkins played no games with their 607 bookshelf speakers with a huge attention to detail put into the development of them. The clean aesthetic profile is accompanied by a punchy sound that's versatile for any genre of music. While they do have a small sonic profile, rest assured, B&W's 'eight-years-in-the-making', "continuum" cone technology allows these speakers to fill just about any room with clear sound.
---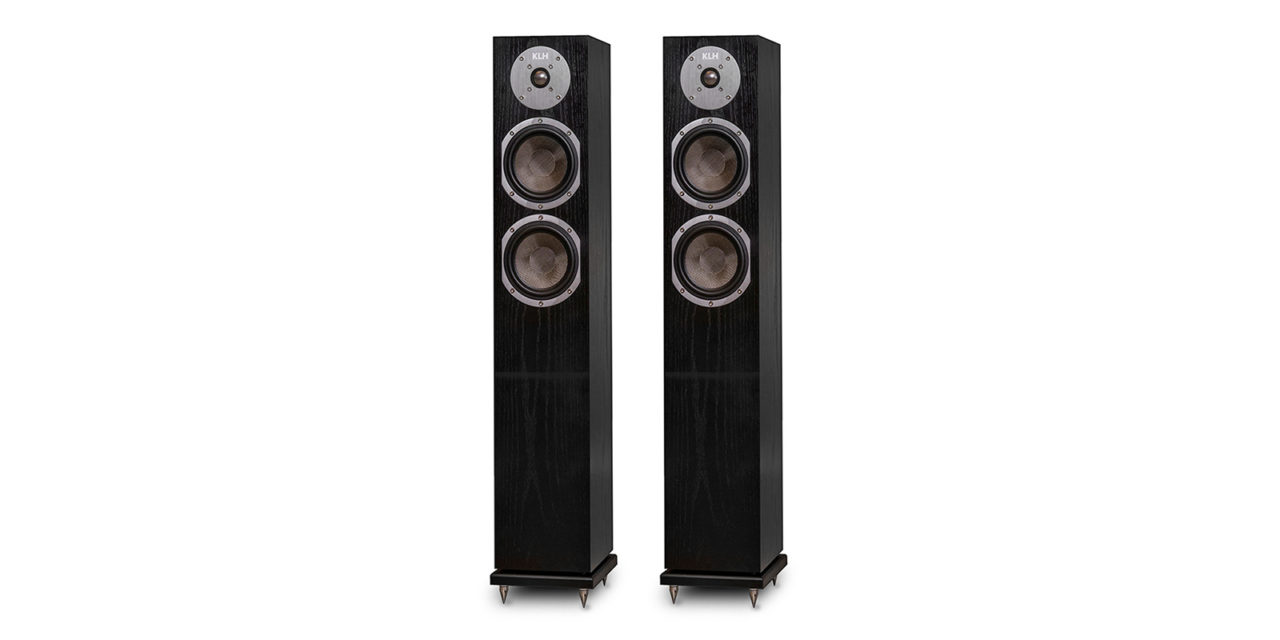 KLH Audio Cambridge
Price: £399
Pros: Slim footprint
Cons: No built-in input options
Verdict: The KLH Audio Cambridge Loudspeakers are great for those looking for showcase speakers that are loud enough to be at the forefront of their home audio setup.
Floor standing speakers are a statement piece for any audio setup, and the Cambridge by KLH Audio is no exception. These speakers offer you a lot of sound for the price point that they're at. While they are floor-standing speakers, they still have a nice, slim sonic profile. A dynamic and versatile sound profile ensures that no matter what genre of music you're listening to, you'll get a clear and accurate sound representation.
---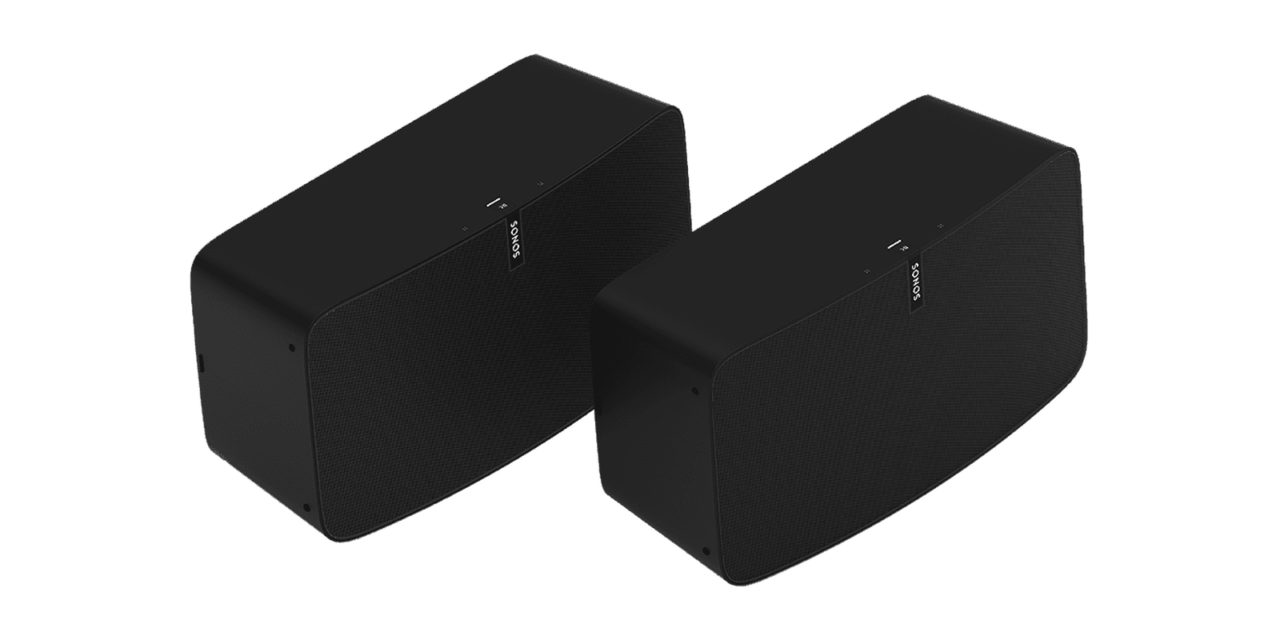 Sonos Play 5
Price: £432
Pros: Wireless (via Wi-Fi)
Cons: Relies on a Wi-Fi network to use most of its features
Verdict: If you're in the market for a wireless system that allows you to connect a turntable without having to sacrifice audio quality, the Play 5 by Sonos is recommended.
In the world of wireless, it's hard to decide on the best speaker that allows you to connect your turntable without having to sacrifice sound quality. Fortunately, the play 5 by Sonos exists. Having an aux input allows your turntable to connect to the realm of Sonos. This means once connected, you can wirelessly play all of your records through any Sonos speaker connected to your Wi-Fi network. The result is a multi-room system.
---
Check out our guide to the best budget turntables here, and the best budget amps here.