Published on
November 30, 2015
Category
Features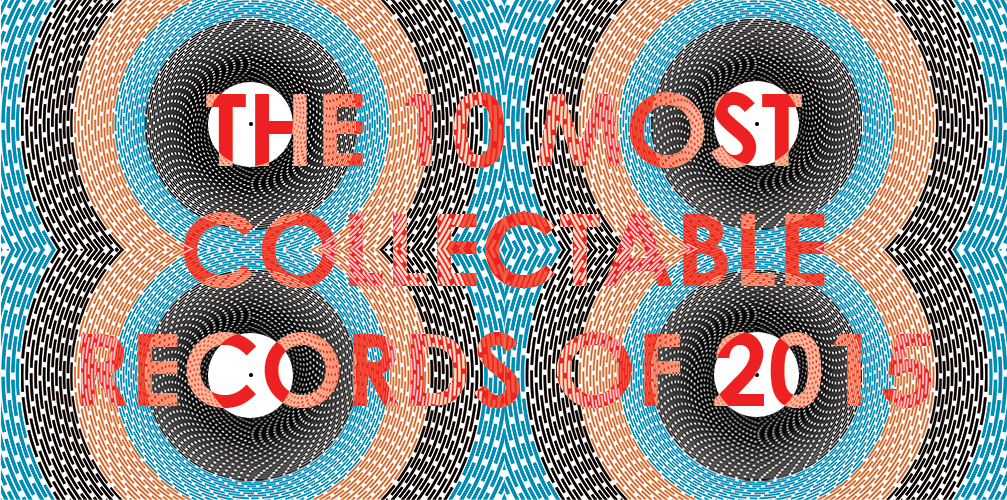 We begin our end of year review with a look at the 10 most collectable records of 2015.
Over the next two weeks we'll be looking back at the year in vinyl, from the best artwork to the most important reissues, the strongest 7″s to the most complete LPs. As we did last year, we're starting things off with something a little less clean-cut. Here, more than in any other list, it's important to set out our terms.
There are many factors which make a record collectable, and many reasons why those factors will mean more or less to every individual (just take a look at our number one…) The first thing to say is that rather than rank these releases as a definitive list, we're taking each as an opportunity to discuss a different aspect of what we deem to be collectable, and by extension, valuable.
The most ostentatious mark of value is, of course, monetary. Given that we're dealing with this year's new releases and reissues, the time period in which a record can accrue value is relatively short, so any increase should be treated accordingly. While some records will look to artificially create value through limited runs or extravagant packaging, others will simply go up in value through a combination of quality and demand. The most desirable Record Store Day releases are a good example of the former, Arca's self-released 12″ which topped last year's list, a good example of the latter. In every case, an inflated re-sale price tag can only tell you so much.
Collectability can also be defined in terms of the desirability of an individual object for a specific fan base; a record that acts as a trophy or fills some unassailable void (like Ringo's No. 0000001 copy of the White Album). By the same token, rather than looking at records as totems, collectability can also be seen in terms of series, where a completed set represents more than the sum of its parts.
Being confined to the last twelve months, we've also taken into account some more timely trends (perhaps most strikingly where vinyl is concerned with video game soundtracks), nodding to the movements which have seen a revival of interest among DJs, and elevating the artists who have helped define them. There is really no point discussing collectable records in a vacuum.
One final word before we start. The records we've picked below are subjectively collectable, a list of ten releases we believe to retain some intrinsic value. In doing this, we have sought to keep these choices as accessible as possible, opting (for the most-part) against high-end box sets in favour of ten records with ten unique stories to tell.
---
Catch up on all our end of year lists:
The 50 best vinyl LPs of 2015
The 30 best vinyl reissues of 2015
The 20 best 12″s of 2015
The 20 best 7″s of 2015
The 20 best record sleeves of 2015
The Year in vinyl tech
The 10 best vinyl soundtracks of 2015
---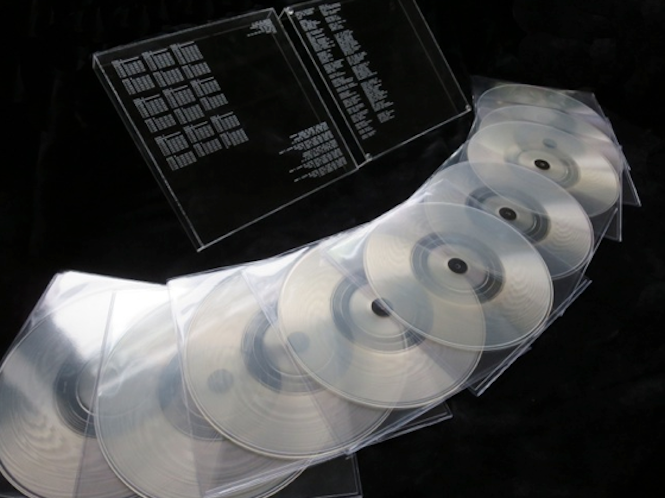 10. Ragnar Kjartansson / The National
A Lot Of Sorrow
(4AD)
If a pragmatist gauges collectability by monetary value – both on release and secondary markets – then, pragmatically speaking, A Lot Of Sorrow isn't especially collectable. Retailed at £120, it's not worth an awful lot more six months on, especially in relative terms. But concept can be as alluring as capitalism, and it's on qualitative grounds that A Lot Of Sorrow scores points.
The recording captures the collaboration between Icelandic artist Ragnar Kjartansson and The National, who teamed up in 2013 to play the track 'Sorrow' repeatedly and continuously for six hours at MoMA. The marathon concert interrogated the potential for repetition to produce "sculptural presence within sound".
The release echoes that concept on vinyl – with 'Sorrow' pressed down 99 times, across nine, clear, identically packaged LPs; all housed within a functional acrylic box. Like Trevor Jackson's FORMAT, A Lot Of Sorrow follows the archival turn in contemporary art but through near-laughable obsessiveness it pushes object fetishisation one step further.
---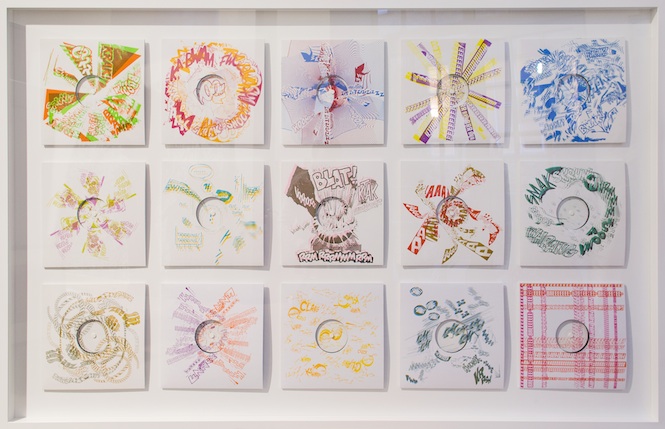 9. Christian Marclay / Various Artists
Live at White Cube
(The Vinyl Factory / White Cube)
There's nothing more collectable than a series, particularly when every sleeve has been hand-screen printed to designs by Christian Marclay. Released in conjunction with the artist's solo show at White Cube earlier this year, the series features performances from the world's leading experimental musicians cut direct to disc in the gallery and pressed in editions of 300. Our mobile pressing plant, The VF Press was on hand to produce the records, which are among the first to have ever been pressed live in a gallery.
Collectable in so far as you'll need all fifteen to complete the series, here are records you could witness being performed and pressed for free before purchase. OK, we're a little biased but we've included this series to highlight that collectable need not mean prohibitive expense nor outlandish novelty.
Documents of a process of experimentation and improvisation, a number of specific releases also stand out, notably Thurston Moore's collaboration with Christian Marclay, which rekindles a creative partnership first forged in the spaces of downtown NYC's no wave scene in the early ʻ80s and has sold for £70 since.
And far from an anachronistic practice, the set's emphasis on contemporary music also sees Mica Levi's return to composition after her score to Jonathan Glazer's Under The Skin won a BAFTA at the start of the year, and Ryoji Ikeda collaborate with Marclay on the final 12" of the series. The VF Press was also in operation at Barbican for Doug Aitken's Station To Station where Savages, Nozinja and Giogrio Moroder were produced in a similar fashion.
---
8. Rupture
Israel Suite / Dominate En Bel
(Digger's Digest, French Attack)
This year's lavish reissue of holy grail vocal jazz fusion album Israel Suite / Dominate En Bel is an instant collector's item. Recorded in France in '73, but never commercially released, the original has held a mythical position for over four decades. No one knows how many copies were originally made, but you can bet your needles it's less than 100 – which goes some way to explain why a first pressing has never traded on Discogs and why dealers push four digits for it.
The reissue, a joint production from Digger's Digest and French Attack, brought this rare groove masterpiece back within reach, but with just 500 released, it sold in a flash. With demand still far outweighing supplying, and no sign of a repress, this one's a wise investment.
Other reissue collectables this year include Mariah's absurdly cult album Utakata No Hibi, and 'Disco Shitan', a super rare Italian cosmic disco banger from the '70s. We also reckon Athens Of The North's 100 copy reissue of soul burner 'Thousand Years/Party Time' has the makings of a rarity, just like the revered father pressing.
---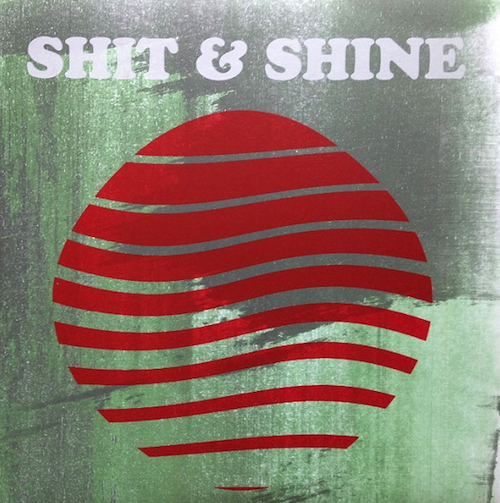 7. Shit & Shine
Chakin'
(Rock Is Hell Records)
Craig Clouse rarely does things by the book. Following Shit & Shine's stellar showing in 2014's top 100 records list, this year's contribution comes in the form of five differently coloured, hand-printed editions of Chakin', which originally appearedon just 250 cassette tapes. As collectable as those are is, we're here to talk about the vinyl, and why Chakin' is a perfect example of how hand-crafted anomalies can be both collactable in themselves and relative to the market.
Not shackled by round numbers, there are 407 copies of Chakin' out there, each with variously different sleeve patterns. Here's the breakdown: Green background print, limited to 149 copies. Green/Grey background print, limited to 3 copies. Green/Yellow background print, limited to 8 copies. Grey background print, limited to 99 copies. Yellow background print, limited to 148 copies.
While 'Green/grey' is obviously the combination to covet, the concept is charmingly shambolic, somewhat random and wonderfully egalitarian. While we're not suggesting Shit & Shine super-fans are going to go out and complete the set, this kind of variation lends an intrinsic value to each individual object. Needless to say, the record is also heisse scheisse, and the kind of thing that should sky-rocket when S&S finally get the credit they deserve.
---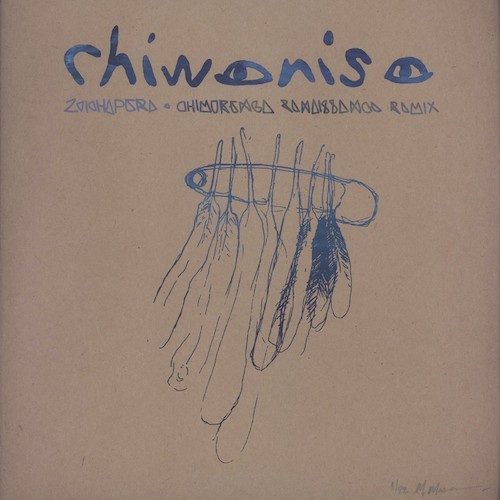 6. Chiwoniso
Zvichapera
(Nyami Nyami)
French label Nyami Nyami debuted earlier this year with the final recording of late Zimbabwean singer and mbira player Chiwoniso Maraire who sadly died aged 38, at the peak of her career. Weeks before she passed, Chiwoniso stopped by a studio in Harare where she and fellow musician Jacob Mafuleni, captured an enchanting, stripped-down take of 'Zvichapera' – a song popularised by Thomas Mapfumo.
"It was one of the most emotionally intense sessions I've ever experienced," writes Nyami Nyami label head Antoine Rajon in the record's liner notes.
The swan song, remix from her brother Tendai Marare (one half of Shabazz Palaces) and silk screened artwork all make for a fitting and beautiful testament to the artist. Totting up those elements and a limited run of 350, we're taking a punt that Zvichapera will mature into a sought-after item.
---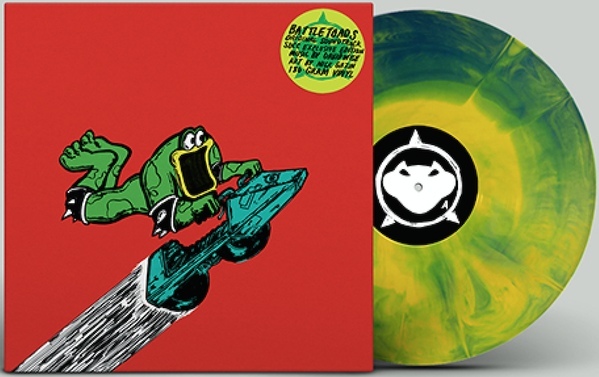 5. David Wise
Battletoads ('Dark Queen' edition)
(Iam8bit)
Digital composers of the '90s introduced teens to trippy and daring electronic music while they mindlessly bashed buttons on the NES and Sega Megadrive. It might have been background noise then, but it's a digging treasure trove in 2015.
Right up there is David Wise's glitchy soundtrack – featuring the best pause screen music ever – for the impossibly difficult 8-bit beat'em up Battletoads. Iam8bit pressed up the soundtrack in a limited batch of 300 and sold it exclusively at the San Diego Comic Con back in July. That 'Dark Queen' gatefold variant – which plays music when you open it (like a massive birthday card) – now attracts three digits on second hand markets. It's since been repressed without frills in a generous run of 3000.
Other gaming collectables this year include Yozo Koshiro's incredible Streets Of Rage score on Data Discs, Minecraft on Ghostly, Mondo's reissue of the The Last Of Us, and Super Mario by Koji Kondo on 7".
---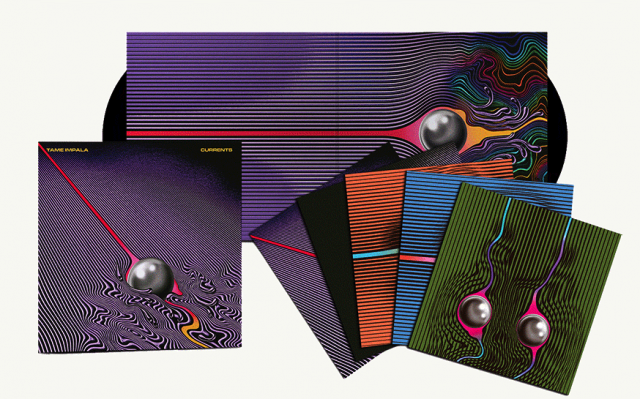 4. Tame Impala
Currents (Limited / numbered edition + prints)
(Fiction Records, Interscope records)
One of the year's heavyweight releases and a collectable record in the traditional sense of the word. While loads of releases will throw in a limited edition run with a print or some kind of extra, these only occasionally become truly collectable. Here's how Currents hit that sweet spot. This edition of was sold exclusively online through Get Music in Australia; it features five individually numbered lenticular prints of the album cover and the singles that preceded it; the appetite and size of the band's following (over a million on Facebook alone) dwarfs its five hundred-copy run.

While all these factors create fertile conditions for collectability, there's one simple fact which has elevated Currents in this instance and pushed its value up ten-fold to between £200 and £300 on the re-sale market, and it's perhaps the simplest and most over-looked of all. Currents is a damn good record with emphatic artwork that delivers for Tame Impala fans on every level, and this run is the ultimate trophy edition. No wonder 500 was never going to be enough.
---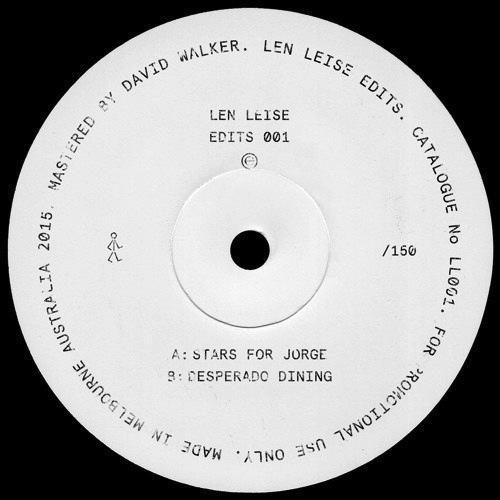 3. Len Leise
Edits 001
(Len Leise Edits)
One place where value and rarity tends to stay constant is on the international balearic underground. Not so much a genre as a state of mind (once defined simply as anything that came out of Daniele Baldelli's record bag a little slower than intended), this brand of cosmic, afro-infused downtempo dance music has played a major role in 2015, both in the glut of reissues we've seen from labels like Music For Memory and Emotional Response but also in new music pushed by the likes of Stump Valley and, of course Len Leise.
A relative enigma, here is an example of a year making a man. Culminating in his first LP Lingua Franca released on International Feel and a stunning afro-dance mix for us, 2015 began with the quiet release of Edits 001 in a run of 150 hand-numbered copies. Doing the rounds in no time, these two tracks sent the price of this 12" spiralling – a modern balearic rarity for a scene of seasoned collectors and DJs experienced enough to have a accrued a fair bit of disposable income.

Such is the appetite for new music in the scene, and such is the international flavour of its cognoscenti – from Growing Bin in Hamburg to Music From Memory in Amsterdam and Claremont 56 in London – this 12" is a great example of the workings of a global online community in action. There may be a repress in the wind, but for a self-released 12" from an unknown artist to push £70 (it's never sold for less than £40) on Discogs is quite something. And if Lingua Franca charts well this winter, you know where those figures are heading.
---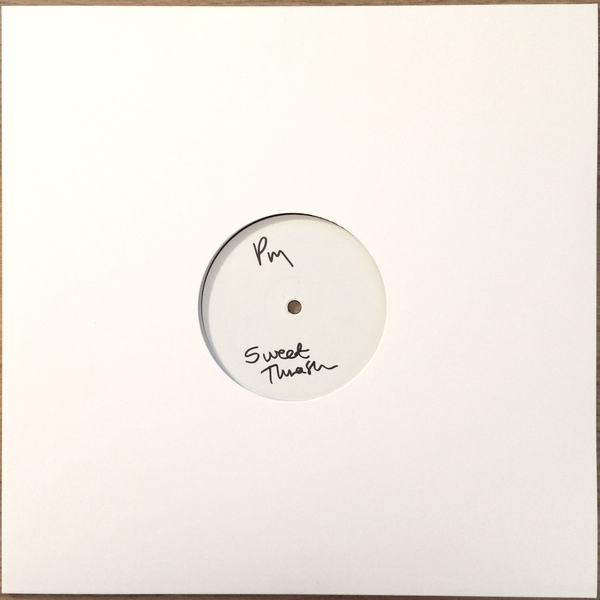 2. PM
Sweet Thrash
(Paul McCartney Self-Released)
The tide somewhat turned on Record Store Day this year, with labels, consumers, even record shops, knocking the annual festival. There's a feeling (amongst some) that majors have co-opted the event: clogging pressing plants with pointless and novelty reissues – that are then turned out on eBay for dizzying profit.
In the thick of it is this 'secret', self-released Paul McCartney record, with two previously unreleased mixes of 'Hope For The Future'. Pressed as hand scrawled white labels only, selected shops in the UK and US received a single copy and were instructed to quietly file it away. No prior advertising, nor was it listed with the rest of the RSD releases; presumably the idea was that genuine fans riffling Beatles' racks would find the record, rather than grasping market flippers.
But with only 100 copies pressed down, it's become risibly sought-after and inevitably invited three figure sums on Discogs and eBay alike. One fan even splashed £865 on it. Perhaps the insert card with details of how to download a '3D printable Paul' figurine was one temptation too far. Easily one of most valuable records of the year (in price gain at least), completist McCartney fans can visit Discogs to fight over a copy. That'll be $1,500 please.
---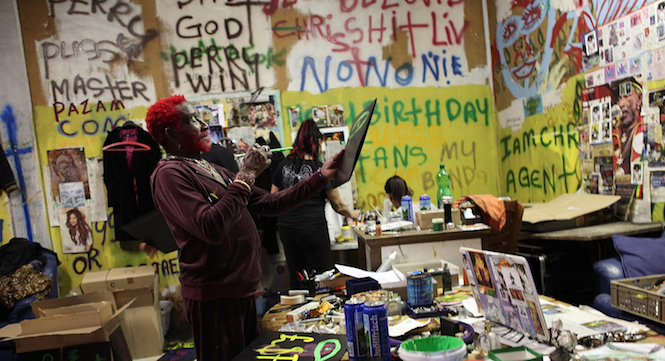 1. Residence La Revolution (Richard Russell & Lee 'Scratch' Perry)
I Am Paint
(RLR)
Buying records can be an awfully passive affair. The simplicity with which you can access records online is both liberating and a little worrying. The period of contemplation between desiring a record and buying it is often brief, card details typed in and confirmation sent before you've had a chance to ask yourself whether you really wanted it. Sometimes, the answer would have been no, had there been any more resistance along the way.
There's a little more activity involved in getting hold of rare records, particularly new releases (although Warp last year put pay to that by entering collectors into a ballot for new limited edition of Syro). None however, have required such active participation as Richard Russell and Lee 'Scratch' Perry's I Am Paint, where prospective ʻbuyers' were tasked with creating something of equatable value to be bartered for a copy of the record.
Beyond the fact that the record itself was limited to two hundred and fifty uniquely (and literally) hand and foot-painted sleeves by Lee 'Scratch' Perry, the project has spawned a series of unique artworks that are more or less collectable in their own right.
Profiled on Richard Russell's tumblr, some of the most creative barters include a 3D printed teapot, a painted brick proclaiming itself as 'I Am Stone' and our personal favourite from Lee Waller, who first sent a letter suggesting he trade his own birthday for a copy, only to have his attempt denied for not having ʻmade' his own birthday. Resubmitting both his letter and XL's response as a single image seems to have done the trick.
An original, generous and endearing project that turns the concept of value, monetary or otherwise, on its head, it's been impossible to look beyond ʻI Am Paint' for this list. Thankfully, there isn't a single one up for re-sale on Discogs, making it not only the most collectable record of the year, but one with which those who own it may never want to part.
---
Illustration by Hector Plimmer