Published on
September 29, 2017
Category
Features
Due to launch in Summer 2018, Technics has announced a new version of its top-of-the-range, broadcast-quality direct drive turntable, the SP-10. Paul Rigby talks to Technics' Jonathan Danbury to find out more.
Following the launch of its SL-1200GAE/G in 2016 and the SL-1200GR earlier this year, Technics is updating its top of the range design, the SP-10, redesigning it and tweaking the name to SP-10R ('R' for Reference). The original SP-10 appeared in three variants. The Mk.II was a common sight in professional radio studios in the UK and Europe, including the BBC, while the Mk.III was rarely seen outside of Japan. Why has Technics decided to release a Reference version of this high-end design now?
"It's always been the flagship Technics turntable," said Jonathan Danbury, Technics' hi-fi Specialist. "When we released the SL-1200GA, the limited edition one, we always had a plan to release a whole range of models, including the SP-10. There's many people out there who still use SP-10s. I recently met one guy in Japan who uses both a Mk.II and a Mk.III. We wanted to recreate a new flagship utilising all of the current technology and know-how from the past and today."
The re-emergence of vinyl as a popular consumer format helps too, of course, in encouraging Technics to release this hardware in the first place.
The SP-10R, which has yet to receive any sort of price as yet, was developed from the blank piece of paper in terms of technology, even though the classic form factor was retained. This means that users of the original SP-10 can remove their old motor unit from the original base and insert this new variant as an upgrade.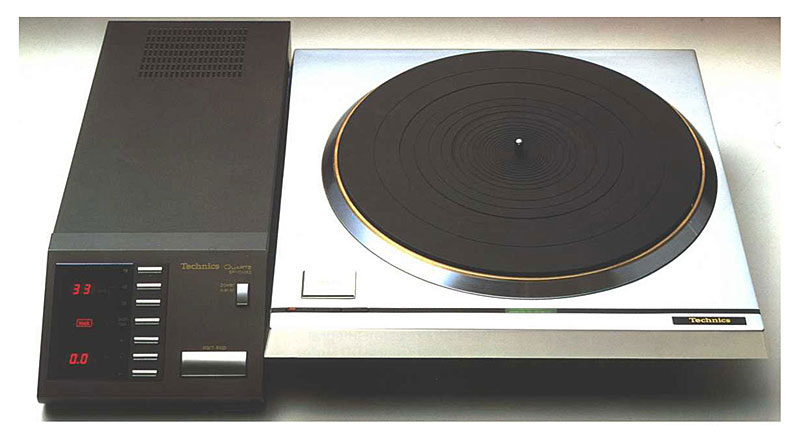 Technics SP-10 MkIII
"The Mk.III used a three-layer platter construction with brass on top, die-cast aluminium in the middle and rubber underneath. It was inert and was a great design, so we've retained and built upon that."
The SP-10R uses a very heavy platter of 7kg which shows that Technics intend to use mass (as well as that multi-material sandwich) as a method of removing noise from its turntable to improve sound quality. The heavy platter, which was subject to a range of laser-based vibration testing, needs a strong motor, though.
That motor, utilising stator coils, has been designed for the SP-10R. "Early on, we knew that we were not going to produce just one turntable, but that it was going to be a range. Hence, the original motor was designed to be a modular design. The SL-1200G uses a single set of coils with twin rotors. In the SP-10R, it uses two sets of coils and twin rotors which increases the torque by a factor to two. Hence, the finished SP-10R motor is unique but it's based upon a common motor base."
Incidentally, the reason the SP-10R uses a stator coil-based motor design, as opposed to anything else, is because the motor can be built to a small size.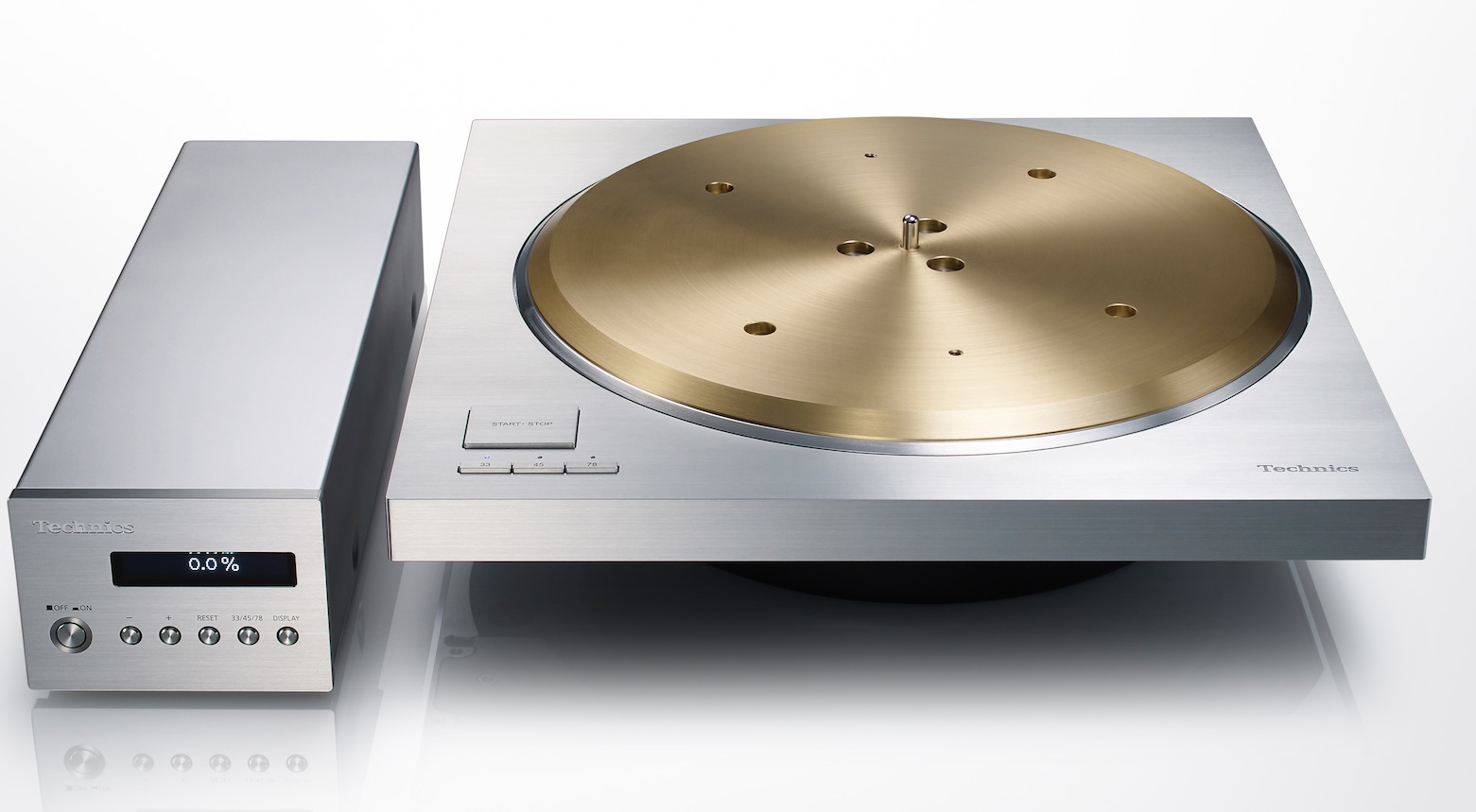 Separate from the motor is the power supply box which allows you to switch the whole thing on and off, alter the speed and pitch. The SP-10R is a three-speed model including 78rpm. That changeable pitch is ideal for 78s fans who know that 78s rarely ran at 78 but at a range of speeds in and around that figure. In use, the pitch speed variants are displayed on a read-out on the power supply.
The guts of the power supply are drawn from the developments undertaken on the SU-G30 amplifier/streamer. It is a new generation of switching mode supply. "Normally, for switching power supplies, the switching frequency varies with the load, causing noise as the switching frequency modulates. In our Silent Power Supply, the switching frequency always stays the same. It's also in a separate screened box, stopping RF being picked up by the motor. We've also included a complex noise reduction circuitry into the power supply, using phase cancellation."
So why didn't Technics utilise a more traditional audiophile approach using, for example, Toroidal transformers or similar? "Using that approach would have impacted both on the cost but also the size. We wanted to make the new power supply the same size as older power supplies, so that our older customers can upgrade their motor units. A larger power supply would have prevented that."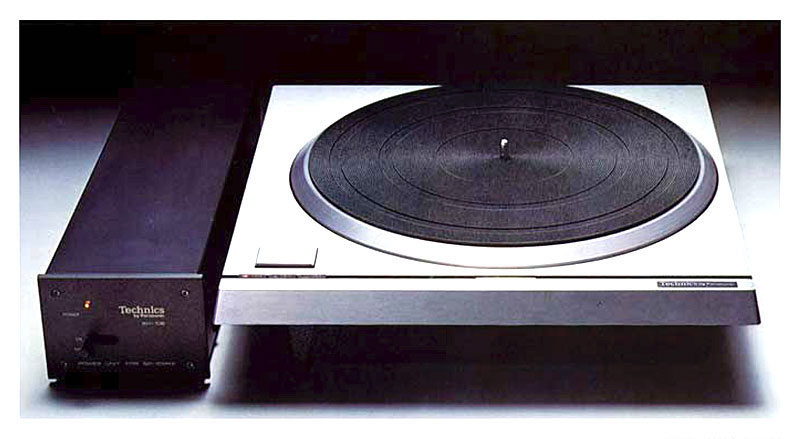 Technics SP-10 MkII
All this talk of motor units, power supplies, bases and the like brings up an issue that you have to understand if you fancy buying the SP-10R: it is not a complete turntable. It never was. Neither is this.
If you want to actually play records on this thing, you'll need a base to put it in, and of course, a tonearm and cartridge. It's odd, and I suggest, a mistake, that Technics didn't decide to wait, develop and announce a more expensive all-in-one SP-10R Technics system, aimed at new users with a separate, cheaper upgrade motor/power supply only for those who still own earlier SP-10 models.
"I did a bit of research on eBay," said Danbury, "and there are quite a few companies that make plinths for SP-10s. That won't be a problem."
I disagree. It is a "problem". Yes, the original SP-10 was also only a motor unit, and I believe that Technics will help and direct new users to third party plinth suppliers (and maybe even work with the same). But I would suggest that time and expectations have moved on. Unless Technics announce a Technics-produced plinth/arm/cartridge set-up to accompany the launch of the SP-10R motor/power supply, then much of the thunder, and potential sales of the new release will be lost.
"We are looking at various different options," said Danbury. "We are looking at various accessories to go with the motor unit." Danbury couldn't specify what they might be, or when they might be released though, because these options have yet to be "set in stone". Again, I believe that they should have been set in stone by now.
Nevertheless, the fact that Technics is building a new SP-10 at all should be applauded. The fact that it's to a Reference standard should be hailed and the details listed above add plenty of optimism that this unit will justify its status as a top of the range product. I, for one, can't wait to see and hear it in action, and when we receive more details, we'll be sure to pass them on.
Additional images courtesy of Vinyl Engine