Published on
July 31, 2015
Category
Features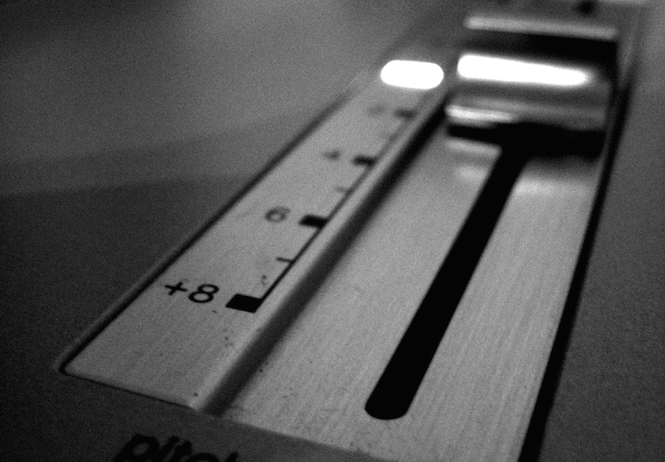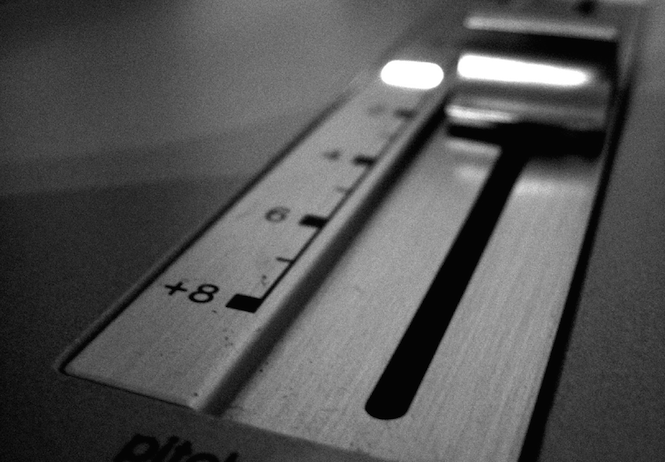 Our readers select 10 brilliant wrong speed records.
Some records sound better at the wrong speed, just ask Daniele Baldelli. The Italian turntable maverick was an early pitch pioneer, sending the dancefloor into dislocating slow motion with chugging Afro and European electronica. Or speak to Britain's '90s rave generation for whom the breakbeat house of Masters At Work didn't quite do it. Instead hit 45rpm and it's a hardcore classic; perfect for the chemically-minded.
We recently rounded up 10 such records, from celebrated classics like 'Jolene' at 33 to the obscurities – Speedy J on speed anyone? It rapidly became clear that our readers love a good wrong speed record. The comments section was flooded with pitch shifted gems, a treasure trove of wrong speed.
So, we've decided to do the sensible thing and compile 10 of the best submissions. Here's to our readers.
---
A Split Second
'Flesh'
45rpm to 33rpm +8
Famously played by Antwerp's DJ Dikke Ronny at 33, 'Flesh' had a big impact on the Belgian new beat sound, so much so that the track was later re-released on 12″ in its slower incarnation. A piece of wrong speed history if there ever was one.
---
Madonna
'Into the Groove'

45rpm to 33rpm
The track that captured the dancefloor spirit of 80s, 'Into The Groove' pitched down has, well, a slower groove and a hearted male vocal that could be mistaken for David Gahan. In fact, one cheeky YouTube user is even trying to pass it off as a rare Depeche Mode cover.
---
Osmonds
'Crazy Horses'
45rpm to 33rpm
The Osmonds' 1972 heavy rock hit about cars and pollution has been covered by The Sensational Alex Harvey Band, The Mission, Tank, and countless others. Is this weird and druggy take at 33 what a Captain Beefheart cover version might have sounded like?
---
ESG
'UFO'
45rpm to 33rpm
Produced by legendary Factory records producer Martin Hannett, 'UFO' is one of the most bitten beats in history. But forget sampling it, just pitch this raw breakbeat classic down.
---
Boards of Canada
'Alpha and Omega'
45rpm to 33rpm
More experimental and certainly darker than its predecessor, Boards of Canada's second album Geogaddi balanced short vignettes with longer trips to insanity, like 'Alpha And Omega'. Dropped to 33, time unfolds and stretches itself, creating over 9 minutes of mind melting drug chug.
---
Harold Faltermeyer
'Shoot Out'
45rpm to 33rpm
More pitch downed madness. This time a cut from Beverley Hills soundtrack morphs into a bouncy electro cruncher, sections of which wouldn't sound out of place in Aphex Twin's Caustic Window.
---
Oscare
'Africa's Rhyme'
33rpm to 45rpm
Bit of a leftfield shout this, but it's pretty dope, so we're going to throw it in anyway. Originally released on Belgium label ARS, Oscare's 'Africa Ryhme' is listed as 'Euro House' on Discogs but that seems wide of the mark too. At resting speed it's like being stuck on hold at Rainforest café, but given a shot in the arm it wakes into a beast of a breakbeat, the drums practically tripping over themselves to get onto the floor.
---
Om Unit
'Le Singe'
45rpm to 33rpm
Hit the switch on Om Unit's 170 bpm liquid d'n'b roller to snap those Vangelis-inspired synths into a crunchy cosmic groove.
---
Boytronic
'You (Dub)'
45rpm to 33rpm
Garish high energy synth-pop or freaky cosmic electro? Here's a classic case of wrong speed conquering right speed.
---
Severed Heads
'Dead Eyes Opened'
45rpm to 33rpm +8
We end where we began: with a new beat classic. Unforgivingly synthetic, unapologetically weird with its freakish industrial interference and bizarre spoken word, 'Dead Eyes Opened' melts neurones and that's before any Beppe Loda-style fiddling.