Published on
February 10, 2017
Category
Features
He's penned a Loft anthem, worked with Sakamoto and Björk, mastered countless instruments and written the best selling ProTools books around. You might not have heard of him, but Brit-funk survivor Mike Collins could be one of the most educated men in music.
It may not be much to look at from the outside, but for almost forty years, Mike Collins has been operating out of this rabbit warren of a studio in Wood Green. Best known in dance music circles as the architect of Sun Palace's Loft classic and proto-house instrumental 'Rude Movements', Collins has spent the intervening years accumulating an unparalleled knowledge and experience of the music industry.
His CV is nothing short of astonishing. As a DJ in Burney in the '70s (managed by Martin Hannett no less) he ran sound systems around the north west. He worked for Neve installing studios, has designed microphones, helped develop mixers for Yamaha, programmed drums for Cameo, worked with Zimmer, Sakamoto and Björk, mastered the first Apple computer in the '80s, is a self-confessed music copyright expert, has written countless thousands of tech reviews and penned nine best-selling books on ProTools. All part, Collins says, of developing his "armory of tools to use for making music."
As an artist in his own right, he flirted with the Brit-funk scene in the early '80s with Sun Palace and as an unofficial member of Light of the World, but having worked behind-the-scenes ever since, Collins is happy to finally take centre stage once more.
With 'Rude Movements' reissued by BBE last year, a new collection of Lost Tapes has surfaced, raising the curtain on Nicole McKenzie's new label MIC (Music Inspires Change). We popped into the fabled Wood Green studio hear the story of one of UK music's unsung pioneers.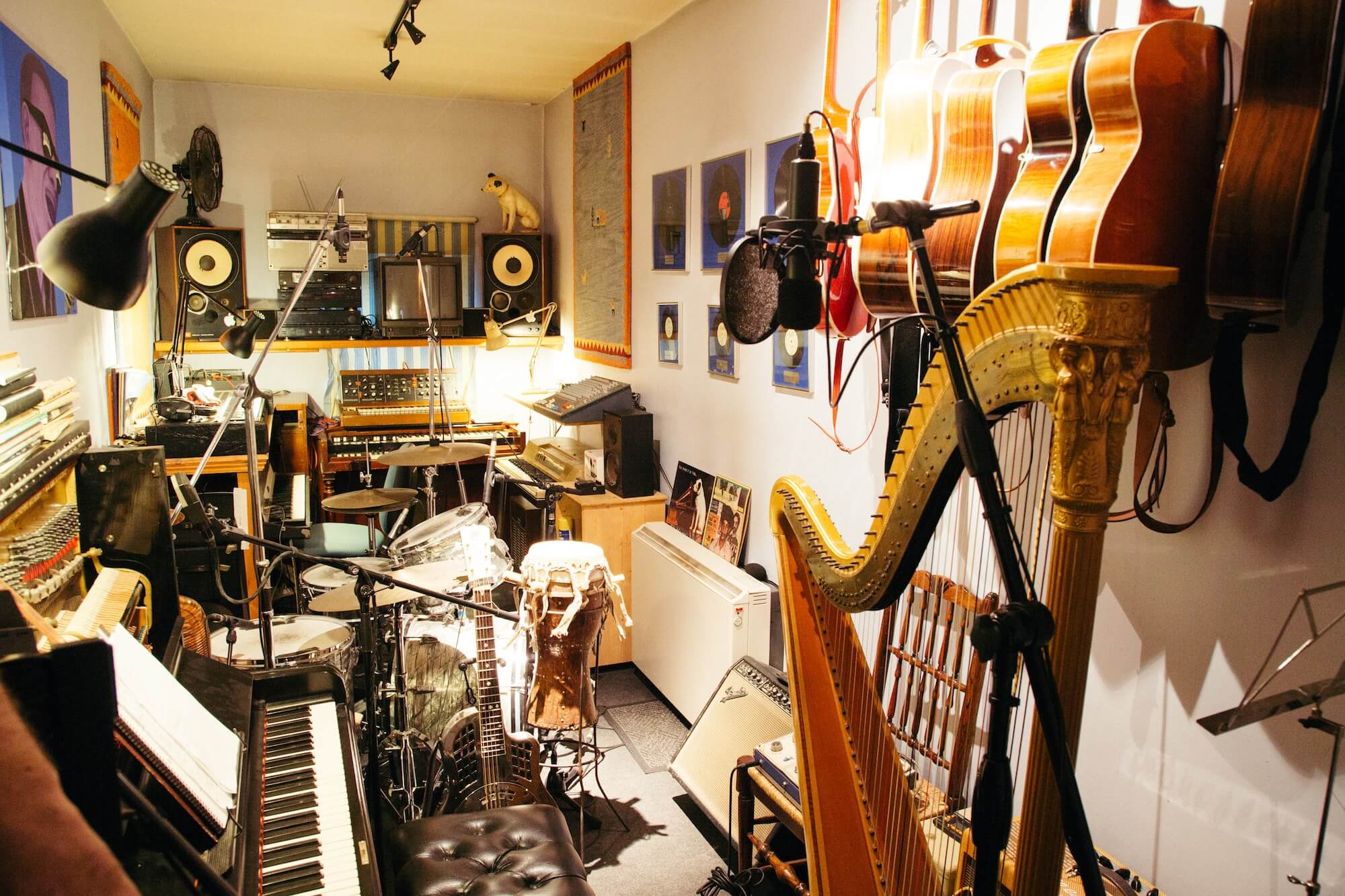 ---
Has this renewed interest in your music come out of the blue a bit for you?
In some ways yes, in some ways no. It's something that I've been anticipating and working towards for a number of years actually. I've had a plan and I've seen it through and it's now come to fruition.
You could say that Nicole McKenzie [and MIC Records] came out of the blue in one sense. In that I had called in at the shop she was managing in Soho about 2010 and in the first rack I saw a bootleg of 'Rude Movements' by Sun Palace. So I marched up to the counter and said "Can I speak to the manager?" It turns out that was Nicole.
With 'Rude Movements' reissued via BBE late last year, what's the story behind the music you are revisiting on Lost Tapes?
They're instrumentals, they're from the '80s, they're lost tapes that have been brought back to life and that's what the MIC records release is all about. There are five tracks of mine, mostly which I played myself on drum machines and keyboards. One of which there were two other musicians playing on.
What's your relationship to this music now?
When it came to the end of the '80s I was an early adopter of digital, but I kept all my analogue tapes, including all the cassette demos. I put them under the stairs, but because that was 1989 or 1990 they started to get moldy, and I didn't have much reason to get them out until relatively recently.
Aside from playing with folk, rock 'n' roll and soul bands in the '60s, your musical career goes way back…
Throughout the '70s I was a DJ, playing only dance music and the music that we liked, that developed from Stax and Motown and came all the way to disco and Sound of Philadelphia and the great rock bands that were out – the Eagles, the Doobie Brothers etc. Jazz-funk became really big, George Duke and people like that. I really liked Larry Carlton from The Crusaders and I discovered people like Ernest Ranglin playing a mix of Caribbean and jazz on his guitar and was highly influenced by that. I met and interviewed George Benson in 1977 and so it was all about learning new things. I was playing with every kind of band you can imagine, from reggae bands, to jazz, to funk, to country, to rock, to whatever.
But you only started recording when you moved to London?
My intention was to try and find ways to play guitar and make records, so I was looking for those opportunities, and after a while other people joined Keith O'Connell and I. A guy I knew in Manchester, a conga player called Gee Bello had come down to join a band called Light Of The World and he came round here with his friend Nat and would work out things with us instrumentally.
In the early part of 1981, things were beginning to heat up, we were starting to write songs and beginning to become really keen on our instrumental stuff. In May of '81 I took a tape to Nigel Grainge an Ensign records, which was the label that had Light Of The World, and I played him an instrumental track of mine that Gee Bello had put lyrics to. And he said, "Great, I'll give you some studio time, you can go and produce this record."
It ended up that we were also doing demos for EMI. When I took the first mixes of that track to the A&R man an EMI he said "It's so nice I want it!" So he rang Light of The World's manager and did a deal with them and Ensign records and that track which was supposed to be a Sun Palace track featuring these two guys from Light Of The World came out as a Light Of The World record on EMI.
This was 'Ride the Love Train'?
And it sold 40,000 copies. For that 6 month period you could say I was a member of Light Of The World or conversely that they were members of Sun Palace, which would have been a truer reflection of the actual situation.
Was that disappointing?
In many ways it was, yes. I could see that from a business perspective, to have it come out on a major label like EMI and with an established band name that had had chart singles would instantly help sell the record. Which was clearly vindicated with 40,000 copies sold in November 1981. It was not seen as a fantastic success, it was a reasonable offering.
It's interesting that you didn't follow up the release of 'Rude Movements' in '83 with more music…
In the '90s I became very busy with magazine articles, I also became very busy in studios as a MIDI programmer. I worked with all kinds of people as gun for hire. I worked with people like Ryuichi Sakamoto on two films, I worked with Björk and David Arnold on his first film and it was her first UK hit, 'Play Dead'.
You also say you were doing drum programming for the likes of Cameo and other US-based RnB bands in the UK. Were you always interested in pushing the limits of the equipment?
I wouldn't say I was trying to push its limits, I was simply trying to adopt the new technology which was coming out for the first time. We had the first drum machines, the first polyphonic synthesizers coming through in the early '80s and the early digital technology and the development of sequencers. So as each new thing started to come about I started to grab a hold of and use these new technologies. And to understand them and get them as part of my armory of tools to use for making music.
So you were actively educating yourself as an expert of new technologies?
I did a masters degree in music and information technology, and then I thought I need to know how computers work, so I thought if I could learn to programme one of those things and learn about all the digital stuff I'm in with a fighting chance. And then I thought I need something beyond the theory. So I thought, who makes the fucking stuff? Yamaha. So I took a job working for Yamaha research and development. They developed the very first small-format digital mixer and I was involved.
So I'm working with the guys who wrote the manuals for all the synthesizers. I was expected to be the music technology specialist who knew all the manuals backwards. At night, at breakfast, on the bog, reading these bloody manuals! I learned a lot about the technology. For the rest of that year I was the studio engineer and programmer at that state of the art studio. That was a great year and put me in touch with everyone from Courtney Pine to George Martin to Keith Emerson, to Hans Zimmer and worked with them to some small degree. And I've been freelance ever since.
I took up using the Apple Mac in 1986, so I was an early adopter. Most people in the UK bought Ataris for cheapness sake. I'd learnt so much about how to do it, because no-one in England much new the Mac, these American guys would call.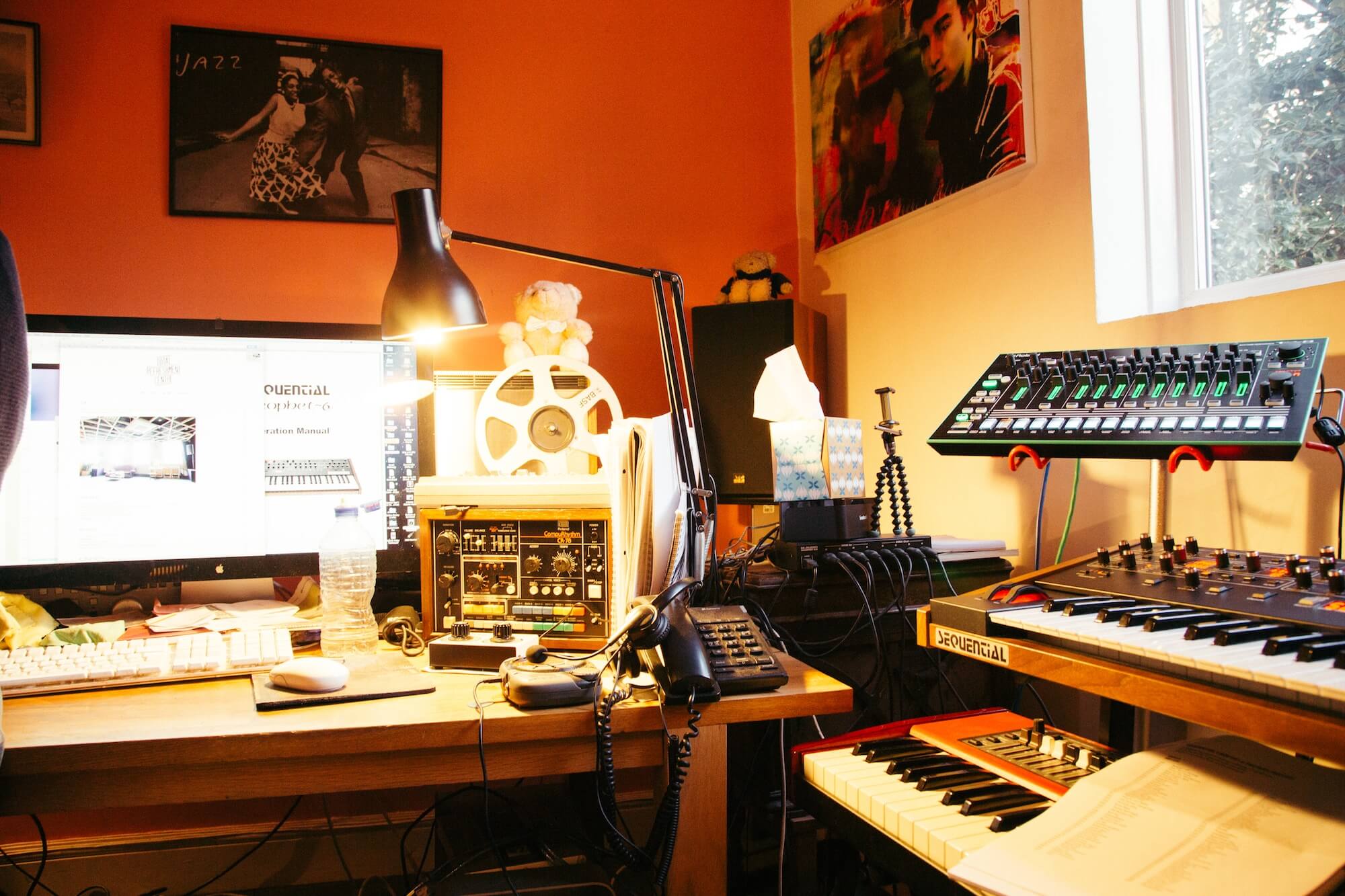 You made yourself indispensable to a lot of people…
In about '98 or '99 I went really into the digital thing and got a big ProTools system and started to write books about ProTools. Same theory – if I write about it, I learn about it, I earn a book along the way, it puts my name about a bit and helps me solidify my own knowledge of this system. So that's why I became the author of the best selling books on ProTools, just to serve my purpose so I could record my guitar basically and not starve while I was doing it. That's the method behind my madness.
Do you have more of an emotional connection with this gear too?
My emotional connections tend to be with my guitars, not so much with drum machines. I suppose the TR-808 and and CR-78 would be the closest thing to it. I can't say I have a strong emotional connection to the synthesizers, they tend to be a bit more anonymous, a bit more like cold technology. I like wooden things.
You've obviously had a strong supporting role for a lot of musicians over the years – this time though your name is front and centre…
That's right, yes. A major part of my work in the last 30 years is in that supporting role and I've seen it very clearly as that. As an engineer, programmer, producer, arranger, session musician all the time I've been in the background working on other people's music and supporting them in what they do, but using all the recording technologies to do that.
When I started out in the '80s my primary goal was to make records and play guitar, and that's what I did right from the outset with 'Rude Movements'. This was the first expression of that. I never lost faith with that original vision, and to continue with it. In a sense that's what's happened and I've worked towards that.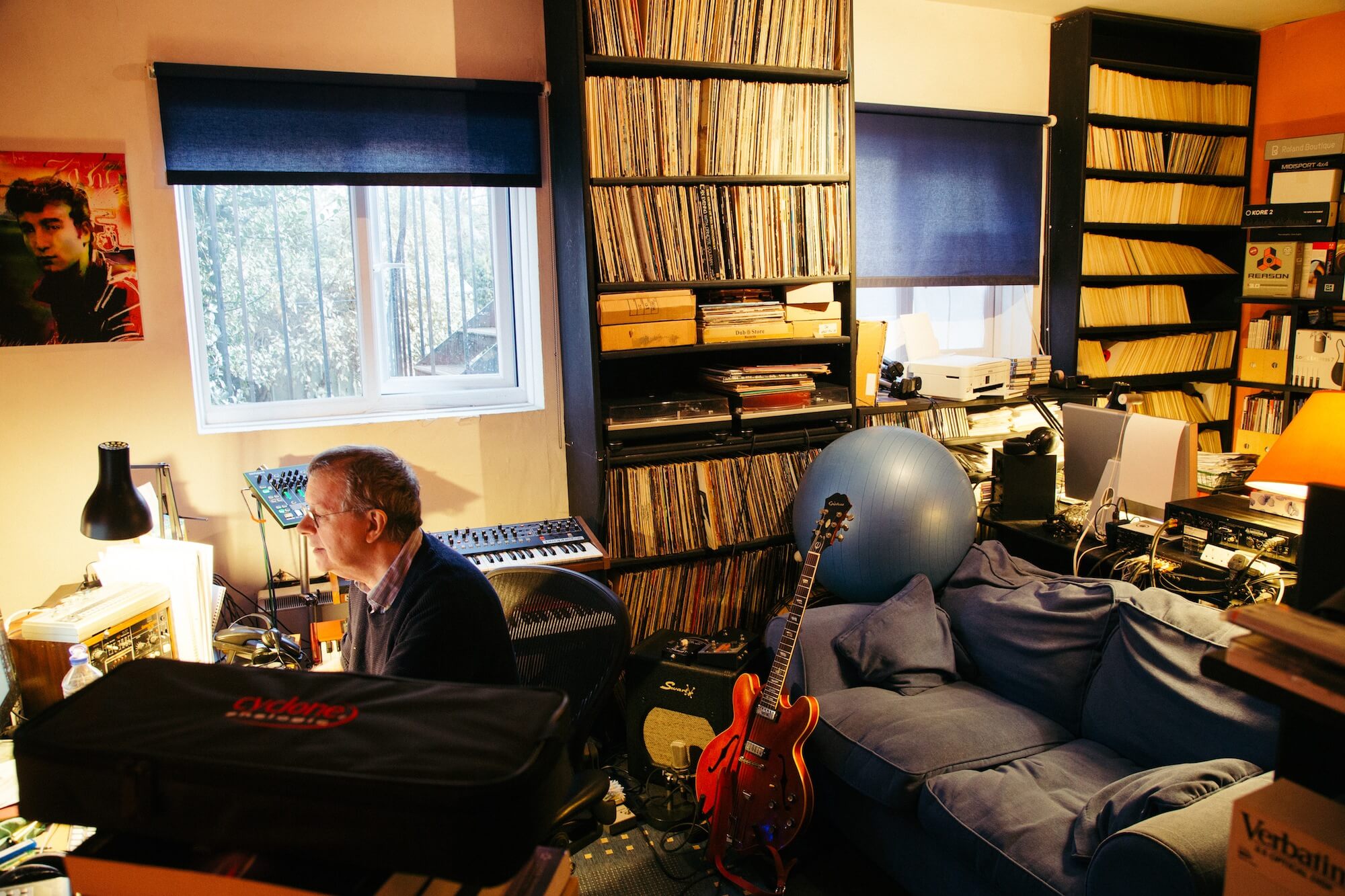 And how about The Loft? Did you know 'Rude Movements' was such a hit with David Mancuso in New York?
People ask me if I could have anticipated what would happen with the Loft when I made that record, and I always say "Yes, of course," because don't forget, I was a DJ and as a DJ, I was that guy like David Mancuso, the one finding those unusual records and trying to introduce them to my crowd. When I was making the record I was hoping that it would become a cult hit amongst DJs. And when it did, I didn't know about it until many years later. I'm very gratified that somebody did recognise it for what it was.
---
Mike Collins – Lost Tapes 1983-1989 is out now. Collins will be performing Sun Palace material live in London on 16th February. Click here for more details.