Published on
May 19, 2015
Category
Features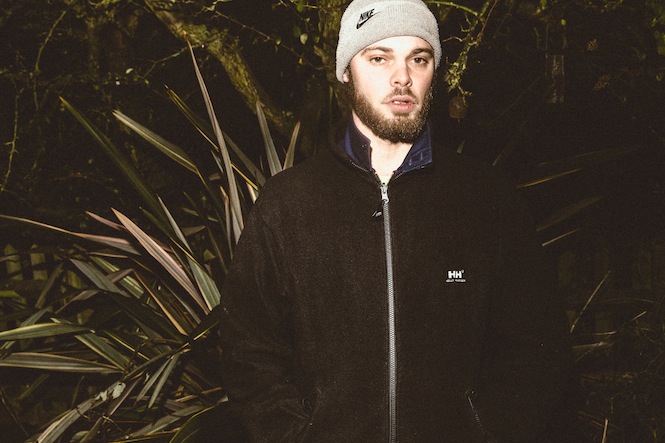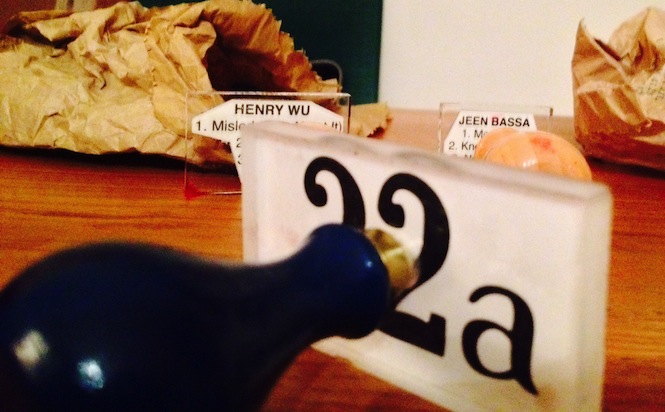 Our Label Spotlight series is a monthly illumination of the labels from around the world whose musical vision, design and innovation are keeping vinyl at the cutting edge in 2015. Having checked in with Amsterdam's Music From Memory, Oslo's Smalltown Supersound, and California's Castle Face, we return home for an introduction to vinyl-only co-operative 22a.
They might only have five EPs under their collective belts, but 22a have attracted quite a following in the last two years, due in part to their no frills approach to releases (their small runs of hand-stamped 12″s have blossomed) and a dedication to keeping things local – theirs is a close knit community of musicians that includes Tenderlonious, Al Dobson Jr. and Henry Wu alongside brothers Mo Kolours, Reginald Omas Mamode IV and Jeen Bassa.
Having touched base a few months ago for our exploration of record culture in South London, we went back for more and got the full low-down on the label from the man at the helm, Tenderlonious.
---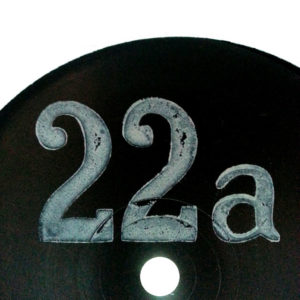 Name:
22a
Founded:
2013
Location:
London, UK
When and why did you set up the label, and who are the faces behind it?
Around 2013 me and all the 22a guys – that's Al Dobson Jr, Jeen Bassa, Henry Wu, Reginald Omas Mamode IV, Mo Kolours and myself – were in a similar position. People were making a fuss about our music but, aside from Reggie and Mo, no-one was really taking any serious action. And they all had a lot of really amazing music! So I thought — someone's gotta do it. I enquired about prices from other people that I knew and got some ideas of where to go and how much it would cost, and I thought, well, I haven't really got the money but fuck it I'll just do it. One of those things, you just make it happen.
So I said right, Al Dobson, let's do this, you and me, and I booked it in. The label is just like a way of us sharing our music. I go round theirs, we sit down, they cook, we eat, we listen to music, catch joke and then maybe put a record together. The guys who come out of the label are all part of my life. It's love. I wouldn't work with people that I didn't get on with.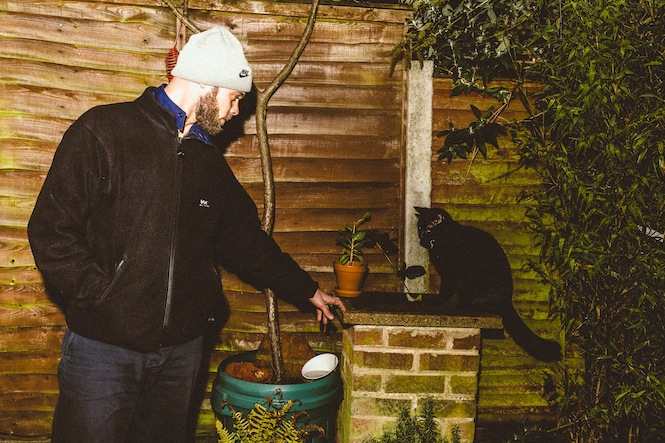 Where does the name come from?
It started as like a saying. I'd written a tune called '22a', because that was my house number in Woking. The guys liked that tune. Everyone else was living together or living really close in London but I was always heading back and forth to Woking, and they were like 'Tender, where you been? 22a yeah?' So it's kinda our running joke. It became this thing, we were always throwing the name around in the sense of like — yo! that's 22! Meaning that's our vibe – like fruity Mentos or a pair of size 10 Sambas.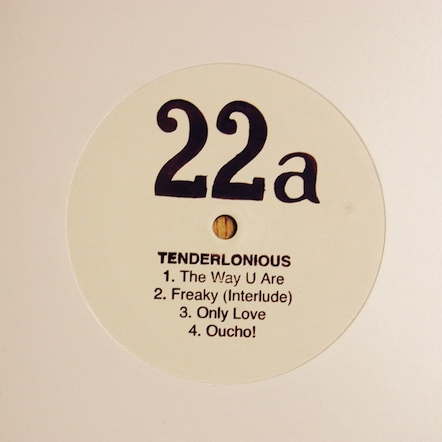 You've put out five releases so far. Could you pick one of these to tell us a little more about?
The first one was significant. The first one was kinda just setting the standard. I took it round the lads yard and we stamped them all up together. It was a momentous occasion and an exciting time because it was the start. It was nice to share production duties with Dobson on the record too – like you have a wingman.
After 001 the next two releases followed the same format – split EPs hand-stamped on 140g vinyl with no artwork. Then at the end of last year I'd saved up a bit more cash and raised the stakes. The next two releases that followed – Tender & Bassa EPs – we're pressed on 180g vinyl with full cover art.
How do you source the music you release?
I hear a lot of the music in passing. Either round at one of the lads yards or out in the clubby if one of them is playing. It's a simple process – I don't fuck with demo tapes or any of that hype.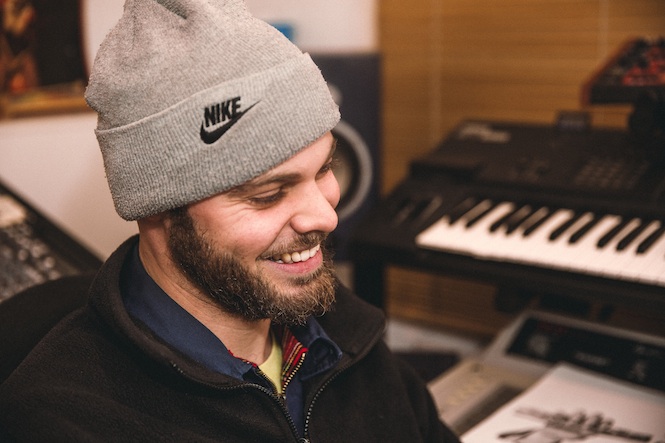 What is the role of vinyl for 22a?
Vinyl lasts. If there's some Die Hard 4 shit and they start switching off the internet, I know there's 200 copies of 22a 001 out there. In a hundred years hopefully there'll still be a bit of our music floating around, and people will be able to hear what this time was about through the music, through the sound.
Could you tell us a bit about your design process and the label aesthetic?
We're starting to do cover artwork now – some of the lads in the crew are great artists! Bassa did the cover for his single, and the Ruby Rushton cover is by Reggie and Bassa – look out for Sey Art! I definitely enjoy artwork, but the focus is the music. It's all about keeping it simple!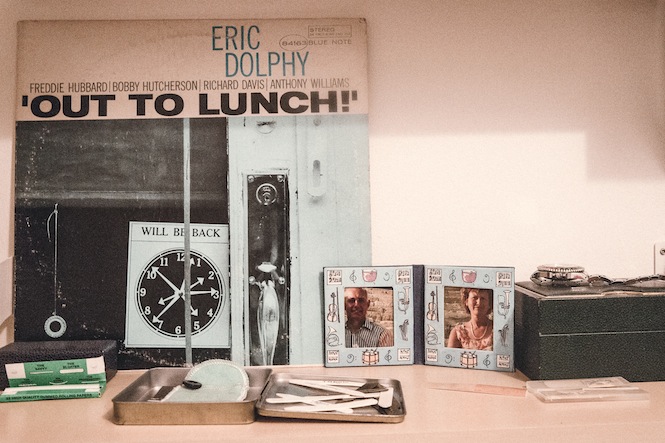 Which other labels do you admire?
Blue Note in the '50s & '60s. They were consistent with the quality of their output.
What's the hardest thing about running the label?
The music is easy. That's the natural shit. The hardest thing is the business side – dealing with some of the logistics companies and the manufacturers. Quality control is the hardest thing to maintain. All the time there's shit going on. Manufactures have sent me bent records on a few occasions and certain couriers have damaged my stock too. It's not fun. I'm putting down big money that I've worked hard for, in an honest way – and I'm getting dishonest shit. It can be frustrating!
Finally, what's in the pipeline for 2015?
Next up is Two For Joy, the album from Ruby Rushton, my quartet which I put together a few years ago – I recorded the album at the end of 2011. I nearly gave it to a couple labels, but I was like – I can't trust anyone with it, it's too personal. I couldn't just give it away. That's coming out around June/July. Then after that, there's going to be another Tenderlonious record – on a vocal tip. Then I got another Al Dobson Jr lined up. We also got this young cat coming through – Ben Hauke. And all the others are coming back for more. Everyone's on rotation and everyone's coming back, but you're gonna see them in different formats.
---
Ruby Rushton's Two For Joy is out on 29th June.
Photos by Arianna Power.