Published on
April 6, 2017
Category
Features
In the mid-'90s, Janka Nabay became the first musician to record bubu music by reworking traditional instruments with electronic textures. We take a look at the Bubu Professor's album for Luaka Bop that once again pushes the field of African electronics.
Bubu is a time-honoured Muslim processional music from Sierra Leone originally played on bamboo flutes. Nowadays, this customary style, performed in motion at celebrations and weddings in towns, villages and in the capital Freetown, is more often created with electronic sounds. That's thanks to the innovations of self-styled Bubu Professor Janka Nabay, whose revamp of this custom has not only helped preserve it and expose it to a new audience in his home city of Freetown, but has also given it a global following with his singles for hip imprint True Panther Sounds and debut album En Yay Sah on David Byrne's Luaka Bop label.
Janka has lived in the US since 2002, residing in Washington DC. His bubu evangelism is set to enter a new phase with the release of his second record through Luaka Bop, Build Music. It melds those recreated electronic flute melodies and his uplifting voice with funk bass, house beats and ecstatic guitar, emerging with an authentic, but thoroughly new form of bubu. It's a continuation of the mission he began in the '90s, when he won a talent competition and was given the opportunity to replay the sounds of bubu in Freetown's Forensic Studio, on Casio keyboards. Unbelievably, it was the first time that bubu had been recorded.
"Bubu music is ancient music, played on bamboo flutes. It has been here for so long," Janka tells me down the phone from the US. "It needed to be modernised. It needed all these electronic things to come and make it good, because all other music is like that now. That's the way other music is going locally."
Janka's electronic take on the music was embraced, and cassettes of his recordings sold in Sierra Leone in thousands. But some of the attention was unwelcome. In 1991, civil war broke out in the country. Janka's lyrics tackled the war, but his music also ended up being used by soldiers as a battle march. He left the country at the end of the war, partly to escape the devastation, partly to bring the bubu sound to the world. "Nothing happened in Sierra Leone [with the music], so I had to come out to America to make new bubu music," he says.
Initially life in the US, living between New York and Philadelphia, was hard. His musical career might have ended prematurely, if not for a serendipitous hook up with broadcaster, journalist and scholar Wills Glasspeigel. "Wills Glasspeigel is one of the big factors in getting bubu music to come up and excel," Janka says. "I didn't know anybody to go to a club with, or form a band with. He heard my music and became interested in it. He helped me find a band."
Wills, originally from Chicago but at the time based in Brooklyn, NY, first heard about Janka as a result of the African music-themed radio show he worked on.
"I was a radio producer for a programme called Afropop Worldwide on Public Radio International in the US," he tells me from Connecticut, where he's currently studying at Yale for a PhD in African American studies on the subject of Chicago dance music. "I was producing a radio documentary about the music in Sierra Leone during the '90s, during the war period. A BBC journalist had brought back a bag of cassette tapes and somehow I had been given access to it through doing the show. Janka's music stood out."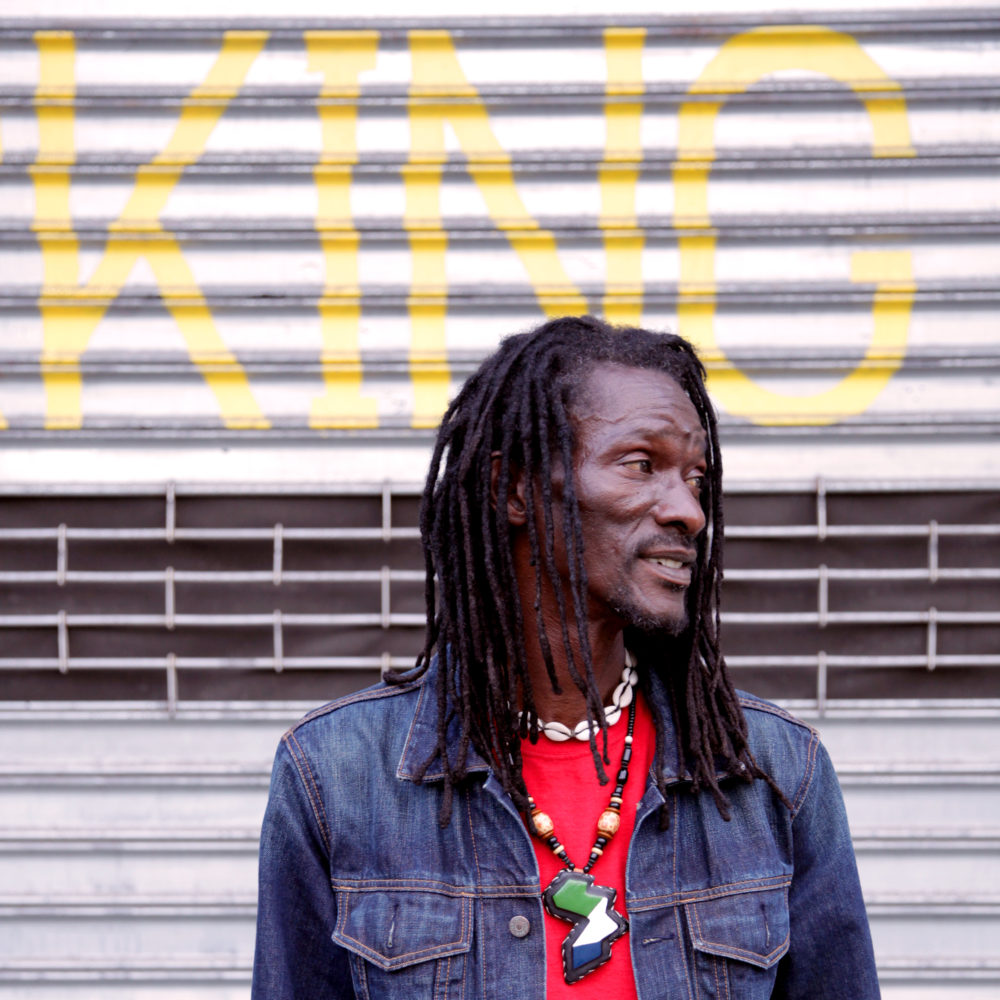 Glasspeigel discovered through a co-worker on the programme that Janka was living on the East Coast of the US. He set out to contact him, and when Janka visited The Bronx, Wills met him for the first time. "He happened to be in The Bronx 'cause there's a large Sierra Leonean immigrant population there. That sparked off a friendship. The music spoke to me," Wills says.
Wills became Janka's manager, and set about introducing him to his network of contacts, and helping him to find a band to perform and record his bubu music. "It was obvious to me at that time that I could help with his business development, and I could help get him recognition for his music," Wills remembers. "I thought that would be a good thing to do, to use my space and privilege to shine a light on someone who really didn't have any access to the connections and networks that I had access to. We plugged him in. Through me he met Dean Bein from True Panther, and meanwhile he was trying to figure out a live presentation of the material."
At the Williamsburg club Zebulon, Janka would perform, often joined by guitarist Bajah and Sierra Leonean rap outfit Dry Eye Crew. Riotous late night affairs, Janka would sing and rap over his digital productions, joined by guests. Local DJs came calling, eager to get Janka's vibe on their tracks, and it was at Zebulon that his band the Bubu Gang would crystallise from members of local groups including Chairlift and Skeletons, and go on to be the personnel for his first album 'En Yay Sah', along with Boshra Al-Saadi, a Syrian singer and bassist and guitarist Doug Shaw.
"That was cool," recalls Janka. "The guys are talented. They didn't know bubu music, but every time I'd show them something, they'd come out with it very fast. I wanted the music to sound bubu, but to sound strong and different. I would create, give them something, and then they would make it cool. Then we did an album."
Touring across the US, Janka and the Bubu Gang garnered a loyal fanbase. He's happy with how popular his music has since become, but misses Sierra Leone. "In America my music life is excellent, because I'm getting promotion that if I was still in Sierra Leone, it would be slow," he admits. "I reach places and meet people. It's coming out like wild fire now. But I miss my culture in Africa."
On the new record Build Music, Janka has found a way to reconnect to Freetown. One of his classic tracks, 'Sabanoh' is reworked by local dance producer Lanzo on D Beat, who adds a thumping 4/4 kick and intensifies the flavour of Janka's original. "I told the record company I needed a new flavour in the album. I said I needed someone to make a special beat from Sierra Leone, to make it cooler. Lanzo sent the beat, and we did something to that. It felt good."
Janka's music is in tune with a swell of interest in African electronic and dance sounds. Though artists such as William Onyeabor or Francis Bebey are now acknowledged as early pioneers for machine music from the continent, it's local dance scenes, from South Africa's gqom and Shangaan electro, to the house fusions of Afrobeats from Nigerian and Ghana, that are getting attention in the UK and US.
Wills Glasspeigel, who helped distribute and popularise the Shangaan electro genre and acts after his friend Tshepang Ramoba from the band BLK JKS put him onto it, reckons that Janka is hugely pioneering in the field of African electronics. "Where Janka's music took me off to, is the computerisation of African music. The digital process that he took a traditional and ancient African music through, to me, that's like an Afro-futurist theory. It's like culture is something that can not only be played on instruments from the past, culture can also come from technology, from the future, and new mediums can actually strengthen and make long-running practices relevant and in touch with the moment."
Janka points out that bubu music is growing, and says that in Sierra Leone, it's more popular than ever. "Right now the world is catching up. I'm watching now on social media, I'm seeing all these countries surfacing with the same kind of sound. I'm the only one right now that people know [in bubu music]. Sierra Leone artists now always have a bubu track on their album. You know Refugee All Stars? They play bubu music. When you try bubu you never leave it!"
Though Wills Glasspeigel doesn't manage Janka anymore, he acknowledges that without meeting him and experiencing his music, his life would be very different now. "I'm not working with Janka right now, although I did do a recent film about mass in Sierra Leone," he concludes. "That was something I got introduced to through Janka. I've become a scholar of Sierra Leonean culture, or at least a documentary filmmaker. Janka calls himself the Bubu Professor. He really did open my mind to listen to the history of African music."
---
Janka Nabay's tour dates, July:
Sat 1st – Roskilde Festival (DK)
Fri 14th – Jazz Cafe, London (UK) with Doug Hream Blunt
Sun 16th – Walthamstow Garden Party, London (UK)
Tues 18th – Valkhof Festival, Nijmegen (NL)
Weds 19th – Pop Sagra Urbana, Genoa (IT)
Fri 21st – ZDB Gallery, Lisbon (PT)
Sat 22nd – Milhoes De Festa, Barcelos (PT)
Sun 23rd – Sinsal Audio, Galicia (ES)