Published on
May 14, 2018
Category
Features
With the release of An Angel Fell, his new album with The Pyramids, Idris Ackamoor tells Chris May about the birth of Afrofuturist jazz and how spending a year in Africa turned theory into reality for The Pyramids.
In December 1972, Idris Ackamoor & The Pyramids arrived in Morocco, from where they set off through Senegal for Ghana, before crossing the continent and travelling in Uganda, Kenya and Ethiopia. Along the way they experienced at first-hand the ritual power of music and its ability to bind communities together – twin tenets of first-wave Afrofuturist music, which combined science fiction-inspired magical realism with black consciousness-inspired social activism.
Returning to the US, The Pyramids self-released three albums, Lalibela, King Of Kings and Birth/Speed/Merging, in quick succession. Pressed in limited numbers and sold at gigs, a practice pioneered by Afrofuturist godfather Sun Ra, the discs were strictly niche, but are now widely recognised as classics of their genre. The Pyramids broke up in 1977 and Ackamoor, under his birth name, Bruce Baker, founded the multi-disciplinary performance company Cultural Odyssey. As Ackamoor, he has since reformed The Pyramids on several occasions.
---
In the late 1960s and early 1970s, your generation of musicians was the first to look on jazz as something with which to effect change in society, to educate and agitate. What triggered that?
It was the zeitgeist. Our music came out alongside the Civil Rights movement, it was all about black consciousness. There was a revolutionary spirit running through African American music. I was listening to John Coltrane, Jimi Hendrix, Pharoah Sanders, Sun Ra, Marvin Gaye, Albert Ayler, Martha & The Vandellas. One way and another, they were all revolutionary. In Chicago, where I grew up, music was about making change happen.
Was the description Afrofuturist used to describe the new jazz?
I didn't hear it called that until much later. Some people called it "our thing." Others called it "spiritual jazz." They meant tracing spiritual experience back to Africa – the idea that music is part of the ritualistic, ceremonial, transcendental aspect of life. Musicians were looking for a different kind of spiritual experience. It wasn't about Christianity, it wasn't about Islam. It was about affirming our African heritage. It was also about coming together as a people. It was about putting community before competition.
That was a radical idea. Historically, most jazz musicians had been intensely competitive.
They were raised to be crabs in a bucket. From the 1920s onwards, they were brought up on the idea of the cutting school, where you'd try and best each other in head-to-head jam sessions. "I'm badder than this cat, I'm badder than that cat." But my generation felt that the priority had to be unification. Competitive cutting was opposed to unity. It was opposed to "each one teach one" as the saying went. There was a race war going on in the US. We needed to present a united front.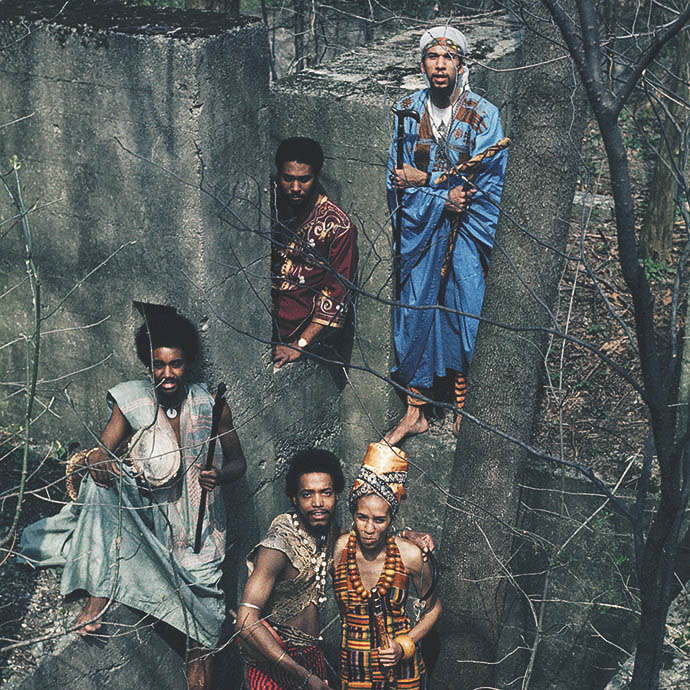 In Chicago, the imperative of working together was what inspired the launch of the Association for the Advancement of Creative Musicians.
I came out of that tradition, though I was never actually a member of the AACM. I was too young to join when it launched [in 1965]. Then when I came back from Africa [in 1973] I moved from Chicago to San Francisco. But historically, the South Side was all about unions, about organising, because black people had always been under great pressure. People on the South Side knew that the power structure wanted to divide and rule. In that regard, my greatest inspiration was my mother. She was a school teacher and activist. When she saw inequity, she confronted it. She organised a schools boycott to protest against the inferior education black children received and for that she was fired from her job. It led to the longest teachers strike in Chicago history.
Did you always plan on being a musician?
I'd been studying music since I was seven or eight and I was in my first band when I was 12 [in 1963], so being a musician was an early plan. But in 1965 I got diverted for a while. It was my freshman year at high school and I really got into basketball. I was a little god. I could steal the ball, I could make it dance, I could do all that stuff. And you couldn't be in a band and play sports at the same time. They were separate worlds. So I kind of put my instrument down for three or four years. And then in 1968 I left Chicago to take up a basketball scholarship at Coe College in Cedar Rapids. But pretty soon, I had an epiphany. I realised I wanted to return to music.
What caused the epiphany?
1968 was right in the middle of the Black Power movement, in the middle of the Black Panthers coming out, of black consciousness. I was growing my afro, I was wearing a beard, I was wearing a dashiki. Those things didn't go with being a college jock. My heart told me to get back into music.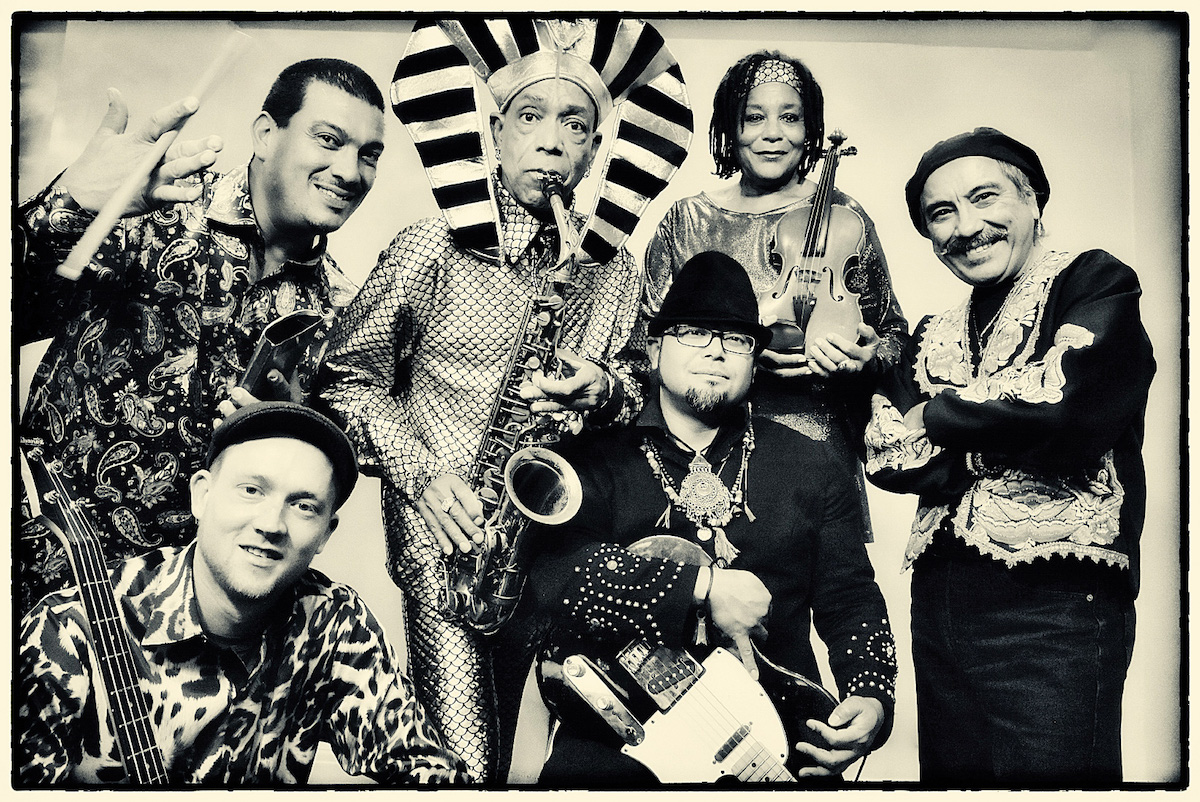 So you went back to Chicago…
… and picked up my horn again. That's when I met my first musical guru, Clifford King, who taught me alto and tenor saxophone. He was an older guy who came out of the big bands of the 1930s, outfits like the Jimmie Lunceford orchestra. He taught a lot of the AACM musicians and he took me under his wing. And then in 1970 I was out of Chicago again, this time to Antioch College in Yellow Springs, where I studied music in the same class as Margo [Simmons] and Kimathi [Asante], with whom I founded The Pyramids.
You're on record as saying that Antioch was life-changing.
Antioch was transformational, an amazing place. I was on what they called the co-operative programme – half the time you were on campus, the other half you were away someplace doing work study. My first work study was back in Chicago working with Kermit Coleman, an attorney with the ACLU [American Civil Liberties Union]. He was the principal lawyer for the families of Fred Hampton and Mark Clark, the Black Panthers who were assassinated by the Chicago police in 1969. For 3 months I was his assistant. I was also able to carry on studying with Clifford King. My next placement was in Los Angeles, where I met my second musical guru, Charles Tyler. He'd played alto on [Albert Ayler's] Bells and Spirits Rejoice. He took me under his wing.
And at Antioch you met another musical guru, Cecil Taylor.
When I got back from the Los Angeles, Cecil had begun teaching there. I played in Cecil's Black Music Ensemble along with Margo and Kimathi. Cecil taught us that jazz was part of an ancient musical continuum going back to Africa. He could dance to Duke Ellington and he could dance to Motown – this was what the AACM and the Art Ensemble of Chicago were laying down too. He said playing the piano was like playing eighty-eight tuned drums. In class Cecil would say 'go to Africa.' He confirmed the importance of Africa.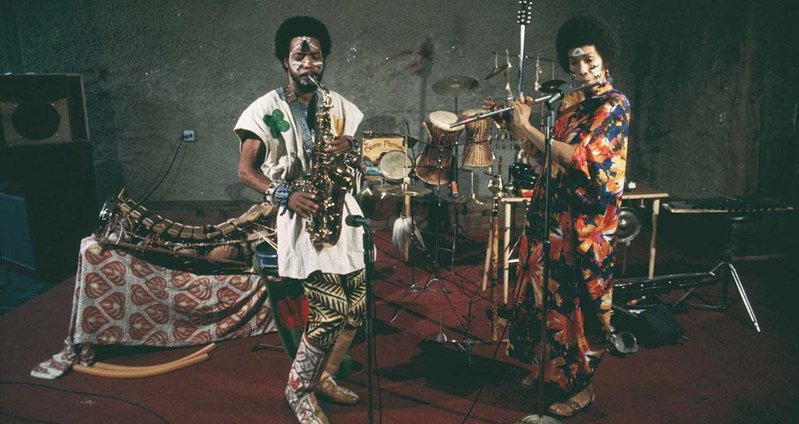 Many jazz musicians in the 1970s spoke about the importance of its African heritage, but few actually went there to study it first-hand.
Money was a prohibitive factor for most young musicians, when they were not even making a living in America. But being at Antioch, we were fortunate. They had the Study Abroad Programme, and in late 1972 they gave me, Margo and Kimathi travel money and a monthly stipend to travel in Africa. It wasn't a lot, but it was enough. The only academic thing we had to do was go to Paris and study French for six weeks first. After that we went to Amsterdam, where we formed The Pyramids. Then we went to Africa – to Tangier, Morocco for a couple of weeks, then Dakar, Senegal for a couple of weeks and then we settled in Accra, Ghana. From there we went to Uganda, Kenya and Ethiopia. We spent around a year in Africa.
It must have been like going to finishing school.
By the time we got back to the US we were a totally different band. We believed that the way to break the ghetto mindset was to introduce a new set of rituals. The Pyramids weren't a jazz band the way most people envisioned one. We were extremely theatrical. It was all about ritual, costumes, magic. In that respect, we were like Sun Ra. But we'd actually learnt it from going to Africa.
---
Idris Ackamoor & The Pyramids' An Angel Fell is out now via Strut Records.