Published on
January 29, 2017
Category
Features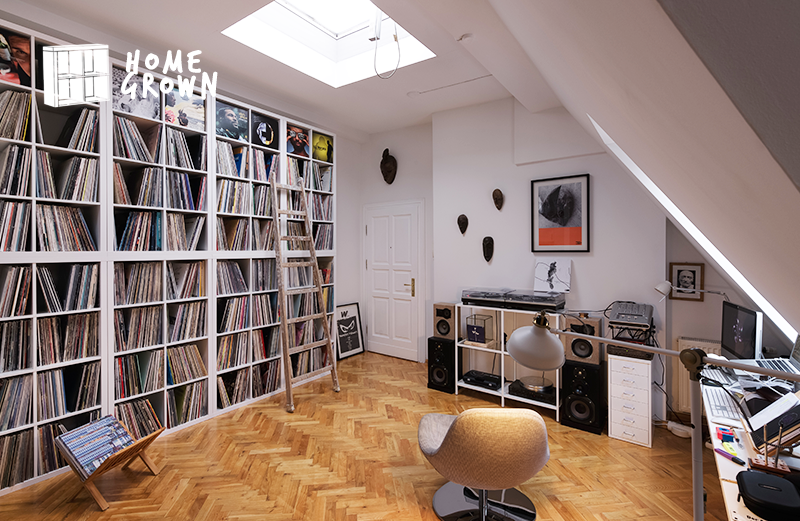 Because every record collection has a story.
Home Grown is our series profiling you lot and your excellent record collections. Taking our cue from the brilliant submissions to the #VFRecordCollections thread on Instagram, we want to share a little of your hard-earned love for vinyl with the world.
Each week, we'll be profiling a different collector from around the world and finding out what makes them tick. Want in? Send us a pic of your collection and a few words about your collection to social@thevinylfactory.com.
---
Name: Dominik Bartmanski aka vinyldomain
Location: Berlin, Germany
Size of collection (approx.): 3,500 records
How long have you been collecting for? Since 2002
What part of your set-up are you most proud of? Two classic Technics SL-1200 MK2 turntables. I bought them fourteen years ago, was moving back and forth across the Atlantic with them and they never let me down. A perfectly reliable device, an iconic antithesis of the planned disposability of our times. And a classic kinetic sculpture too.
I spend more on records and shows than on gear. Lately I have enjoyed a compact Metz amplifier from 1979 and Japanese Vestax mixer. I also own the limited black model of Vestax portable turntable for digging trips. At the moment I'm putting the sound of my vinyl through two pairs of speakers that my dad assembled for me using different affordable 1970s components. I love the fact that such bespoke stuff sounds at least as good as many contemporary professional systems. I'm particularly fond of my monitors that combine Audax tweeters and German Braun woofers. The other pair is a DIY statement too, it combines fantastic mid range Isophon and Telefunken bass speakers.
What does your record collection mean to you? Aesthetic choice and respect for the artists. A tangible sensual trace of intangible sound cultures that move my body and mind.
I haven't inherited any LPs. So for me vinyl has been about a personal discovery of analogue sensibility, especially via fascination with independent scenes that stayed faithful to the format when mainstream industry phased it out.
The cover of Thievery Corporation's debut album said it all to me. It was not a nostalgic gesture but timeless beauty. Collecting the sublime records of this duo meant also reaching out to analogue sound cultures of Brazilian bossa nova, samba as well as reggae, dub, Cuban, and American jazz.
I was lucky to have lived for longer periods in or just outside NYC in the 2000s. I was buying when many others were selling… So I was able to buy seminal series of records, for example Miles Davis's complete discography. Multiple gems for fair prices could be found with some time investment. That meant a serious logistical challenge though when I decided to return from USA to Europe. Some records got sold. Collecting is an on-going sacrifice.
But it has always been about the fun of crate digging, and digging means traveling, which in turn means rare finds and broadening of my horizons beyond our somewhat rigid pop-rock canon. In Tokyo I unearthed a first Japanese pressing of Miles in Berlin released in 1968 in an alternate cover. In the vinyl mecca that is Berlin I found the super rare record of Miles' 1983 Warsaw concert, which was released in a generic cover of Polish Jazz Society, limited to 500 hand-numbered copies with a black and white print of Miles's photograph by Franck Bergerot.
My trips to Portugal, Colombia, Argentina, Cuba and especially Brazil meant exposure to truly wonderful records I would not have encountered otherwise, some of which are not even present on Discogs and/or have never been digitalized.
Last but not least, for me collecting vinyl has always been about getting records spun by favourite DJs in cutting edge clubs, and the immersion into independent electronic music scenes represented by forward-looking labels. It started for me with the fresh sounds of the 1990s and 2000s found on Good Looking Records, Warp, Ninja Tune, Guidance Recordings, Prescription, R&S, Metalheadz, Basic Channel and many others.It was a digital revolution with analogue commitment. The story goes on.
Old and new independent labels are offering superb analogue output, some future classics among them, such as Octo Octa's Between Two Selves or Lone's Reality Testing. Collecting releases of independent labels means paying close attention to what's currently happening on the ground, discovering artists of low profile but high standing, some of them unknown but worth knowing. This is about forging friendly ties with good independent record stores such as OYE run by Markus Lindner in Berlin and with club scenes that generate iconic sound styles. So over years I have collected many house and techno records, for instance nearly entire catalogue of Berghain's imprint Ostgut Ton that continues to be well curated by Jenus Baumecker-Kahmke, turning numerous releases into true artworks.