Published on
August 12, 2014
Category
Features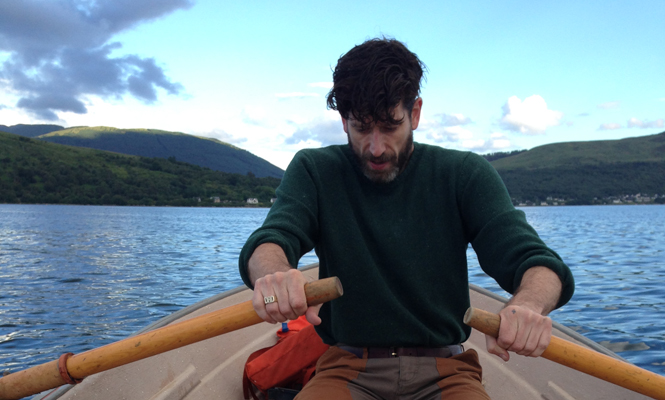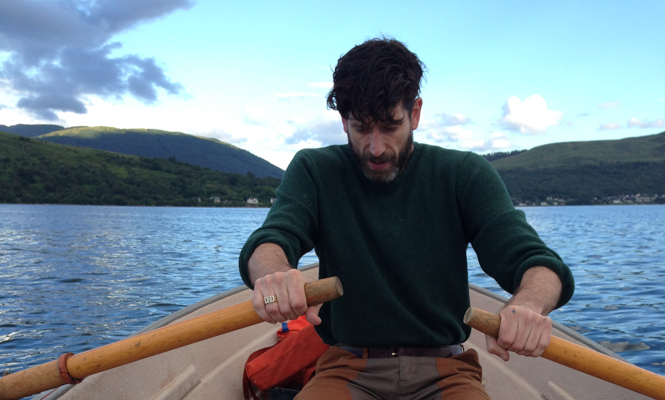 We talk to DJ, musician and artist Jonnie Wilkes about his bold new vinyl release German Pizza Party and the complexities of curating for the dance floor as well as the gallery.
Probably better known as one half of Glasgow's cult DJ partnership Optimo, Jonnie Wilkes was born in Belfast in 1967 and studied Fine Art at Glasgow School of Art between 1988 and 1995. As a young recently graduated artist he was active in what was to become one of the most exciting periods in new Scottish art. By the early 90's he was also DJing regularly around the city and beyond, well on the way to creating Optimo with Keith McIvor aka JD Twitch – a weekly Sunday night party at Sub Club on Jamaica Street, just north of the river Clyde.
Fertile and vibrant, Wilkes recalls that Optimo's beginnings embraced the pluralistic nature of the creative scene unique to Glasgow, or in his words "people with an exploratory way about their lifestyle that were just trying things. They were in a band or making art, producing stuff, sharing ideas, sharing books, music."
However, having completed his MA in Fine Art and working for some years as an artist, Wilkes opted to pursue music full time and in doing so turned his back on the art world conclusively. He didn't go into gallery for 12 years, only breaking his fast to enjoy his sister's nomination for the 2008 Turner Prize at London's Tate .
Earlier this year, Wilkes was approached by his former gallerist at The Modern Institute in Glasgow and asked to contribute to the group show "In NO Time" alongside the likes of Wolfgang Tillmans, Sue Tompkins and Urs Fischer. Putting aside his collaborative studio work as Naum Gabo, Wilkes produced a set of solo recordings under the cheeky, if somewhat inexplicable title German Pizza Party.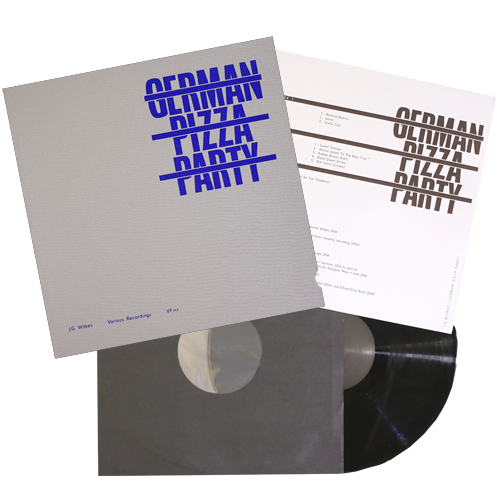 Pressed on vinyl and presented in a beautifully crafted grey linen hard-back sleeve, the record was left in the corner of the gallery for visitors to play themselves. A Technics turntable and a set of beautiful Klipsch Scala loudspeakers were placed in front of a silkscreen print of the track titles. It was, in true Optimo fashion, fertile, vibrant and unpretentious.
Now with The Vinyl Factory set to release German Pizza Party as a limited edition in collaboration with The Modern Institute, we caught up with Jonnie Wilkes to find out more about the project, his history in visual art and why he now feels more comfortable working for the gallery as well as the dance floor.
You can listen to side A here, side B below and order a copy of German Pizza Party direct from our online shop here.
---
People obviously know you most for being one half of Optimo, but you began your career at art school, is that correct?
Yeah, I did two degrees at Glasgow School of Art. I did an honours degree in Fine Art and then a post graduate masters as well, but by the end of the masters in the mid-90's, I was DJing fairly seriously. I had been since about 1988, so it was funny how it worked out with this project because I got involved with my old gallery again. I think maybe they had an idea that maybe some kind of recording would work with the show.
Do you know what they had in mind when they contacted you?
I think they thought that some kind of element of sound was important to make up the show. I have a collaborative studio project that has been releasing quite consistently for a long time, with my studio partner James Savage, but this is the first time in many years that I've worked on solo recordings.
When you see the record and when you hear the record, it's essentially a collection of electronic recordings, some of them are more accessible than others but I think the complete thing – the record, the print, the insert, the hand made sleeves and the context of presenting it in the gallery – definitely remove it from the surroundings that I've become used to.
How would you begin to describe the music that's on the record?
Given that they are solo recordings I would say certainly that the ideas within the tracks and the relationship that each one bears to its title have a biographical element which I really feel is not present in some of the previous recordings that I've made in my studio partnership as Naum Gabo, or stuff I've made that's aimed directly at the dance floor.
How literally 'biographical' are these tracks? Do they correspond to specific feelings or moments or is it more abstract than that?
No, it's something that could be biographical almost in the sense of my state of mind in a quite detached sense. There's no literal translation of events or anything but they are private thoughts. Having said that, one of the tracks on the b-side is taken from a cassette I did at art school over twenty years ago. It's only a minute long, but it was important to include that.
Were you often in a position at that time where your music and your art would coincide?
When I was at art school, and working as an artist in the years after that, any work produced for a gallery context was completely separate from anything I was producing in the electronic music world. In fact, I would go quite far to try and keep those two practices from colliding. I wasn't comfortable with that, although often my work would be reviewed in the light of me being a DJ and an electronic music producer and vice versa. In the early days of DJing I was maybe known as someone who was also an artist. And it did create a kind of identity crisis for me because I don't have the type of brain that can easily manage weight like that.
So it's quite a bold step to make that connection now.
Yeah, but as I say, for some reason I feel more comfortable about it. When the gallery asked me to contribute, they didn't have a set of criteria at all for what they wanted, they were happy for me to be a contributor to the group show in whatever capacity I wanted and that was a relief for me not to have to produce a soundtrack to a show or present it particularly in a way that would elevate it to a high art form. It was simply what it was, a set of recordings.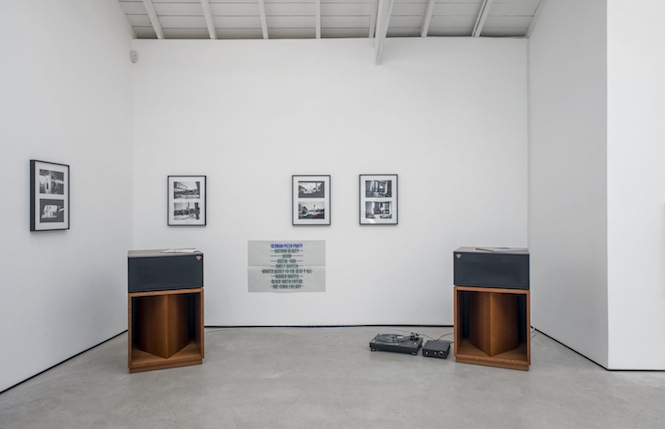 How was it presented at the show?
Well, that was the part that concerned me. I managed to come up with a solution I think that meant that it was really just a place to listen to the music, not piped into the gallery or not controlled by any of the other elements of the show. There were considerations like which speakers to use to show it, what level the music was able to be played at and what equipment it was played on. It had to be played on a turntable, you had to select the speed, there was a procedure there in order to listen to the music.
Is there any virtue in trying to discuss at what point it moves from being art or music, or is that not something that concerns you?
No, that wouldn't be. I think that's always been an area that's either terrified me or puzzled me, because I think often artists will dabble briefly in the world of electronic music with varying degrees of success and that, in my opinion gives, the music an authority that maybe it doesn't completely deserve all the time. I just wanted the music to speak for itself.
The fact that it's my first set of solo recordings is enough. In terms of that dialogue of whether it's art or music, as far as I'm concerned it's music.
For example, I haven't been allocated my copies of the records yet, but I took home yesterday a spare vinyl copy of just the vinyl with the inner sleeve and there was something really reassuring about being able to just place it on the turntable and listen to it.
I've also extracted the titles of the various pieces and produced a print which you could say is a kind of conceptual thing, when it's taken and isolated without the music.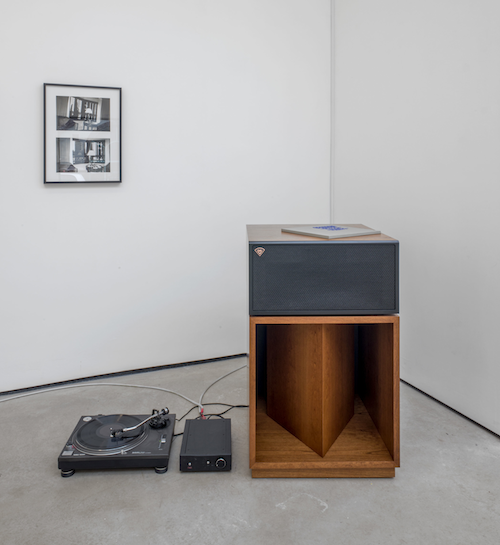 You were actively involved in the creation of the packaging?
Yeah. I worked with a friend of mine David Rudnick who designed the font and we have great discourse. I really wanted to put some kind of a barrier between these titles and the viewer and we talked about this idea of putting the lines through the type. I detest those really thick IKEA shelves, and was talking about something of that proportion. He described that band across the type as seatbelts across the type and I was thinking of it more as an IKEA shelf.
An IKEA shelf?
Sometimes you get that one that's extra thick because you can't see the brackets. I don't know, there's something unsettling about the proportions of those shelves, and that was the same kind of disruption that I was trying to create with the type.
I think the posters work quite well. It's printed on newsprint, which is the cheapest paper available so there's a cheapness about the print as well as a thoughtfulness and I quite like to think about those two qualities when I produce anything.
And that's something that is very connected to the materials used in the object itself.
I've taken a great pleasure in producing this record and producing the sleeve and being involved in all aspects of it, including the craft, which I think is something that's always been an important part of what I do, from cutting the vinyl to printing the sleeve to printing the posters to constructing the whole thing.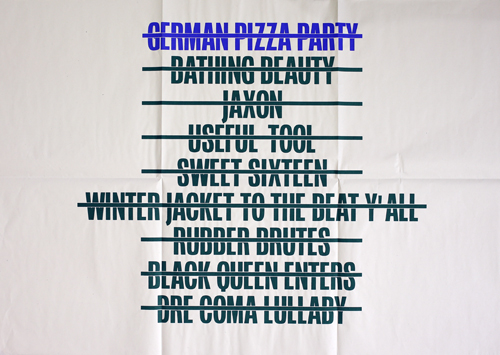 With that in mind then, why don't you tell us a little about your time in the art world, growing up and studying in Glasgow, which must have been a very vibrant place to study at that time?
It was brilliant. You know, on my MA Douglas Gordon was my tutor and I shared a studio with people like Jonathan Monk and David Shrigley during my BA and so we had great dialogue all the time every day in the studio. It was just amazing and they were very happy times and super productive times. We were not mucking about, we were all producing work all day every day and much more than was required from us.
And I imagine the art and music scenes collided quite visibly there?
Yeah, and even when Optimo started as a weekly party, that's the way it was going. It was people in bands, artists, people with experimental or exploratory lifestyles that were just trying things. They were in a band, producing art, making things, sharing ideas, sharing books, music, that's what it attracted and I think that still holds true for Glasgow. It's a really vibrant, energetic place. You've got to find it, but it's really welcoming and it's a good place to live because of that.
How about the name of the record. What's the story behind German Pizza Party?
Like most DJs I go to Berlin to play a lot. I had a gig and typically it didn't finish until ten in the morning, but I had an in-store to do that day. It was a really hot day, my head was absolutely bursting because I'd been up all night and I finally found the record shop and there were all these skinny hip young German kids hanging around eating slices of pizza and I was like "oh fuck, it's a German Pizza Party". I don't know why, I don't mean it to be mean about the German scene or anything, it just seemed slightly funny.
Or like something that could be misinterpreted as euphemistic…
Yeah, exactly. I like the confusion that surrounds the title. I like the cultural references as well, but I think, and I've often done that in my work as well, is to present very honest ideas that maybe sometimes expose too much. I think maybe I hide behind the confusion.
---
GERMAN PIZZA PARTY – VARIOUS RECORDINGS by J.G. Wilkes is out now and available to buy direct from The Vinyl Factory online shop.
Main image: Jonnie Wilkes, Installation shots: The Modern Institute, Product shots: The Vinyl Factory.