Published on
November 20, 2018
Category
Features
An unsung originator of the Brit-funk movement, Atmosfear's Lester J. Batchelor paints a compelling picture of the soul clubs, record shops and jazz dance scene in early '80s London.
The creation of communities is a necessity rather than a consequence of living in London, and as such, musicians have tended to gravitate towards one another, particularly in genres that invite collaboration.
As a result, much has been made recently about the tight-knit nature the jazz scene in recent years, where artists not only play in each others bands but are also friends, and in some cases grew up together.
Similarly, back in the late '70s and '80s, an early iteration of that movement was forming around clubs like Watford Baileys, Bobby McGees, Global Village and Crackers, where Soul Boys would go to dance and hang out.
There, musicians and friends gained a musical education that would flourish with the emergence of Brit-funk, a typically hybrid music that strung together influences from jazz, fusion, disco, dub and cosmic electronics in the only way London knows how.
Across the city (Incognito were North London boys, Central Line came from East London, naturally), bands emerged whose music captured a moment at home and would become staples on legendary dance floors like Paradise Garage and the Loft in New York.
Among them was Atmosfear, fronted by Lester Batchelor and signed to Andy Sojka's trailblazing Elite Records label, whose 'Dancing In Outer Space' was one of the era's defining tracks.
With the reissue of their 1981 album En Trance out now via Mr Bongo, we spoke to Lester Batchelor about the world in which this uniquely London form of music emerged.
---
Tell me how Atmosfear first came into existence. You and drummer Ray Johnson were the backbone of the band, right?
Yeah, I'd started messing about with the bass but had nowhere to practise. Ray had a big room in his house in South Harrow, so we ended up gravitating to where you can make things happen. That's really where it all started and where Ray and I got to together and realised that we had a mutual connection rhythmically.
We were soul boys, going out dancing on a Friday and Saturday night. The scene took off and we'd bunk off school all week. We'd go to St Albans, to Watford, and some place near Bagshot. I've no idea how we got to any of these places but we'd get all over the place.
We were Crackers boys as well. [Crackers was a club run by George Power in Soho that ran legendary daytime sessions]. We used to bunk off school and go down to Wardour Street and go to Crackers. We'd boogie at lunch time and then head back to school.
Do you remember there being certain records or tracks that you were exposed to on the dance floor that really moved you?
Loads, yeah. BT Express, Brass Construction, jazzier records like Grover Washington Jr., Eddie Henderson, Roy Ayers…
These are all names you would begin to connect to the early Atmosfear sound too.
Yeah, we were fans of the music first and we were dancers. Ray in particular, he's a brilliant dancer, so he was on the scene with Leon Herbert, and Clive Clarke who won the disco dance championship and used to live down the road.
Did your impulse to make music yourselves come more from the dance floor or from the jazz and musicianship side of things?
Well, we all used to hang out at record shops. Friday afternoon was the time when all the imports would come in and we'd want to hear the latest tracks. It was the love of the music that drove us to want to make music ourselves. Not everybody wanted to be musicians but it was natural for us to knit all those things together.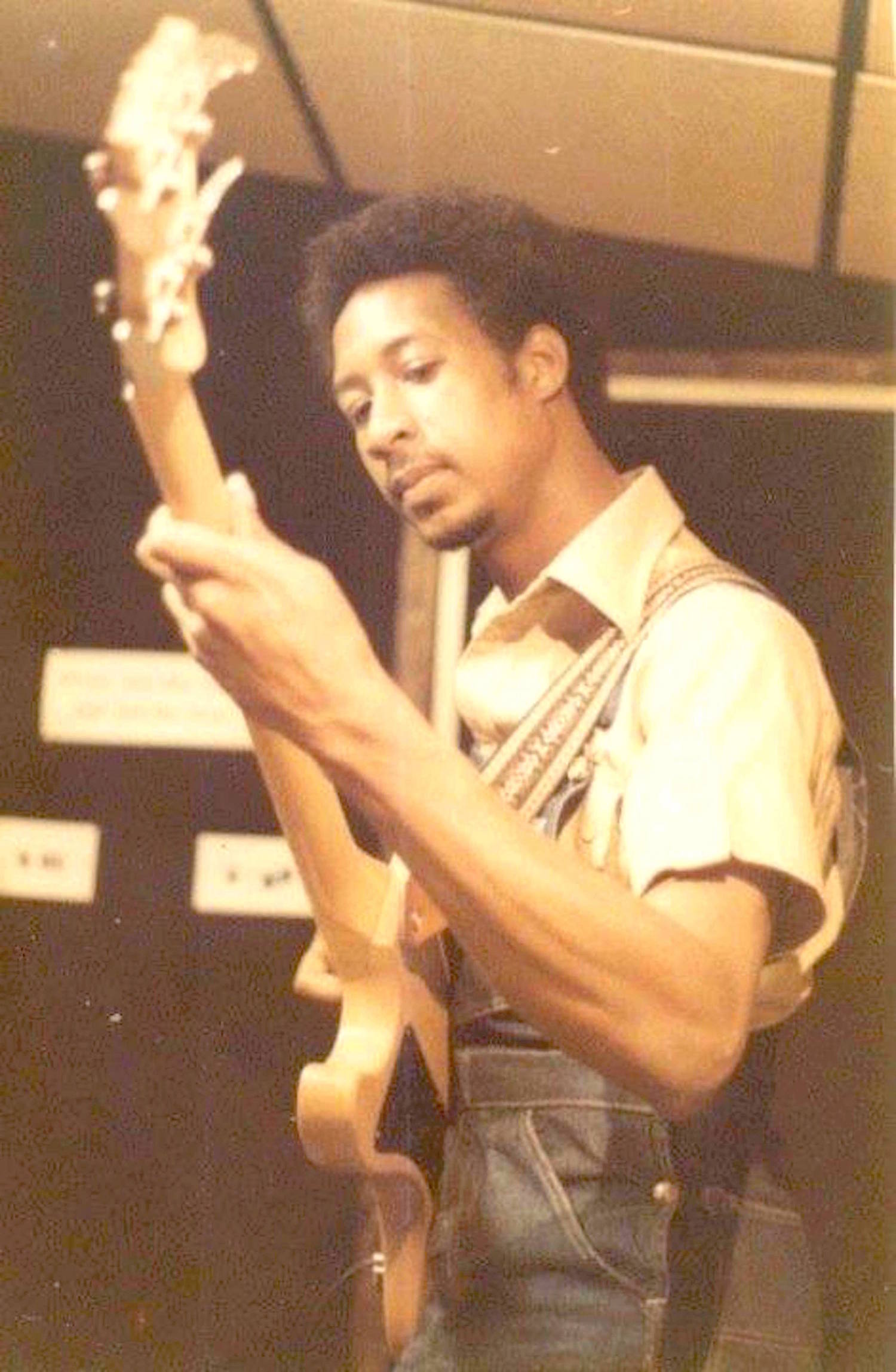 Was there a moment when everything came together around 'Dancing in Out of Space'?
No, not really. The band would morph, various friends would join and leave, but the nucleus was always me and Ray. I'd just started college studying design, and I met a brilliant keyboardist called Pete Hinds.
Where were you living at the time?
I lived in Kensall Rise, North West London, Pete in Willesden and Ray in South Harrow. I was the only one with a car so I used to drive round and pick everyone up and get all these instruments into a Morris Minor – I don't know how we did it.
Then we ran out of rehearsal space. Pete was also playing in a band called Raw Energy and he had a space in a derelict school in Paddington, down by the canal in Ladbroke Grove. So we used to go down there – it had power, nobody would go in there, the place was falling down. We'd play as loud as we liked and for as long as we liked.
Then another friend of Ray's, Jerry Pike, introduced us to Andy Sojka. He listened to us rehearse one day, brought his guitar along and thought it was alright, so then Andy was a part of the mix. He wasn't a regular member, but he'd pop in now and again. He then offered us some space so we moved from Paddington to rehearsing in Andy's garage in Wembley, just off Preston Road. After a few months of annoying the neighbours down there, we were evicted from there too. We ended up at the back of Andy's record shop All Ears in Harlesden. That became our regular rehearsal space. We turned the backroom into the rehearsal room and would go there most nights. That's where the Atmosfear sound came together.
How would you typify that sound?
I was going through a cosmic feel at the time. The first name we had was G-Force, because for some reason, every tune we wrote was in the key of G. The music was instigated by myself really. I'd have a vibe and a few cord patterns in my head and that's how every tune was created – from the bass. I'd then beat out the drum pattern with Ray on my bass, he'd elaborate on that, I'd strum a few chords, and Pete would elaborate on that.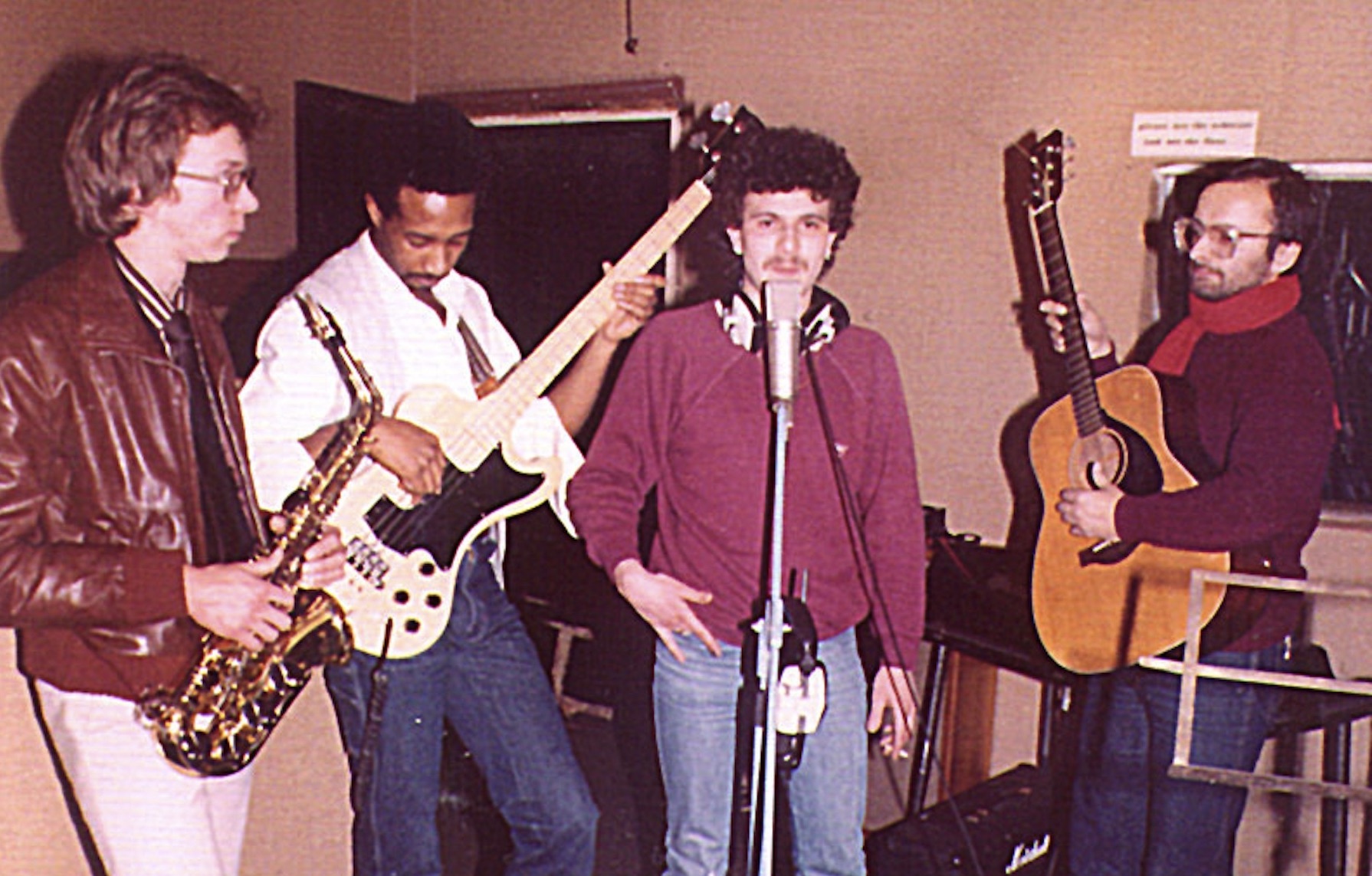 Which bands were particular touch points for this sound?
I was heavy into Slave, Brass Construction and Roy Ayers. Ray was the jazz one, he looked for the timbre in the music, whereas I looked for the heavier funk. It was an organic thing that all emanated from the bass. When we started to put out music and get reviews, I don't think the press got us. They always said it was "bass heavy".
Being bass heavy in the early 1980s was probably just that little bit ahead of its time, given the direction dance floor music was taking. What did the rest of the city's musical landscape look like then?
There were the North London Boys, the East London Boys and the North West London Boys. We were the North West Boys and in our area there was Aswad and Donald D who was their original lead guitarist. He was a good friend of mine who lived on my road. Go out my door, turn right onto Purves Road and down there was Kandidate. Go a bit further and you get to Kensal Rise where the Hi-Tension boys were. Then there was another reggae band called Tradition up there too.
Then in North London you'd have Light of The World, and in East London was Central Line, Savannah.
Was there a friendly competitiveness between the bands?
We were all connected in some way. I was friends with Sammy Jacobs from Savannah and Ferdi Morris from Kandidate, who were both bass players. We all knew each other and supported each other. I don't think there was any competition at all.
What was it about London at that time that created this coming together of musical ideas?
It's hard to put your finger on it. At the time there was so much hope for change. The political climate was not unlike now. There was a lot of chaos. When we started to come out, there was the punk scene, disco, funk, jazz from America, and the fashion scene melded together too.
Was it as much of a hustle living in London in the early '80s as it is now?
Yes, it was actually. You asked whether there was any rivalry, well, there wasn't amongst the musicians but there was on the dance floor! The scene was such a fertile ground for hearing new music – if you didn't hear music at a record shop you'd hear it at a club – and you got a chance to express yourself on the floor. There were very few fights at the clubs, there were dance-offs instead.
We'd go around different clubs all the time. The banging tune of the week would come on and somebody would kick off and get onto the dance floor. Then someone else would get in front of them and a circle would form around them and that was it, the dance-off scene. One person would jump out, another in and it would create this tremendous energy around the music. It wasn't just the music it was what we used to wear too.
To what extent were you aware of the records success in the New York club scene?
We owe that to Andy Sojka really. Andy was about 10 years older than us. He wasn't a dancer but he played guitar and what we really have to thank him for was putting some money behind us. He was a business man, and he heard something in us that he thought was marketable. He's the ultimate salesman really and all the DJs used to end up at his record shop.
The Atmosfear brand that I created, it was facilitated and helped Andy Sojka. Our record 'Dazz 1' was the first recorded on Elite. Elite recordings was the vehicle created for Atmosfear. Then Elite records became the vehicle and escape for Andy. The controversy happened when Andy said, "I don't want to be involved in a record store anymore. I want to run a label," and he wound down the store. Andy payed to put us on the map and was prepared to invest in that. Let's just say that the foundation of Elite records was the demise of the store. That's where controversy and bitterness came.
Essentially, it was also the quality of the track and the subsequent En Trance album which also played a role. How did 'Dancing In Outer Space' come about?
I'd created this track called 'Outer Space', which was a kind of mid-tempo, spacey, jazzy number that was the DNA of 'Dancing In Outer Space'. We had recorded a whole album's worth of music and had about 15-minutes on the clock at the end of the session. I played everyone the bass line and I went round and Ray tapped out the drum line. I asked him to play a straight beat and he goes 'OK, I'll put something else on it.' That double shuffle on the snare drum is on every dance record now and it was created by Ray Johnson. I went to Pete and said, 'let's start with these two chords at the beginning' and then I sung the melody to Stewart [Cawthorne]. I picked a line on the guitar – Andy didn't quite play it the way I wanted it but it fit.
Basically, I got the engineer to run the tape and I built the track up. We recorded about 6 minutes then another section which was the break. Then we did a final middle section and the rest was done in the mix. We recorded it in probably about 15 minutes. We went back into the control room and everyone was like, 'where did that come from?' and I was saying how it had come to me in a dream the night before. We knew we had something special but it was really the last track that we recorded. Andy said, 'this is really good' and we decided to put it out first before the album, and that's how it came to fruition.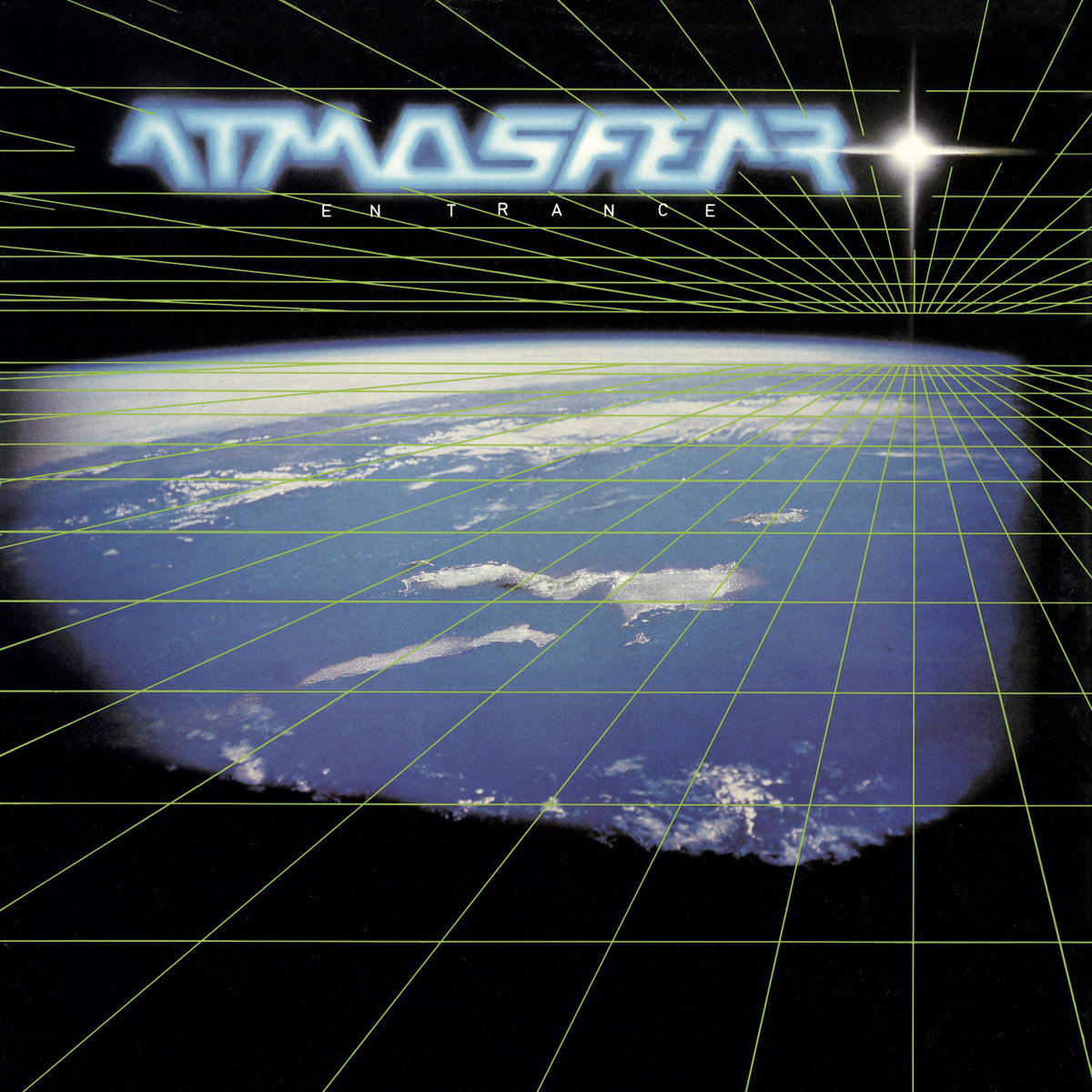 And the album that came out of that session was En Trance?
Yes, I don't think anyone had known where it was going to go in those last 15 minutes, but I had this beat in my head. To hear it come together was quite magic.
It has that curious ability to feel both of its time, and somewhat timeless.
Yes, it's a strange thing because the music is like that. Even when we play it live now people go nuts.
Why do you think it continues to resonate?
Growing up and going out to clubs in London, you play a lot with music from the US and that's great. However, knowing and having a cultural affinity with something from where you live and hearing those reference points, it feels more your own. You are never going to get that kind of continuity from playing something that was big in New York in the early '80s.
That continuity probably also comes from London's multicultural history and the sense that UK jazz or dance music has never been afraid to draw from a wide variety of sounds and experiences.
You are absolutely right, and if we didn't have this pioneering spirit, the music wouldn't move on. We want to see what will happen. That's why our music has a reggae flavour, it has a bit of latin, a bit of jazz, a bit of funk – it's all of those things.
---
Atmosfear's En Trance has been reissued by Mr Bongo and is available to buy now.
Photos courtesy of Lester Batchelor