Published on
July 22, 2014
Category
Features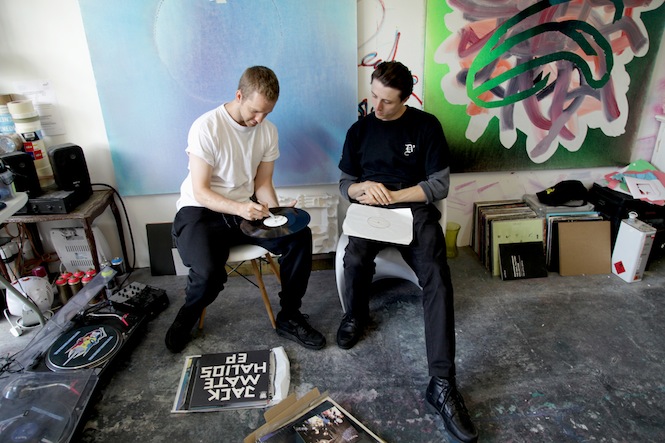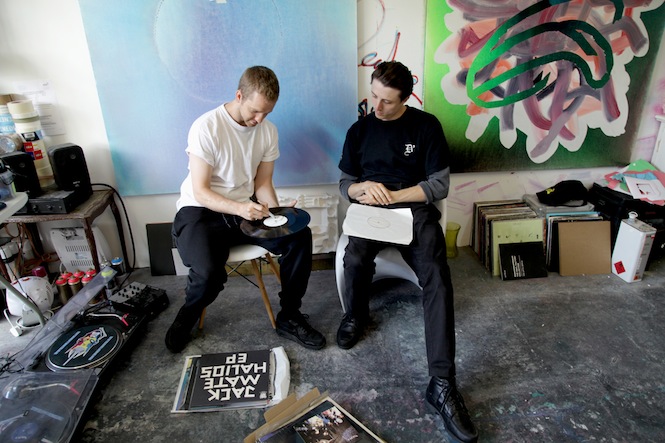 British artist Eddie Peake and musician Gwilym Gold discuss their latest collaboration on Peake's new label HYMN, conceived in collaboration with The Vinyl Factory.
Shortly before we leave his sunlit studio in Hackney Wick, Eddie Peake tells us that he'd recently written to a record label to enquire about the illustration on a recent EP. With his own label HYMN about to take off, he explains that he's begun to look at records in a totally different way. Cover art was literally his business now too.
Crouching over a dusty turntable on the floor of the studio, he and emerging London-based musician Gwilym Gold listen to the test pressing of Gold's 'Muscle' with boyish intent. There's a touching honesty about the spectacle, for this is Peake's debut offering as a label boss and Gold's first new release since the ambitious generative music project Bronze in 2012. In one stroke the scene offers the perfect denouement to an hour spent hearing of their enthusiasm for a project that has spanned many months and several different forms.
Sensitive and articulate, the duo talked us through the genesis of HYMN and Gold's 'Muscle', the 12″ single that will inaugurate it before taking various detours through Peake's history as a performance artist and DJ to his conviction that 90's jungle music was the true zenith of sample-based music.
Born of Gold's experience live soundtracking Peake's 2013 performance piece Infinite Disparity at the White Cube in Bermondsey, 'Muscle' is the centre-piece of the multi-faceted release and a tender, powerful and succinct ballad that also goes some way to confirm Gold's status as one of the most exciting song-writers and musicians of the moment. No wonder there was a sense of anticipation in the air.
Out now, you can order 'Muscle' on 12″ vinyl direct from The Vinyl Factory online shop here.
---
Let's start at some kind of beginning. What compelled you to think about launching a record label?
Eddie Peake: I have to say it came about quite serendipitously and not as a specifically planned thing. It's something I've thought about for many years actually, because I've been a vinyl collector for ages and a DJ, but for one reason or another I just haven't actually gone about doing that. Then Sean [Bidder] from The Vinyl Factory got in touch to see if I would be interested in doing an Edition, which I was, because something Gwilym and I had spoken about was doing a recording and putting out a record of one of the performance musical compositions.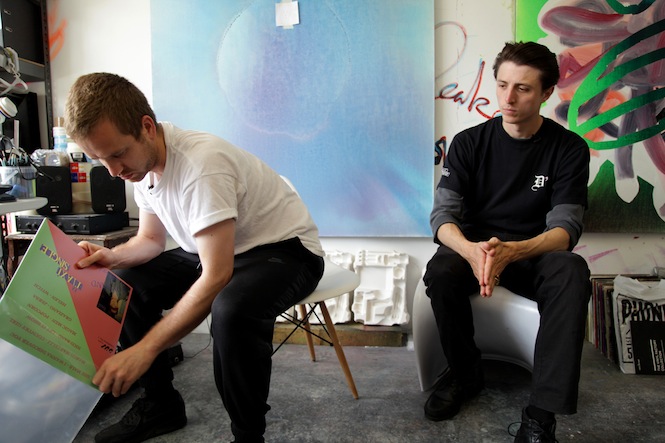 When they came to the studio and we were chatting about it for the first time, I had like ten different ideas and they could see my enthusiasm and I had all my records here and I happened on that day to be wearing a t-shirt with one of my favourite record labels on it and we were talking loads about records and DJing and music in general. And Sean just had the idea "well why don't you start an imprint and The Vinyl Factory can work together on that", and I immediately fell in love with the idea.
You say it happened quite serendipitously to begin with but have you developed an aim or ethos for it since?
EP: There are some very broad and general ethos type thoughts about how to approach the label but I really want to take it quite slowly and do it on a release-by-release basis. Gwilym and I have been working closely together in trying to put this first release out and I really want it to be lead by the people I work with on each release. I think want to avoid being too rigid about what the label is or the direction it has to take. I want it to flow in quite a flexible way.
I suppose I'm interested in the label having a pointedly eclectic feel, where I can do things like the song with Gwilyn, then we might jump to doing something totally different to that which even isn't necessarily music, as such. But really trying to focus on each release one at a time and build a world around each one, so that's how we've approached the first.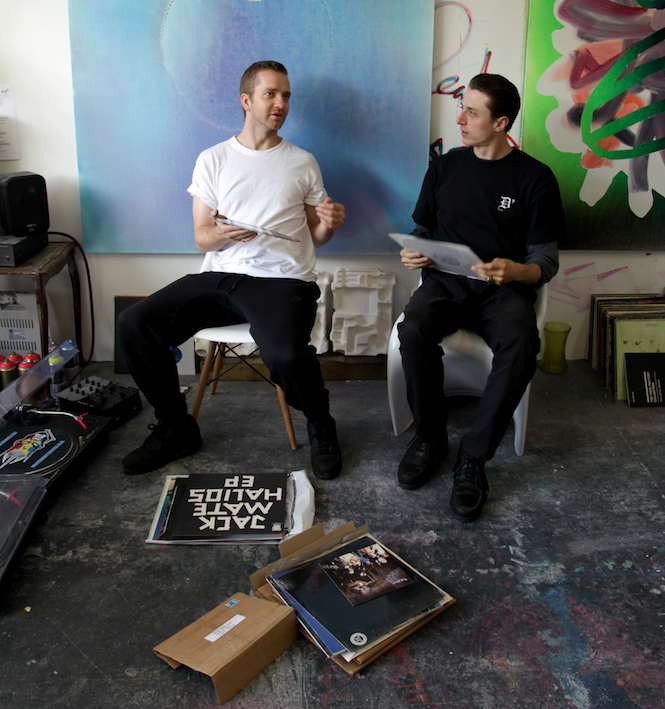 So the collaboration with Gwilym for the release was born from your previous work together on live performances, specifically at your 'Infinite Disparity' show last year at the White Cube, is that correct? Could you explain a little bit about the concept of the show and how the track emerged from it?
EP: I had a solo show at White Cube last year in Bermondsey and I wanted a constantly present performance to be taking place, so basically the performance was the devising of a performance. And that process entailed me and Gwilym and the other musicians and the other dancers sometimes just standing around and chatting to each other or sometimes being in the midst of a full blown dramatic sequence or sometimes transitioning between those poles. But it was all being devised live, so Gwilym was often sat at his piano improvising and in the process of doing that, to my understanding, he came up with the chords that would later become 'Muscle', which is the song that we're doing as the first release.
Gwilym Gold: I guess it was quite an interesting experience for me because, to give you an idea we would often be there four or five days a week, from 10 in the morning until 6, so we'd often have long, long, long, long periods where we'd just be playing and playing and playing, and it was a nice opportunity to not always be just improvising off the cuff but also honing things.
EP: In a way there's something about that process that's quite inhuman I think, like literally being a caged animal trying to create, create now. But on the other hand it's quite a nice opportunity to really take the time to try and get something right.
GG: I agree, it's actually quite nice to be in this constant state of having to be doing something and there's no other real scenario where you'd be in that situation for those sort of lengths of time. So there was a sequence in that when there was a drone happening and I started trying various different chord movements over the top of it and over the course of about three or four hours the chords became what then went on to be the chords in the song 'Muscle'.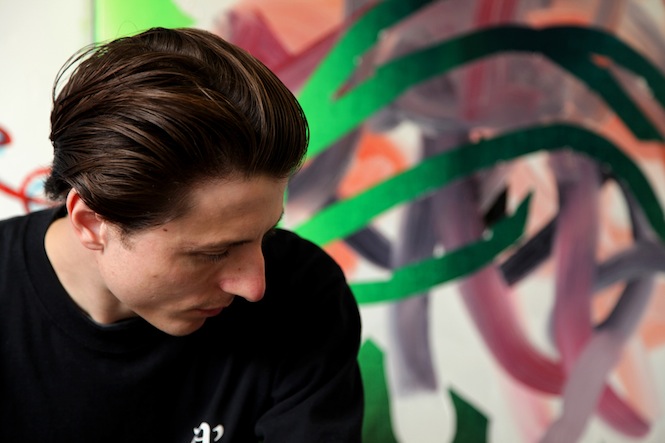 It reminds me of those epic Sun Ra rehearsals where they'd just play for hours and hours and hours and let the music evolve by itself.
GG: It's in between a rehearsal and a performance. While you were improvising and trying things out there had to be an element of it being focused, you couldn't just fuck about. You had to always consider what you were doing even if you were trying loads of things out.
EP: And there was no fucking about, ever…
GG: Not when Eddie's in charge.
And in the video there's a performative element to the release too, right?
EP: It connects to how we've approached the video because the video features a dancer who I've worked with a lot and who's featured in a lot of performances that Gwilym and I have worked on, called Fernanda Munoz-Newsome. She was one of the dancers in Infinite Disparity and she's become the protagonist of the music video element of this release.
I was quite interested in shifting the aesthetic that accompanies the release away from a literal interpretation of the song and have it be like a mysterious narrative unto itself, that would have a similar feeling – and I mean that in a very abstract way – to the song, but not a literal interpretation of the narrative within it, so it's been nice to work with Fernanda on that.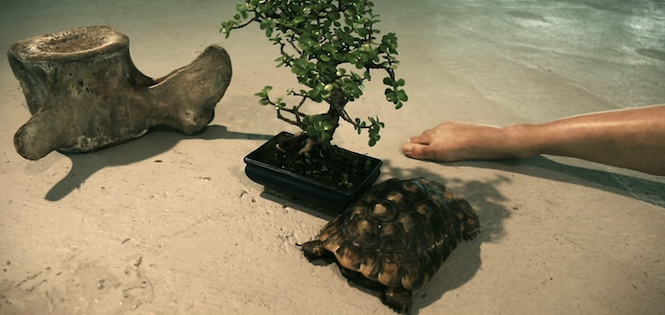 Is there some conceptual connection between the idea of a muscle as something physical and the nature of your performances?
EP: Well we haven't actually spoken about that yet, but I have wondered what the connections were, because there are some lyrical elements, like the use of the word 'parading', and I quite like to think of that as a structural thing to do within my performances as there was literally a parade sequence within Infinite Disparity.
GG: I think there was a connection on some level and there was this one section in the show that I always really remembered which was one of my favourite bits which is when all the dancers came parading around this cusp, and I remember feeling that they were exposing so much in the way the different individuals chose to do that parade. So I think the word being used in the song was potentially connected.
I suppose the feeling goes in both directions too…
EP: There's a lot that I've felt a sort of kinship to in the song in relation to the performances and I like to think a lot about desire and attraction and sexuality and where a sense of power or control might lie within a relationship, not just necessarily a romantic relationship but any kind of relationship, and how those things are in flux – gender, sexuality, power, control, relationships. I think that's something that's touched upon in the song.
GG: Yeah, I think it is as well and with the word muscle, I think the first thought is of the outer muscles and the way people present their bodies, which can sometimes be in a sexual way or whatever. But in a way it's quite a nice idea that the main muscle is your heart.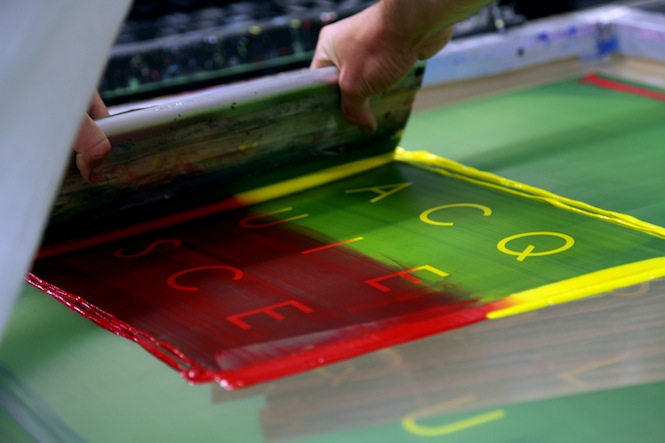 You say that you were wearing a record label t-shirt when you first talked about the idea. What was that and have there been any contemporary labels or artists that have influenced you particularly with HYMN?
EP: It was a V Recordings t-shirt. I got into DJing through jungle music in the 90's I would say. I suppose up until that time all of my musical tastes were handed down to me by my three older sisters who continue to inspire and direct my aesthetic sensibilities. But jungle music specifically, when I first heard that about '93, '94, that was the first instance of me being completely consumed, almost instantaneously by a new genre and I just dived into that head on at a million miles an hour. I loved that jungle music took in so many aesthetic elements, for me it's like a zenith of sample-orientated artistic production. In terms of media that use sampling as its core structure, there's nothing that does that in a more powerful way than jungle music in my view. But then my tastes have expanded and grown and developed but that remains a big influence.
Music, specifically live music, does seem to be a crucial part of your performances.
EP: It's something that I'm very particular about my performance works that the music is live and that the people playing and composing the music are there for all to see. I take great exception to performances that are done to piped music. I don't understand why that is an unquestioned convention within performance.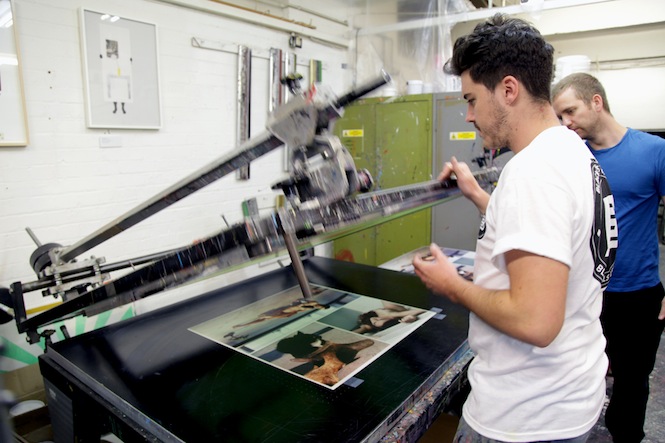 So where will the project go next?
EP: Well, one thing we've spoken about in terms of building this aesthetic world around it is that we knew we wanted there to be three video elements; a trailer for subsequent video elements as well as the release; a music video that would have a narrative unto itself that would last the duration of the song, and then we want to develop that into a short film that will feature the complete musical video within it. Much like how Michael Jackson's 'Bad', for example, has the music video and then there's the long 10 minute version which is like this narrative structure with the musical video within it.
Is there any way you could articulate what that narrative will be?
EP: When I say narrative within my work, what I want is the structure of a fluctuating narrative without the specific details of that narrative being explicitly clear. It's more just that you follow the arc of a character and their developing emotional and psychological fluctuations but you can't necessarily articulate exactly what those developments are. So that's what we've done with the video and this protagonist played by Fernanda, who goes on this fluctuating psychological journey.
---
Gwilym Gold's 'Muscle' is out now via HYMN and The Vinyl Factory. Click here to order now.