Published on
June 30, 2020
Category
Features
Vocalist and producer Lynda Dawn made an essential visit to Nairobi record shop Jimmy's in Kenyatta market, on an afternoon during her time in the city to collaborate as part of Extra Soul Perception.
"In late 2019, while en route to Supersonic Africa recording studios we stopped by the legendary Jimmy's in Nairobi.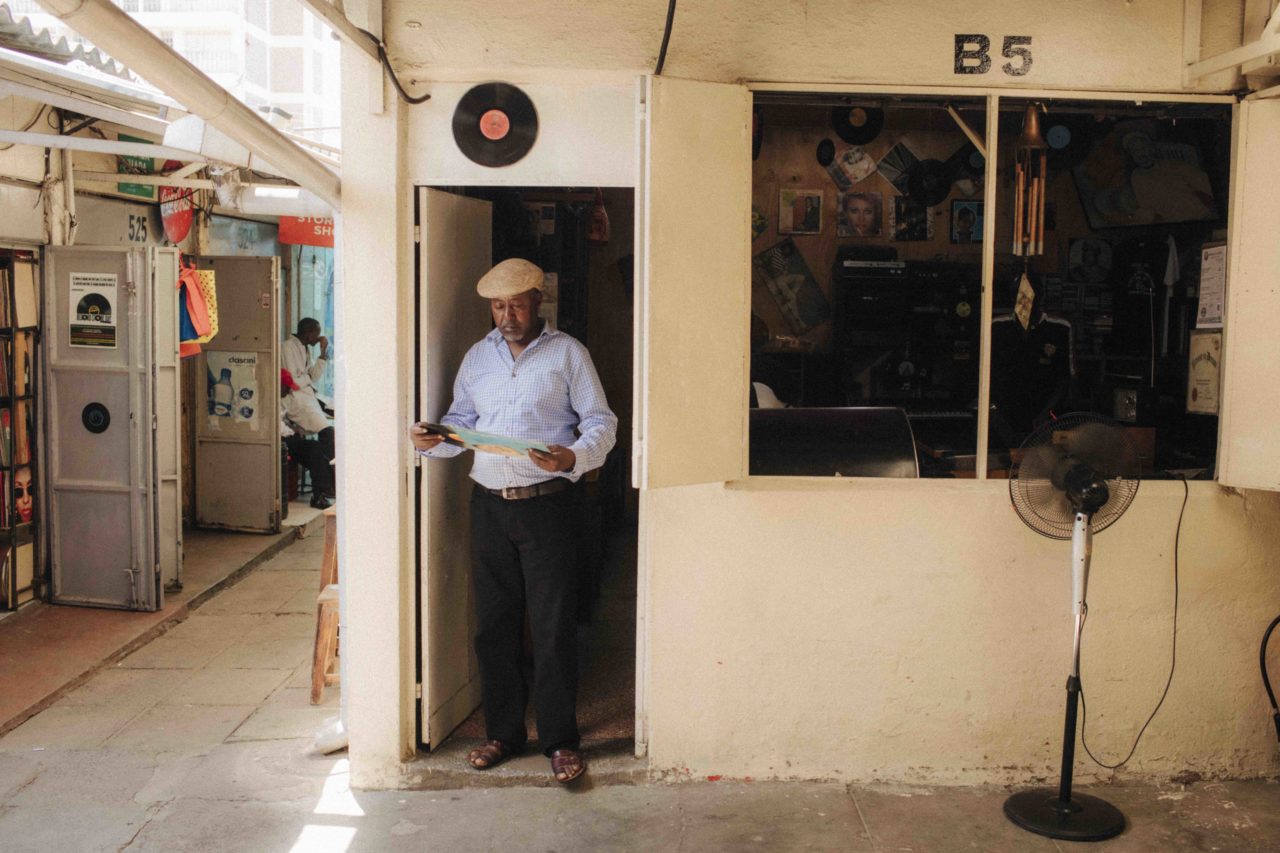 A little birdy told me it was hailed as one of the world's greatest record shops… So needless to say, my expectations were high. Stepping out of our matatu, the bustling Kenyatta Market was a joy.
I remember greeting the friendly women outside a hair salon asking if I wanted my hair braided, and the men at the nyama choma stalls offering me tasters of their barbecue goat and beef meat. Walking down the narrow paths we passed everything from live chickens for sale and colourful presentations of tropical fruits and vegetables to a Christian bookshop. Then there was Jimmy's – tucked away in the back of the market behind a haze of nyama choma smoke.
Due to its growing popularity, I found out that Jimmy's now has a new extension. There's the original stall 570 that was built in 1989, and a newer stall just a few doors down. I started in the newer section where Jimmy's son was in charge, and enthusiastically recommended a number of boogie 12" gems for me to listen to. Walking over to stall 570 felt like stepping into a '70's time capsule due to its nostalgic, retro aesthetic. Filled with endless East African rarities to sift through, I wish I had more time for a proper digging session.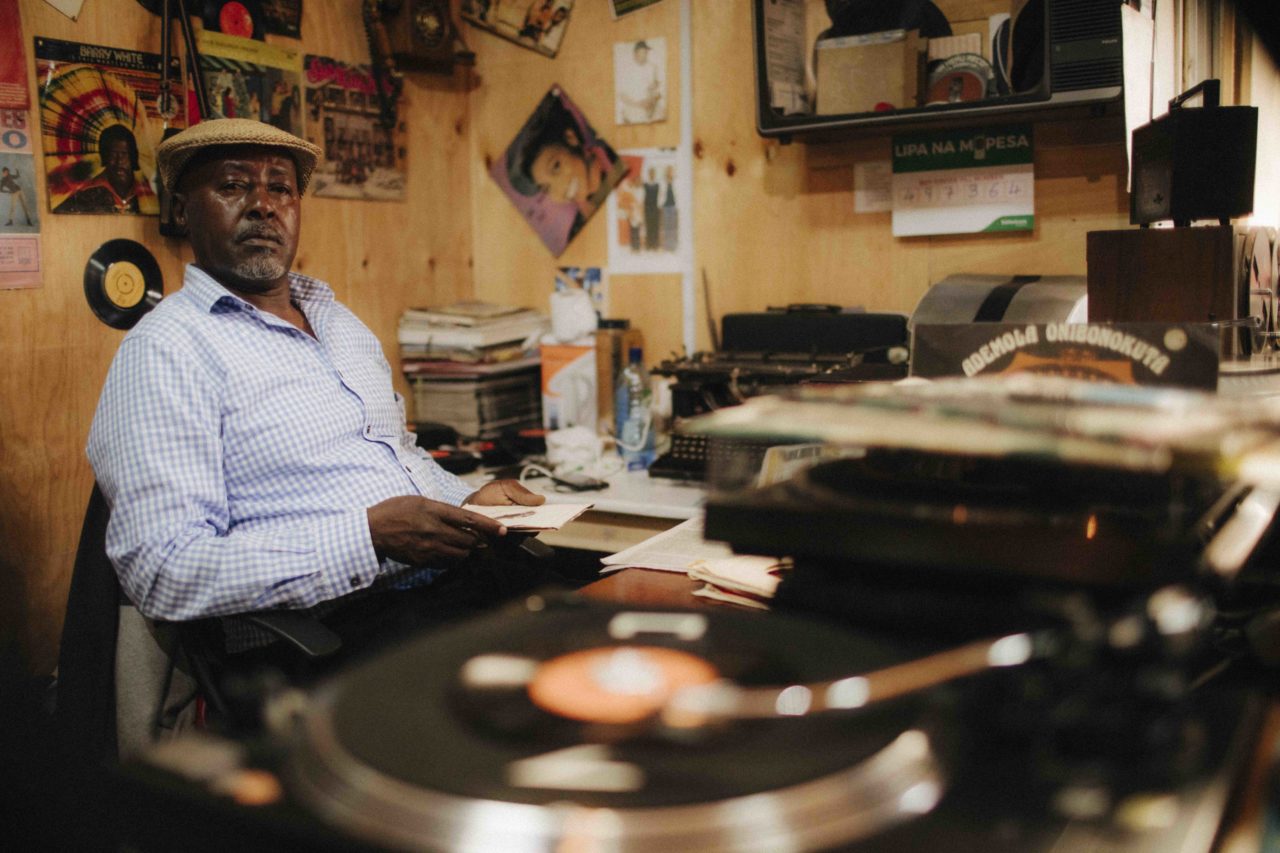 Nevertheless, I wasn't disappointed. Jimmy's is a crate-digger's haven, and was without a doubt one of the highlights of my trip to Nairobi. As one of the country's last record dealers, it's an essential visit for vinyl enthusiasts travelling to Kenya. Here are my five favourite records that I found during my visit.
---
Shirati Luo Voice Jazz
'G. Misiani Ka Wagumba' / 'Francis Okwiri No. 2'
(Nyang Omaki Crocodile, 1975)
Shirati Luo Voice Jazz are an incredible kenyan-based band led by the legendary "grandfather of benga" – Daniel Owino Misiani – who pioneered the luo Benga genre in the early 1970's. 'G. Misiani Ka Wagumba' / 'Francis Okwiri No. 2' is a timeless, rare 7" featuring the vibrant single 'Francis Okwiri No. 2' – a high-energy track with overlapping rhythm guitars, melodic thumping basslines and sublime vocals. Misiani is a must for anyone interested in learning more about the origins of the benga genre.
---
Orchestre Shika Shika
'Amba part 1' / 'Amba part 2'
(Unknown, Jaraaja)
'Amba part 1' / 'Amba part 2' is another rare 45 recorded by Congolese band Shika Shika in Nairobi, Kenya. I presume this was recorded and released in the early '80s. Complete with choral call-response vocals, soukous / high life basslines and a nasty percussion dance break – it is beautiful upbeat record that leaves you feeling nostalgic for simpler times. Nothing but carefree, positive vibes.
---
Love Unlimited Orchestra
'Love's Theme' / 'Sweet Moments'
(Pye International, 1973)
Had to grab this 45 for the criminally underrated B-side 'Sweet Moments' which was overshadowed by the chart-topping A-side 'Love's Theme'. While 'Sweet Moments' never made it to any of White's albums, this silky-smooth, minimalist instrumental has more of an introspective, laid-back feel, providing a welcome change of pace to its counterpart. With reverberating snares, a haunting grand piano and suspenseful strings, for me this is definitely one of Barry's best.
---
Joseph Abasi
'Esta Kilowe' / 'Eta Wangu'
(Unknown, Unknown)
Joseph Abasi's 'Esta Kilowe' / 'Eta Wangu' is yet another rare Kenyan 45 I was all too excited to get my hands on. Jimmy himself suggested this one after I told him what I was after. Very little information exists about it other than what's on the sticker, although it sounds like it may have been released in late '60s or early '70s. The record incorporates great local traditional Kenyan music with western guitar influences and hypnotic male Swahili vocals. I've had this record on loop for the past month or so – a perfect soundtrack for sunny days.
---
Dazz Band
Hot Spot
(Motown, 1985)
Spotted this classic 12" LP in the newer section of Jimmy's and had a little 2-step with Jimmy's son when I put it on. Dazz Band are some of Cleveland's finest funksters who were able to seamlessly adapt from the horn-based funk of the '70s to the synth funk of the '80s. Both are genres that they excelled at. My stand-outs on this record have to be 'All The Way' and my personal favourite, 'Slow Rap'.
---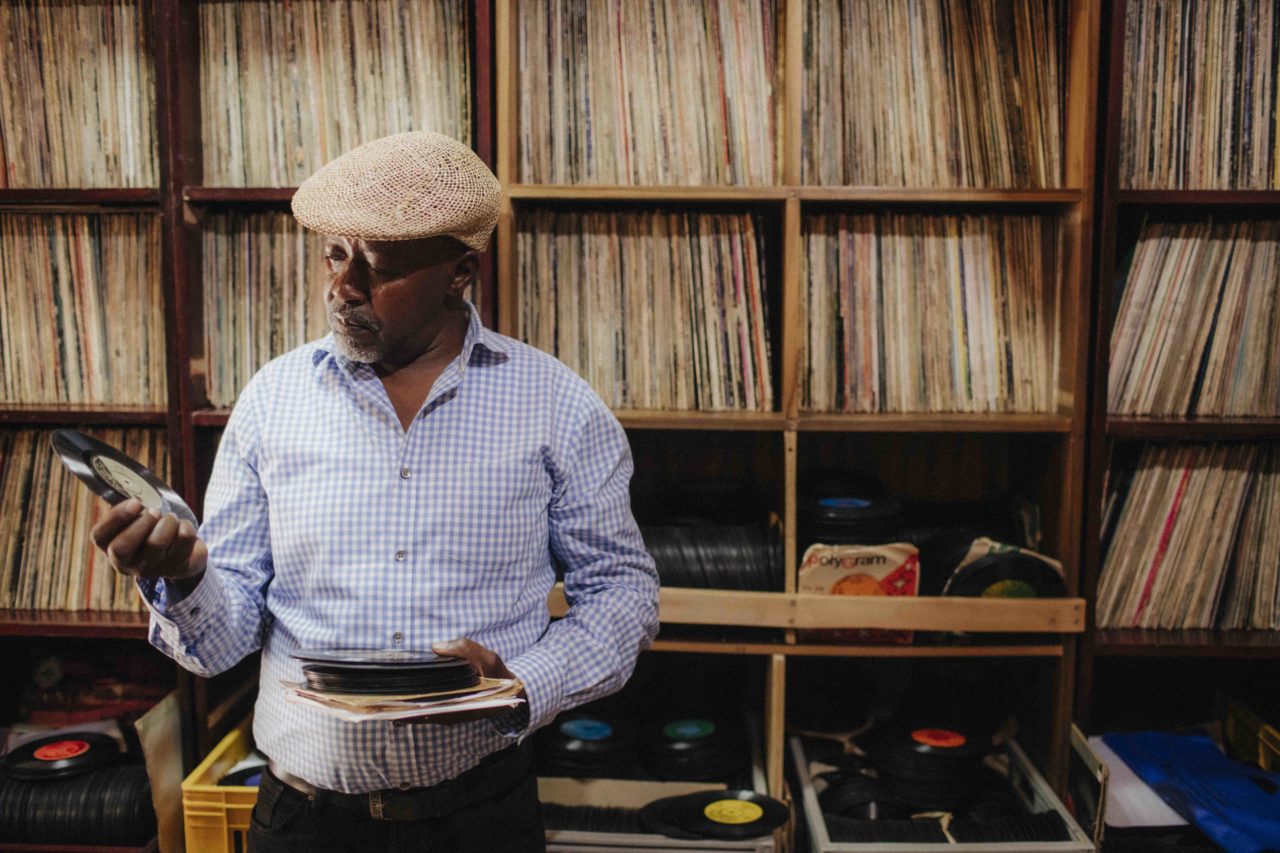 Order a copy of Extra Soul Perception's New Tangents In Kampala, London & Nairobi Vol. 1 here.
Photos by Dan Medhurst.