Published on
August 5, 2015
Category
Features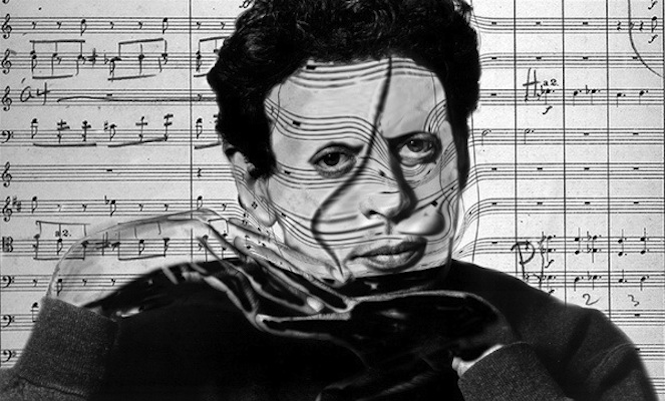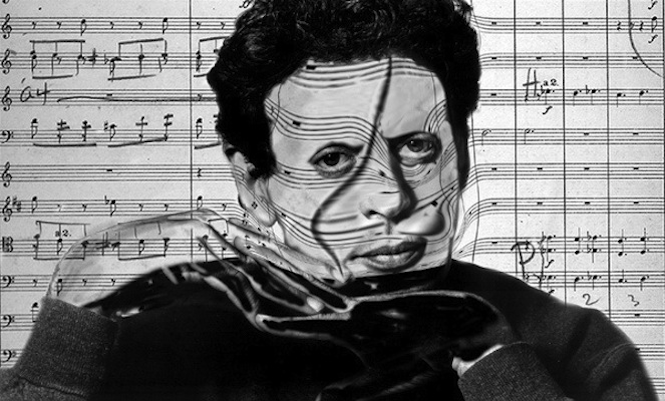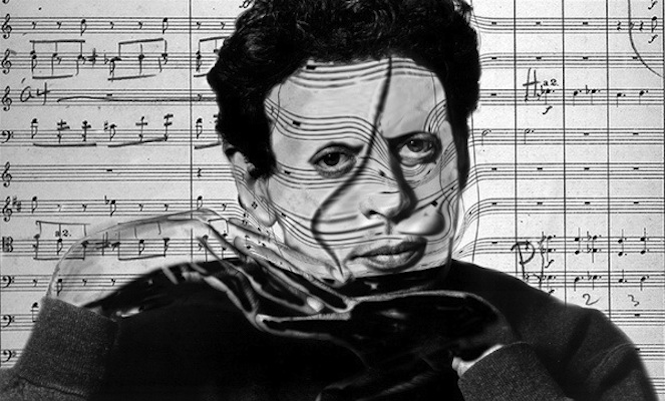 Classical music is a broad church. Andrew Skeet shows you a way in.
Contemporary classical is one of the more difficult terms out there. For the purpose of this feature we've drawn a line in the sand in the 1960s and let composer Anderw Skeet loose on the following five decades.
From pioneering minimalists Philip Glass, Steve Reich and Arvo Pärt and soundtrack heroes like Clint Mansell to electronic music innovators like Pauline Oliveros and even contemporary Ninja Tune beat makers Jaga Jazzist, Skeet's selection reflects his open-minded approach to composition.
Compared to Olafur Arnalds and Brian Eno, Skeet has worked with UNKLE on one end of the spectrum and the British Philharmonic on the other, recently leading the latter in a performance of video game music at London's Union Chapel.
Here he draws on this variety of experience for ten records that every classical novice should find time for. [Disclaimer: Being that classical is not always amply represented on vinyl, a couple of Andrew's selections are currently only available on CD. But let's not get snobby about that…]
Listen to all ten tracks in this playlist or individually as you read below.
---
Words: Andrew Skeet
---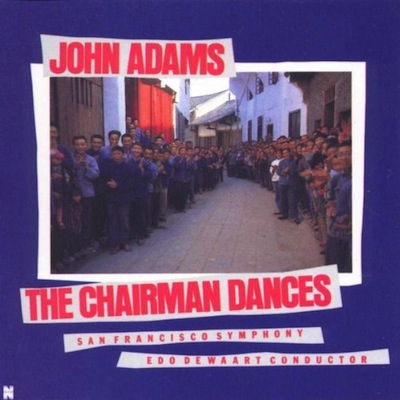 John Adams
'Short Ride in a Fast Machine' from The Chairman Dances
(Nonesuch, 1987)
This is a sort of fanfare so good and an opener. It's this amazing cocktail of minimalist influences mixed with much more dramatic and opulent orchestration and harmony. But there are these constant ticking along elements that don't really change that sort of hold it together like a back drop.
---
Philip Glass
Heroes: Symphony No. 4
(Point Music, 1997)
I love this Bowie inspired symphony with its abrupt tonal shifts and uplifting busy bustling string lines. It is a very familiar but somehow different landscape like visiting another planet reminiscent of Earth but different. Like the Adams piece it is held together by these unchanging elements in the background.
---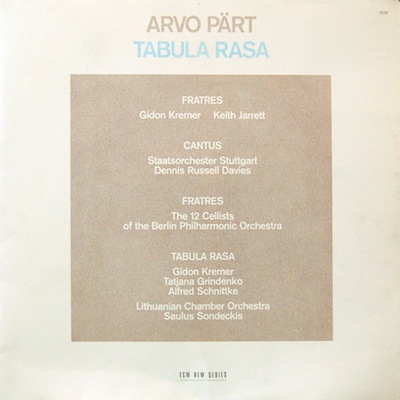 Arvo Pärt
'Fratres' from Tabula Rasa
(ECM New Series, 1984)
We did an Arvo Pärt gig when I was a student and it's not always the greatest thing to sing or play as an individual part but the sum of it all is always really beautiful and emotional. I love the frantic start to this and then the sudden drop (the almost Morricone-like woodblock) and then the most lovely chord sequence that sounds like some ancient hymn. Also it's been used memorably in several movies among them There will be Blood and The Place Beyond The Pines.
---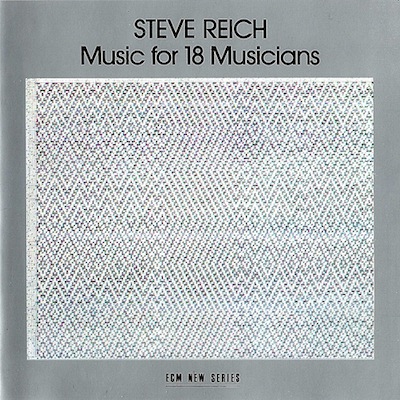 Steve Reich
Music for 18 Musicians
(ECM records, 1978)
So many great Reich pieces but I liked this little extract from Music for 18 Musicians. It sounds so sophisticated and clever on the one hand but also so primitive like it might have been around for ever like some old distinctive rock formation. I love the way he uses the voices in it in an instrumental way and although the marimba vibraphone sound is now so much part of the vocabulary in Reich's music it still manages to sound modern.
---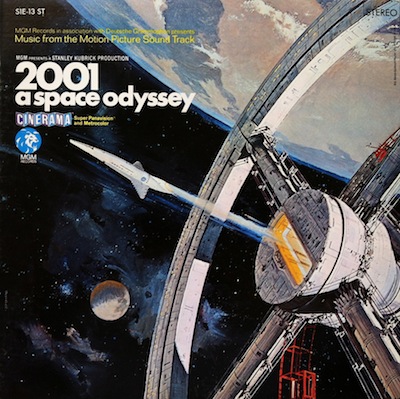 György Ligeti
'Lux Aeterna' from 2001: A Space Odyssey OST
(MGM Records, 1968)
This is quite an old piece now but it still sounds very modern. It was memorably used in 2001: A Space Odyssey and it uses these long drawn out clusters of notes which all merge into each other.
---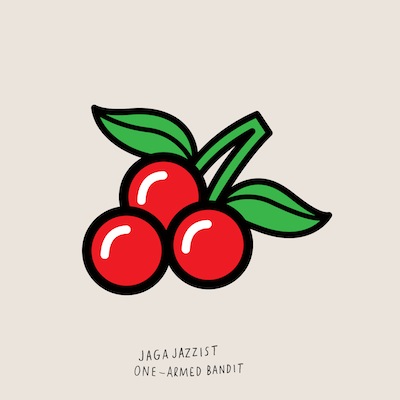 Jaga Jazzist
'Toccata' from One-Armed Bandit
(Ninja Tune, 2010)
Jaga Jazzist are a phenomenal and original band from Norway that I have loved for years. This piece is more similar to some of the other minimalist pieces I've chosen here which is why I went for this one. I love the way there are this simultaneous streams of rhythm running through it which fit together to make a whole but are wholly independent. The rhythm really gets interesting once the bass and drums are in and you can choose to nod your head in all manner of different pulses.
---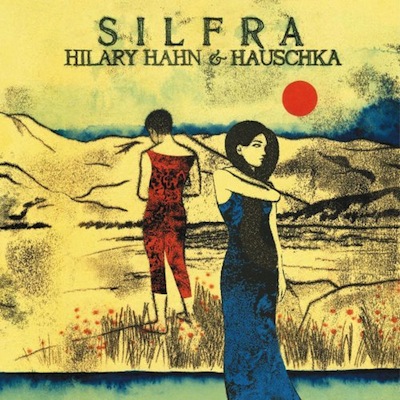 Hilary Hahn and Haushka
'Ashes' from Silfra
(Deutsche Grammophon, 2009)
I love Hauschka's individual way to approach the piano and the way he "prepares it" in the manner of John Cage but uses it in a more contemporary and less obviously avant-garde way but still it sounds damaged slightly in a good way and I think he was one of the first guys to explore the very close up sound that is everywhere now. This piece sounds quote traditional in many ways, like a sonata for piano and violin but then all these other little sounds creep in like unexpected visitors. It embodies the idea of finding a simple way to express something complicated which I always admire.
---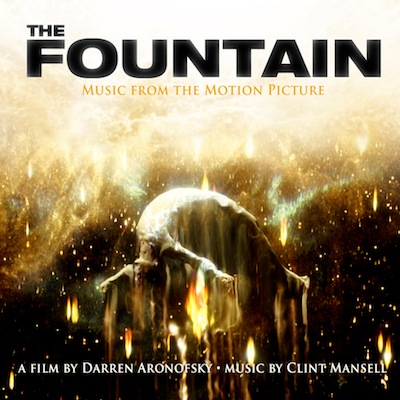 Clint Mansell & The Kronos Quartet
'First Snow' from The Fountain OST
(Nonesuch, 2006)
Clint Mansell is a very influential film composer and this film (The Fountain) is full of music that definitely speaks to directors, editors and people concerned with image making. It sets your mind running full of pictures. It uses very simple material repeating in a minimalist sort of a way and you'd say there was nothing clever about it but it sounds very organic and timeless.
---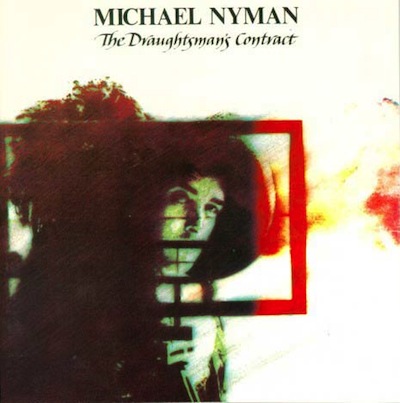 Michael Nyman
'Chasing Sheep' from The Draughtsman's Contract
(Charisma, 1982)
This track was written for the film The Draughtsman's Contract although it was used as temp track on the film Man on Wire and the director liked it so much it was left in. Everyone's really going for it on this verison without caring too much about precision! It's like an assault on classical music & Michael Nyman has such a distinctive sound. Whether you like his music or not he seems to be the modern classical composer that rock and roll people find and understand.
---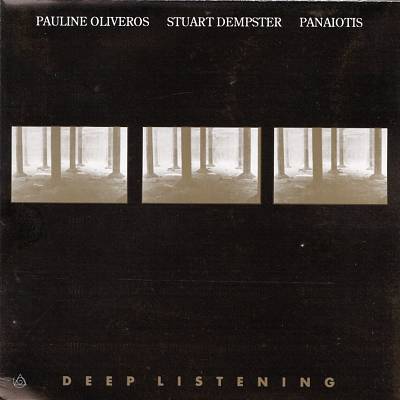 Pauline Oliveros
'Suiren' from Deep Listening
(New Albion, 1989)
This piece was recorded in some underground cistern and since I love reverb it had to be on this list. Also it's a bit of peace and quiet and a nice lie down after 'Chasing Sheep'.
---
Andrew Skeet's debut album Finding Time is out now on Sony Music.