Published on
October 30, 2018
Category
Features
The tipping point in the birth of modern African music came in the 1970s, as artists embraced new sounds and styles emerging from Europe and the US while simultaneously reclaiming indigenous styles which had been sidelined during the colonial era. In West Africa, the key platform for this synthesis was the Decca subsidiary Afrodisia. Chris May recommends 10 of the label's landmark albums.
During the 1970s, most foreign-owned record companies doing business in Africa regarded the continent primarily as an export market. In West Africa, only Decca and EMI were strategically interested in releasing discs by African musicians. Of the two labels, Decca was the most active, setting up Afrodisia in Lagos in late 1971, and refocusing it from singles to albums in 1973. By the end of the decade, Afrodisia had released over 200 albums – from major stars such as Fela Kuti to a host of less commercially successful but equally gifted artists such as Joni Haastrup, Basa Basa Soundz and Afrocult Foundation.
Afrodisia stood out not just for the quality of its artist roster but also for the quality of its manufactured product. Most of the label's albums were mastered and pressed in Britain, giving audio standards impossible to produce in West Africa at the time. And Afrodisia also invested in top-end packaging, using distinctive gatefold sleeves modelled on those used by Impulse in the US.
Like other foreign-owned labels operating in Nigeria in the 1970s, Afrodisia benefited from the indigenisation decrees issued by Nigeria's military junta in 1972 and 1977. These required foreign-owned companies to employ more Nigerian citizens. Cynics suggested that the decrees were designed to enrich the generals's friends and relations. But whatever the motives, Afrodisia's A&R department was strengthened by an influx of young Nigerians who were plugged into the Lagos music world.
A downside of indigenisation, however, was that towards the end of the decade Afrodisia's parent company became the fiefdom of its chairman, Chief Moshood Abiola, a regime appointee. Following the sacking of Kuti's Kalakuta Republic in 1977, the military ordered a compliant Abiola to cancel scheduled Afrodisia releases of any "disrespectful" albums by Africa 70, a description that covered most of the ensemble's output. Albums withdrawn from release included 'Sorrow Tears And Blood', 'I Go Shout Plenty', 'Observation No Crime' and Shuffering And Shmiling. A few discs got past Abiola, including the outstanding J.J.D. Johnny Just Drop. In a subsequent dispute over unpaid advances, the now homeless Kuti, along with his wives and a dozen or so of his musicians, squatted Decca/Afrodisia's Lagos offices, shutting the company down for two months.
Decca was acquired by the PolyGram group in 1980. The new owners were uninterested in Afrodisia, which became little more than a reissue label.
The ten albums listed below are among Afrodisia's most enduring releases from 1973 – 1978, the label's belle epoque. Nine of them are by Nigerian artists or artists based in Nigeria, where Afrodisia concentrated its activities; one is by Ghana's Basa Basa Soundz. Five have been reissued on vinyl. The other five are harder to find but should be seized on sight…
---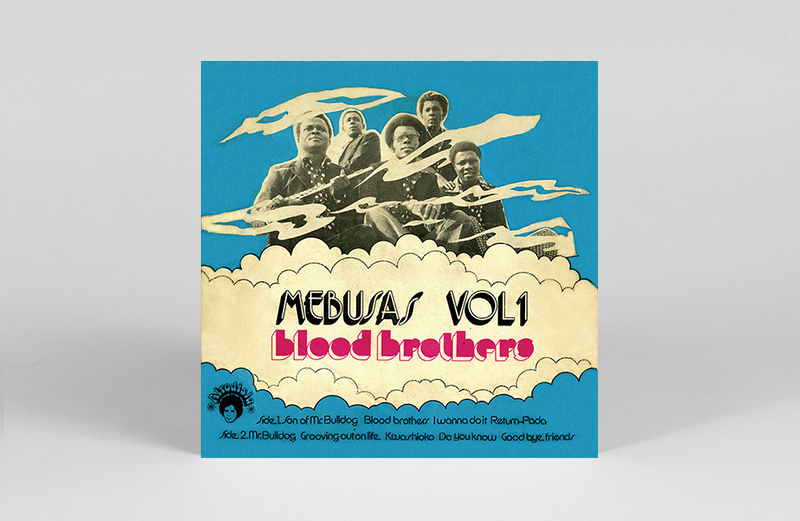 The Mebusas
Volume 1: Blood Brothers
(Afrodisia LP, 1973)
With bands such as the Mebusas, Afrodisia was quick to forge an identity distinct from that of its more staid parent-label and its long-established best-sellers such as juju maestro Ebenezer Obey and highlife big-band the Ramblers. Playing outward-facing Afrofunk incorporating psychedelia-inspired production flourishes, the Mebusas seemed to come from a different planet. On Blood Brothers, the group is augmented by a horn section as on fire as that in Fela Kuti's Africa 70. Reissued on vinyl by Academy LPs in 2009.
---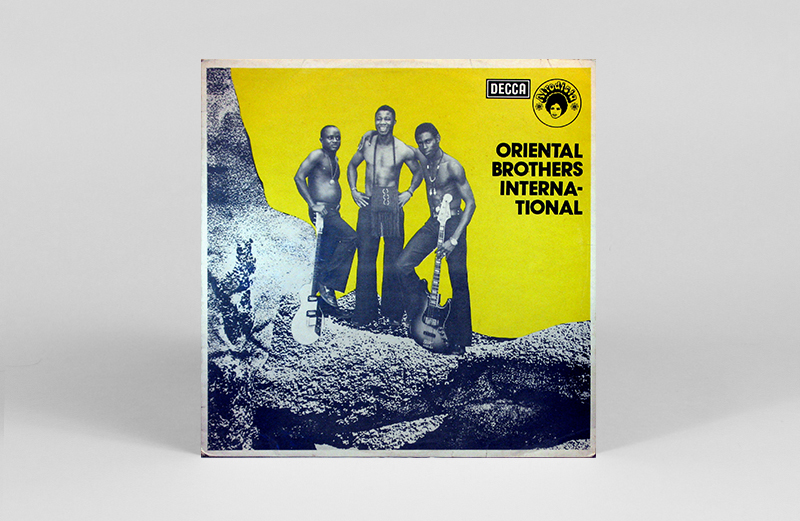 Oriental Brothers International
Oriental Brothers International
(Afrodisia LP, 1974)

Listen / Buy

The Ramblers and other highlife big-bands declined in popularity during the 1970s, becoming perceived, inevitably if rather unfairly, as anachronistic vestiges of the colonial era. But highlife itself survived. Guitar groups replaced large ensembles, playing a grittier, stripped-down version of the music. Leading outfits included the Oriental Brothers and its swaggering lead-guitarist Sir Warrior Kabaka.
---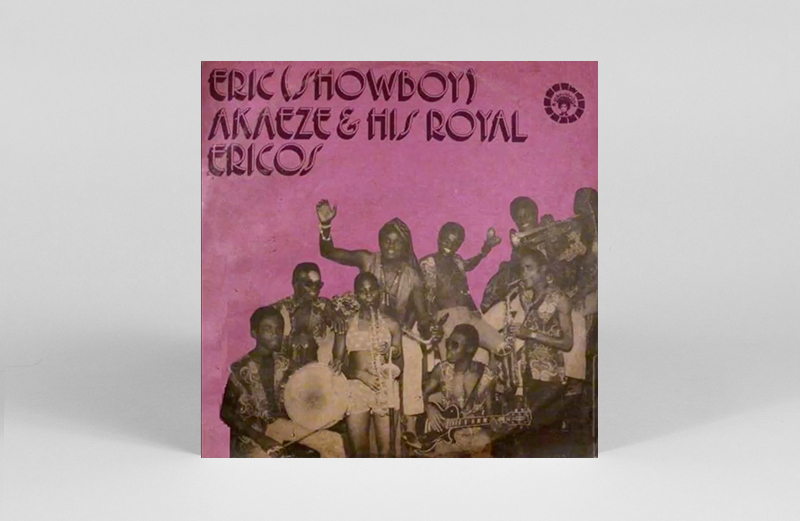 Eric Showboy Akaeze & His Royal Ericos
Ikoto Rock
(Afrodisia LP, 1974)

Listen / Buy
Fela Kuti & Africa 70 dominated Afrobeat so thoroughly during the 1970s that the outfits which followed in their wake tend to get forgotten. Among the best was Eric Akaeze & His Royal Ericos. Amusingly, in the mid 1960s, when Kuti was trying to establish his first band, Koola Lobitos, most Lagos club owners turned the group down, preferring to book highlife big-bands such as the one then led by Akaeze. By the mid 1970s, however, Kuti was the hot ticket in town. Akaeze may have been a late convert to Afrobeat but Ikoto Rock, the Royal Ericos second album, is the real deal.
---

BLO
Phase 1V
(Afrodisia LP, 1976)

Listen / Buy
Debuting in 1973 with Chapter One, and inhabiting a similar groove as the Mebusas, BLO was led by virtuoso guitarist Berkley Jones. The group was regarded by its first record label, EMI, and then by Afrodisia, as a serious contender for overseas breakthrough and both labels financed regular European tours. Phase 1V, BLO's third and best Afrodisia album, was recorded in London following a Scandinavian tour (hence the track "Scandi Boogie"). It captures the band at its creative peak, before the disappointing disco-tropes of 1979's Bulky Backside. Reissued on vinyl by PMG in 2016.
---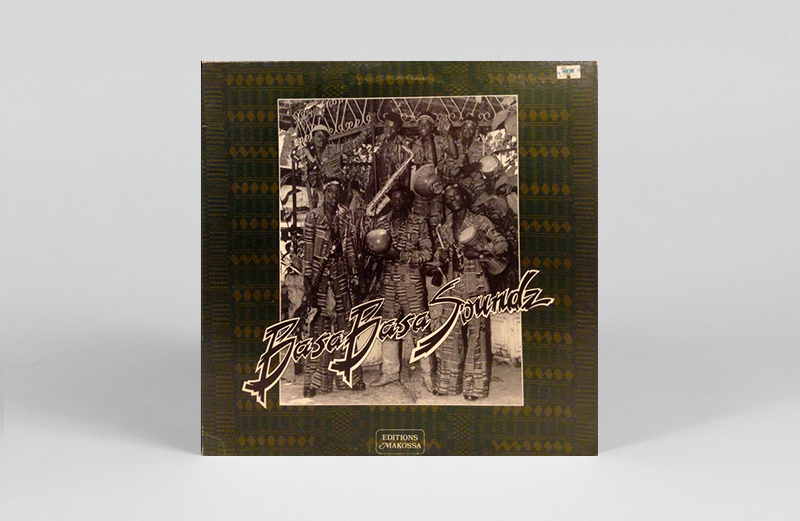 Basa Basa Soundz
Basa Basa Soundz
(Afrodisia LP, 1976)

Listen / Buy
Ghana's Basa Basa Soundz was a post-modern group blending guitar-band highlife with older, acoustic folk-music. It was formed by Accra club owner Faisal Helwani after his house band, Hedzolleh Soundz, emigrated to the US to become Hugh Masekela's backing band. For many observers, the Masekela/Hedzolleh album Introducing Hedzolleh Soundz is post-modern highlife at its best, but Basa Basa Soundz runs it a tight second. Fela Kuti, who hung out in Helwani's Napoleon Club while in exile in Ghana in 1976, guests on saxophone.
---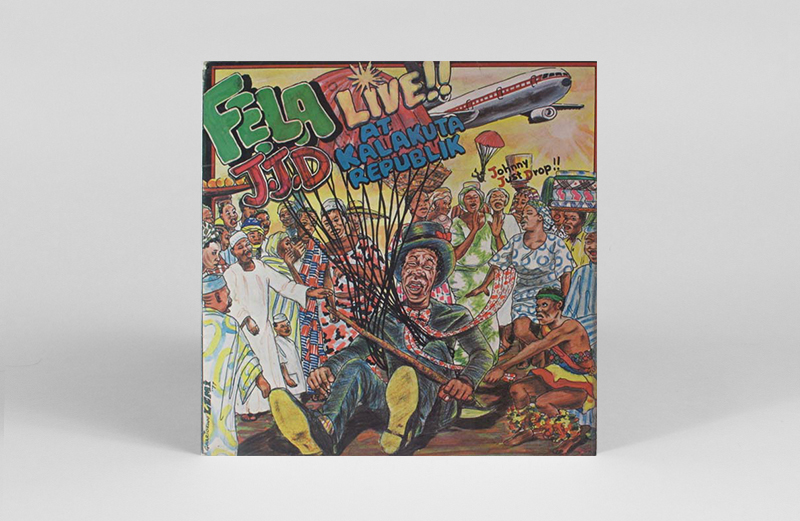 Fela Anikulapo Kuti
J.J.D. Johnny Just Drop!!
(Afrodisia LP, 1977)

Listen / Buy
One of the few Kuti albums to make it past Decca chairman Moshood Abiola's censorship following the Nigerian army's sacking of Kalakuta in February 1977, J.J.D. is among the Afrobeat originator's greatest albums. Lyrically, it occupies similar ground to his earlier Gentleman, being another withering lampoon of the social pretensions of Lagos's "been to's" – Africans who had been to Europe or the US and returned home with inferiority complexes about their own culture. The sleeve features some of Kuti's first-call sleeve designer, Lemi Ghariokwu's greatest artwork. Reissued on vinyl as part of Knitting Factory's Erykah Badu-curated Kuti box set in 2017.
---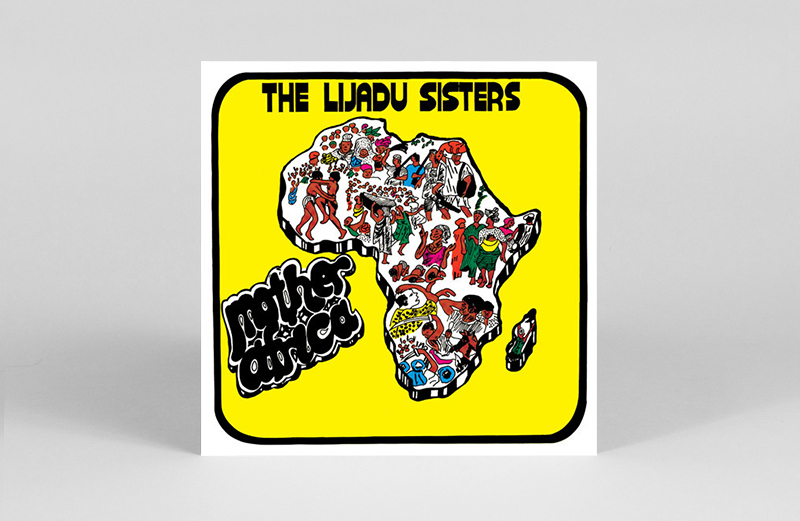 Lijadu Sisters
Mother Africa
(Afrodisia LP, 1977)
The second of four Afrodisia albums from twins Taiwo and Kehinde Lijadu (who had sung with Berkley Jones's pre-BLO band, Afrocollection). Mother Africa marks a significant departure from the Lijadu's Afrodisia debut, Danger. The earlier album's English-language lyrics are mostly replaced by Yoruba ones and the music's rock and funk strands are more equally balanced with Nigerian roots music. The band is once again led by Biddy Wright, who is frequently featured playing an acoustic guitar in traditional "palm wine" style. The twins's crowning achievement.
---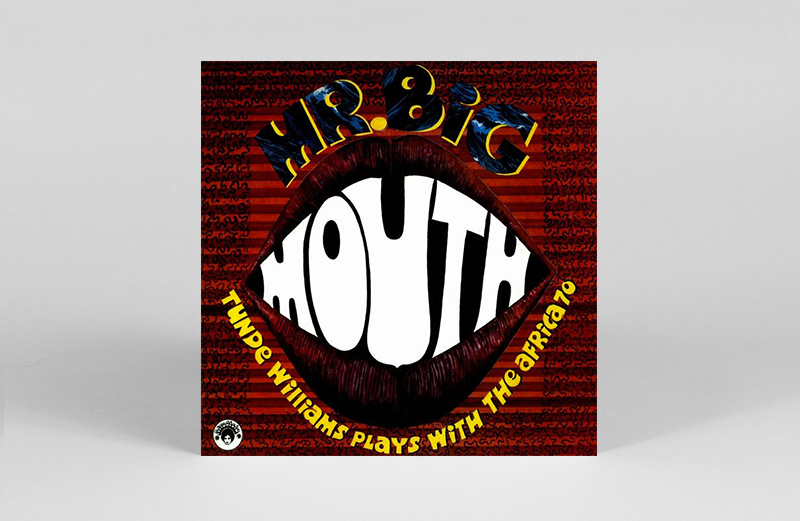 Tunde Williams
Mr Big Mouth
(Afrodisia LP, 1977)
One of a handful of own-name albums released by Africa 70 members during the 1970s, Mr Big Mouth features trumpeter (and on this occasion vocalist) Tunde Williams fronting and, with Kuti, co-producing Africa 70. Side one is the instrumental "The Beginning," a vehicle for Williams's moody hard-bop trumpet. On the title track, which takes up side two, he switches to vocals, his lyrics addressing the corruption of Nigeria's business leaders, while Kuti contributes abrasive tenor saxophone and keyboard solos. Top-notch Afrobeat. Reissued on vinyl by Honest Jon's in 2004.
---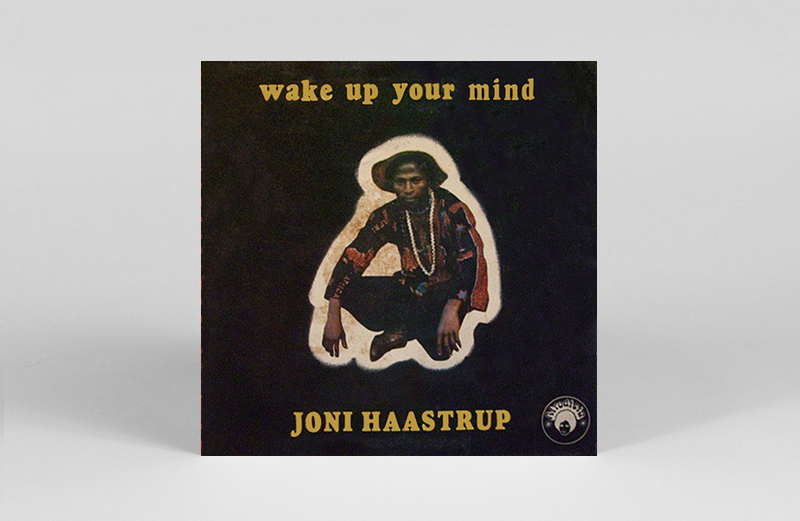 Joni Haastrup
Wake Up Your Mind
(Afrodisia LP, 1978)

Listen / Buy
Singer and multi-instrumentalist Joni Haastrup first recorded with saxophonist Orlando Julius in the 1960s. By the mid 1970s he had become one of Nigeria's brightest stars, a member of Ginger Baker's Airforce and its Lagos-based cousin SALT (with the Lijadu Sisters and Berkley Jones), before founding the hugely influential MonoMono. Anything with Haastrup's name on it is worth checking out but Wake Up Your Mind is his masterpiece. An Afrobeat cum Afrofunk workout composed, arranged and produced by Haastrup, with provocative lyric content atop the steaming grooves. Reissued on vinyl by Hot Casa in 2016.
---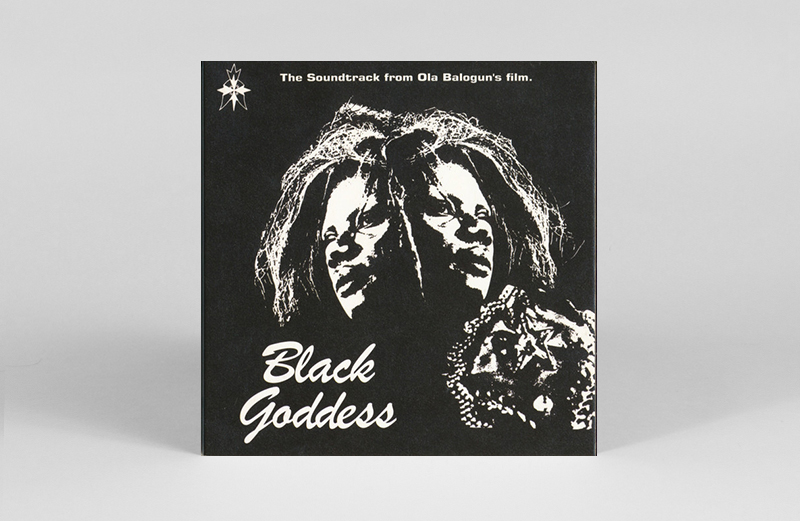 Afrocult Foundation
Black Goddess
(Afrodisia LP, 1978)

Listen / Buy
Haastrup crops again as a member of the short-lived but magisterial African-jazz quartet Afrocult Foundation, whose sole release was this soundtrack album. The other musicians are the Lijadu Sisters's producer Biddy Wright on keyboards and bass guitar, Dele Okonkwo on soprano and tenor saxophones, and drummer Remi Kabaka (who was in demand on the London session scene during the early 1970s, working with the Rolling Stones, Ginger Baker and Paul McCartney among many others. Kabaka's son, percussionist Remi Kabaka Jr, incidentally, is a regular participant in Damon Albarn's Gorillaz). Among the most elusive Afrodisia pressings, Black Goddess repays every moment spent tracking it down.