Published on
June 16, 2015
Category
Features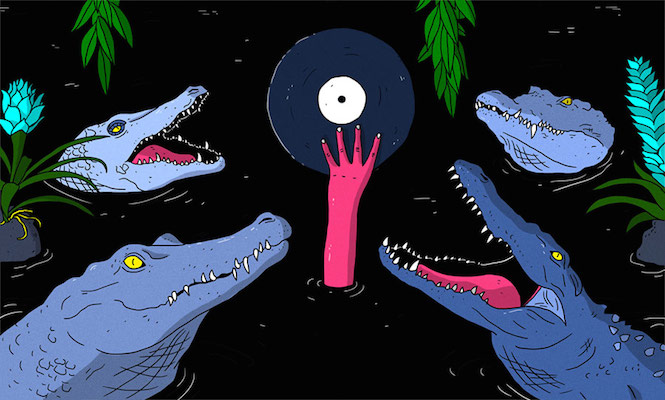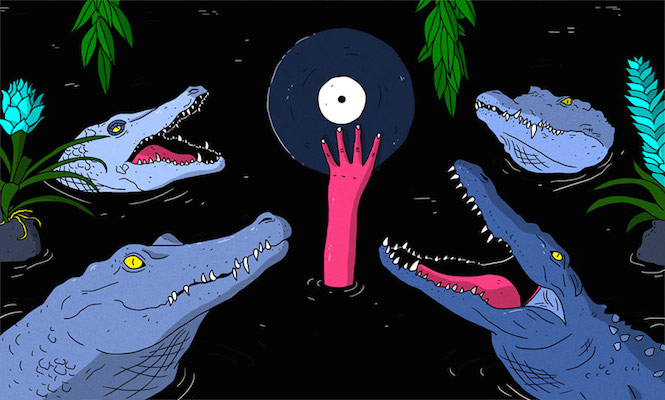 Illustration: Laura Breiling
Our Crate Diggers series profiles record collectors around the world. This month we speak to Stones Throw boss Chris Manak about intimate records, a recent birthday present from Mayer Hawthorne, and why digging with Cut Chemist is dangerous business.
---

Name: Chris Manak
Aliases: Peanut Butter Wolf, Folerio
Nationality: American
Size of Collection: ???

What are your early memories of records?
My first records were a few disco 45s in the late '70s. My second grade teacher used to play records for us in class and I got interested in it. I'd ask for the disco compilation albums on K-Tel and Ronco Records for Christmas and my birthday and sometimes I'd get a 45 like 'Groove Line' by Heatwave or 'Boogie Oogie Oogie' by Taste Of Honey. By 1979, I got really into soul and funk and eventually electronic stuff and new wave and reggae and hip hop and punk and everything else. And in 1986, I started going back and looking for older records that I didn't know about.
Do you have a philosophy behind collecting records? 
I don't really have one that I like to analyse. I just can't get enough. If you told me in the early '80s that it would still be as exciting for me to buy records 30 years later, I probably wouldn't believe it. I don't enjoy TV or movies as much as I used to or video games or baseball cards or anything else. The music thing never really gets old for me.
How do you organise your collection?
I do it mainly by genre and relative years, but lately, I don't really even have it organized anymore. The main reason I organized things was for DJ sets, but I normally only spin with 45s, which are more organised, or I spin with Serato which I have virtual crates in my iTunes for. But a few years ago for 12-12-12, I spun 12 hours in a row and kinda pulled records from all over.
Do you clean your records?
Not too much, but at least I keep them in the covers these days and I don't smoke weed or cigarettes in my record room (or anywhere else for that matter).
If money were no object, what one record would you buy?
Mayer Hawthorne just texted me two days ago asking "when's your birthday?" and I said, "what did you find?" He found a sealed record I've been wanting for $200 and I couldn't believe it. I have one copy of the album, but it's with no cover and beat up. I never mention names of records I want in interviews though. That would be really dumb.
If your house was burning down and you could only save one record what would it have to be?
Refer to the last question.
A record that makes you cry?
A lot of records make me cry. 'Tomorrow' by Tevin Campbell and Quincy Jones had me tearing up a little yesterday, but I think it was because it was written by Siedah Garret who I had just discovered was following me on Twitter and decided to look up her other accomplishments besides 'I Can't Stop Loving You' with MJ. I think I got emotional because she's a writer/singer who is not a household name, but has done some heavy work and it threw me off that I was on her radar.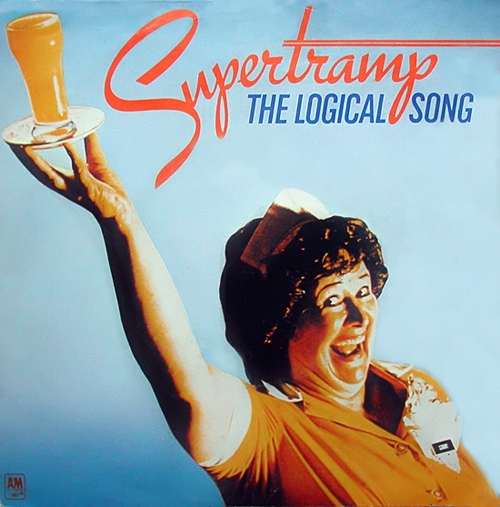 A friend of mine played 'The Logical Song' by Supertramp for me today and it felt like it was the first time I'd heard that song since I was a kid and it had a strong emotional impact too.
Do first editions matter to you? How about bootlegs?
I don't care about first editions at all. I prefer original versions to bootlegs or reissues if the original version sounds significantly better, but if not, than I'm down for compilations too.
Favourite record store?
Discogs but I try to stay away from it these days.
Strangest or funniest digging experience?
Back in 1997, I was on tour with Cut Chemist and he went to the rock or soul section, so I went to the hip hop section so that we wouldn't be fighting over records. It was this record store in Chicago and it was highly unlikely that they'd have anything hip hop that either of us needed. Well, some DJ from the old school either sold his collection or passed away or something because I was pulling out gem after gem after gem and showing Cut and bragging and he pushed me out of the way and we basically were fighting over these records. Kind of a had-to-be-there moment, but was crazy.
Another thing that comes to mind was I was in Japan with Madlib and we went in a store and asked for the jazz section and the guy said "ownlee bee toes". We couldn't figure out what he was saying and he repeated "whole store ownlee bee toes" and we started looking closer at the records and it was all Beatles records and the solo records from the 4 members. Only in Japan.