Published on
August 9, 2017
Category
Features
"I love when people play Pharoah Sanders in clubs."
It's this impulse that brought Mafalda to London three years ago. Drawn to a city where DJs play jazz on the dancefloor, Mafalda has quickly made tracks as a joyful selector of spiritual grooves, straying gleefully across genres as a regular on NTS, Worldwide and festivals like Dimensions, where she'll appear next month.
As Floating Points' partner in crime she co-runs reissue label Melodies International, and has overseen the release of now iconic records by Aged In Harmony and Open Soul, originals of which you'd be more than likely to find at Cosmos, the London arm of the first pressings record shop where Mafalda also works.
Inviting us to the attic room of a small North London apartment, Mafalda begins by putting on her latest acquisition, Pharoah Sanders' Love In Us All, a smile flashing across her face: "Pharoah Sanders is very special, I love all the records I have of his."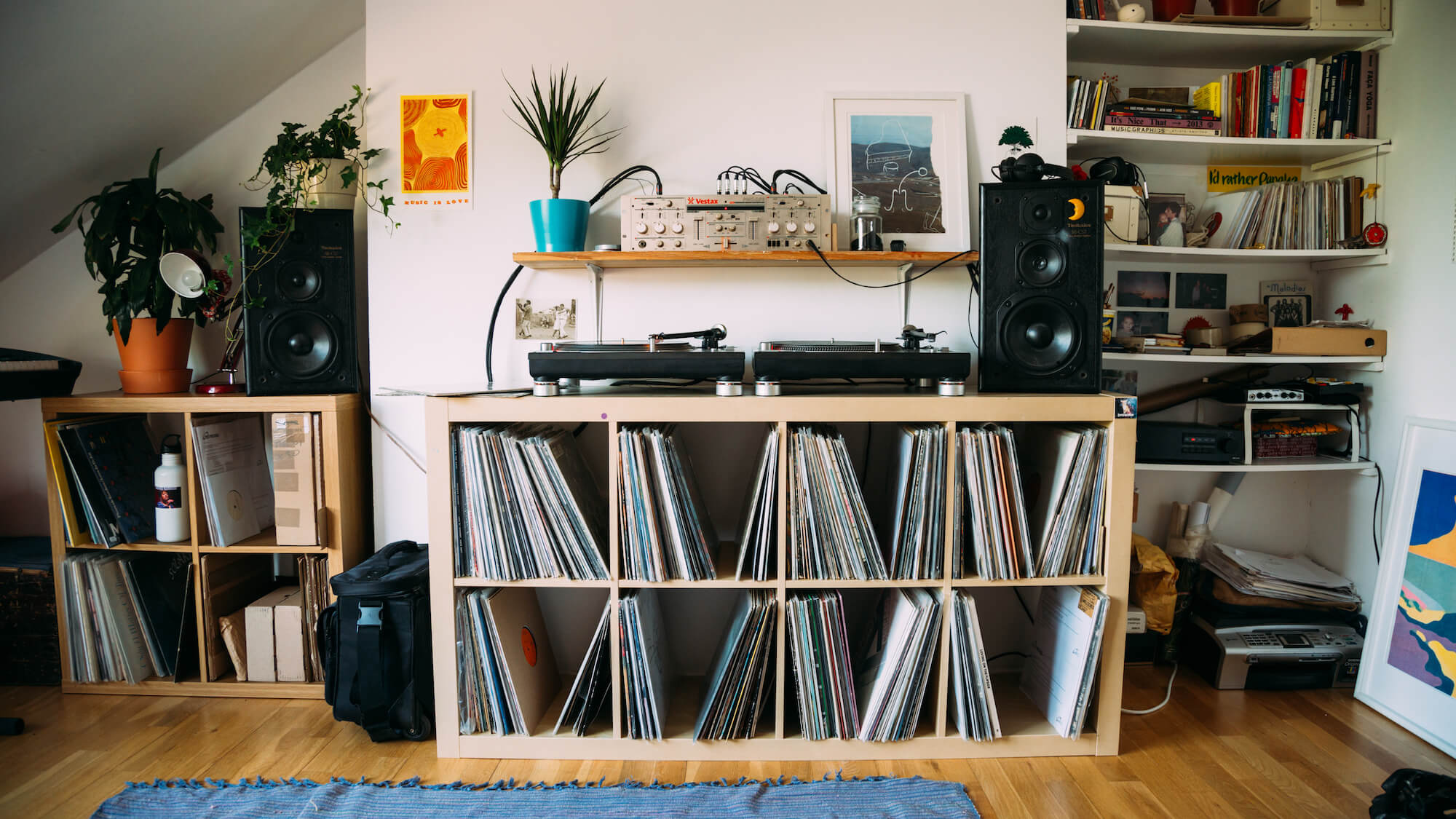 ---
Since we've got a Pharoah Sanders soundtrack going on, could you tell us a little bit about this specific record?
There's a funny story behind this one – Sam [Shepherd aka Floating Points] bought it for me in Amoeba in Los Angeles six months ago. He was doing that 'What's In My Bag?' film, and said "this is for my friend Mafalda" and he sent me the link. But he lost it and never actually gave me the record!
Then it was his birthday the other day and I was helping him organise his records because he had just put up new shelves and I found this one and he was like, 'That's yours, that's the one for you'. He had lost it in the middle of his zillions of records.
Pharoah Sanders is very special, I love all the records I have of his, but some are more difficult. They have this agitation, they can shake you and sometimes you need a record like that. Also, I love when people play Pharoah Sanders in clubs. It doesn't happen often but when it does I think it's quite special.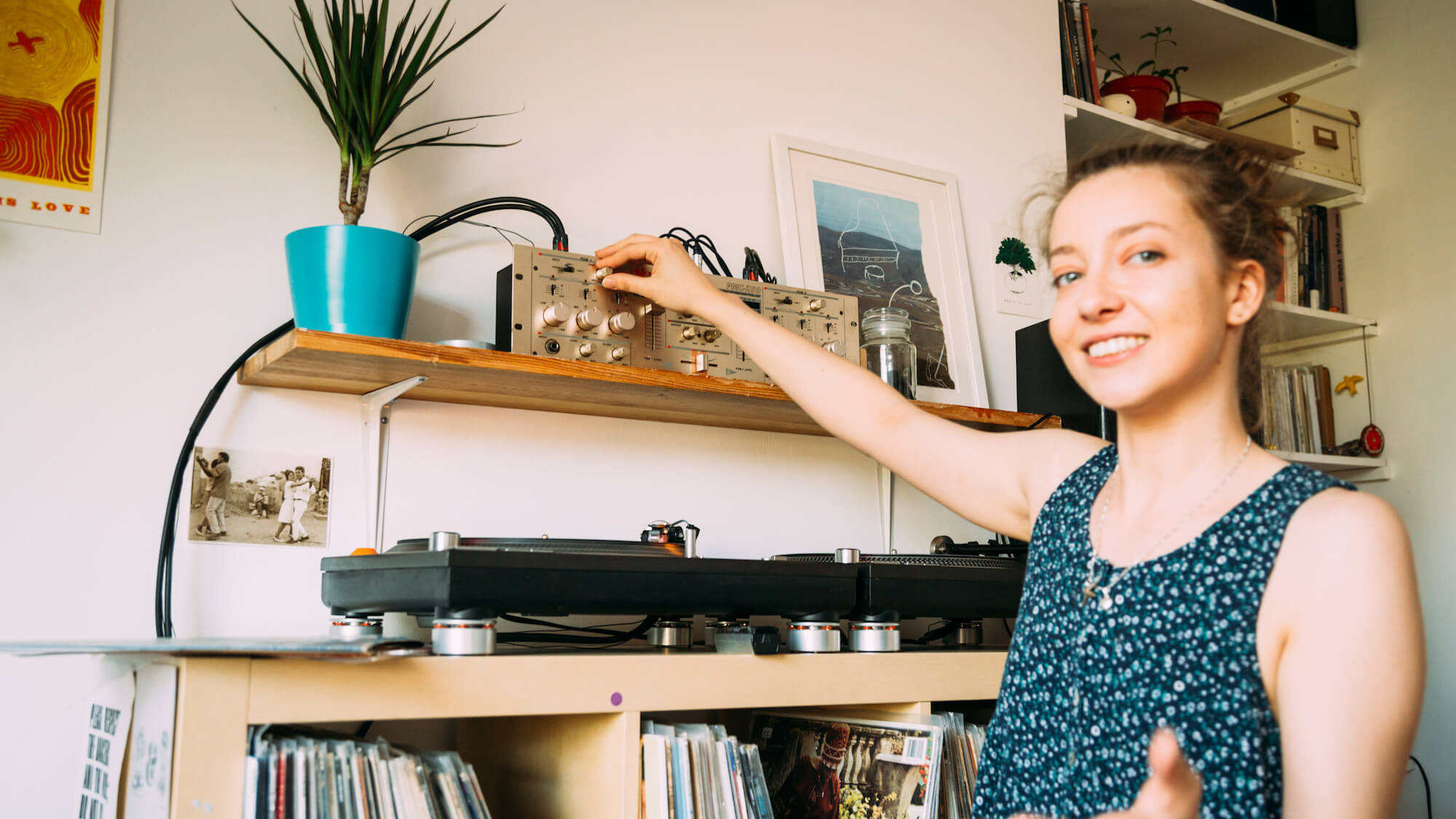 Can you dance to it?
I mean, I can, but that's what I do, I'm always dancing. If the music is good I'll dance to whatever it is. I totally dance to Pharoah Sanders, and it's amazing when more people do it – when it's not just me.
A long time ago, I was at Brilliant Corners and Sam played 'You've Got To Have Freedom' and it was insane, everyone was dancing. It's from Journey To The One, which is another special one.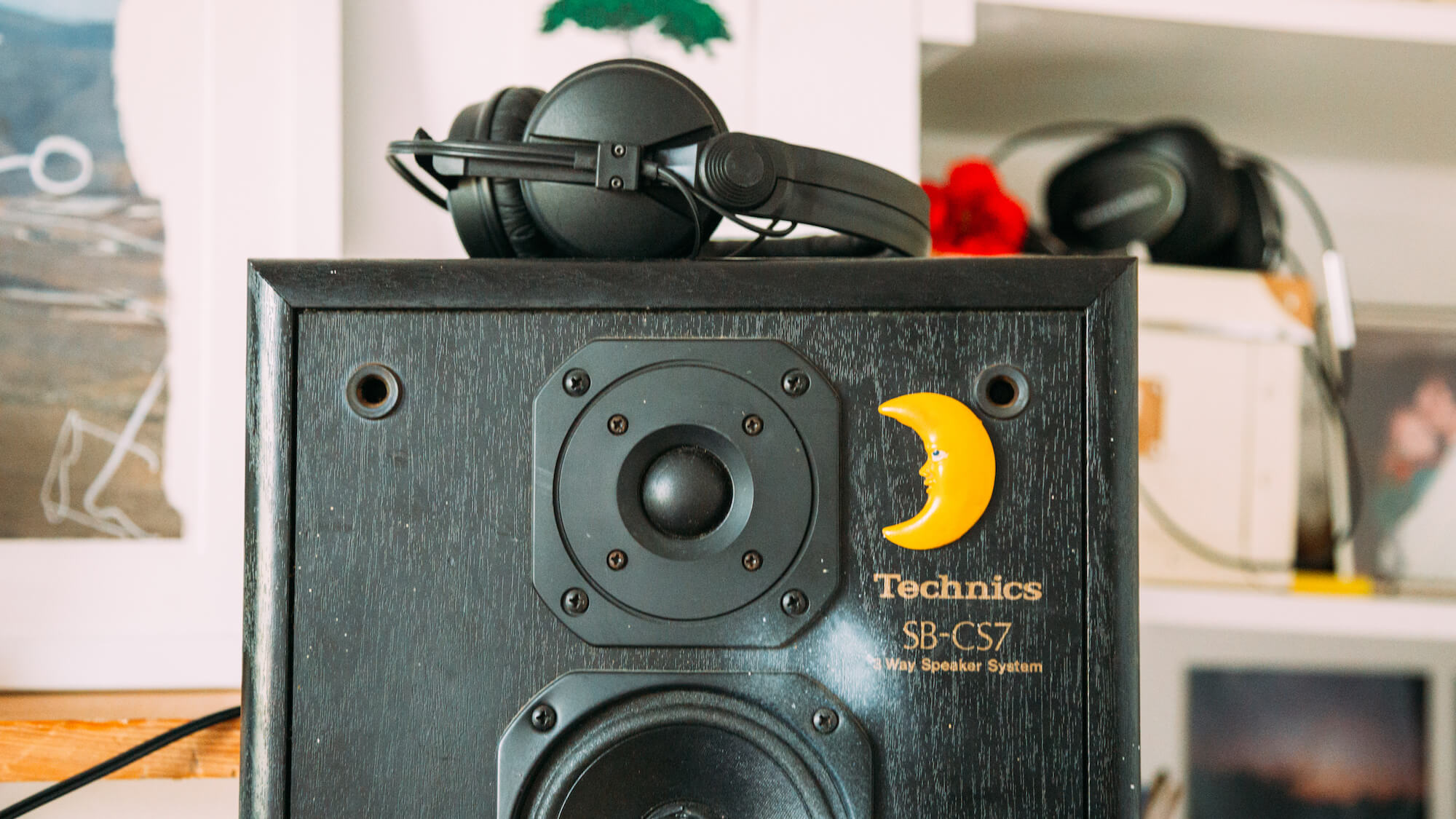 What was your journey to Pharoah Sanders and spiritual jazz?
I don't really know. In Portugal I didn't listen to much jazz. My father had some Egberto Gismonti records, which I brought here.
But I came to London because of that, and I didn't know why. Three years ago I came here to visit my mum, who lives in Epping, and Sam [Floating Points] and Sadar Bahar were playing at Corsica Studios and I was there having the time of my life, listening to all the music I love. And at some point Sadah Bahar dropped a jazz tune at 4am and everyone was dancing, everyone was grooving. And that moment was very powerful. That's when I decided to move here, because I felt fascinated with people dancing to jazz in clubs.
But you came here without much of a plan?
I had quite a nice job in Portugal, I was a fashion designer, and when I got back from my London holidays, it took me two weeks to decide to quit.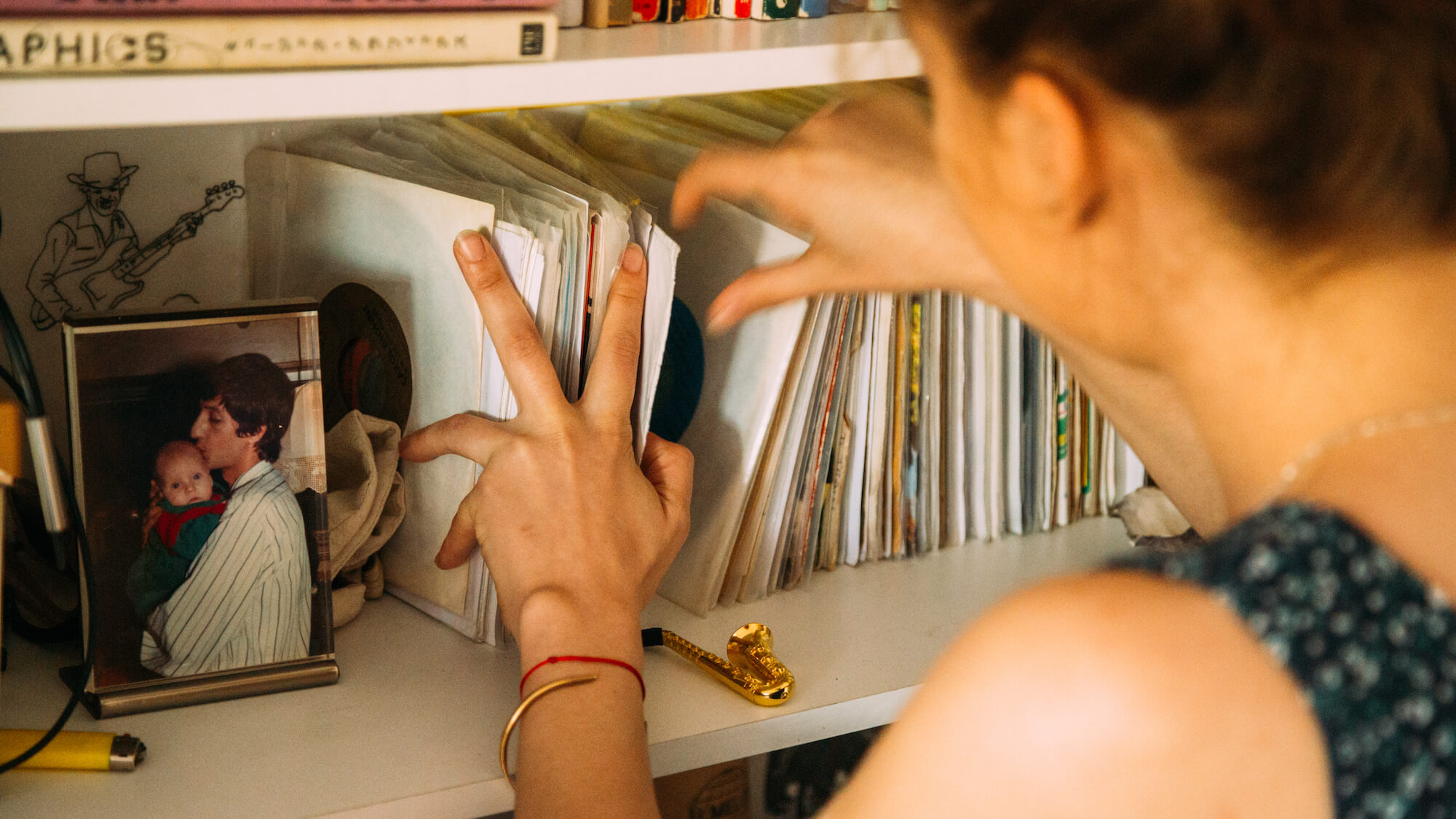 We can come back to this, but let's go back a little bit first – What was the first record you ever bought?
I was about 13, my father was living in Lisbon but I was still living in Porto with my mother. I would go to visit him and there was a big hip-hop shop, so my first record was a hip-hop record. I'm a big hip-hop fan and that's really how it started with music and records. I had a hip-hop band when I was a kid…
Did you rap?
Yes, I used to rap (laughs), when I was very young, you know 14 or 15. I had these two friends at school and they were studying science and I was studying arts, so we had this really cool vocabulary we used for lyrics and our older friends made beats for us. I was no good but everyone supported us because we were so young, and they wanted us to keep on doing it. Every time I'm clearing up though I still find papers with lyrics that I wrote and it's funny…
Rapping aside, you arrived in London less than three years ago without a network of people, but here you are embedded in the music scene. What happened?
I came here and I didn't have friends, but I was staying with someone I knew for about a month just next to Plastic People. And even though I was on my own I would go on by myself to Plastic People a lot – almost every weekend – because I just couldn't stay at home knowing such good music was being played there. I basically ended up making lots of friends through Plastics. Most of my friends in this country are music people.
Is that how you met Sam [Floating Points]?
Yeah, I think he knew who I was after a while at Plastic People because I was always in the front row singing and dancing the whole time. One day he was on NTS and he said he was going to start Melodies International. I emailed him saying "Hey Sam, it's me, the girl who is always in front of you screaming and dancing. I heard about Melodies so if you need any help let me know." And he was like "Yeah there's this magazine, if you want to do that?" I'd never done a magazine before but I was sure I could figure it out. I was obviously very, very happy. I did the first magazine and we stayed friends, because we have the same musical taste.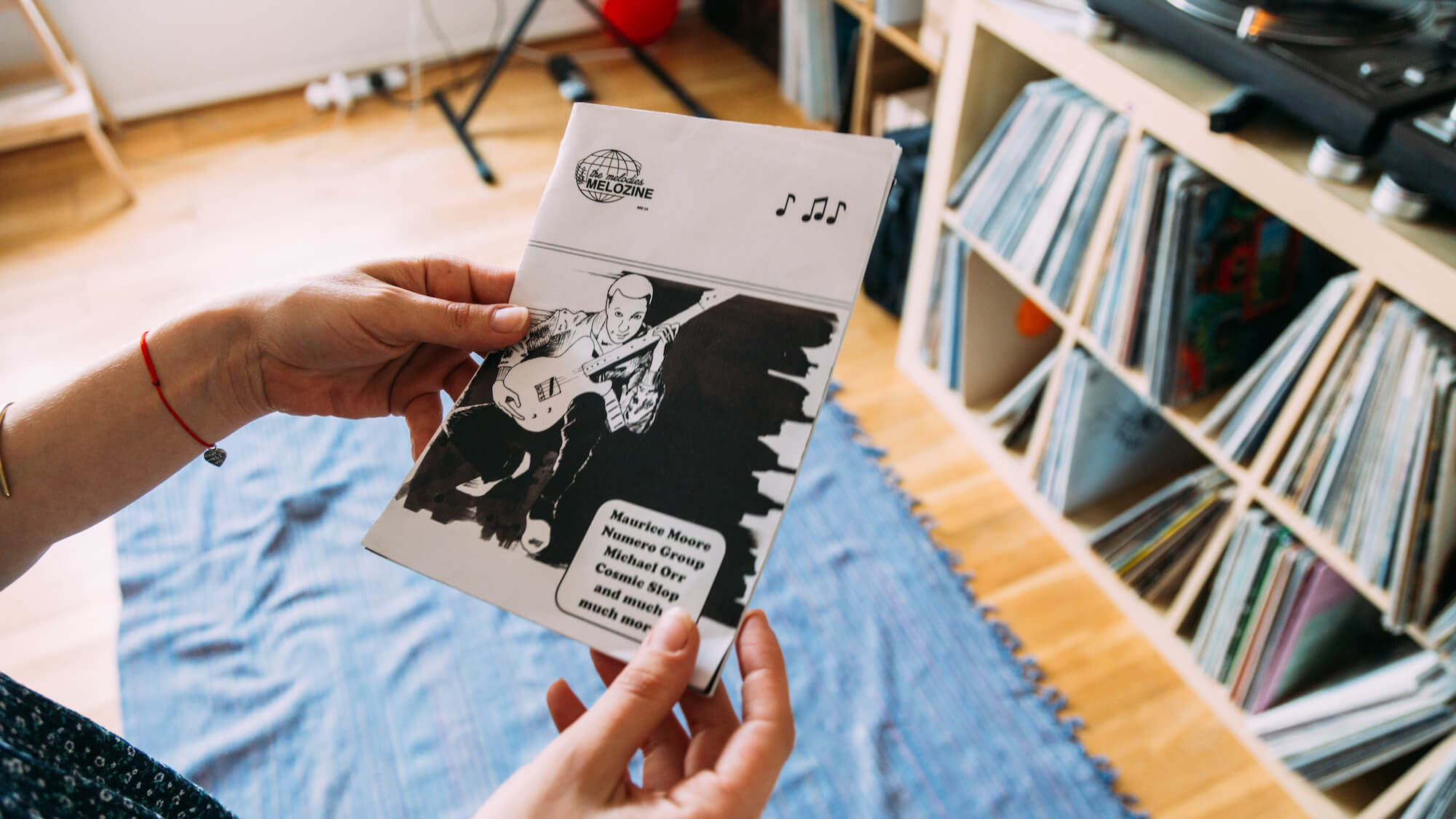 He was doing his album at the time and I knew Aged In Harmony was going to be released next, but nothing was happening. By this time I was pretty good friends with Sam and was just like "Do you need help?" I had worked with production before when I was a fashion designer, but this was still something completely different, it was records. So he gave me all the contacts and I learned how to do it.
What binds the label together? Is there an ethos beyond your combined tastes?
I think the thing that sparked it was the You're A Melody parties, where they would play really beautiful, rare records. And those recordings of the first parties were shared thousands of time, and these tracks became famous and wanted in their own right. So we thought we could have some say in it.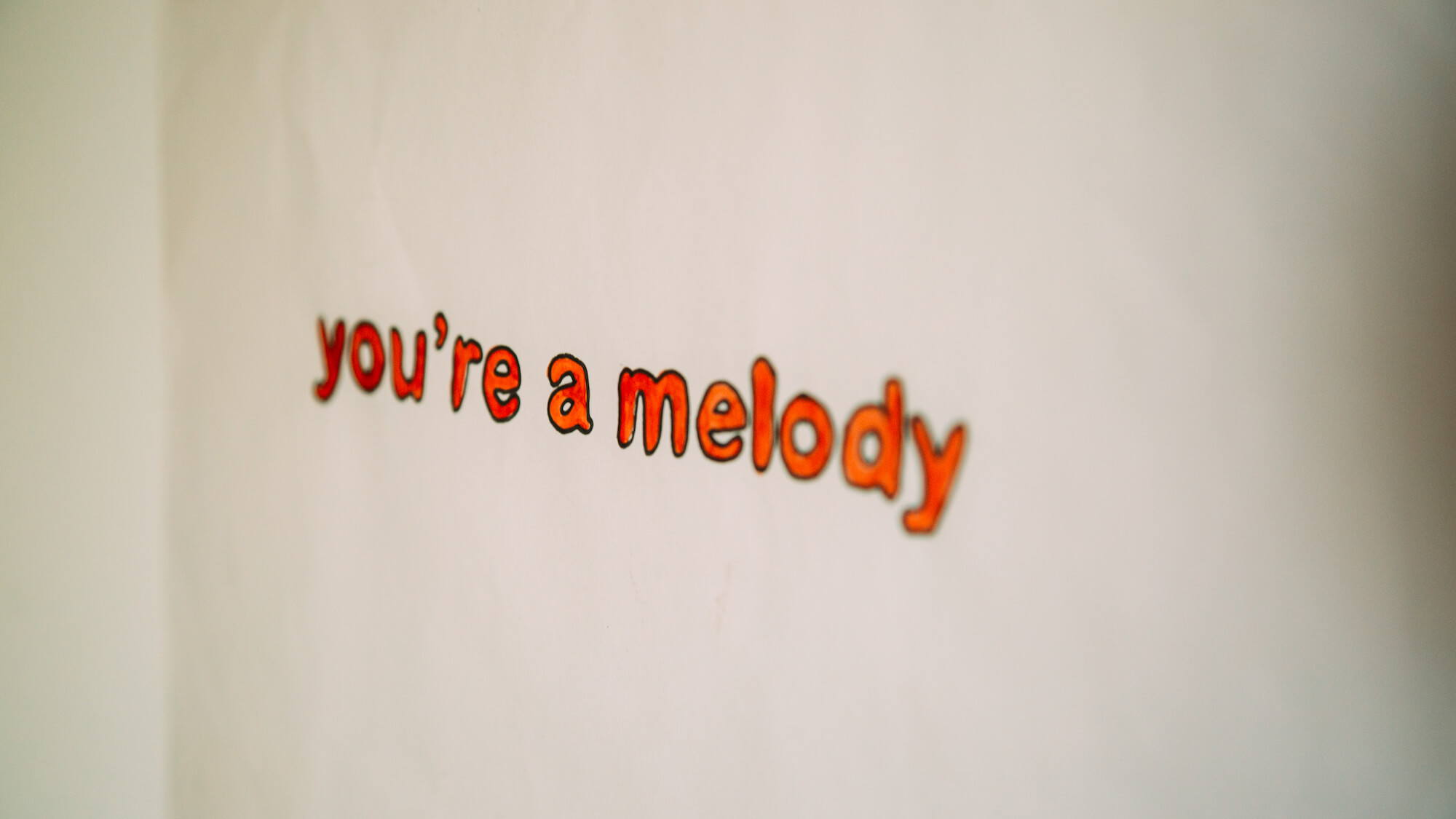 The party is the root of the label, but now as time goes by, we are all growing and discovering new stuff. And actually Mel08 and Mel09 are not going to be disco bangers they're going to be really mellow soul tracks that are very beautiful. People can play them at parties, and I hope they do, but they're not party tunes. It's mostly music we love very much.
And your own collection, have most of the records here been accumulated over the last three years?
Yes, so this is my London collection. These are the records I got since I moved here. I don't care about the quantity, I just care about the quality. All of these records were hand-picked carefully and I only have records I absolutely love.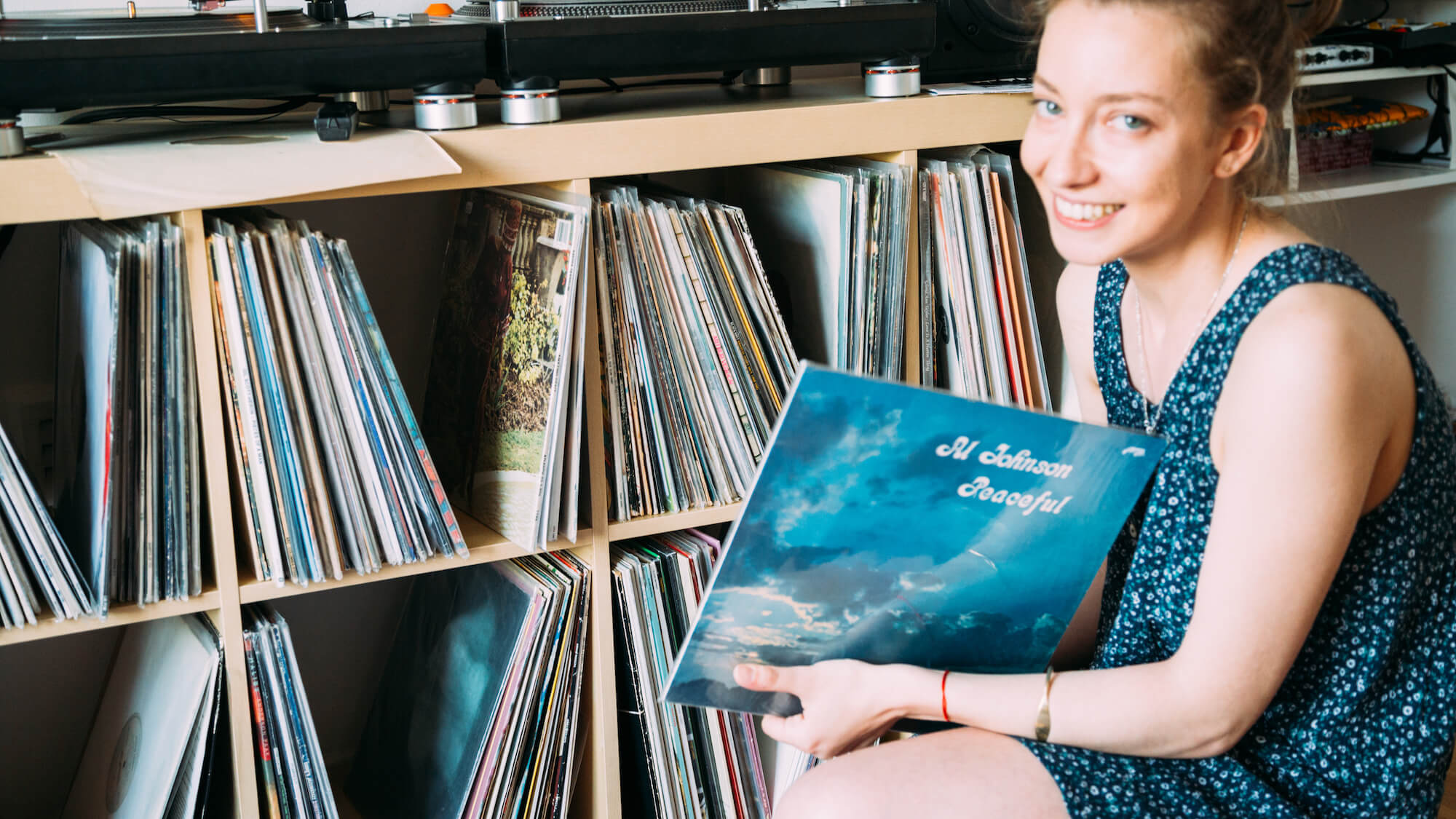 So they're all special?
Yeah, they're all special, but I have some new ones. I'm fortunate enough that people think my music is Sunday music, so they invite me to play on Sundays and this Blossom Dearie record has a tune called 'Sunday Afternoon'. I love partying but I really like mellow, chilled out music too.
You said that your collection isn't very organised, would you like it to be?
Yes, I love organising stuff. I'm a Virgo! I'm not a freak, but I like things to be organised!
You divide by genres?
Yeah, by genres and then just mixed stuff, from gigs and recent buys, stuff I'm listening to at the moment. I have a big mix. Hip-hop, gospel, disco, soul, electronic music, lots of Brazilian, lots of Latin jazz, funky jazz, spiritual jazz, straight jazz, soul jazz (laughs). I like everything, even rock! I don't collect one genre or one label or one artist. If I see a record I love and I can afford it, I'll buy it. I like that my collection is so diverse because every day is different.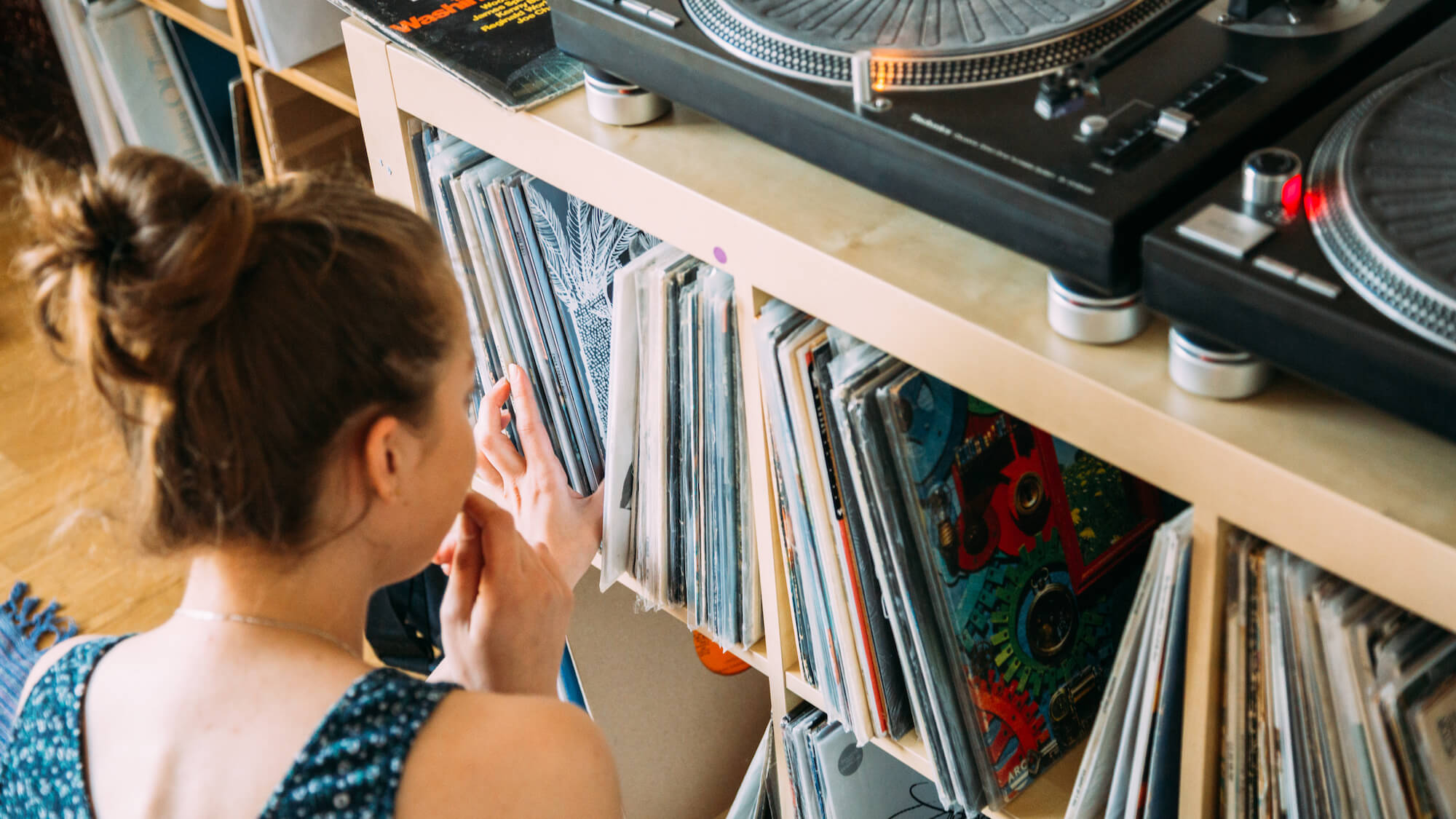 How about first pressings vs. reissues?
I work for a reissue label but I also work in a first pressings record shop, so I am really torn.
Of course, if I can afford the first pressing and I find it in a shop, I'm going to get it. But some records are just very expensive and as much as I care about them, I also care about eating, and my landlord cares about me paying my rent. I can't be too picky. I would love to get all the first pressings of these records and lots of them are. If I can't I will stick to the reissue.
What's the most expensive record you've ever bought? Not that price has anything to do with it…
Unfortunately really good records are rarely cheap. And that's why reissues are great, especially when they're done properly. With bootlegs and unofficial releases, if there is no love, I don't see the point.
This one, Shirley Nanette's Never Coming Back, is a very special record. I think I got my job as Cosmos because of this record. I asked them for it and I think they were impressed. It's the original, so it's not a cheap record. But I love it so much that I had to have the first pressing. And it's not £1,000…
So what counts as an expensive record for you?
Anything above £50 is expensive. And maybe some people think £40 is expensive but if it's an amazing record, it's cheap! Just get it! And that's the problem with good music, it rarely gets cheaper. Working in a record shop for almost two years I have seen some records increase in price.
In fact, I was in Zurich recently and I played Belair's LP Relax You're Soaking In It and someone came up and was like "Do you know how much this costs?! And you play it!?" And I was like "That's why I bought it! I'm not working in a museum."
And this Lou Bond, I found it on a market for £20, which is pretty cheap. But, I have to admit that I scratched it…
My favourite is track is 'Come on Snob', and all the good stuff is on that side, so I didn't ruin any crucial tracks, but still it really hurt. With this one I learned a lesson – don't bring your drunk friends home and play records! Actually that's not good advice, bring people and play records but keep the chairs away from them.
You mentioned before we started recording that you thought records were quite a feminine thing…
I don't know why, I think they're just so beautiful and I think that women care more about beautiful things than men do… (Laughs) I think that, as a woman, for me this is very natural. I feel like I'm in my natural habitat when I'm here. If I'm having a tough day and I get home, I look at this shelf and I think it's beautiful. Music really makes me happy and I know lots of girls who collect records, so it's not just me obviously!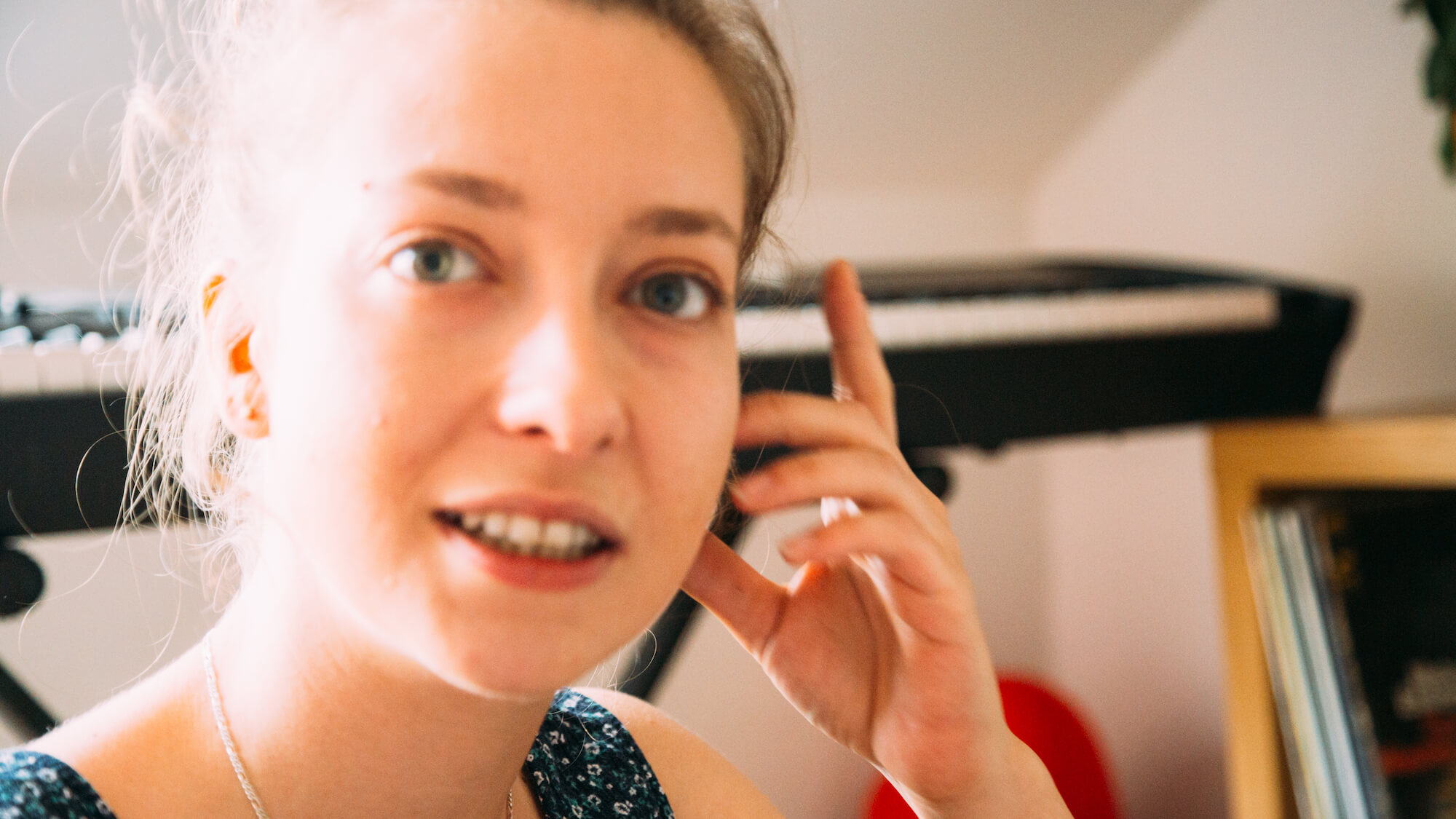 Would you call yourself a collector?
Yes, well I collect records, but I'm not too precious. I'm not like the Instagrammers (who I really like and follow). This is a big part of my life but as I was saying earlier, the music has to give me pleasure. That's why I collect. It's an obsession, I'm obsessed with music, but I'm not obsessed with records, or not too much and not in a way that's going to cause me any stress. I just want to enjoy music.
And DJing is something that came as a natural extension to this?
Yes, I had my first gig in Lisbon before I moved here because I had some records but I never thought I would be a DJ. My ex-boyfriend was a DJ and we were together for many years and most of the time I would go and party with him, but I always liked being outside of the booth and just enjoying the music. But it does give me pleasure to play these records for people. It's something I do and I really enjoy doing but it's not my goal.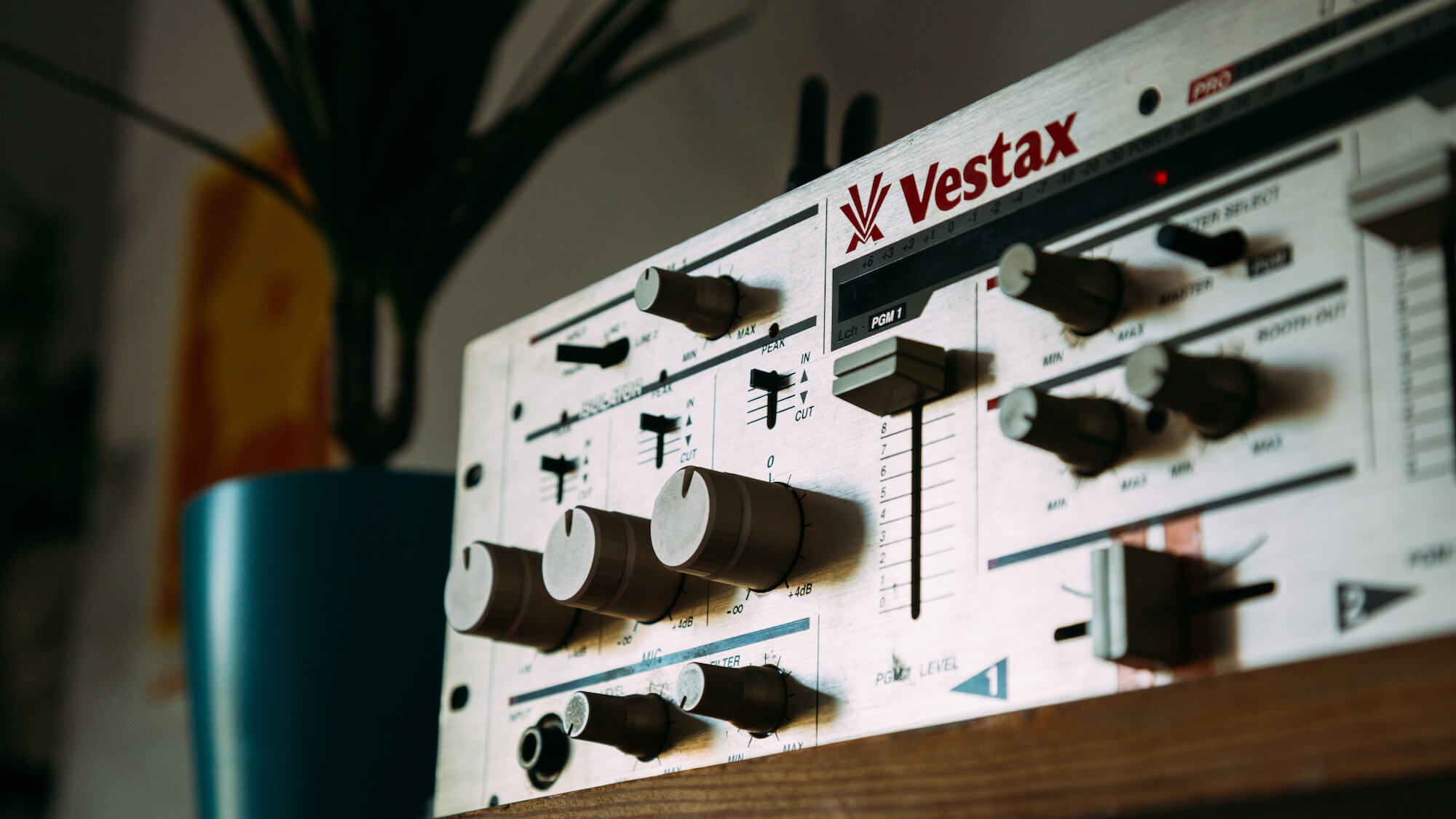 So what is the goal?
My ultimate goal in life is just to be happy. And that's why I moved here, because I wasn't happy with what I was doing there. And now, I really love Melodies and Cosmos, all day just playing records. I think that's my definition of a good time. In ten years, whatever I'm doing, I just want to enjoy it. Hopefully it will be Melodies. I always tell Sam that I have a twenty year plan!
---
'Disco Baby' is out now on Melodies International, with Maurice Moore's 'Everything That Shines Ain't Gold' on the way.