Published on
July 12, 2017
Category
Features
The legendary Italian DJ lets us into his record room.
If you were lucky enough to be at Amnesia in Ibiza in the late '80s, chances are you limbered up to the sound of Leo Mas. Between '85 and '88, he and Alfredo set the agenda for the Balearic sound, with Mas' expansive warm-up sets the blueprint for the genre-defying selector culture now blossoming in the post-Discogs world.
Something of a musical polymath, Mas' record room is a meticulous chronicle of a voracious collector, spanning a huge range of eras and scenes, from avant-garde jazz to contemporary house and techno. As radical with his politics as he is with his records, it's nothing less than you'd expect from someone's whose first 7″ was the soundtrack to an Italian '70s erotic fantasy film.
On the eve of his headline performance at The Vinyl Factory's volcanic disco on the island of Stromboli as part of this year's Volcano Extravaganza festival, we visited Leo Mas in Milan to get the inside track on a record collection that truly changed the game for DJs around the world.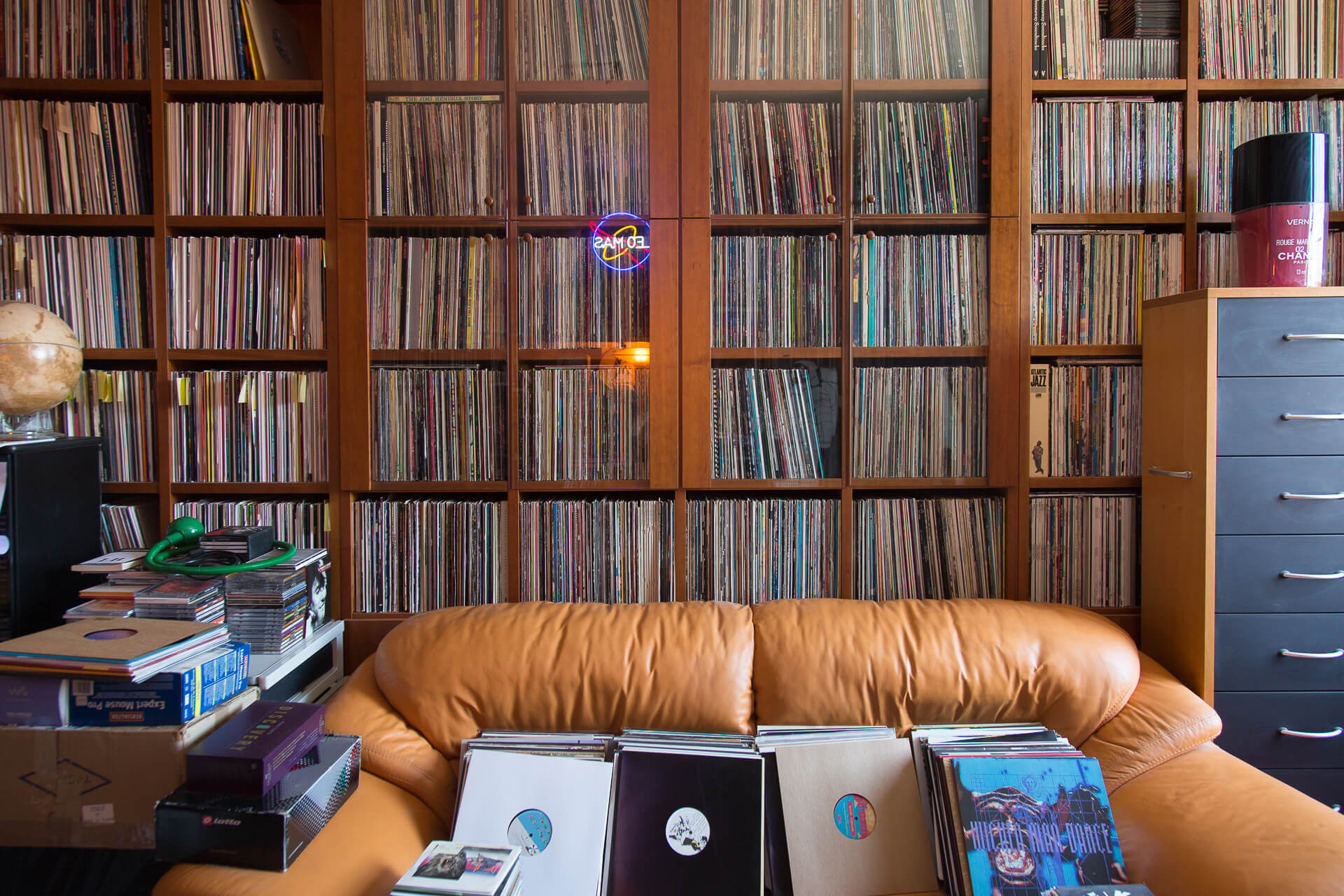 ---
Let's start at the beginning… What was the first record you ever bought for yourself?
I think I bought my first 7″ in 1971. It was Augusto Martelli's 'Djamballà' soundtrack to the movie Il Dio Serpente.
That's some beginning! Did you always have very eclectic taste? What scenes were influential for you growing up in Italy in the '70s and '80s?
When I was a child I listened to music from my father's records, he loved Celentano and Mina and folk music from Sardegna where all my family was born. I listened to Italian radio and television too, I loved it all. Soundtracks too, composers like Morricone, Umiliani, Rota, Kramer, Piccioni, Italian singers like Mina (she is my favourite), Celentano, the great Lucio Battisti, Giorgio Gaber, Enzo Jannacci, Rino Gaetano, Lucio Dalla, Francesco De Gregori, the progressive bands like Area, Arti e Mestieri, Le Orme, Osanna, New Trolls, Goblin, PFM and Formula Tre, who were Batisti's backing band for a time, and protest music like Stormy Six, Giovanna Marini, Francesco Guccini.
I was involved in politics from '72 to '77, active with the extreme left in Italy. At that time I went to several alternative festivals where I listened to a lot of avant-garde jazz and fusion – Giorgio Gaslini, Franco Cerri, Perigeo were really important for me, and experimental stuff like Aktuala, Sensations' Fix, Battiato, Alan Sorrenti, folk stuff like NCCP, Roberto De Simone (we did a remix in 2016), and Angelo Branduardi. Towards the late '70s I loved the punk band Skiantos, and new-wave electronic band Chrisma.
From the '80s I bought less Italian music and started with imports from the USA, UK and Europe. I wasn't involved in the Italo-disco boom, but I did rediscover the less commercial stuff from 2000 onwards. In 2015/2016 my great friend Kenneth Bager asked me to do a compilation of Italian music, which came out on triple vinyl and digital called Leo Mas presents Mediterraneo Rare Balearica Vol 1. Right now I'm working on the second volume.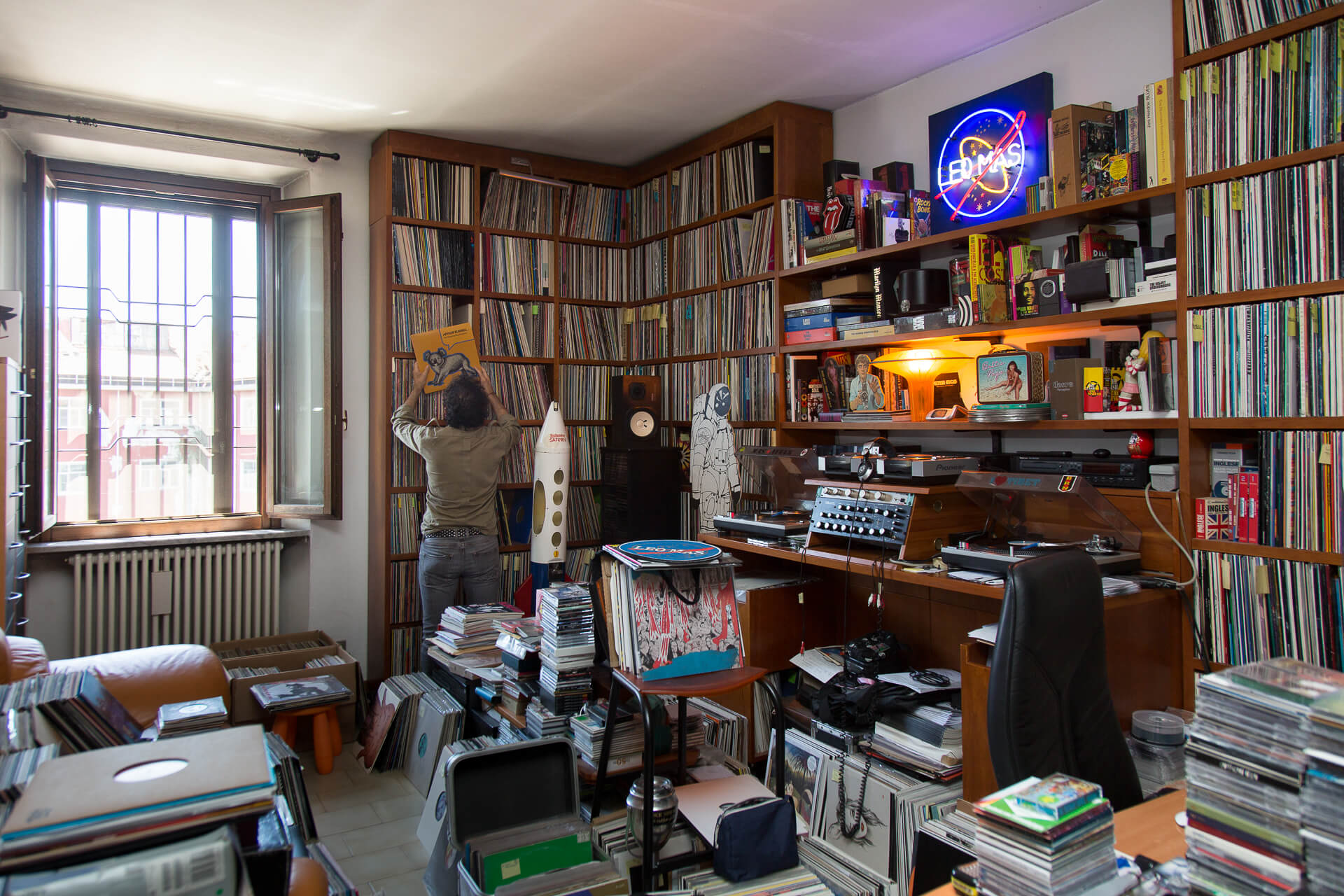 With such a wealth of musical inspiration, can you pin-point one record that particularly inspired you to go into music yourself?
I always bought tons of records, and between my friends I was the biggest record buyer, so they would ask me for tapes with the best of my records, or full albums too. It's true that music saved my life. Music was always my shelter, my relief. In the early '80s I played bass in a juvenile delinquent punkabilly band in Milan, and after that I started tape stuff on Revox for Milanese fashion weeks. In '84 I met Alfredo from Amnesia Ibiza in Formentera, and from '85 I played warm-up with him in Amnesia, playing all the music I loved from lots of different styles and it was there that I understood that DJing was what I wanted to do. So there wasn't a particular record that opened my eyes, just the opportunity to play everything I wanted and to be free with music.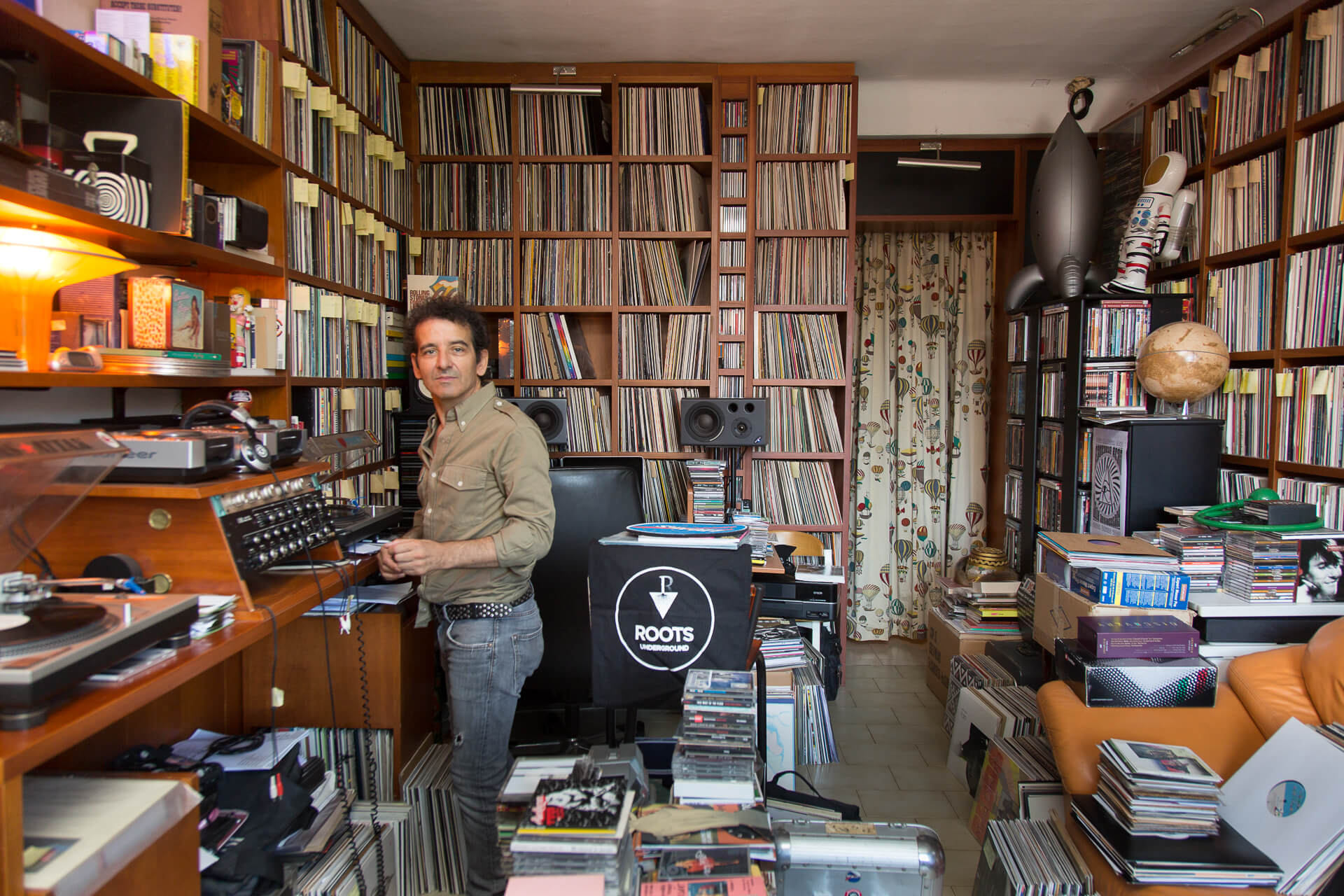 Playing in Ibiza in the mid'80s must have been thrilling…
Playing in Amnesia, when it wasn't open air yet, was very exciting. I loved those two hours of warm-up, playing ambient, soundtracks, jazz, reggae, afro, indie, synth pop, more. And playing house was really exciting too. To me it was like punk, it has the same devastating impact, a real revolution. At the time we didn't understand how things were changing, and it was simply beautiful being part of this revolution.
Besides this revolution in house music, Balearic is a term that has come to define your sound retrospectively – but what was it that defined it for you in the early days?
With Alfredo we first read the definition "Balearic Beat" as the title of the compilation Balearic Beat Vol. 1, released in September '88. Paul Oakenfold brought the record to Amnesia, and seeing the tracklist we understood that the London DJs who came to Amnesia in '87 – Paul, Danny Rampling, Nicky Halloway, Johnny Walker – created this name for the sound we played in Ibiza. Balearic for me means playing quality music with freedom from every genre. It's eclectic music without frontiers.
Was there a particular atmosphere you wanted to create in those warm-up sets?
I always worked to a crescendo, starting with a flowing mood, like listening to music in the fog. Then soundtracks, ambient stuff, and then slowly no more fog and towards downtempo music, stuff from around the world – Latin, Mediterranean, afro, reggae, oriental, Arab, and then the roots of black music, jazz, funk, fusion, and new productions too. I have to play new music, I love living in the present with music, so a mix of acoustic and electronic, some pop, some indie. Of course I love the past too, with so many great reissues coming today. For a couple of years now I have had a radio show on LifeGate Radio in Milan, and in the last year another on Music For Dreams Radio in Copenhagen, where I do Amnesia-style sets.
So, go on then, let us in on a few records that were particularly iconic for you at Amnesia.
There are so many iconic Amnesia records, but for you I picked these: Elkin & Nelson's 'Jibaro', William Pitt's 'City Lights', Chris Rea's 'Josephine (Extended French Re-Records)', The Night Writers' 'Let The Music (Use You)' and The Woodentops 'Why Why Why (Live Version)'
Where do you get your new records these days?
My partner Fabrice knows my tastes well and brings me records. Then I personally buy stuff from Serendeepity in Milan, Music Box in Perugia, and in some online stores like my friend Basso's Growing Bin Records, Discogs, Bandcamp, and when I'm in London I go to Phonica, Sound Of Universe and Sister Ray.
Your set-up here is very impressive. How many records do you own and how do you organise them?
I think I have 32,000 records and 6,000 CDs. I always thought about the best way to organise them. I put all the rock stuff together, then all the new-wave, from no-wave to synth-pop, then all dance stuff from rap, go-go and electro to house and techno, all divided by year, so if I want to go to 1987 I go straight there. It was long and hard work, but it was the best way for my collection. I mean, it has worked for some time, but as there's always new stuff entering, things now are quite chaotic and disorganised in my house!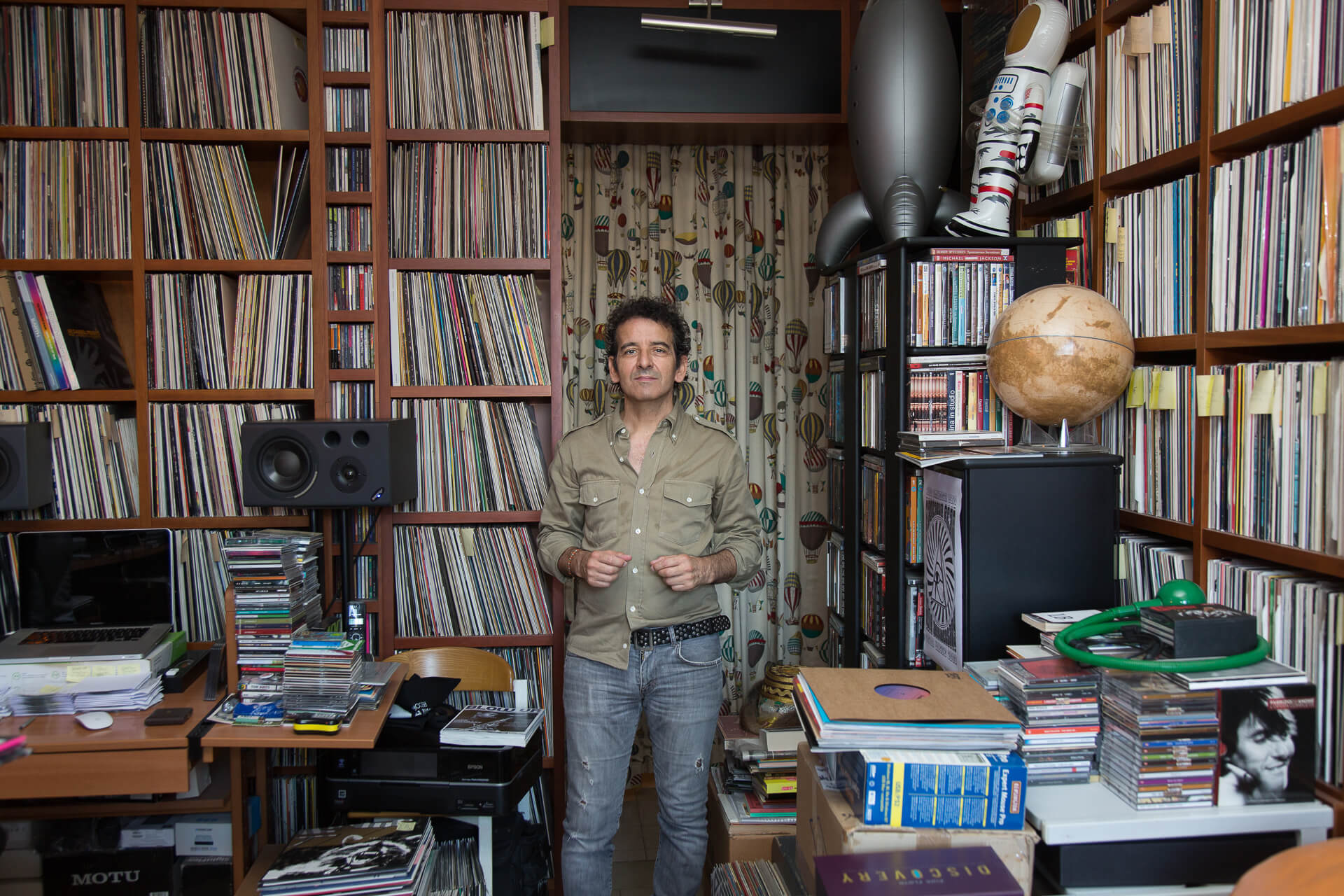 We love this kind of disorganisation! You spoke about buying new reissues, but talking originals, what's the most expensive record you've ever bought?
It was in '89 in a beautiful record store called Dimar in Rimini – not for DJing – it was a Cruising soundtrack that went for €200 because, at the time, it was very rare in Italy. Today with Discogs it would've been €4!
If you had to save one record from your collection which would it be? This one?
If I had to save one record, it would be Pink Floyd's Ummagumma.
Finally, you've touched on this already, but what does your collection mean to you?
My collection is my life. I only need to look at my collection to see all my life, all the records I bought, the ones I play, and the ones I love. They reflect who I am. I am a DJ and I am what I play!