Published on
December 30, 2016
Category
Features
Our Crate Diggers series profiles record collectors around the world. This time, we're in Berlin to meet Claas Brieler of Jazzanova fame.
For over two decades German collective Jazzanova have pushed a sophisticated, omnivorous sound touching on chill-out, funk, house, nu-jazz, Latin and more but never quite settling on size or shape.
The crew got their first major push from Gilles Peterson, who played their first production 'Fedime's Flight' on his radio show in 1997. That same year, Jazzanova launched their Sonar Kollektiv label, masterminded in no small part by founding member Claas Brieler, a voracious record digger.
We visited Claas in his stunning vinyl sanctuary, located in the persevering and sometimes grey Wedding neighbourhood, to hear tales of digging with Indian monkeys and falling through shop ceilings in South Africa.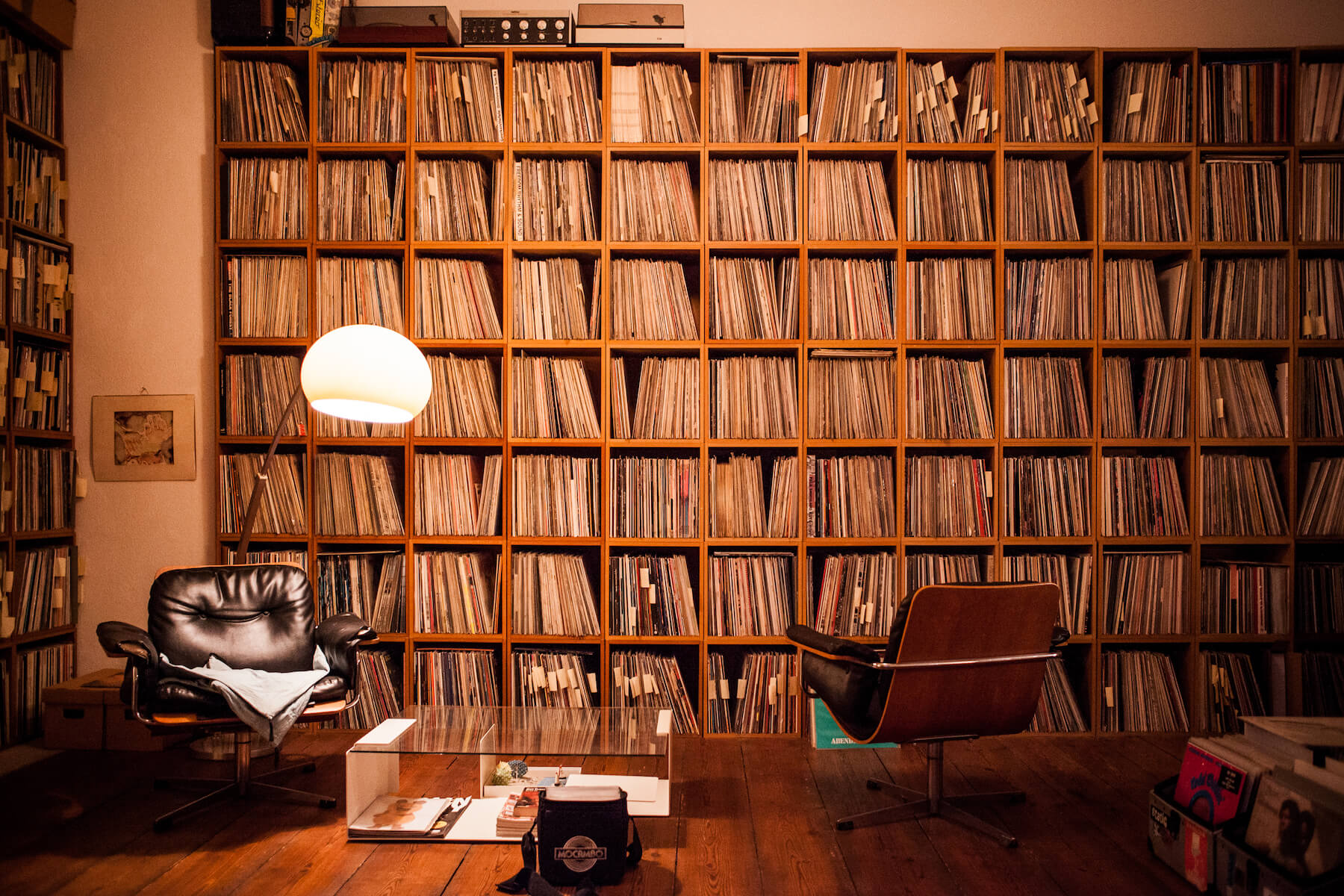 What are your earliest memories of records?
I don't know why but my mother took me to record store one day and bought me a Beatles record. But that didn't result in me buying records from that moment on; it was later, in school, in the tenth class that I went out to specifically buy certain records.
What type of records?
There were a few things happening in that time. We had German Wave, that was very, very influential in school. In the fourth degree already, we were singing Hurra Hurra die Schule brennt.
Massively influential also was hip-hop. When I used to go to Church to do my Furmung [translation: Confirmation] when you're like fourteen, we used to sing:
I said a hip hop,
The hippie, the hippie,
To the hip, hip hop, and you don't stop, a rock it
To the bang bang boogie, say, up jump the boogie,
To the rhythm of the boogie, the beat.
This was for was the track we all knew. Equally, Grandmaster Flash: People pissing on the stairs, you know they just don't care.
I remember an elder friend, who was a lot into soulful jazz, introduced me to Eddie Harris 'Listen Here', I liked that a lot. And he introduced me to one record on CTI. Both are really classic things in terms of jazz, groove.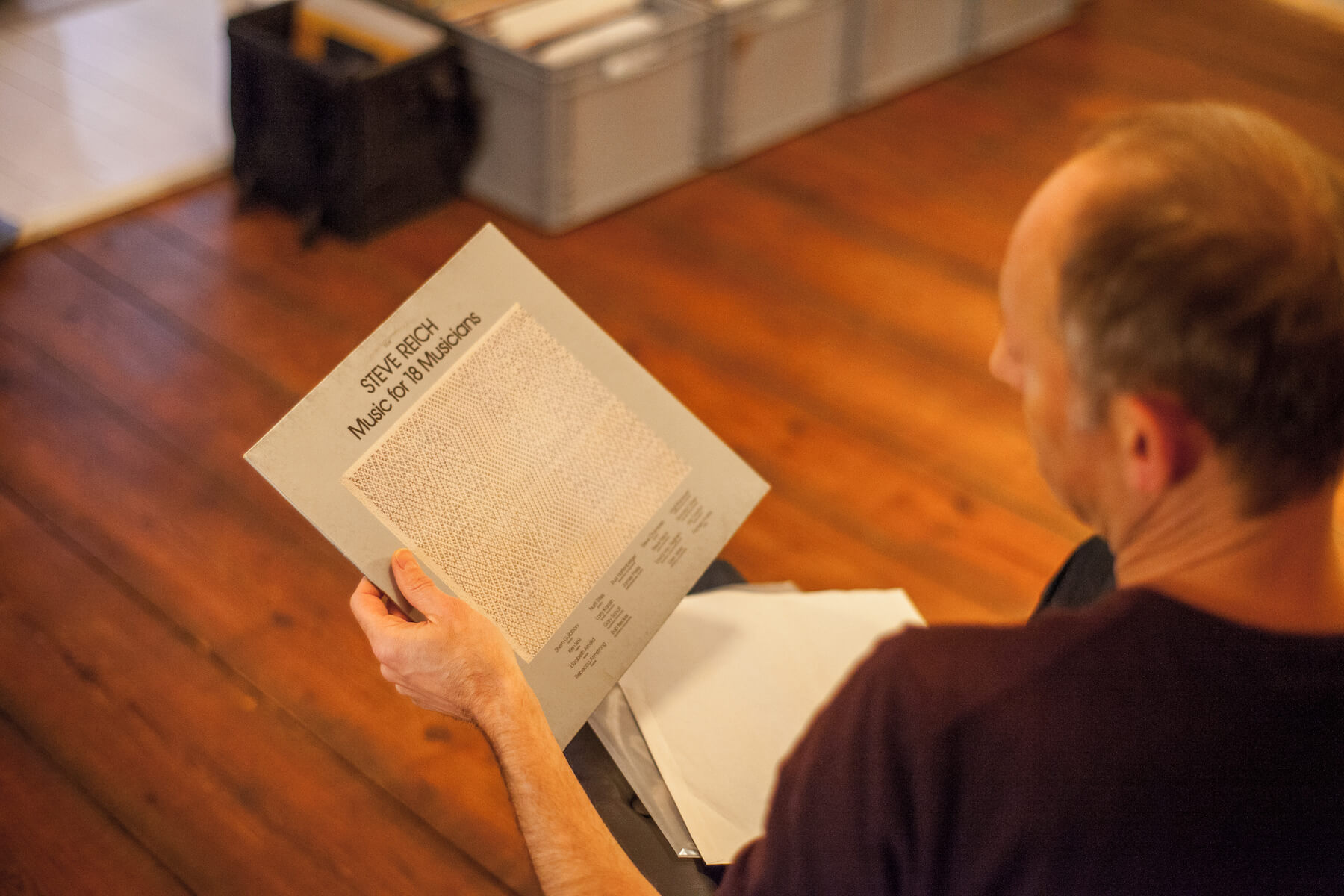 At the same time I had another from school who would pull out records from the so-called minimal music – Meredith Monk, Phillip Glass, Steve Reich. I used to listen to 18 Musicians on my way to school with a Walkman. I listened to it a thousand times, I don't know. That was really strong music for me.
Plus we would listen to Arvo Pärt, that was the ECM new series, that was more classical thing. And of course, The Köln Concert by the pianist Keith Jarrett. These were all records that we specifically looked for. We needed to go to the record store to buy a Phillip Glass or a Steve Reich record. Let's say the other people, our other fellows in school, wouldn't necessarily listen to that.
It sounds like you had a mature palette for a teenager.
I never ever experienced it like that, but yeah it's true. For me 18 Musicians was the thing, I used to listen to it when I went skiing…
So that's the single biggest influence for you?
Massive influence. I must have been fifteen or sixteen I guess. I know almost any note of that record.
Given Jazzanova, is it fair to assume you've got a couple of jazz records lying around?
Ha, yes! I think I have about seven or eight thousand jazz LPs. From the age of eighteen, I've been heavily into the classical jazz thing. I can tell you any record from Blue Note, Riverside, Prestige, Impulse catalogues.
In the early '90s I would go to the States and buy records in quantities of thousands to send back to Germany where a friend of mine had a record store in those years. I've been amongst hardcore jazz fans and elder people that have collections bigger in size, purely dedicated to jazz. I've seen huge storages of jazz and had all these records in my hands. In quantity this [what I have] is nothing.
There's been a lot of talk about a jazz revival with people like Kamasi Washington and Robert Glasper in the States or Yussef Kamaal and Moses Boyd in London. Is there a similar trend in Berlin right now?
Donau115 in Neukölln is where all the free jazz and avant-garde musicians meet at the moment. I think this is becoming much more strong. There's been jazz clubs in the city for like twenty years and they have been trying to establish it again since the Wall because there were only three or four serious clubs on the west side. Now we have ten or twenty clubs here all over Berlin. But it might have reached the point after twenty years because there has been a lot of music going on and maybe only now is jazz really interesting again. It is for me personally anyway. I mostly stayed away from jazz recordings  between 1995 and 2005 I'd say. Since 2010 I came back to jazz records of now.
When did you move to Berlin?
I moved from Hamburg in 1993. I must have been 26.
What was the vinyl scene like then?
With the fall of the Wall and a new era of music, mainly techno, record shops were opening in the West. I remember Zweimal Zwei in Wilmersdorf. Also, Platten Petro – which is still existing today – I've been going there since the '80s. There were more of course, there have been record stores all over the place.
In the East side, it was mostly thrift stores. I did my first East German jazz compilation in '95. These records we were finding between '92 and '95 and we had them ready to do a compilation.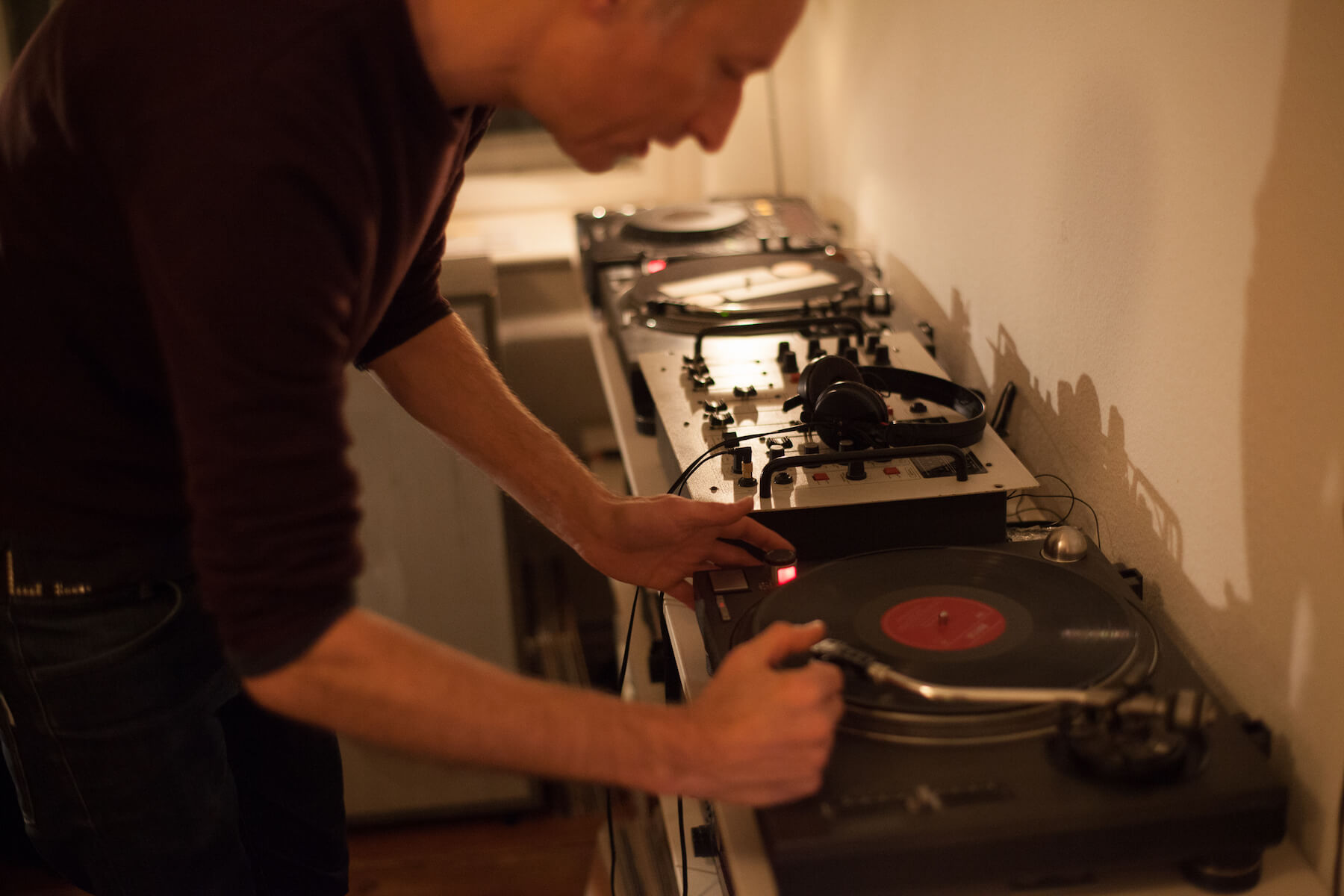 What are you favourite shops in Berlin now?
I go to Oye Records. I go to Hard Wax of course for techno and some in-between electronics. Spacehall I like too, it's huge. I go to Record Loft. But also all the record stores: when I pass somewhere I always need to jump in.
What do you think about Discogs and online digging?
The big thing about it is the possibility to have access to unknown territories, and knowledge because there's so much. [Discogs is] like a Wikipedia institution. You can inform yourself and you will never come to an end.
How many records have you got in total? Some of your collection is back in Hamburg right?
I have around 15,000 in total. Some are in Hamburg, some in the studio and some in the basement. A lot of all the rock section and things like drum and bass are not here and actually some hip-hop and jazz too. I don't even know if I will keep these records for the future because [for example] I don't need a lot of the standard jazz records any more. I have the information now and I don't need to come back to listen to it necessarily. So now many records are moving because they had their time for me.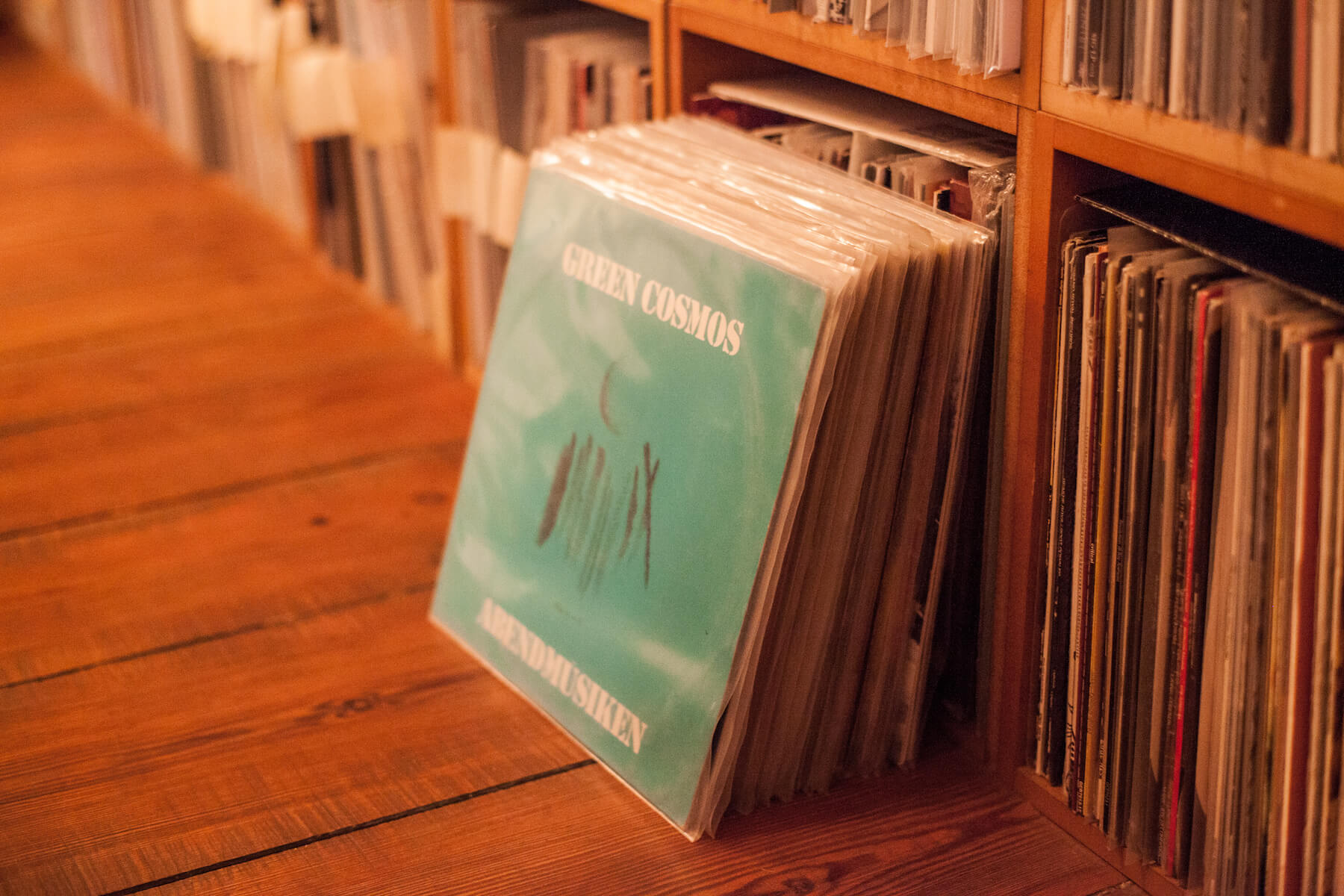 What's the most you've ever paid for a record?
In late '90s, three Deutsche Mark got you £1. I remember buying Harold Mcnair's 'The Hipster' for £100 in those times.
Recently I bought an electro hip-hop record that I really like a lot for $130 but I did that with records I've sold before. I never pay that [much] in cash. I might pay €60 in cash at a record fair but that's a lot – it's three times the price of a new record!
Sometimes it's really tough because the music hits me so strong but I see the prices going up on eBay. If you come to the Northern Soul scene, people paid a lot for those records in that time, and now these 7″s are going for huge amounts. Sometimes I'll put in an offer for €150 and the final bid will be €800! But I try always to find the record before the hype starts.
I can see Chatranjit Singh's Ten Ragas To A Disco Beat, a record made in India with a Roland TB-303 before acid house was supposedly invented. When did you discover this mythic record?
When I went to New Delhi, I simply went into the city to look for records. I found somebody selling records in a strange place with grocery stuff in the back and records inside a few desks. So I would come into the counter, open the desks and then go through the records that were invisible before. I found some Ananda Shankar records there before I asked the man if there are more records somewhere else. He led me out to another building but on the way up these stairs, he took out a broom and had to swipe at monkeys that were coming into the building to clear our path! Once we got in, there were two or three floors with records everywhere on the floor and that's where I found Ten Ragas To A Disco Beat.
Did you know what this record was?
No this was back in 1997 or 1998. When I listened to it of course I recognised it was an interesting record, very different to the straightforward Indian music I had heard so far. But I could never play it – I think the third track, I played in the '90s a few times. The whole record is interesting but it's not for the club for me.
Have you ever been tempted to digitise your collection and move everything over to your laptop?
Yesterday there was a classical violin player here. She only listens to classic music, she told me that she doesn't even know really about James Brown. We were listening to a lot of different music together and at one point she said, 'Wow I never really knew but the sound from a record is really very different from my compact discs.' She grew up with CDs but when that format came it didn't attract me at all, I carried on buying records. In fact I bought more because they were cheap! The CD would cost 20DM and the record would cost five, plus I liked better the bigger cover and everything.
The car industry has changed the way we listen to music by putting mids and highs in your face. Obviously listening via the computer has changed our habits too. I can't even tell the difference because I'm only listening to vinyl when I'm inside and if I'm outside I'm probably playing records again too.
Tell us about a strange or unusual digging experience.
I was in a disorganised store in South African once. They had these stairs made out of wood to a gallery area and through the gallery there was another room. The owner warned me that it was difficult to enter the room but I went ahead anyway. As soon as I stepped on to the gallery, I broke through the floor! I  landed on the first floor and records started dropping down on me one by one!