Published on
April 4, 2018
Category
Features
After almost thirty years in the business, label head, DJ and pirate radio mainstay Billy Daniel Bunter has become something of an ambassador for rave culture. With Kool London installed at White Cube for Eddie Peake's Concrete Pitch exhibition, BDB tells his story through the 20,000 records he's accumulated along the way
Since landing himself a job working in a record shop as a teenager, Daniel Light has "never had to get a proper job."
It was 1989 when he started stacking the racks at East London's since-shuttered Paul For Music, and the UK's hardcore scene – formed from a melting pot of techno, acid house, breakbeat and rave music – was becoming a staple of underground warehouse parties.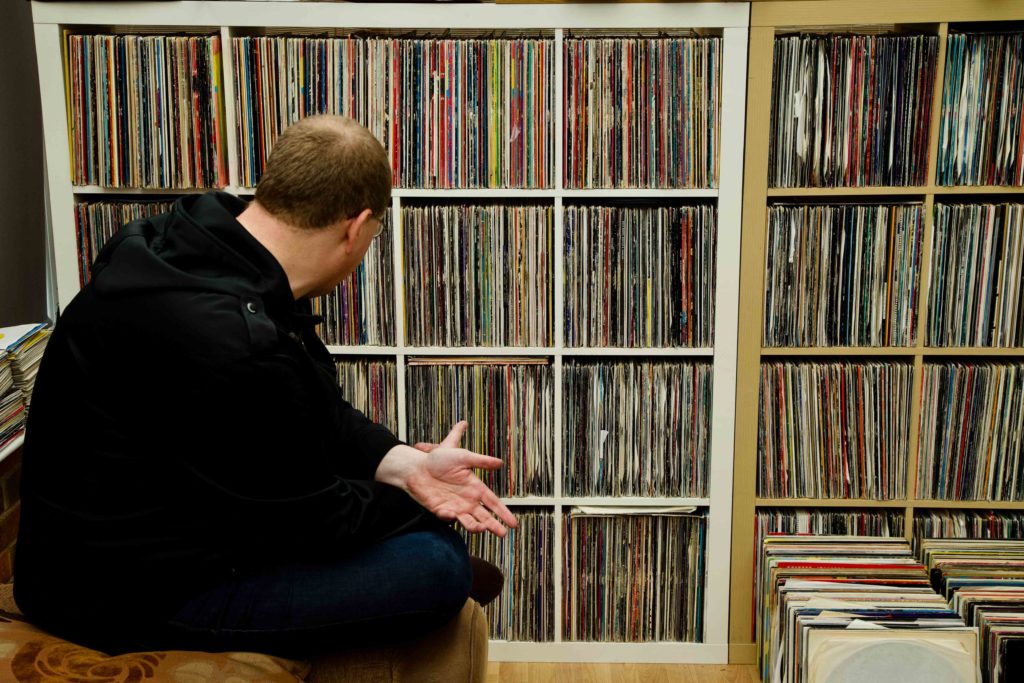 That record shop job landed Daniel his first gig at the legendary Labyrinth club in Dalston, after promoter Joe Wieczorek came in the shop and liked what he heard Daniel playing.
Since then he's been shaping – and preserving – the history of hardcore, rave, and jungle music in the UK, under the alias 'Billy Daniel Bunter' (because he's a dead ringer for the kid's comic book character of the same name).
Whether it's putting on parties, running record labels like Honey Pot Recordings, Great British Techno and Music Mondays, organising UK hardcore holidays in Corfu, recording a raft of mixes for Ministry of Sound, DJing on pirate stations like Eruption and Kool FM, or publishing books and memoirs about the scene, Daniel has devoted the last 27 years of his life to hardcore.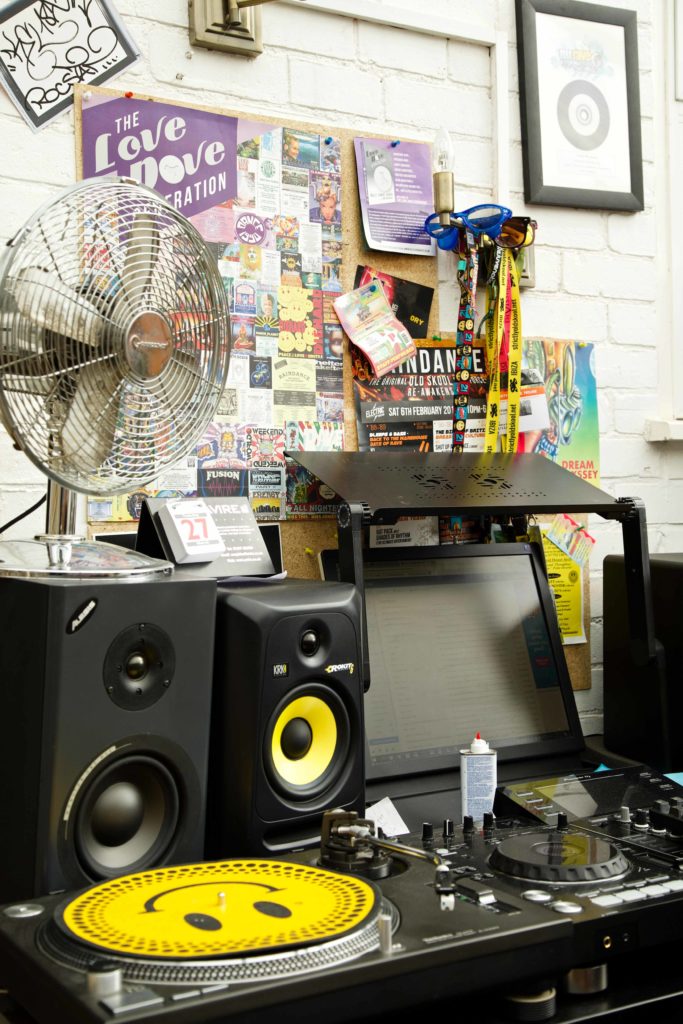 This dedication is summed up neatly in a note he wrote to himself in January of this year. It now sits, half-hidden underneath a mini calendar on top of his left monitor on his desk, and reads: "I will be worth £1M by the time I'm 50 years old. I will do it by providing music and history I love to people who love it also."
After spending the afternoon digging through his collection, which numbers somewhere between 15,000 and 20,000 records, it's fairly clear that he's more interested in the music, history and love than he is the money.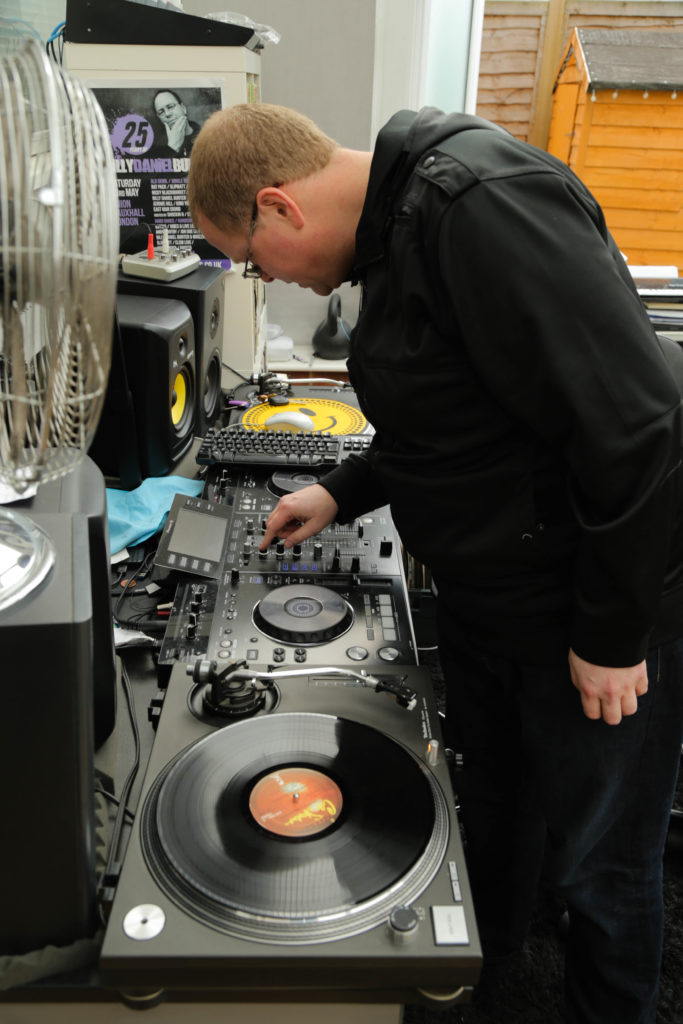 You were 15 when you played your first gig at Labyrinth. How did you get yourself into the club at that age?
My dad used to take me, when I was 15. It was completely different then. All of these places were over 18s and over 21s, and it was the height of drugs and the whole scene – it was so much more underground. This was nearly 20 years ago. A completely different era.
Was your dad attending, or was he just a chauffeur?
At first he was a chauffeur, and then he became a raver. The club that I started at was called Labyrinth, on Dalston Lane. It was at a time where you wouldn't go to Dalston. Literally, all there was in Dalston to go to was Labyrinth on a Friday and Saturday, and you had to be nuts to go there, or on drugs – or both.
I remember this big Rasta coming up to me and going, 'you owe me 20 pound,' and I was DJing, aged 15 and looking up going 'what the fuck d'you mean I owe you 20 pound?' He said, 'yeah, your dad's had an E off me and he's over there and said I have to get the money off of you.' And that was it: that's when I found out that my dad had discovered the rave scene and ecstasy.
Since working in that record shop, it's been my life to keep the history of rave alive – whether it's hardcore, jungle, acid, or whatever. I feel that that whole period of late '80s rave leading into early British breakbeat culture is just that: it's a culture. And it's an incredibly significant one because without the generation of people that I came up through, or raved with, or who were putting on events, without them we wouldn't have garage, we wouldn't have grime, we wouldn't have modern drum & bass, we wouldn't have dubstep. There's so much music that would never have existed.
How much of your collection would you say is defined by you being a DJ, and how much is just a passion for buying music and listening to music?
I can probably quantify it just from this room, not the other records that are in the shed and everywhere else. I would say it's 50% defined by my DJing and 50% defined by my absolute love for music. For example, I am in no way a late '70s to mid '80s hip-hop or electro funk DJ – no one's ever going to pay me to play music like that – but I will spend £100, £150 on those records. Whenever I go to Holland I visit a record shop called Waxwell, which I absolutely love, and they have a brilliant electro funk selection. I'm a massive Parliament Funkadelic fan. I've actually sold a lot of records from my collection over the years, and then bought them back.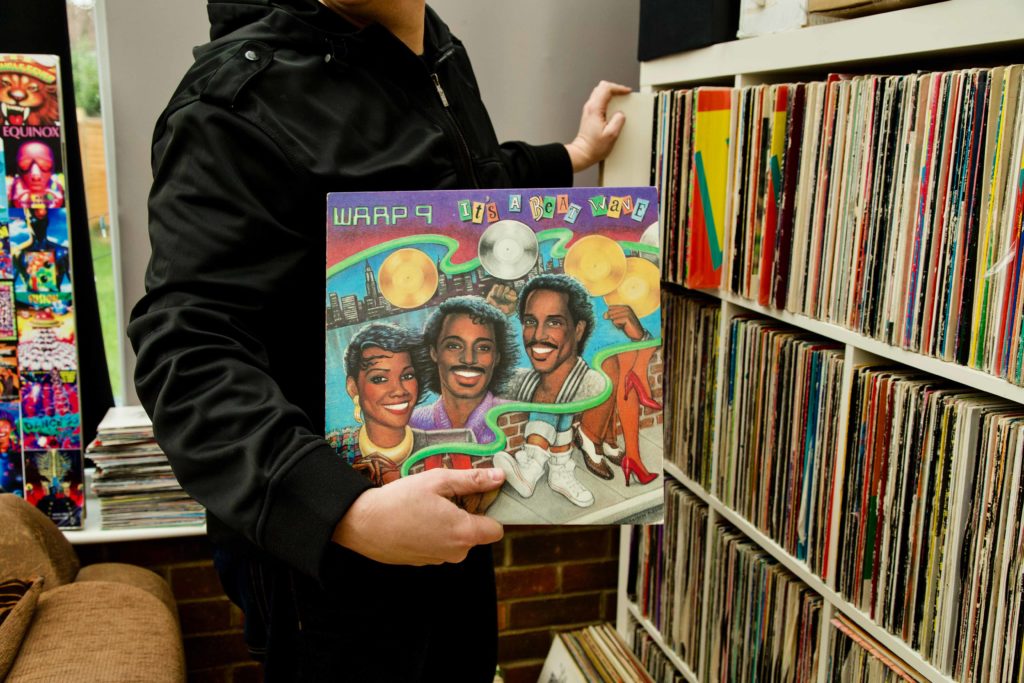 Buy the same ones back?
Yeah, sometimes two or three times! It's really sad.
How many times have you done that? And why do you do that?
Just because it's a buzz buying the same records again two or three times. It's quite a buzz buying them at different stages of your life – 'I bought this when I was 12, I bought this when I was 28, I wonder what it feels like buying it when I'm 42?' It's still the fascinating thing. It's weird.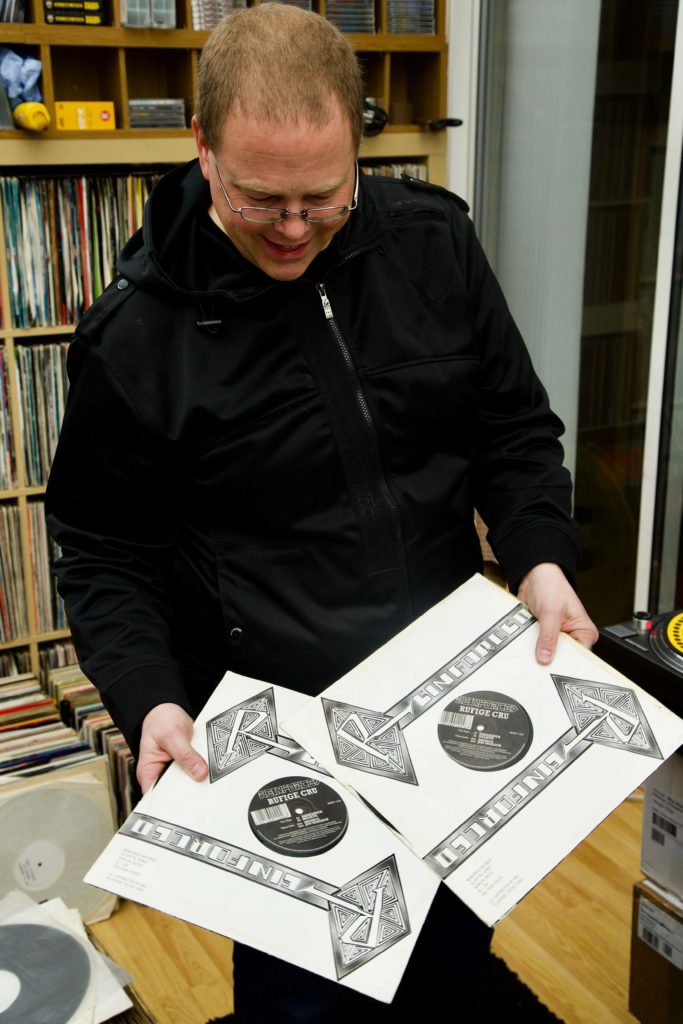 Are there any records in here that you've never played before?
I reckon I've been through them all at one point or another. But yeah, there's something about Parliament and Funkadelic that was like, 'How ahead of their time can they be?' Seriously, I've just marvelled at these records and their sleeves.
I used to bunk school and go to Groove Records, Bluebird Records, Music Power – this was before even the black markets and more modern record shops (or modern in terms of the '80s) – and I used to bunk school just to go and buy hip-hop.
Do you see a connection between the artwork on these P-funk records and all the kind of sci-fi influenced rave flyers that you've collected over the years?
When I was younger I was big into my ecstasy as well as my DJing. I've never been ashamed to say it, I even named by book after it – The Love Dove Generation – I'm just fascinated with music and the cultures that surround the different music. So I guess, really, there is just a futuristic, trippy, 'out there' vibe to the flyer artwork and in the same way with these record sleeves. Just look at that (opens up the gatefold sleeve of Funkadelic's One Nation Under A Groove) that's art.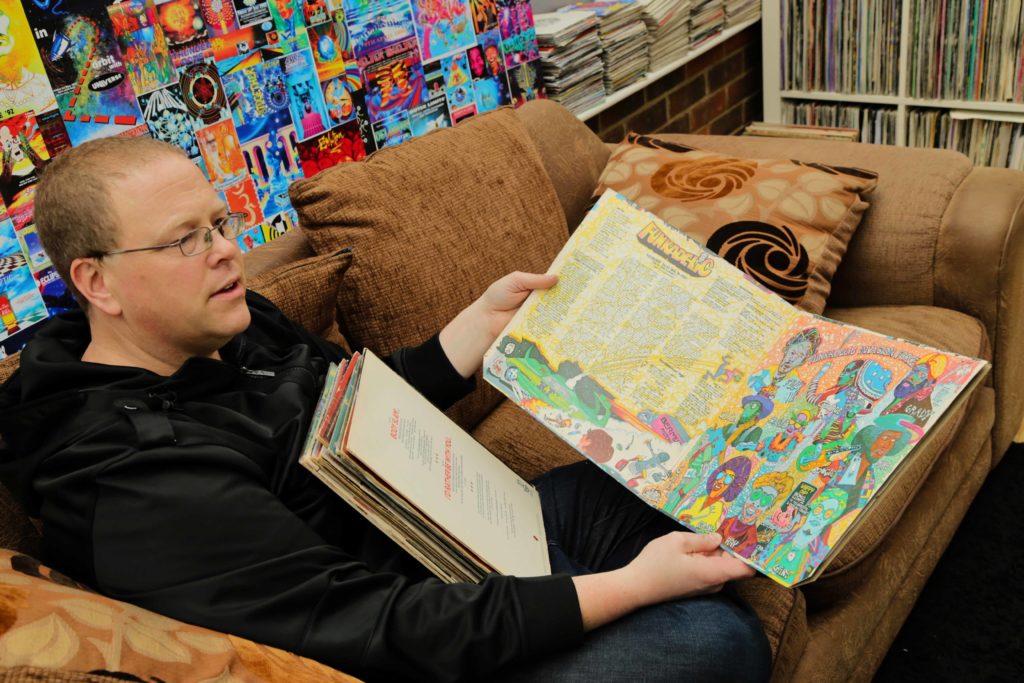 Is that something that's lost in the digital era?
Of course it is, of course it is. What's more sad: the fact that people aren't putting a piece of plastic on a a turntable, or the fact they're not able to hold these sleeves and read the notes and look at the art…? Because the music is the music – and to be fair with you, there's for and against of whether the music sounds better on vinyl or digital, it's neither here nor there.
What's the most valuable record that you own, both in monetary terms and in terms of personal value to you?
I don't actually know. The prices of records are funny, because I've got records that only go for a pound but mean far more to me than what I've bought for £300. I've got records down there, like two copies of Ecology EP, two copies of Origin Unknown's Eastern Promise EP – and that record goes for like 250 quid a pop on Discogs, but it was just a filler track for me at Labyrinth. They all mean something to me.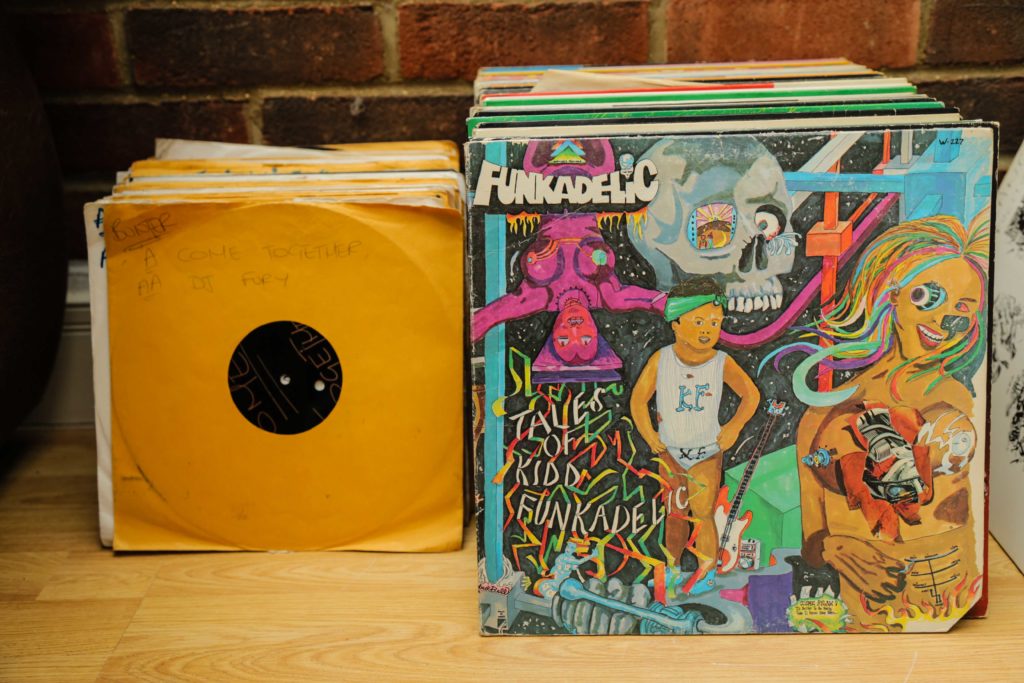 There's a big difference between the monetary value of a record as decided by people on Discogs, and records that to you than can just define certain parts of your history by.
Actually, this jumped out straight away: this is DJ Vibes' 'Music So Wonderful' and 'Sing It Loud'. This was early 1993, and one side was much more piano-y, vocal-y, sped up, almost early happy hardcore, and the other side was much darker breakbeat, which was ultimately prototype drum & bass and jungle.
It went on to be pressed and sell thousands, but there were only five white labels pressed of this. One was given to Grooverider, who played 'Music So Wonderful' – Vibes wanted him to play that first. 'Sing It Loud' he made for me to play first. So he gave one to me, one to Grooverider, he kept one for himself, and then he had two left over.
This was made at a time when happier hardcore and darker hardcore started splitting, and not many people could mix up the two. He was one of the people who was putting one on one side and one on the other. I've no idea what that's actually worth…
You mention Discogs a lot. How does it compare to going to a car boot sale or going to a record shop?
Ultimately, when you're going to a car boot sale or going to a record store, when you're going to second hand shops and charity shops and all of that, it's more pot luck. There's a law of attraction to it: when you do something enough, you are going to pick up lots of stuff. However, with Discogs when there's something you specifically want you can just go straight there and get it.
Do you worry that part of digging culture is lost with the proliferation of sites like Discogs?
I think that kind of digging culture potentially went a long time ago, and then it's gradually come back to a wider audience. To people who are truly into it, that king of digging culture has never gone. With our annual pop-up record store that we do, one thing that we've really found that is kind of mind-blowing is the community that it creates. Even though we do it for three days – well, incidentally in September this year we'll be doing a pop-up record store for a whole month – one thing we take from it more than anything else is the community it creates, the connection, the people talking to each other. There's one thing the internet can't do: what it doesn't do is give that personal connection, that interaction between people. It's just not there.
Is there a connection between that and the founding principles of raving?
Yeah, I guess so: the togetherness of it all, the interacting with people.
As you've got older and you're not taking drugs anymore, do you feel like there's something lost or the connection is different?
Oh, absolutely not. When me and my partner Sonya first met in 1993, this is the god's honest truth, I used to get so off my face when I was DJing that Sonya used to have to select the records for me and give them to me. I find the music even more fascinating all these years later. And now I can remember the tunes and listen to them and recognise them for their absolute beauty.
What were you recognising the tunes for back then?
Oh, back then it was just a case of all this new exciting music was coming out, the fucking drugs were brilliant, the rave scene was wicked, I was a teenager surrounded by loads of other teenagers and it was just all happening at once. And you know what, I played a record on Kool FM the other day and sometimes when I play these records I think, 'You know what, I appreciate them more now and I didn't realise how actually good that was.' Because now you can listen to them on modern equipment, and you just realise they were so ahead of their time – the production still sounds wicked, and you just appreciate them so much more today.
You mention Kool FM – I believe the station's forming part of an art exhibition you're currently involved in?
Kool FM (or Kool London as it's now known) is an absolutely legendary station founded in late 1991, though I didn't actually join the station until eight or nine years ago. Eddie Peake is doing an exhibition called Concrete Pitch at the White Cube at the moment, although the first exhibition that he invited Kool to be a part of was at the Royal Academy of Arts, which was like a smaller thing that he was doing.
It's been absolutely amazing to be part of a radio station that's invited to ultimately become a piece of art. That first exhibition was amazing. Then when we were told about the White Cube, Eddie and Kool invited me up about a week before it started and I just walked around the place and was like, 'wow, this is unbelievable.'
Why was that your response?
Just the building, just, like…who'd have thought that the Kool FM that started in 1991 and has been this really rough, rugged and raw ambassador of jungle music and rave music, would be in this most amazing space. This is crazy.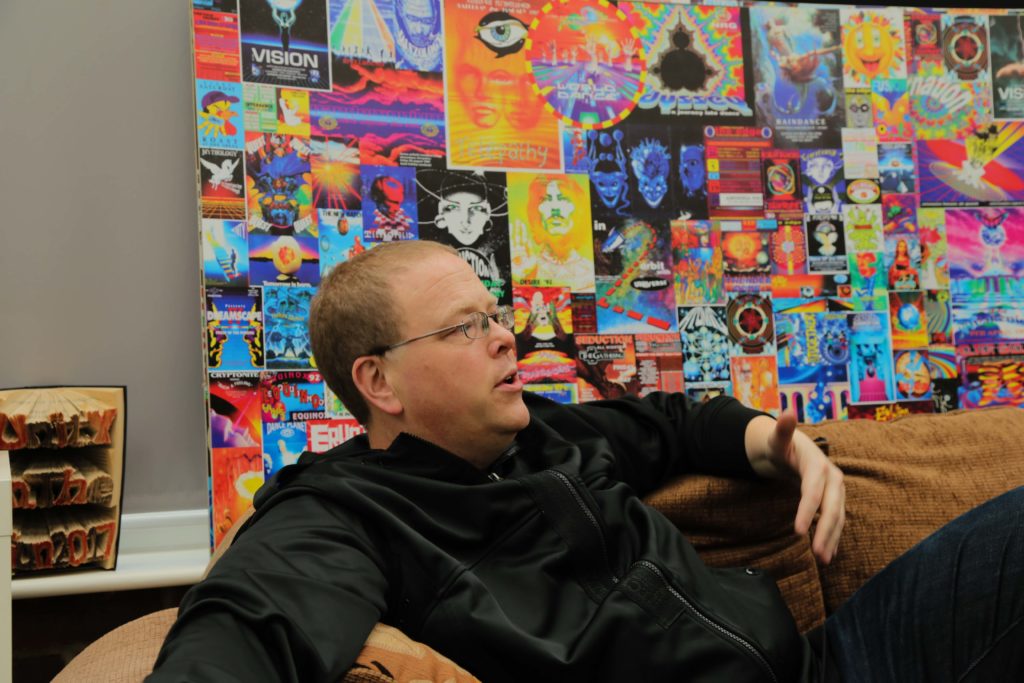 What do you think about this idea that club music and club culture should be treated as more of an art form and treated as 'high art' or 'high culture'? You might have seen in places like Berlin that their nightclubs are protected because the music scenes that they shape and nurture are seen as a high art form.
All credit to them. I absolutely agree to that. What made me want to do my own exhibitions once a year, and what makes me also proud of Eddie and White Cube's exhibition, is that now I'm older I can quantify and put into its position how creative what I'm involved in is. It is all art, man.
---
Concrete Pitch runs through the 8th April at White Cube Bermondsey. Head here for more info.