Published on
February 20, 2020
Category
Features
A guide to the affordable amps best suited to a contemporary turntable set-up.
Stereo amplifiers have evolved and adapted to the modern age. They have also, for the most part, shrunk in size, adding more components and connectivity to your set-up. As well as turntables, everything from TVs and gaming systems, to smartphones and computers, can benefit from a stereo amplifier.
Many of these amps come with Bluetooth, USB connections, phono stages and a good number of digital and analogue inputs to connect all your hi-fi in a simple, streamlined experience.
From your turntable's point of view however, the most important element to consider is whether or not the amplifier has a built-in phono stage. The phono amp, or pre-amp, boosts the analogue signal from your turntable. While some decks (and most of the amplifiers listed below) have this stage built-in, you may need to consider an external pre-amp if not.
Another important aspect is whether your chosen stereo amplifier has enough Watts per channel (W/Ch) to power your loudspeakers.
Ultimately though, you'll need to take into account what your set-up requires, and what devices you would like to connect your amplifier to.
So, what are the options? Here are eight highly recommended amplifiers under £400 that are perfect for a turntable set-up.
---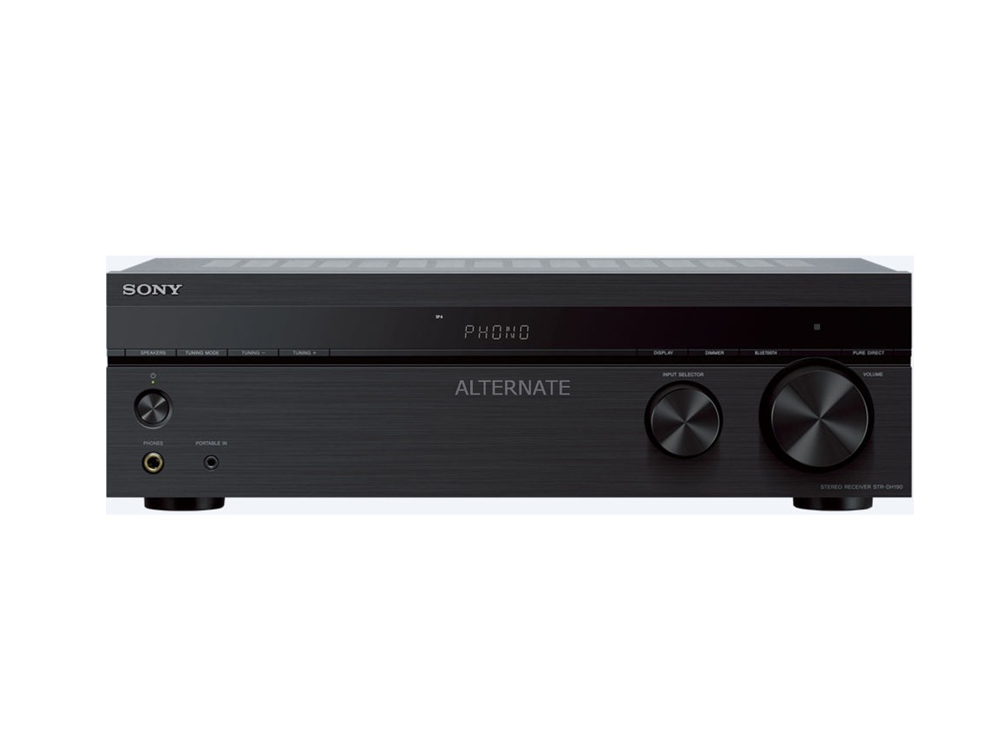 Sony STR-DH190
Price: £179
Pros: Bluetooth
Cons: No digital inputs
Verdict: The Sony STR-DH190 is perfect for someone in search of a simple stereo amplifier to play a turntable and Bluetooth devices through passive loudspeakers.
On the budget-friendly side of things, Sony offers an uncomplicated and affordable package with its STR-DH190 stereo receiver. The amplifier's A+B function lets you connect two sets of speakers, giving you outdoor and indoor installation options for speakers without having to get another amp. If you're looking for something that you can connect your turntable, power your speakers, and is Bluetooth capable, look no further.
---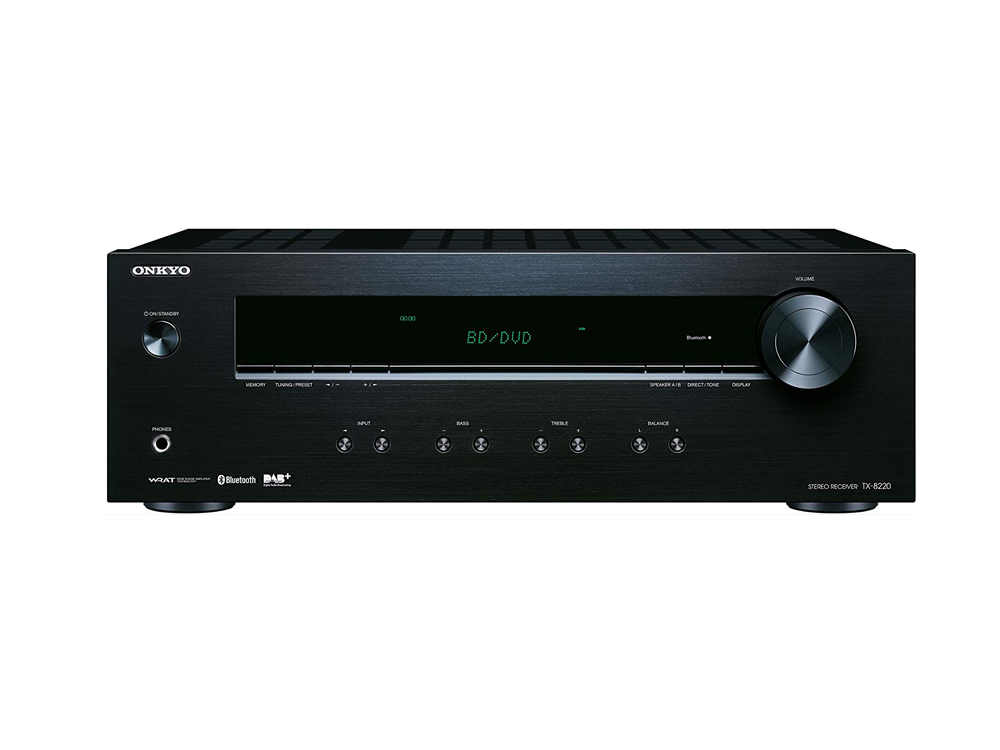 Onkyo TX-8220
Price: £219
Pros: AM/FM radio, 100W/Ch, Bluetooth, line out, sub out
Cons: Big and impractical in size
Verdict: The Onkyo TX-8220 is perfect for loudspeakers that need a bit more power in order to shine.
Onkyo's TX-8220 is a powerful receiver that's packaged in a simple, straight-forward setup. The TX-8220 allows you to easily connect two pairs of passive speakers, while Bluetooth capability, coaxial input, and optical inputs take care of all your digital connections. It also has 4 analogue inputs, a dedicated Phono input, line, and a sub output. The TX-8220 does all this while also outputting 100W/Ch, so if you're looking for a powerhouse of an amplifier, then this one is for you.
---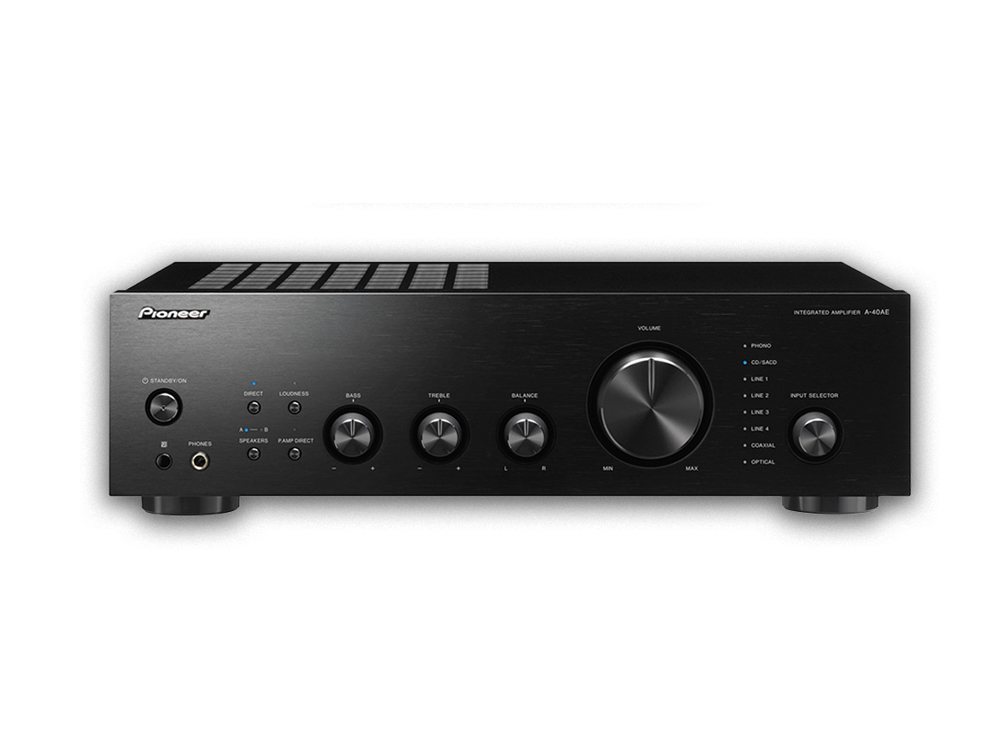 Pioneer A-40AE
Price: £274-£319
Pros: Solid, audio-centric design, 2 sets of speaker outputs
Cons: No Bluetooth
Verdict: The Pioneer A-40AE is perfect for those who want a minimal interface while listening to their records.
This 60W/Ch integrated amplifier by Pioneer features the brand's original, audio first, "Direct Energy Design" fully incorporated. This Direct Energy Design gives the A-40AE a unique, crisp, and life-like sound field. Along with its anti-standing wave insulators that help prevent resonance, it's obvious that Pioneer has put the audio experience at the forefront of this amp's development.
---
Denon PMA-600NE
Price: £349
Pros: MM and MC phono input
Cons: Busy design
Verdict: The Denon PMA-600NE is a modern-day integrated amp that offers a true analogue experience.
The PMA-600NE is a 70W/Ch integrated amplifier that doesn't forget its roots. Analogue Mode disables all digital circuitry, which aims to give you a truer analogue listening experience. Although it does put emphasis on analogue functionality, the digital inputs on this amp aren't neglected. Two optical inputs and a single coaxial are paired with a built-in DAC system, which means you'll get great sound no matter what source you use.
---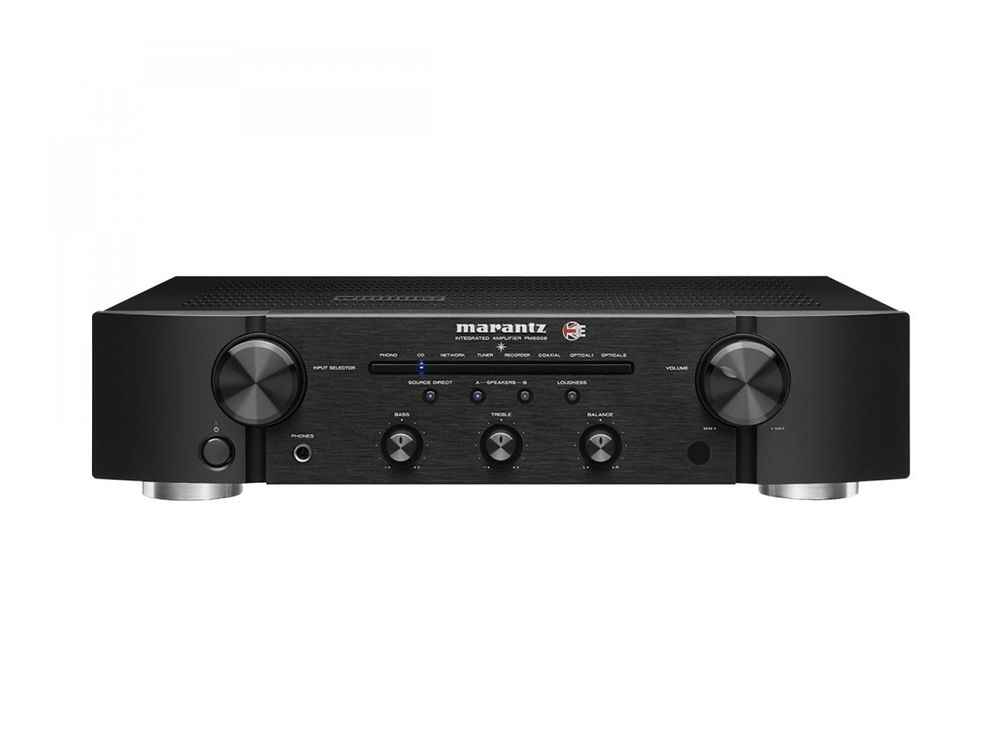 Marantz PM6006 (UK edition)
Price: £349.99
Pros: Digital inputs, high-quality DAC, and speaker terminals
Cons: No Bluetooth
Verdict: A slight but distinctive improvement to the original PM6006, the UK edition of this Marantz amp fine-tunes what made the original great.
The Marantz PM6006 was a perfectly good budget integrated amp that didn't compromise on sound. In this UK edition however, Marantz have fine-tuned the design to give you even more bang for your buck. The PM6006 is a 45W/Ch amp that delivers a punchy sound through its digital and analogue inputs. It also boasts a high quality CS4398 digital-to-analogue converter if you want to digitise your collection.
---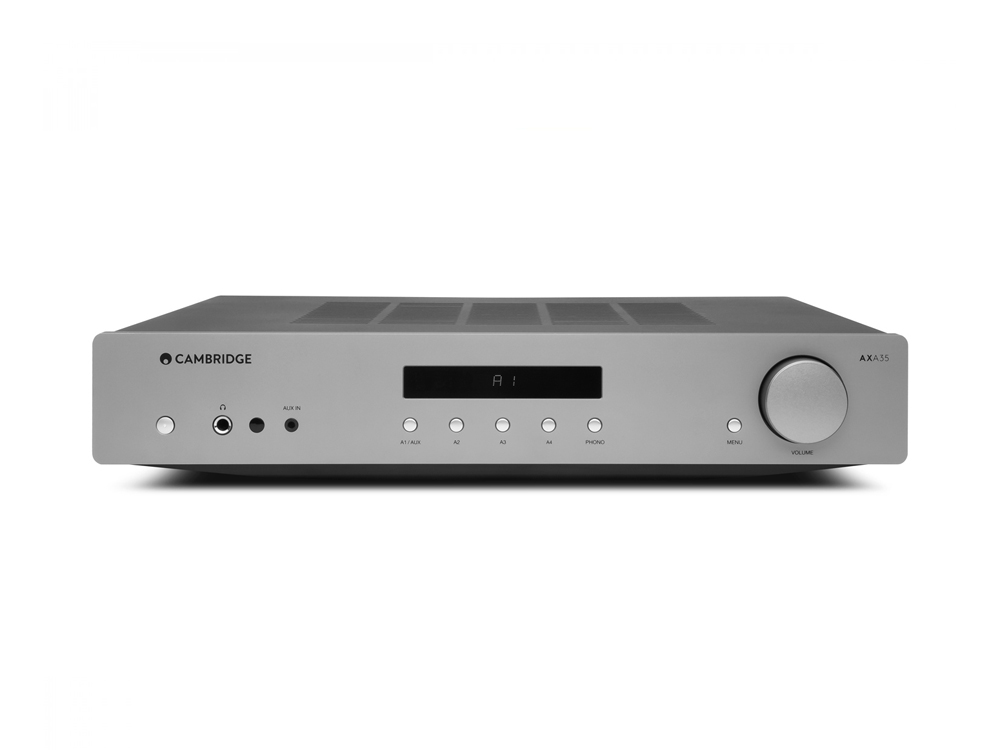 Cambridge Audio AXA35
Price: £366
Pros: Dedicated phono stage, ¼ headphone output, front-facing aux input
Cons: No Bluetooth, no optical inputs
Verdict: The AXA35 by Cambridge Audio is a well-built integrated amp that is perfect for a two-channel Hi-Fi audio system.
Cambridge Audio has been bringing top-notch hi-fi products to the market for over 30 years, and its entry-level AXA35 integrated amp is no exception. The AXA35 comes equipped with 4 line-level RCA inputs and a dedicated moving magnet phono stage perfect for connecting with your turntable. It also has a 3.5mm aux input in the front panel, giving you easy access to connect your phone or laptop. There aren't a lot of bells and whistles with this integrated amp, but what you do get is a well built, 35W/Ch amp that puts audio first.
---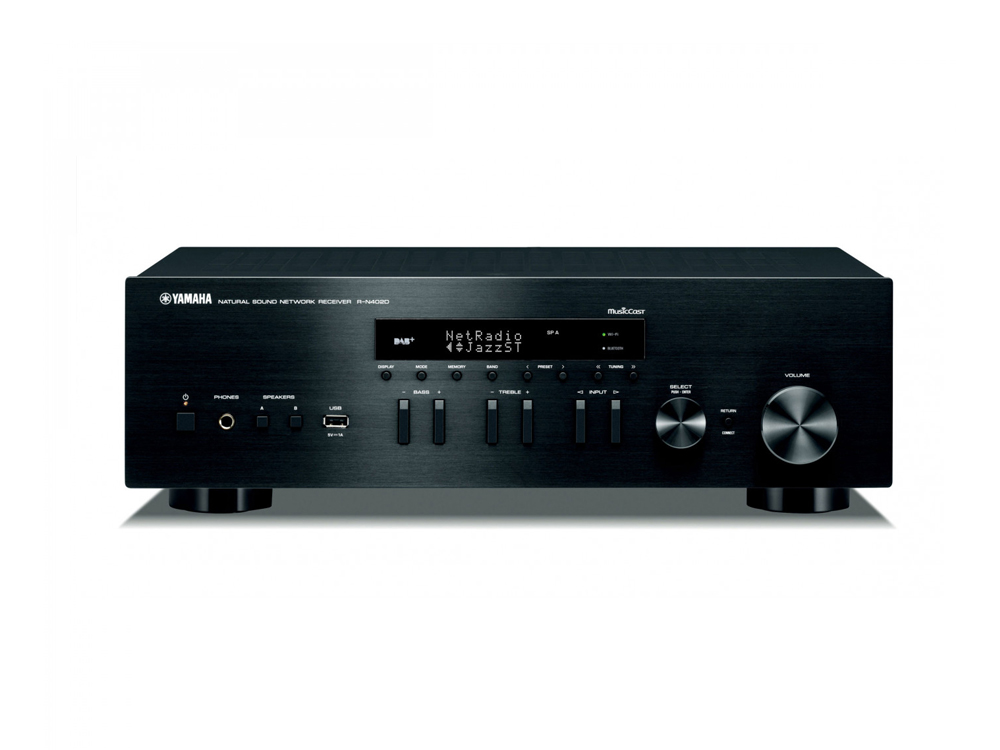 Yamaha MusicCast RN402D
Price: £380.00
Pros: Bluetooth, digital inputs, vintage look, A/B speaker set up
Cons: No phono stage
Verdict: The Yamaha MusicCast RN402D is perfect for those looking for a system that connects seamlessly with streaming services.
At first glance, you could easily mistake this new amp for a vintage one. However, Yamaha's Music Cast RN402D quickly reveals itself as more than equipped to output audio from your favourite digital devices. The 100W/Ch amplifier allows you to easily stream music from a range of services, while also being Apple-approved, with AirPlay compatibility. The name of the game here is wireless. Analogue RCA inputs allow you to connect any record player, as long as it either has a pre-amp built-in or as a separate unit.
---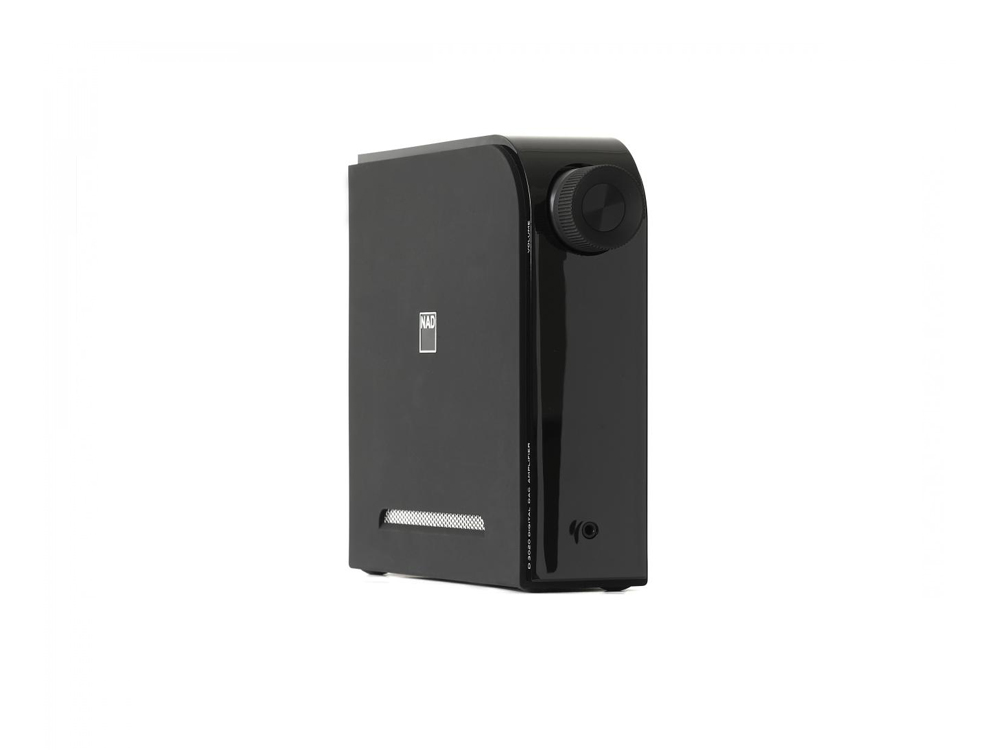 NAD D3020 V2
Price: £399
Pros: Bluetooth, clean sound, digital inputs
Cons: Power outage could be higher
Verdict: The NAD 3020 V2 is a compact integrated amp that's fully prepared to play both your analogue and digital devices, while also providing a clean sound from your loudspeakers.
Improving on the NAD D3020, originally launched in 1978, the D3020 V2 is an integrated amp for a new generation. Not only did NAD compress this amp into a sleek, and compact form, the company gave it a complete overhaul. The D3020 V2 comes equipped with a phono pre-amp, coaxial, optical inputs and AptX Bluetooth connectivity. While the power output sits at 30W/Ch, the build quality of this NAD means it will outdo a 100W/Ch amplifier from a lesser brand.