Published on
July 25, 2023
Category
Features
Your expert guide to must-have vinyl accessories.
Vinyl records have made an impressive comeback in recent years, captivating music lovers with their warm, nostalgic sound and tangible charm. As vinyl continues to regain its popularity, the demand for vinyl accessories has surged, catering to a diverse audience ranging from novices to seasoned collectors.
Read more: A guide to the best speaker stands
Whether you are new to vinyl or a seasoned aficionado, vinyl accessories offer a multitude of benefits that can elevate your listening journey. One of the primary advantages lies in preserving the quality of your vinyl records. Vinyl can be delicate and susceptible to dust, dirt, and static, leading to diminished sound quality and even potential damage over time. However, with the right vinyl accessories, you can safeguard your records and maintain their pristine condition.
Below we dive into some of the most common vinyl accessories, what they're good for and our recommendations.
---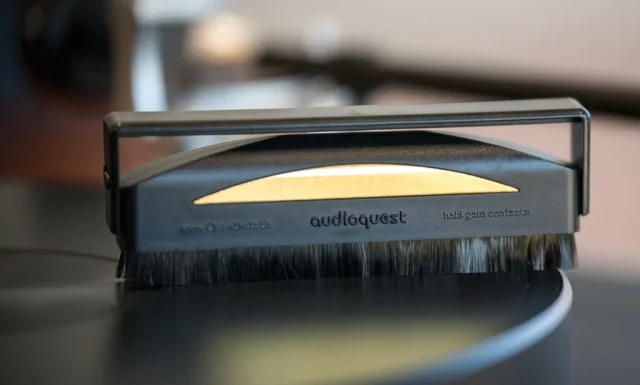 Anti-Static Brush
Static electricity is the nemesis of vinyl enthusiasts. As a record spins on a turntable, static charge accumulates, this static attracts dust, which causes unpleasant cracks, pops during playback, and dust accumulation that can dirty your record and stylus. An anti-static brush is a simple yet effective accessory that helps eliminate this static charge on your record, reduce those pops and crackles, and preserve audio fidelity. These brushes also sweep away surface debris before each play, resulting in a cleaner sound experience.
Recommendation: Audioquest Record Brush Anti Static Carbon Plate Brush
Price: £25
Verdict: This meticulously crafted brush features carbon fibre bristles that efficiently eliminate dust and static from vinyl records, significantly improving playback quality. The "gold" portion on the handle provides a grounding for static buildup when held by fingers, further safeguarding the records against attracting dust, and ensuring a cleaner and quieter audio experience. Its gentle yet effective cleaning action makes it ideal for delicate stylus maintenance as well.
---
Stylus Brush/Cleaner
The stylus, often referred to as the "needle", is the delicate needle that sits at the end of your cartridge and traces the grooves of a vinyl record, converting the analogue signals into audible music. Keeping the stylus clean is crucial to avoid distortion and preserve record quality. A stylus brush or cleaner gently removes dust and debris, allowing for precise tracking and prolonging the life of the stylus. This accessory is especially beneficial for beginners who may be unaware of the importance of stylus maintenance.
Recommendation: Onzow Zerodust Stylus Cleaner
Price: £50
Verdict: The Zerodust stylus cleaner allows you to maintain your stylus effortlessly without the need for brushes or fluids. All you have to do is gently lower the stylus onto the bubble, lift the arm lever, and witness debris be left behind. If you want to enhance fidelity and extend your stylus life, all while being able to inspect with the included magnifier this cleaner is one to get!
---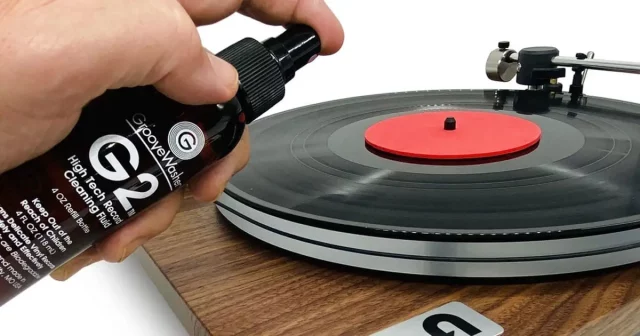 Record Cleaning Kit
Maintaining your vinyl collection is paramount to preserving its audio quality. Dust and debris can accumulate on records over time, affecting playback and causing unnecessary wear on the grooves. While these kits usually include accessories such as stylus cleaners, solutions and anti-static brushes, what sets them apart is the addition of vinyl cleaning solutions and appropriate brushes/cloths that help you achieve a deeper clean. These kits are perfect for older dirty records or records that may have stubborn gunk stuck within their grooves.
Recommendation: GROOVEWASHER Record Cleaner Starter Kit
Price: £67
Verdict: GrooveWasher provides an incredible vinyl record hand-cleaning kit, that is remarkably effective without breaking the bank. The stylus and record cleaning fluids are top performers as they gently eradicate oils, fingerprints, and stubborn dust without compromising the records' integrity by leaving behind unwanted residue. This kit also includes a stylus brush and a record cleaning brush suitable to use with the included cleaning solution, making it the perfect kit for those looking to clean records an anti-static brush may not be suitable for.
---
Tracking Force Gauge
An accurate tracking force is crucial for preserving records and obtaining the best audio quality. A tracking force gauge allows users to measure the precise downward force exerted by the stylus on the record's surface. Ensuring the correct tracking force reduces wear on records and extends the life of the stylus, making it an essential accessory for any vinyl owner.
Recommendation: Revolv Turntable Stylus Gauge
Price: £50
Verdict: The Revolv Stylus Gauge ensures optimal phono cartridge performance by accurately measuring stylus tracking force. This easy-to-use tool, with a backlit LED display, guarantees top-notch sound quality while safeguarding vinyl recordings from excessive stylus force. Includes a 5-gram weight for precise calibration, making setup a breeze.
---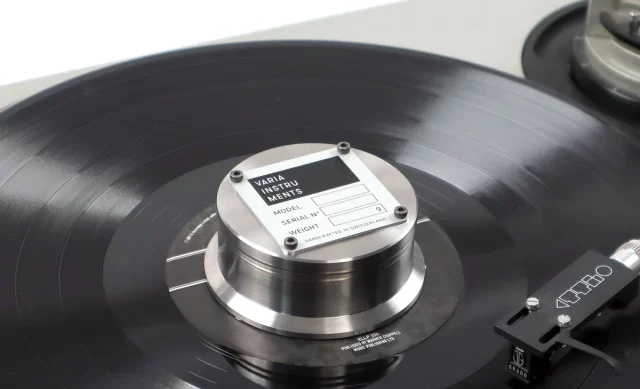 Record Weight
Vinyl records can sometimes suffer from slight warping, affecting playback. A record weight gently presses the record onto the turntable platter, reducing any warps, and skips and improving stability for a smoother listening experience.
Recommendation: Varia Instruments TTW10H Turntable Weight for 12″ + 7″ Records – Heavyweight Edition

Price: £129
Verdict: The TTW10H by Varia Instruments Switzerland is a must-have for vinyl DJs. Its ingenious design combines a disc stabilizer and a 7″ record adapter, making it suitable for both 12″ and 7″ records. The moveable 7″ adapter ensures perfect centring and stability on 7″ vinyl with large centre holes, while on 12″ records, it stays tucked away as the TTW10H stabilizes your LP. The soft rubber bottom provides excellent protection for record labels and delivers precise vinyl control with no slippage. It's a game-changer for any vinyl enthusiast seeking superior performance and convenience.
---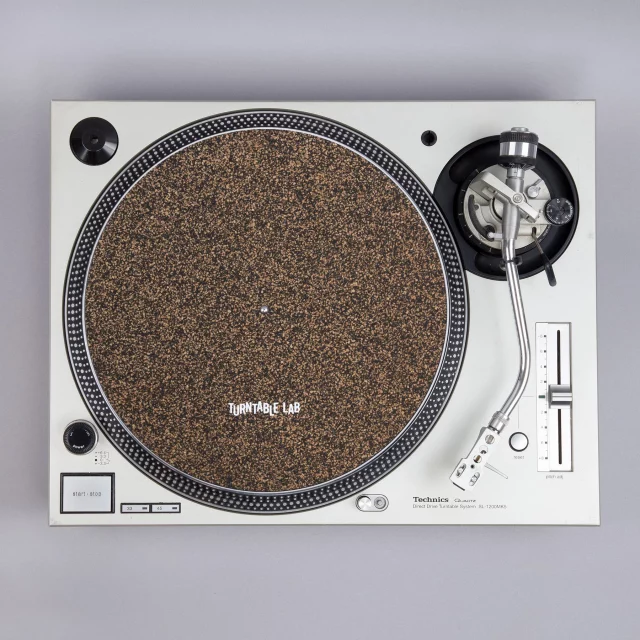 Turntable Mats
A humble yet critical accessory, the turntable mat sits between the record and the platter, significantly impacting sound quality. A quality mat minimizes vibration and static electricity, providing a stable surface for the vinyl to rest on. For beginners, this accessory is a cost-effective way to improve sound quality without breaking the bank. Premium mats crafted from materials like cork, felt, or rubber further enhance sonic performance, and reduce static and overall record wear.
Recommendation: Turntable Lab Cork & Rubber Record Mat

Price: £25
Verdict: The Turntable Lab Cork & Rubber Record Mat offers the perfect solution for audiophiles seeking an anti-static upgrade. Made from compressed cork and rubber, it's thicker and heavier than standard cork mats, delivering exceptional dampening and grip. Improved sound quality with reduced vibrations and static electricity sits at the forefront of what this record mat has to offer. Compatible with all turntables, it shines best on metal platters.

---
Record Sleeves and Jackets
Protecting vinyl records from scratches and dust when not in use is pivotal. High-quality inner and outer record sleeves, made of polyethene or polypropylene, protect records from harmful particles and ensure safe storage. These accessories also come in various designs and styles, making them equally appealing to beginners and enthusiasts looking to add a touch of aesthetics to their vinyl collections.
Recommendation: Mobile Fidelity Original Master Inner and Outer Record Sleeves

Price: £30 (Outer and inner sleeves sold separately)
Verdict: Mobile Fidelity's premium Mofi Master Sleeves inner sleeves are a huge upgrade from standard paper sleeves as these imported gems offer anti-static, non-abrasive safeguarding. The innovative design includes a layer of paper between two high-density polyethene (HDPE) sheets, providing shape and using gentle materials. Additionally, Mobile Fidelity's archival-grade poly outer sleeves further preserve your records and jackets, shielding them from wear, scuffs, dirt, and debris. With a 4 mil thickness, they easily fit over 12″ LPs and gatefold jackets.
---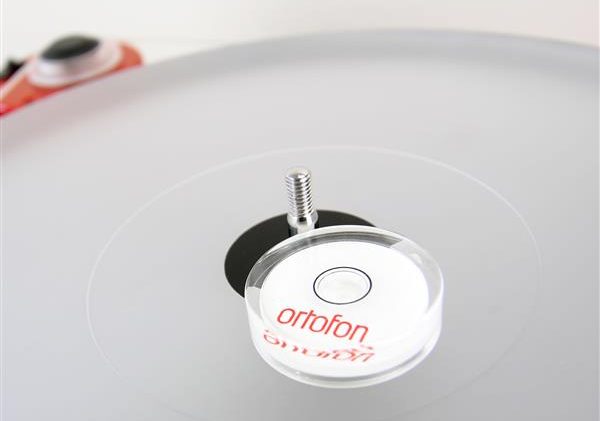 Turntable Levelling
Turntable setup is an art that influences sonic performance significantly. A turntable levelling tool ensures that the turntable's platter is perfectly horizontal, preventing any unintended pitch variations.
Recommendation: Ortofon Libelle Bubble Level

Price: £7
Verdict: Ortofon's Libelle Bubble Level offers high precision for perfect turntable adjustments. Its glass top plate with a measurement grid and three contact points ensures accurate mount level measurement. Achieving a flawlessly level setup is vital for maximizing sound quality, making this a must-have tool for any serious turntable enthusiast.