Published on
March 26, 2014
Category
Vinyl Factory Events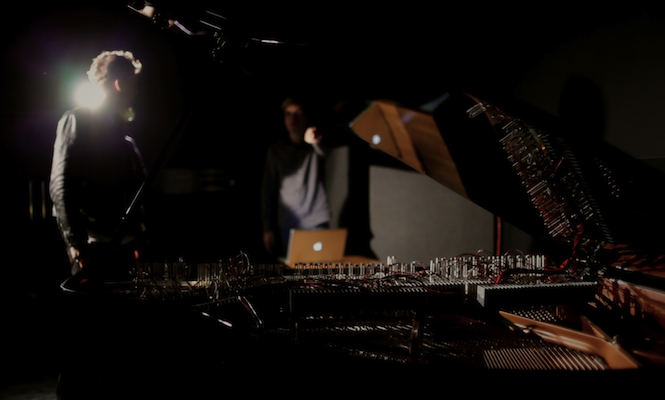 180 THE STRAND | LONDON
OPEN TO PUBLIC 15–19 APRIL 2014
15–18 APRIL ~ 12pm–7pm
19 APRIL ~ 11am–5pm
FREE ENTRY
The Vinyl Factory presents 'Magnetic Field',
an interactive audio / visual installation by These New Puritans.
Guest performances:
FRIDAY 18th APRIL:
2pm – James McVinnie
3pm – Andrew McPherson (talk by the inventor of the MRP)
3:45pm – Scanner
4:30pm – Halls
SATURDAY 19th APRIL:
11:30am – East India Youth
1pm – Charles Hayward
2:30pm – Steve Beresford
3:30pm – Gwilym Gold
4:30pm – Tom Rogerson (Three Trapped Tigers)

These New Puritans are to follow up their universally acclaimed 2013 album Field Of Reeds with an exhibition displaying the 'Magnetic Resonator Piano' (MRP) used on the record. The installation will invite the public to experience and interact with These New Puritans' unique sound, using a series of sensors to resonate, bend and torment the piano's strings in order to create startling effects like infinite sustain, crescendos, harmonics, pitch bends and incredible new timbres.
These New Puritans will also be accompanying the exhibition with two brand new reworkings from the album, to be released as a limited edition by The Vinyl Factory.
Cannibalised and produced by Jack Barnett and Bark Psychosis using the original album alongside outtakes from the recording sessions and unused field recordings, the two-track Magnetic Field EP is a beautiful and uncanny echo of Field Of Reeds and is limited to just 500 signed and numbered copies, available to pre-order now exclusively from The Vinyl Factory online shop ahead of its release on 14th April.
CLICK HERE TO PRE-ORDER
Open to the public from 15th-21st April 2014, Magnetic Field will exploit the impressive and brutalist environment of The Vinyl Factory's 180 The Strand event space and will available to visit free of charge. You can find out how to get there here.