Published on
July 8, 2013
Category
Vinyl Factory Events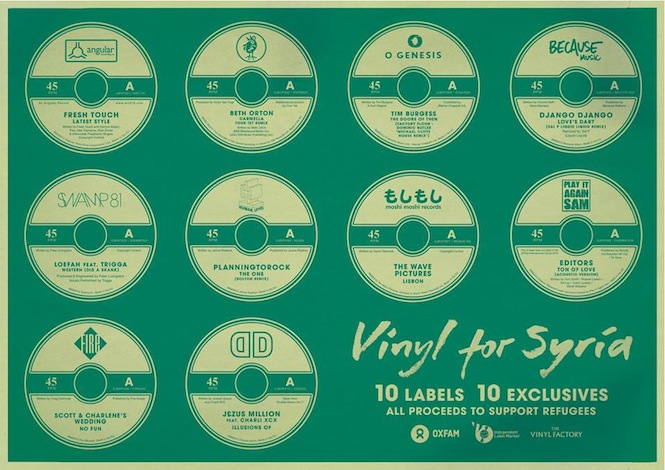 Ten special edition singles from ten labels to be sold exclusively at London's Independent Label Market on July 13th.
Teaming up with the increasingly popular Independent Label Market who return to London following fairs in LA and Toronto, The Vinyl Factory will be pressing 10 exclusive singles by ten artists on ten labels to raise money for Oxfam's Syria Crisis Appeal. Limited to fifty copies each, the singles will be sold at the London event on 13th July at £10 a piece.
The eclectic mix of artists and labels gives an indication of the diversity the event has come to represent, with the likes of DMZ veteran Loefah appearing on Swamp 81 alongside Moshi Moshi's The Wave Pictures and a remix of Tim Burgess by Factory Floor on O Genesis.
Speaking to The Vinyl Factory, ILM founder Joe Daniel said that the selection portrayed "a good mixture of styles and labels by artists that we like and think will get peoples attention". There are also outings for perennial workaholic Four Tet remixing Beth Orton's "Carmella", a rework of Django Django's "Liquid Liquid" and a taste of Angular Records' new project with Damon Albarn Fresh Touch.
Browse the full list of the singles below, all of which will be pressed to one-sided 12″ 180gram heavyweight vinyl and housed in a heavyweight deluxe disco sleeve.
Fresh Touch – 'Latest Style' (Angular Records)
Beth Orton – 'Carmella (Four Tet remix)' (Heavenly)
Tim Burgess – 'The Doors Of Then (Factory Floor – Dominic Butler 'Michael Cliffe House remix')' (O Genesis)
Django Django (Liquid Liquid remix) (Because)
Loefah feat. Trigga – 'Western (Did A Skank)' (Swamp 81)
Planningtorock – 'The One (Bolton remix)' (Human Level)
The Wave Pictures – 'Lisbon' (Moshi Moshi)
Editors – 'Ton Of Love (Acoustic Version)' (Play It Again Sam)
Scott & Charlene's Wedding – 'No Fun' (Fire)
J£zus Million feat. Charlie XCX – 'Illusions Of' (Double Denim)
While the releases are initially restricted to one per customer, ILM will be hosting a live eBay auction on the day in conjunction with Oxfam for a chance to purchase a complete set of all ten singles.
The Independent Label Market will take place in London's Old Spitalfield's Market on Saturday 13th July. For more info, visit their Facebook page.
Here's a little more about where the money raised will be heading: Oxfam's Syria Crisis Appeal aims to provide shelter, food and water to those affected by the violent conflict in Syria. Oxfam aim to help 650,000 people in the coming months but they cannot do it alone. Donate to their Syria Crisis Appeal or sign their petition. Calling for more aid and peace: www.oxfam.org.uk/syria.
The project follows the success of this year's Secret 7″s event for Record Store Day, in which The Vinyl Factory partnered with the organisation to create and sell 700 artist-designed 7″ singles in support of the Art Against Knives charity, raising over £30,000.
Listen to Four Tet' remix Beth Orton' "Carmella" below: